So… in our last post we had a little fun letting YOU be the designer and choosing which of our bag samples YOU would choose to grace the pattern cover for our 2nd new pattern for 2022, the Katalina. Thanks SO much to everyone who voiced their opinion! Pattern design can be rather solitary work and I get a kick out hearing the logic behind which bag my customers would choose. But as much as I enjoy these interactions, (and I do), this is another time that I REALLY needed to take your thoughts into account because I honestly liked ALL of these bags (and that's unusual) but what IS usual, is that I was having a really hard time choosing between what I wanted to use, and what would be BEST to choose!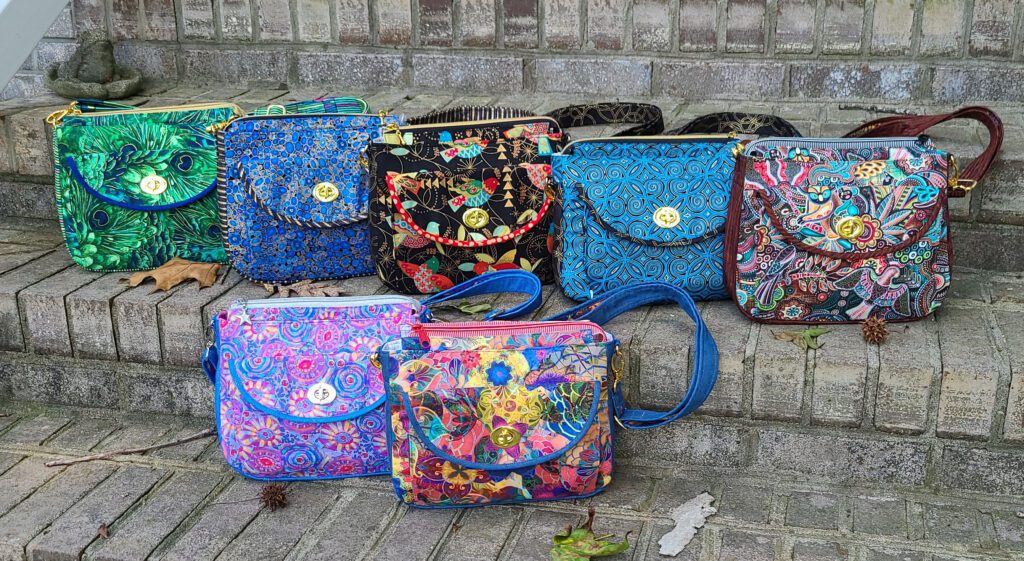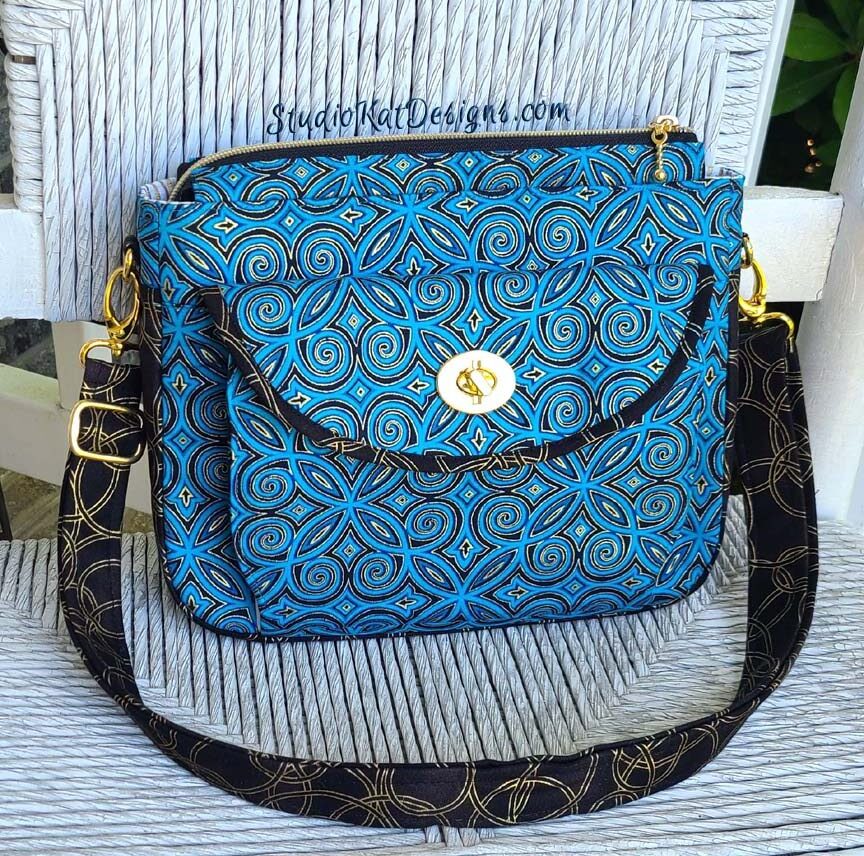 7/4/22: Church Windows
So first of all… I love this bag! I love it so much I'm STILL carrying it and it just might be one of my altime favorite bags I've made for myself. But here's the deal…if you go back and look at this post, you'll see that I was very unhappy with the bottom side corners of the drop-down wallet because the wallet lining can be seen on the outside of the Bag and totally detracts from the total look.
And since this problem calls for a major re-design… this sample was OUT!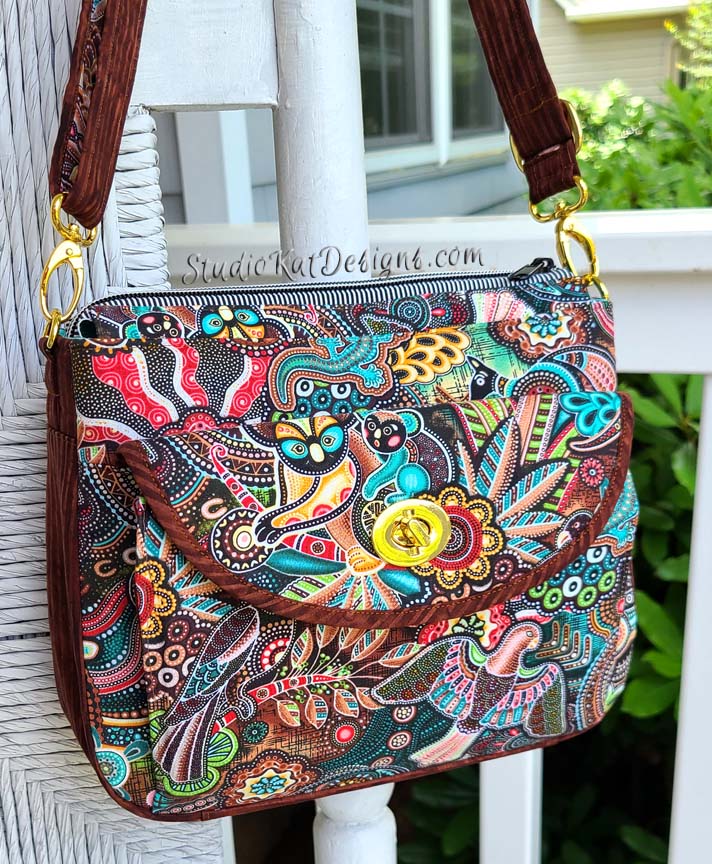 7/9/22: Australia Bound
While I like this fabric a lot, and it actually made up into a very cute bag…. and even though I've never been a particular fan of brown (for handbags that is) I'd probably be happy to carry this bag myself. –BUT- I'm just not seeing this bag as a show-stopper, so for that reason… it was OUT!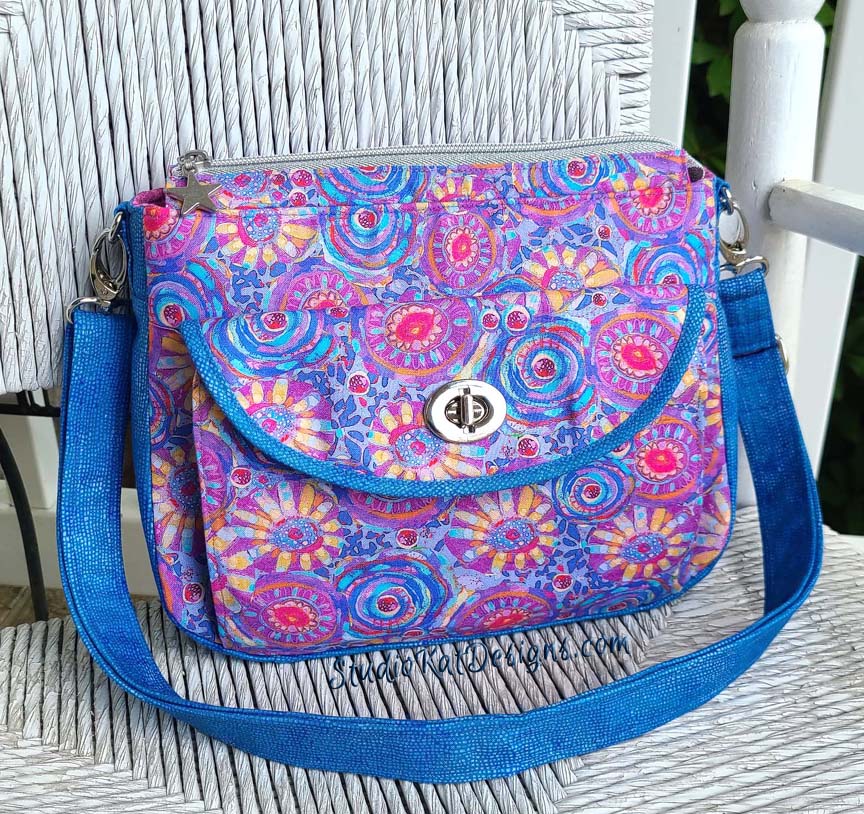 7/19/22: Serious Whimsey
And if you've been following us for any length of time, then you know that I am a serious fan of virtually everything that P. Carter Carpin designs! And I LOVE the way this particular sample turned out. It has a "happy feel" and that's always a good thing, especially nowadays, right?
But while I think this bag will be a certain hit on the show circuit, I'm just not feelin' it for the cover of our new pattern, so it's OUT!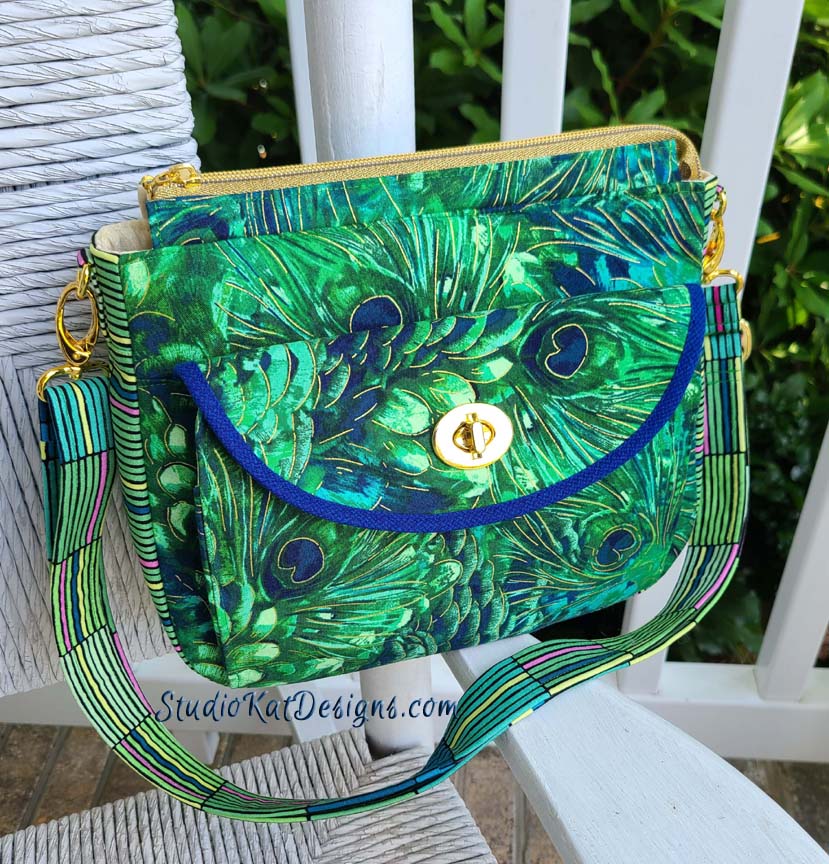 7/24/22: Knock Me Over with a Feather
I had great hopes for this sample as I was making it and truth is… I like it a lot! It would definitely be a fun bag to carry! But even though I love the colorations and the fabric combination (which I was worried about at first), it doesn't seem to have the charisma that I hoped it would, so for that reason… it was OUT!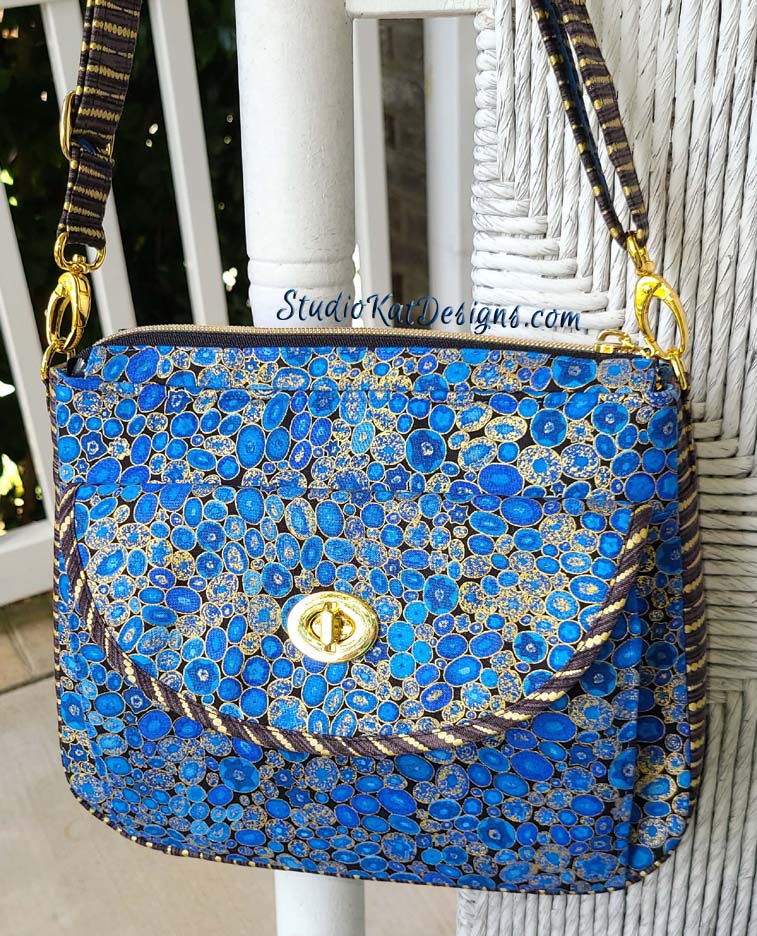 8/1/22: Gustav Revisited
I really struggled with this one. Personally, I LOVE this bag in spite of the fact that I used the exterior fabric on one of my favorite Elsie K Baglet samples.
Truth is… I was torn between using this bag for the pattern cover and the bag that I finally did choose (below). So why did I not choose this bag? Well, there's a couple of reasons…
First- We already have two all-blue cover bags (the Walkabout Wallet & the Everyday Attache) and the pattern covers start to look very similar in a booth display, and…
Second- Even though this will be a very popular show bag, it's actually very sedate and a little dark for a cover bag. And even though I LOVE the way the striped contrast fabric surrounds the bag front and frames the flap, I had to sadly say… it was OUT!
8/5/22: Folklorico
And I had great hopes for this bag, and overall I like this sample but i made one error in cutting out this bag which I didnt notice until I flipped it RSO near the end of construction. Did you see it?
Look at the red-headed bird just above the turn lock on the flap, then cast your eyes just over it and you'll see the SAME DAGGUM bird just above it on the Bag top area. RATS! It just about made me scream when I saw it, but it was much too late to do anything about it.
But since that's all I see now when I look at this bag, it was OUT!
So that only leaves one choice, right?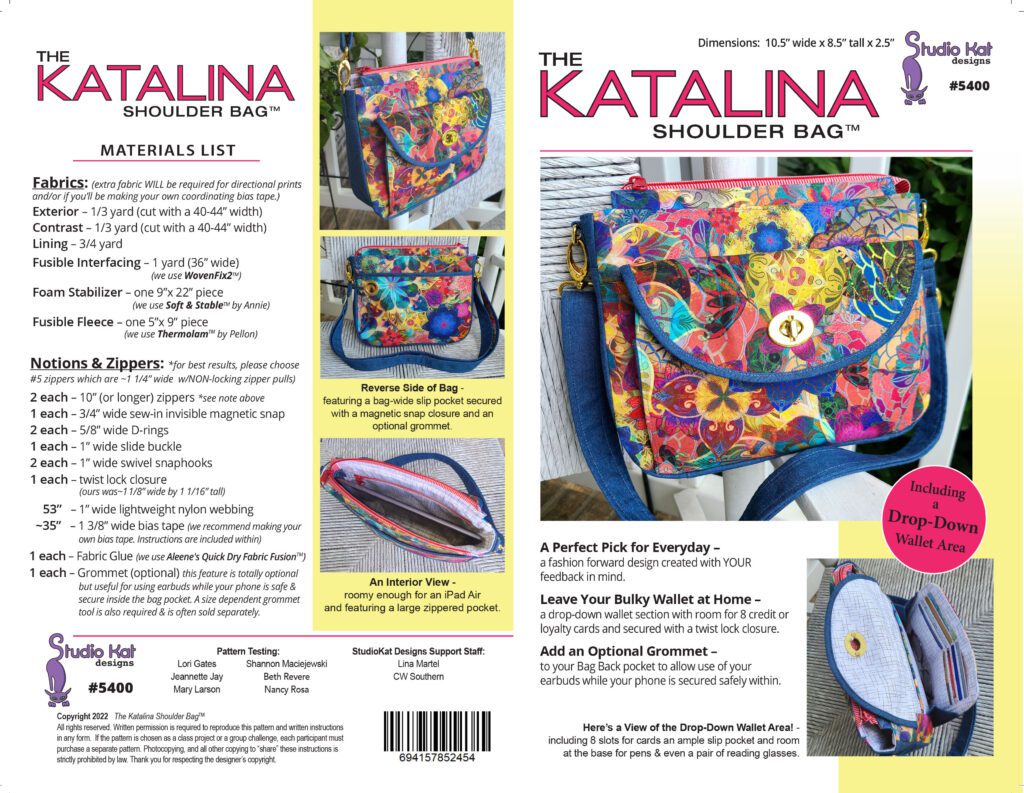 So… did we make the perfect choice?
Truth is, only time will tell! The Katalina Shoulder Bag design has been very well received so far, and I easily could have gone with several other choices and it probably wouldn't make a bit of difference "sales-wise" but I'm pleased with how the cover came out nevertheless. The cover has a light, carefree feel to it which I like.
But PLEASE NOTE!!!! — Just as we did in our last rollout in March, we'll be announcing the Katalina pattern release in the next edition of our bi-monthly newsletter, Bag Making is FUN. It will be complete with a time-sensitive coupon code, so don't miss out! So if you don't already receive "Bag Making is FUN! in your Inbox, you still have a small window of time to sign up, get in on the fun, PLUS pick up that nifty discount coupon too by clicking HERE.
And now it's YOUR turn!
Call me crazy but I always love knowing if you agree with our selection or if you think we totally blew it! So please feel free to leave your comments and/or questions in the space provided below! Don't worry. We won't be mad if you disagree with us! 🙂
Check out the best sewing pins with me on Pinterest, join in on discussions or show off your work in our FaceBook Group, or get your daily sewing fix on our Facebook Business Page or get behind the scenes scoops on Instagram, and be the 1st to know about new patterns, discount codes and sample sales by signing up for our monthly newsletter.