So…
I've just got a few more samples to show you before we publish what will become our next new pattern! So, am I still making changes to this design? Sure I am! Because the truth is… I never really stop making little changes to a new design. Heck… if I waited until I couldn't think of any way to improve a new design then I'd never really publish ANYTHING. Such is the life of a perfectionist I guess…
So with that in mind… let me show you my latest sample!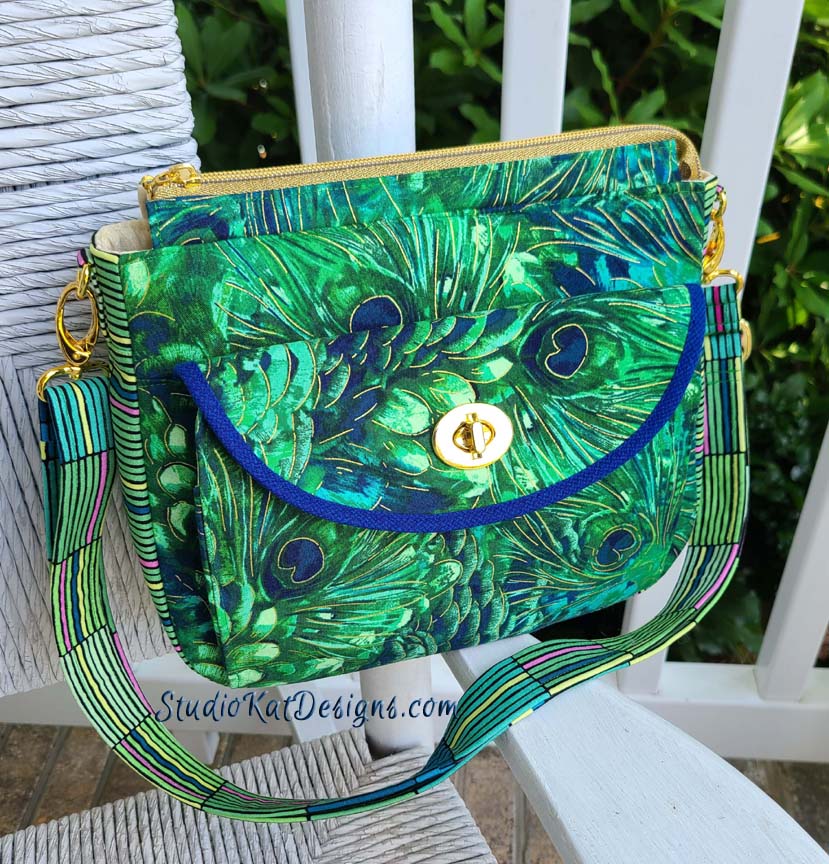 As for this sample, even though the vast majority of components are now in their "final state"… I'm still making tiny little tweeks to the welts in the dropdown Wallet area. I want this welt to lay perfectly flat when the Wallet is closed and even though the situation is almost perfect in this sample, I'm striving for perfection and that might not happen now until the next sample!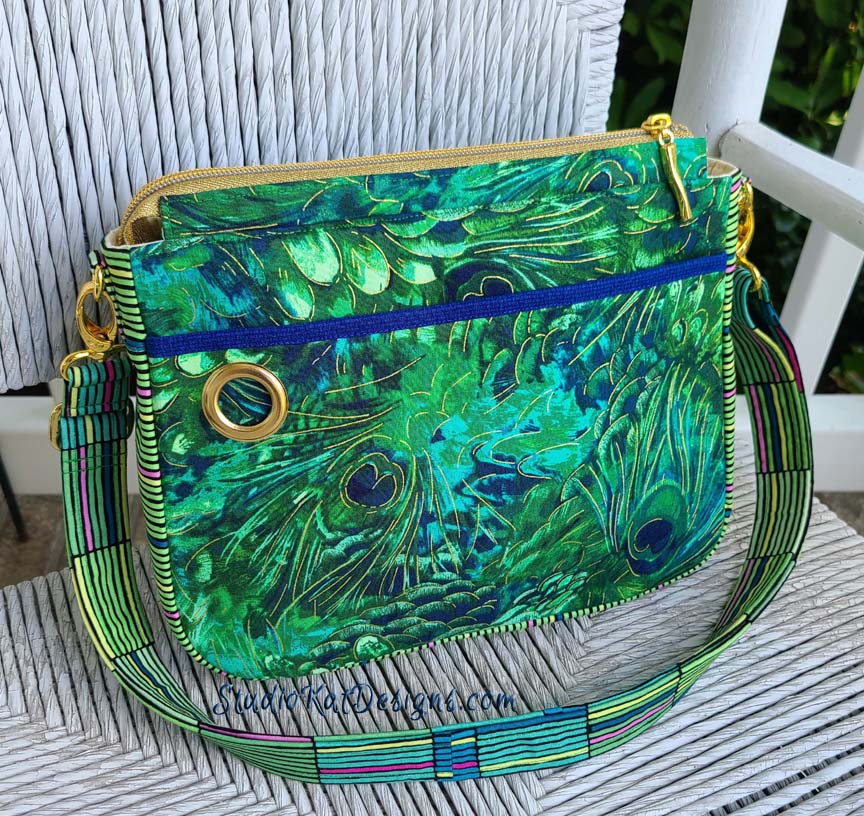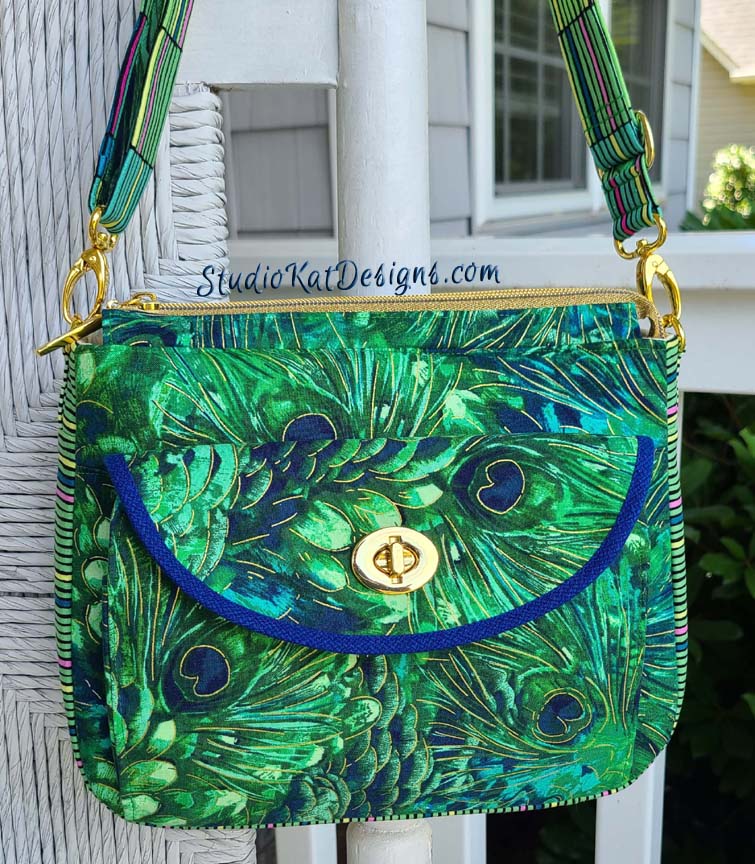 And since I've rarely had the opportunity to showcase my all-gold zips in one of my show samples, I thought I'd take advantage of this color scheme and take opportunity to do so this time.
And speaking of the color scheme… I toyed with the idea of using royal or navy blue for the side panels (in addition to the bias tape), but then I found this ultra-interesting striped-effect fabric and even though there were a few pink areas in it that had nothing to do with the peacock feather fabric, I decided to be brave and give it a go!
Since I only utilized the green-striped areas, it was an exercise in wastefulness, but who know when you'll see these blue striped blocks show up in the future, right?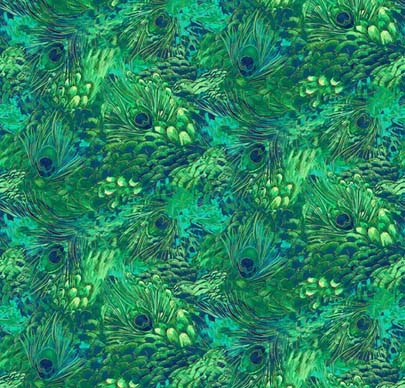 And here's a few answers to the questions we most often receive
when we're working on a new pattern design!
What are the dimensions? the dimensions of this bag are 8″ tall X 10″ wide X 3″
Will my iPad fit inside? yes, my iPad Air easily fits in the main compartment of this bag.
When can I purchase this pattern? right now, I'm looking toward an early September release for this new pattern. if not sooner.
And finally, here's a BIG announcement…
after much trepidation and knashing of teeth,
I'm FINALLY ready to announce that the name of this, our next new pattern is…
I think I've mentioned numerous times how hard it is to come up with a name for a new pattern so I thought I might take a moment to explain the logic behind the name, "Katalina". And in this case the logic is obvious & yet, maybe not so much.. So let me break it down for you…
If I spell it for you this way… "Kat-a-Lina", maybe you can see my reasoning?
The "Kat" part is no surprise, right? … but here's the deal… the "Lina" part of this name references my incomparable sister-in-law whose work behind the scenes for the past 8+years allows me to focus exclusively on the creative side of the business. In addition to handling all of our order-fulfillment duties which can be extremely time-consuming, she also packs up all of our patterns & labels all of our zippers & hardware for wholesale & distribution orders. In short, it would be awfully hard for me to run this business without Lina, and she would be next to impossible to replace since she also functions as a first-line critic and friend.
And now… it's YOUR turn…
If you have comments you'd like to share or questions you'd like to ask about this design in general or this sample in specific, and ESPECIALLY if you have a name suggestion for this design, please feel free to leave either or both in the space provided below.
Check out the best sewing pins with me on Pinterest, join in on discussions or show off your work in our FaceBook Group, or get your daily sewing fix on our Facebook Business Page or get behind the scenes scoops on Instagram, and be the 1st to know about new patterns, discount codes and sample sales by signing up for our monthly newsletter.