Usable storage area= 12″ tall X 8″ wide X 5″
Why shop all over for supplies?

Click

HERE

for Sling Along Supply Kit info!   or…


HERE

if you'd like to make your Sling Along with a Convertible Strap!
Description
Ideal for Work, Travel or EVERYDAY!
(For info about fabrics we've used in our samples, scroll down to read the blog post featuring that particular sample OR…click HERE)
Wear it "sling-style" as a BackPack, a ChestPack or even Shoulder-style!
Plenty of room for your important work stuff & your more important play stuff!
Outer drop-down pocket can be accessed with or without unclipping the side-release buckle.
Oodles of Storage – roomy zippered pouch pocket for secure storage
Perfect for keys, phone, glasses, makeup & MORE!
PLUS a hidden, easy-to-reach storage niche that seals shut w/a reassuring SNAP!
A zippered back pocket for easy access to documents or travel papers!
Sized perfectly for an iPad Air (or smaller).
And now... a FUN, NEW, OPTIONAL add-on!
a Zippered, Convertible strap tutorial!
Yep! If you opt to add this tutorial to your purchase we'll show you how to create a zippered,
convertible strap that can substituted for the sling-style strap included in your Sling Along pattern
which will give you the option of carrying your bag "sling-style" or as a TRUE backpack with a
simple zip of a zipper.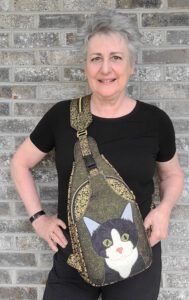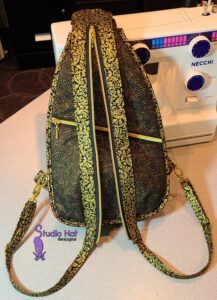 * This tutorial is optionally available below as an add-on with or without an accompanying notions kit.
Please note that this tutorial is NOT a stand-alone pattern. It is a separate purchase meant to used in
conjunction with the Sling Along pattern.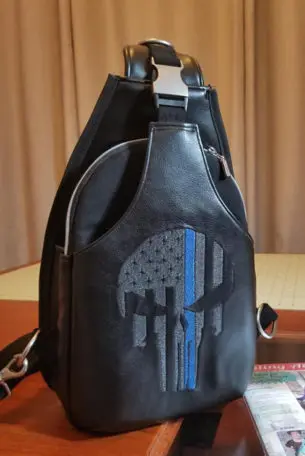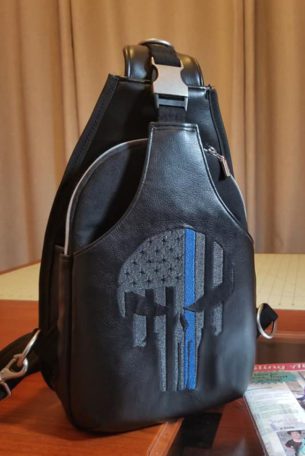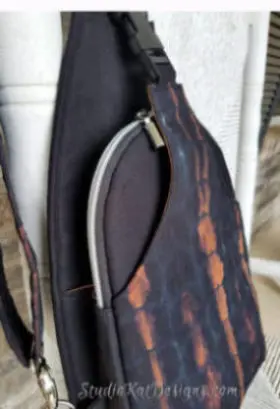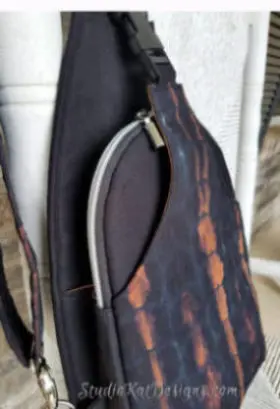 Our 1st true Unisex Bag!
Perfect for guys AND gals!
Choose more neutral, even masculine fabric combinations to create a "Man Bag' your guy will love carrying for work or travel!
Color Pictorial Helps (and a correction for step 25)…
are just a click away!
Click the link below for an important pattern labeling correction for step 25.
Step 25 image labeling correction
Click on the links below to access a few color pdf's
that might be helpful during the following construction steps!
Watch how the Sling Along pattern
was conceived & developed!
Including insider info about the fabrics we used for each sample!
Come along on the creative journey with us by clicking each link individually.