So…
in our last post last week, I showed you a beautiful Sling Along sample featuring stunning fabric from Katia Hoffman's "Mystique" collection and I was pleased to see that it seemed you loved it as much as I did!
And today I'm going to show you the Sling Along done up in fabric by a different "Hoffman" altogether, that being Hoffman Fabrics! I fell in love with this fabric from the moment I first saw it for sale in a booth at the Mid-Atlantic Quilt Festival and I immediately knew how I wanted to place it on our new design!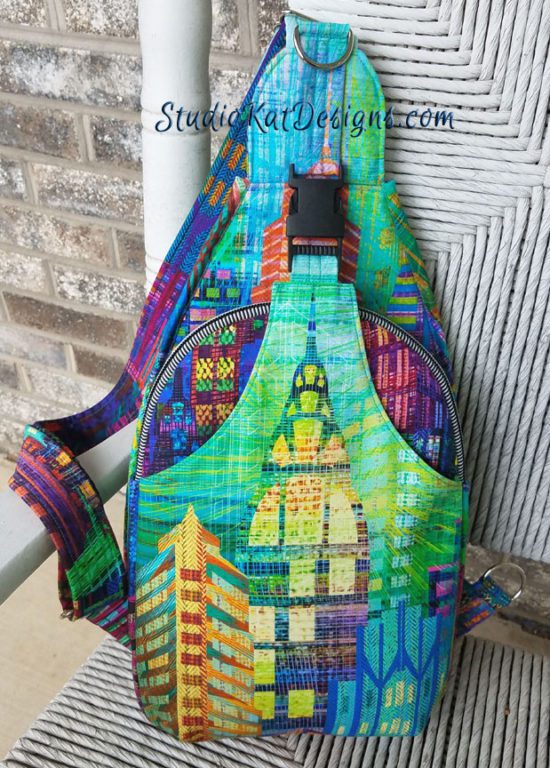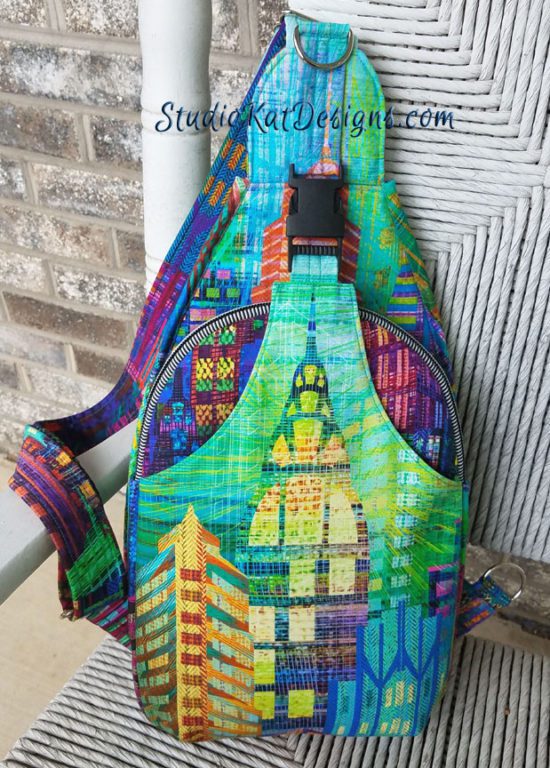 Having grown up in the greater metropolitan area of NYC, I have very fond memories of New York and here's the deal… while most people might claim the Empire State Building or the Statue of Liberty as the most iconic landmark in New York, not so for me! As a longtime lover of all things Art Deco, I have always LOVED the Chrysler Building, depicted so beautifully on this fabric!
I knew right off the bat that I wanted to fussy-cut the Chrysler building so it would be the focal point for this sample! And since this piece of fabric displayed the city basically from day into night, I didn't even try to find any other fabric for the contrast.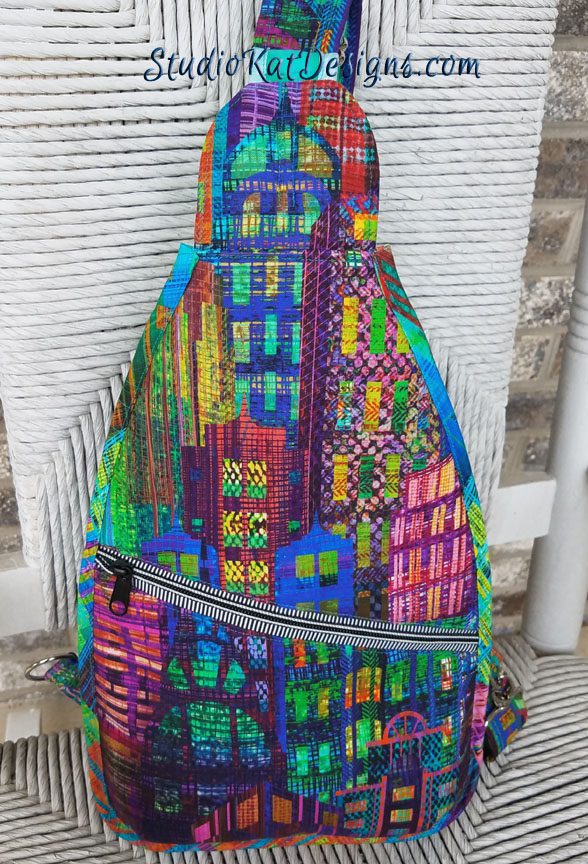 I simply used the darker "nighttime" area as my contrast and I featured it most dramatically on the Bag Back, featured above. You might also note that I used our black & white ministriped zippers on this bag. I've always maintained that black & white is the perfect neutral and this bag certainly demonstrates my point, no? I can't imagine what other color (or print) would've worked near as well! 🙂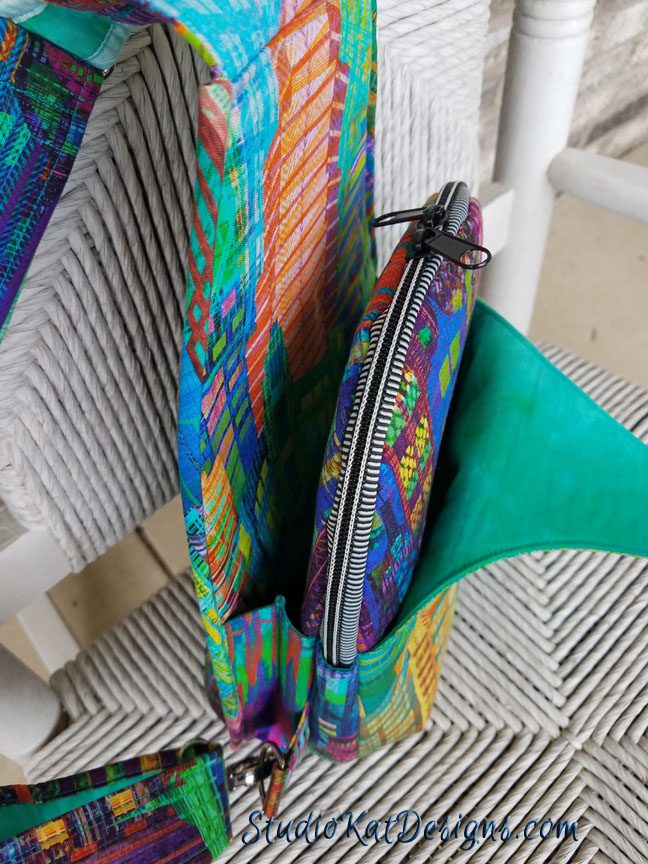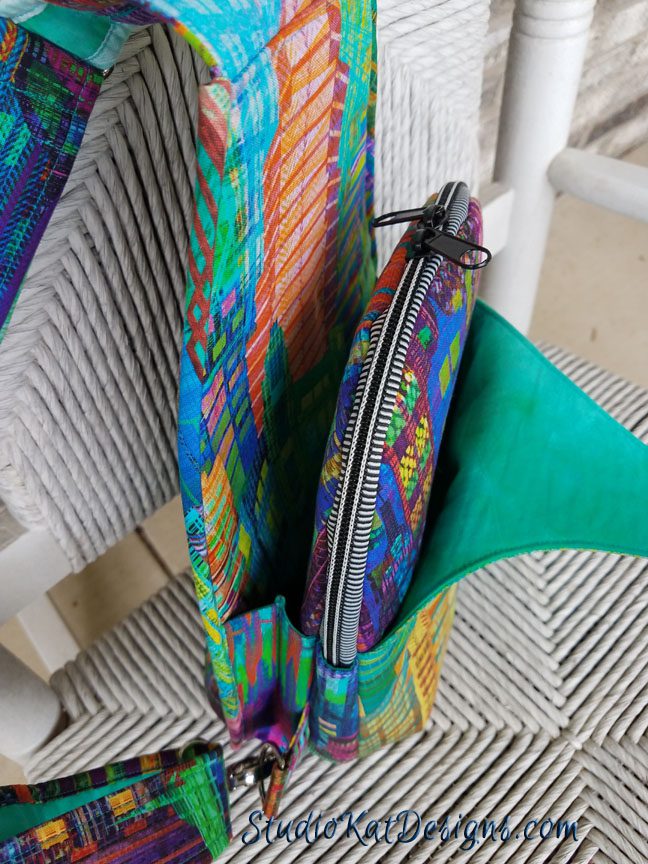 And here's a good photo of the three storage areas located on the Bag Front! The "drop-down" front pocket is the place I like to store my phone. It's very easy to hear it ring when its in this area and there's absolutely zero chance of it falling out when the extended area is buckled in place. The Zipper pocket is perfect for items you want to keep secure like your key fob and wallet, and the Secret Niche area is spacious enough to hold an iPad Air.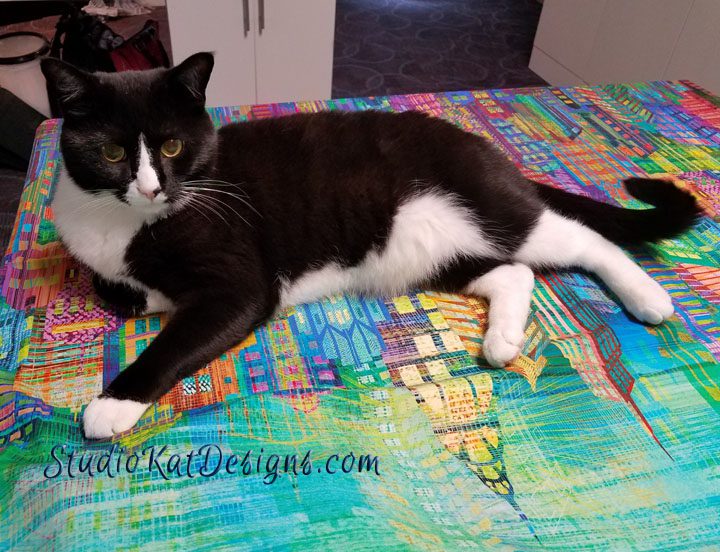 And just so you know… I am not the only one in my household who fell in love with this yummy fabric (and here's one more example of how fantastic black & white looks with this color palette)! If you'd like to play with this fabric or if you just want to add it to your "collection", it's called "Skylines", and it's from Hoffman Fabrics and there's actually a couple different colorways available featuring the New York skyline. There's also a few other city skylines you might recognize in this collection!
So that's it for now!
We're in the stretch run now with only ONE more sample left to show you before we need to choose our cover bag! So stay with us… it's getting ready to get real EXCITING around here!!!
*********************************************************************************************
And now…. it's YOUR turn!
I'd love to know what you think of this particular sample and remember, we love reading your comments and answering your questions too, so please feel free to leave your comments about these and any other aspects of this new design in the space provided below.
************************************************************************************
Check out the best sewing pins with me on Pinterest, join in on discussions or show off your work in our FaceBook Group, or get your daily sewing fix on our Facebook Business Page or get behind the scenes scoops on Instagram, and be the 1st to know about new patterns, discount codes and sample sales by signing up for our monthly newsletter.