So…
in our last post, which was a week or so ago, I told you that the design work behind this new bag was pretty much complete and we were ready to start some ultra-serious sample making in search of the perfect "Cover Bag", and I've got some pretty remarkable fabrics lined up that I'm hoping will make up into a few VERY compelling bags to choose from. Let me show you my latest!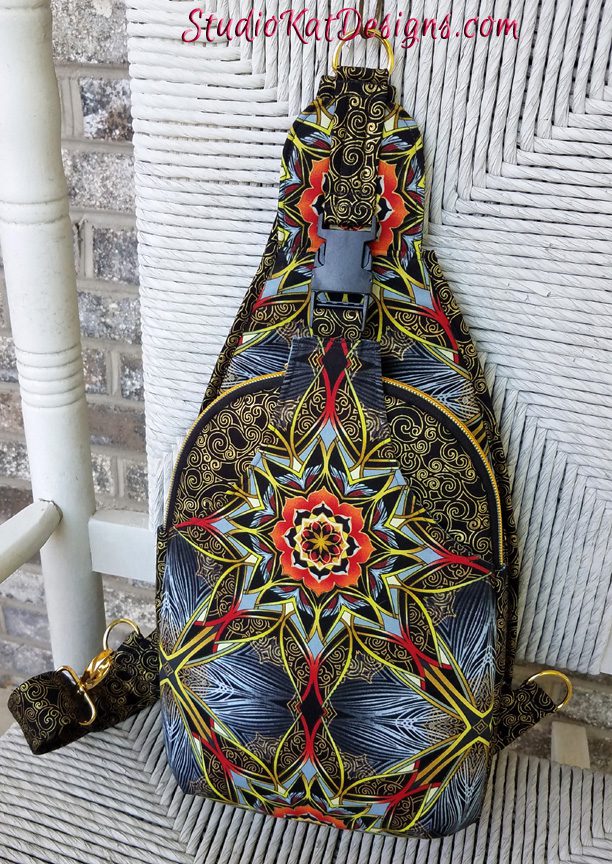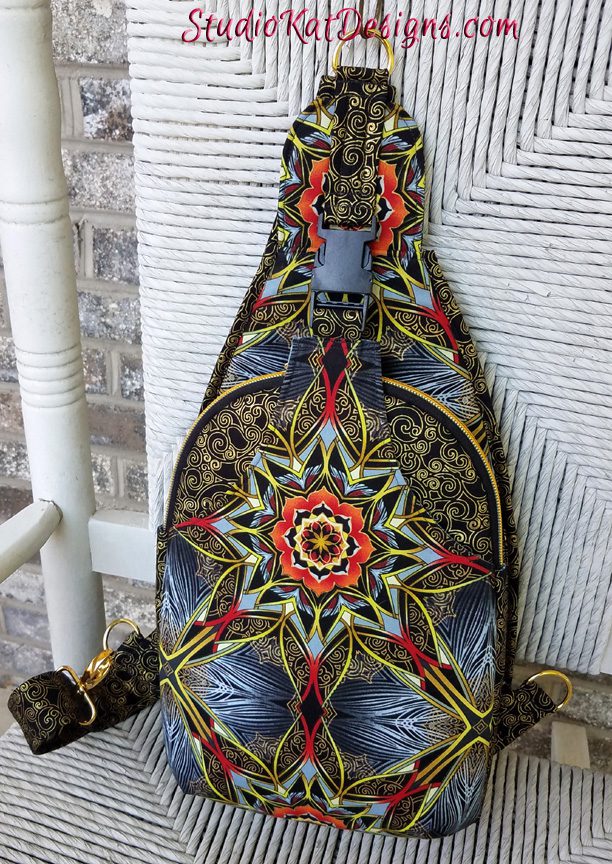 For this sample I utilized fabrics from Katia Hoffman's incredible "Mystique" collection for Windham Fabrics.I paired these fabrics with my brand new zippers which are black with gold teeth and and zipper pull. More about these fabrics at the end of the post, but in the meantime, let me show you some more shots of this bag!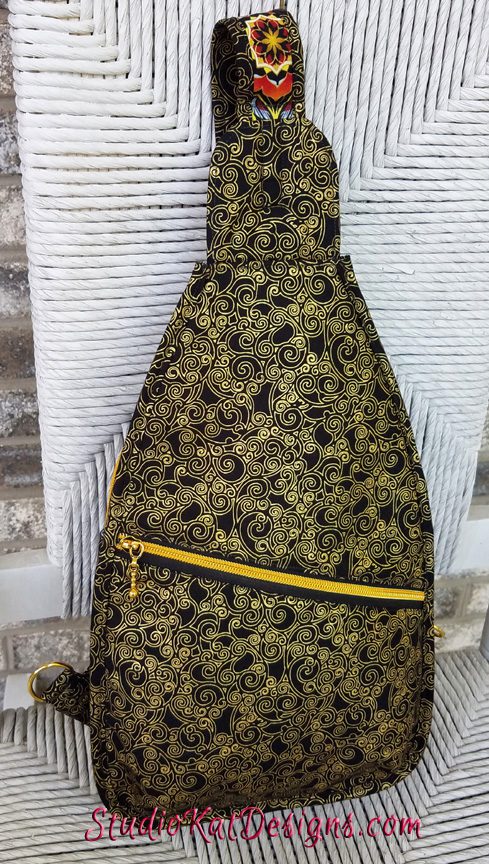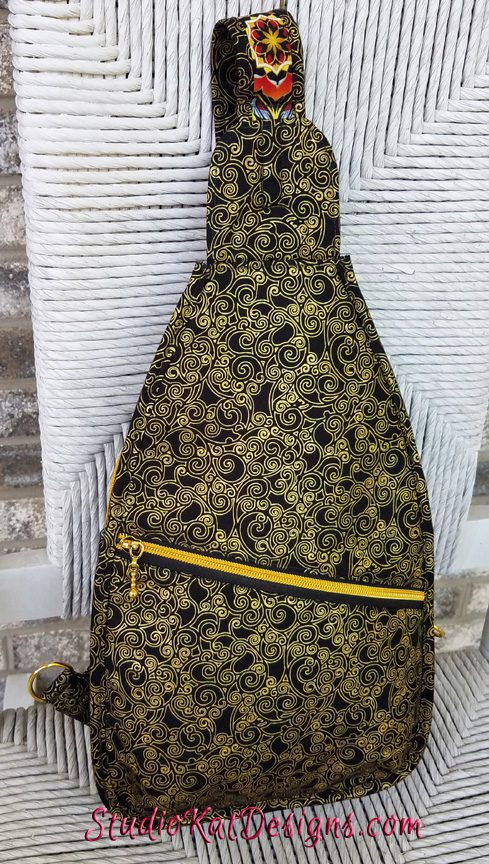 Here's a 'back of Bag' view, and a better look at our new zips which have a fun bubbly zipper pull. This pocket is both full-width AND full height, which means you can store come pretty tall items here. Like paperback books, spiral notebooks and much more!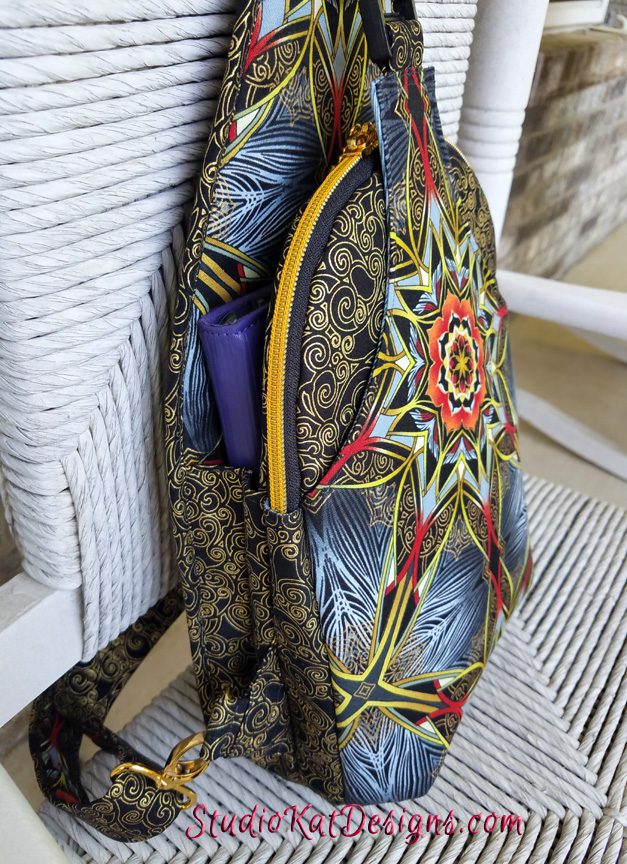 And like many of our bag designs, this one includes one of our signature secret niches. This one sized perfectly for an iPad (with or without a padded cover). Just so you know, mine is an iPad Air and that cover is VERY puffy and takes up a good deal of space. It fits easily in this spot though, as does lots of other stuff! 🙂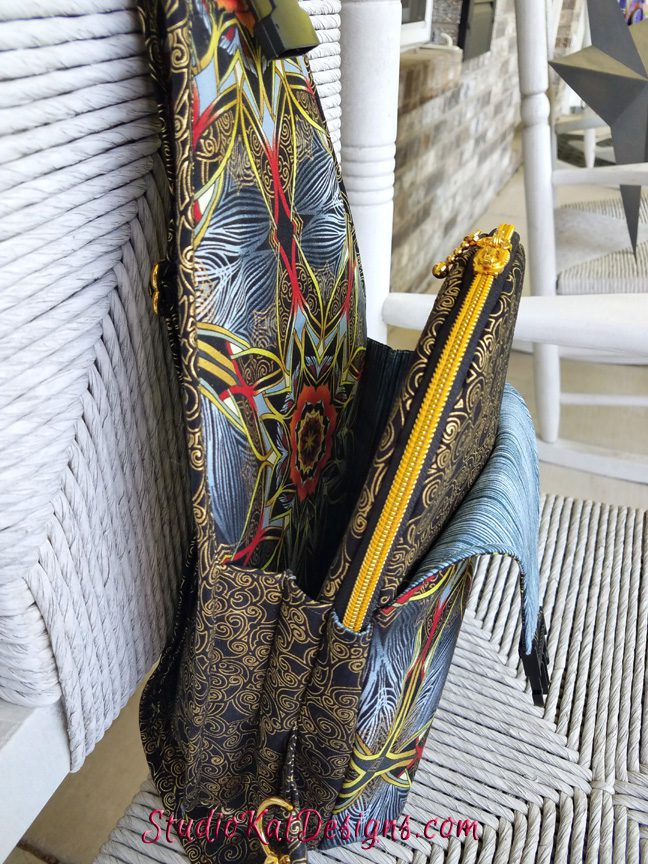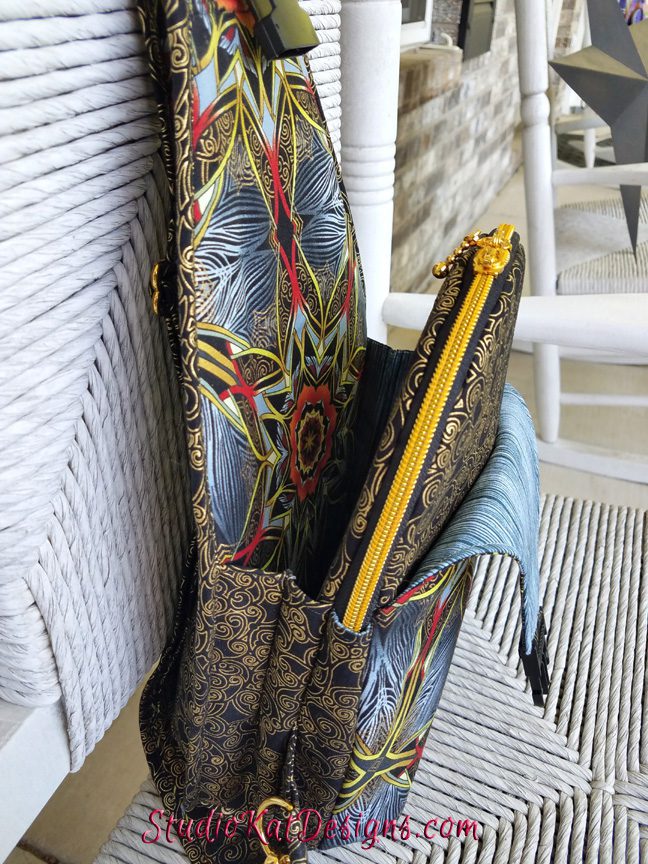 Here's the Secret Niche with nothing in it. When it shut, it's secured by one of our invisible sew-in magnetic snaps which makes this spot the perfect place to stow your smart phone or keys! Also visible in this picture is the drop-down front pocket area, an alternate spot for you phone or any other item you want quick access to!
And here's another cool thing about this design! It can be worn as a convenient chest bag…. or as an easy-going backpack… or even as an every day shoulder bag, which is the way I like to wear it most! Since the overall dimensions of this bag are 12″ X 8″ X 5″ this bag is not-too-big and not-too small!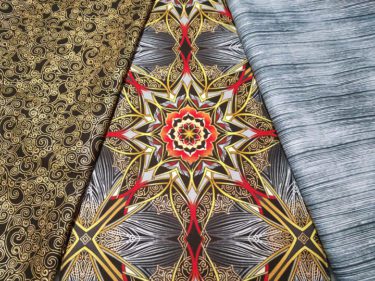 And now…. a little info about this wonderful fabric!
It's all part of the "Mystique" collection by Katia Hoffman for Windham Fabrics which you KNOW I was doomed to fall in love with from the moment I saw it!
Here's the exact items I used for this particular sample:
the main print- "Kaleidoscope" in red/gold
the contrast- "Fancy Filagree"
the lining- "Texture Stripe" in grey
But you know what? This might be the COOLEST thing about this design!
I don't know if you've noticed this, but if you make this bag up in more neutral, or even masculine fabrics, it could very easily be a UNISEX bag! Which brings me to a BIG announcement, that being the NAME of this new design! We've decided to name it, the Sling Along! We're pretty excited about that and we hope you will be too!
*********************************************************************************************
And now…. it's YOUR turn!
I'd love to know what you think about the name we chose for this design and of course your reaction to this specific sample? Can YOU see a guy carrying this bag to work (in other fabrics of course!) And remember, we love reading your comments and answering your questions too, so please feel free to leave either or both in the space provided below.
************************************************************************************
Check out the best sewing pins with me on Pinterest, join in on discussions or show off your work in our FaceBook Group, or get your daily sewing fix on our Facebook Business Page or get behind the scenes scoops on Instagram, and be the 1st to know about new patterns, discount codes and sample sales by signing up for our monthly newsletter.