So…
in our last post I explained how it was my goal in this cycle to choose fabrics that were a bit out of my "normal range" and the fabrications in today's sample certainly fit that bill! And here's the deal… I was super psyched about this wildlife print when I first saw it online but it really wasn't part of a collection so the hard part was coming up with a contrasting fabric that would compliment it without overwhelming it!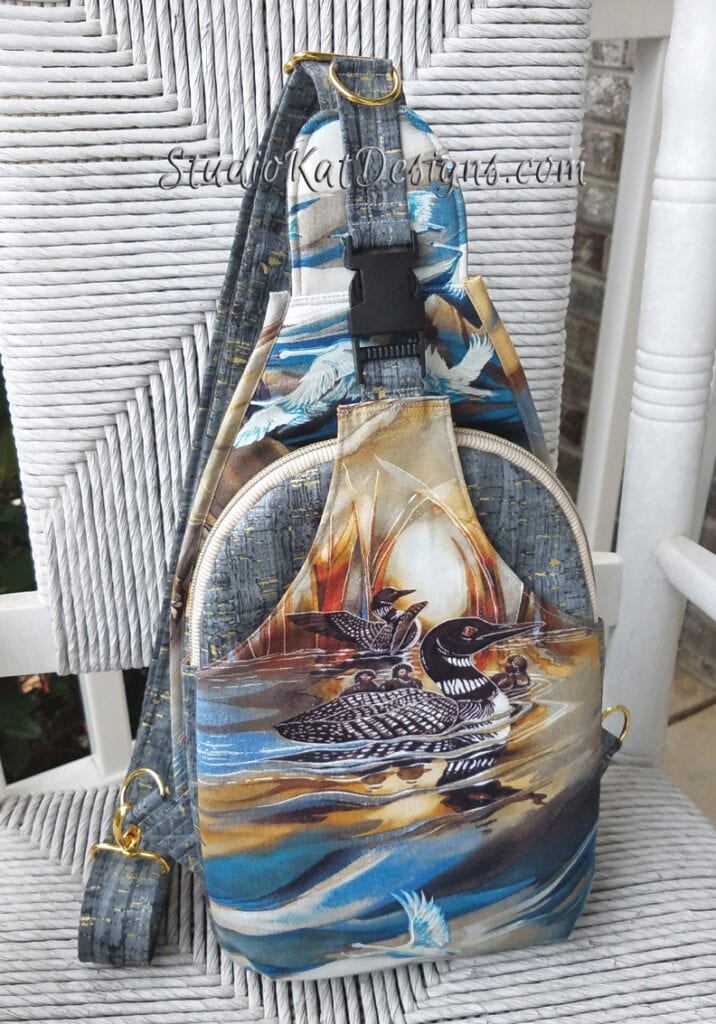 And I thought I had found the perfect complimenting fabric in this greyish cork lookalike but here's the deal… when the package arrived and I placed the fabrics alongside each other, the only thing I could think of was…
This will NEVER work!
So I set these fabrics aside for a few days and even though I still wasn't sold on the combination, I decided to go ahead with the sample as planned, and a weird thing happened about halfway thru making it… I realized that
I totally LOVE it!
I'm not sure what changed my mind about these fabrics… maybe its the combination with the gold in the zipper? I don't know but I love it. Displayed above it's presented as a shoulder bag (at left) and as a chest bag (at right). Of course it can also be worn as a back pack but I didn't bother including a picture of it being worn that way because I found out that its difficult to tell if my model is facing forward or backward. heehee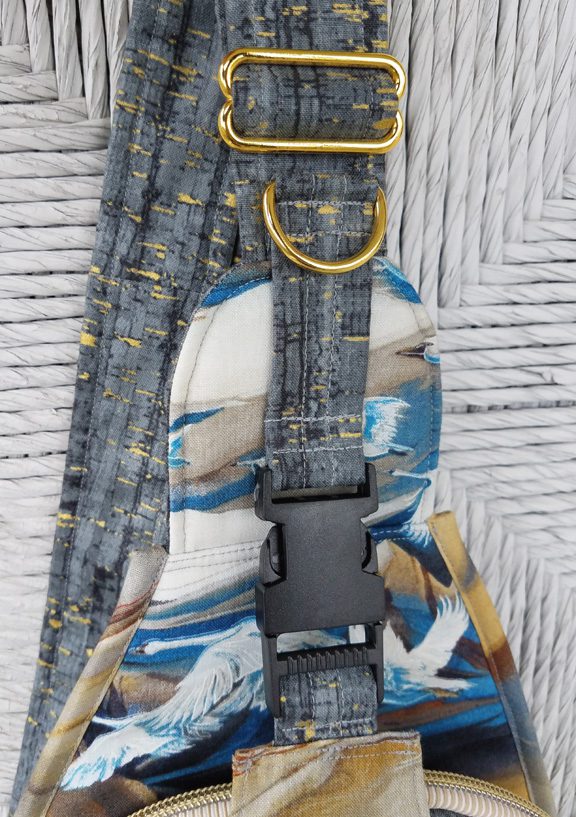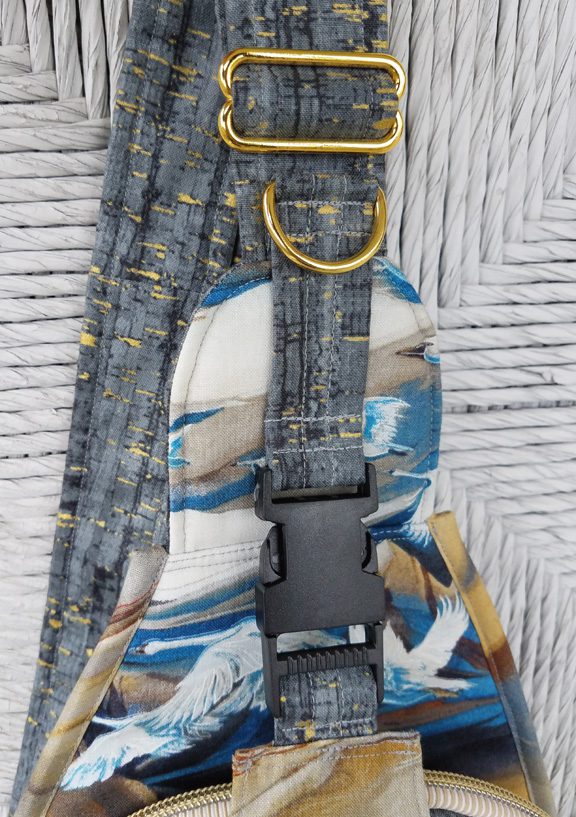 I did make one very notable change for this round and you can see it plainly in the photo above. I shortened the length of the top tab by a solid 2 inches. I found the longer tab tended to twist a bit when worn crossbody as a chest bag. Shortening it solved that issue and I find that I like this look much better!
And we made sure to build roominess into every one of our storage areas! And if you look really close inside of the secret storage niche, you might notice that we've added a mesh pocket.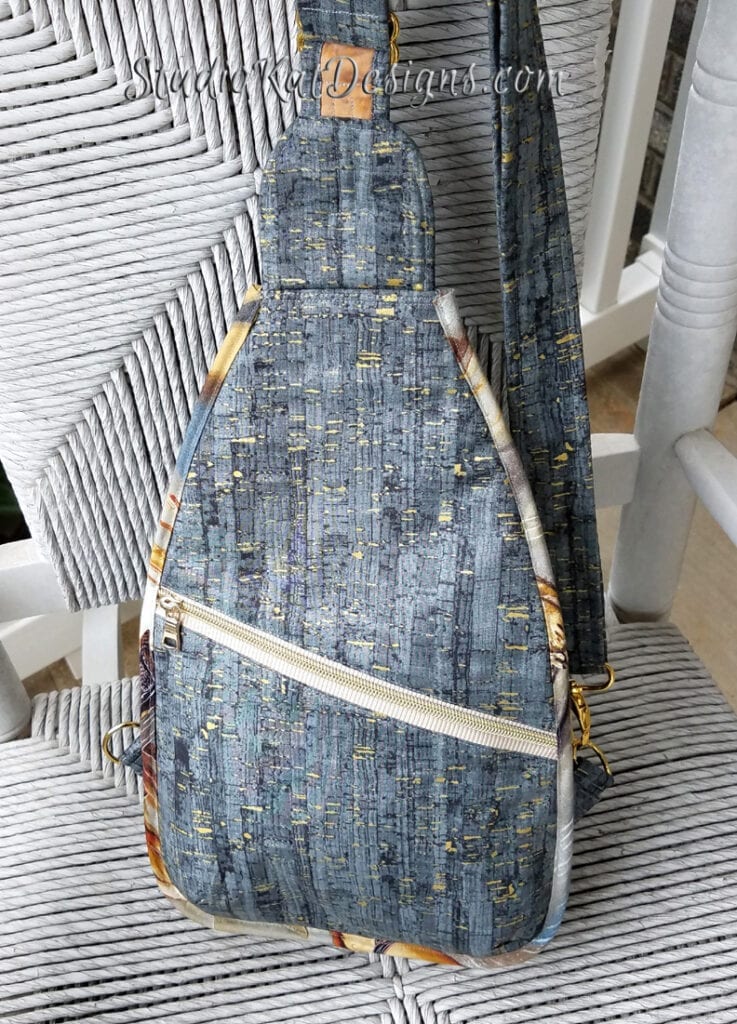 And finally, here's a good look at the back of this bag and this incredible cork lookalike fabric. This pocket is not only full width, but its also full height. It's a great place to hide a paperback book or other taller items.
And now for a few words about this yummy fabric which even my fur assistant seems to be taken with!
the Exterior-"North American Wildlife" by Jody Bergsma for Robert Kaufman
It was actually my original intention to use the owls for the focal point on the bag front. The repeat on this fabric is quite impressive though and was cut wrongly since I only purchased a half yard increment. (Word to the wise.)
the Contrast– "Uncorked" by Another Point of View for Windham Fabrics
So there you have it!
and just in case you're wondering… the overall dimensions of this bag are 12″ X 8″ X 5″ and right now we're working toward a late June to early July release. And even though I'm pretty sure at this point that I'm done making changes to this design, there's quite a few "still need's" on my checkoff list, such as;
I still need to make at least two more samples.
I still need to choose a cover sample.
I still need to name this design!
**********************************************************************************************
And now…. it's YOUR turn!
I'd love to know what you think of our new design at this point in the process? Does this strike you as a bag you'd enjoy carrying? And remember, we love reading your comments and answering your questions too, so please feel free to leave either or both in the space provided below.
**********************************************************************************************
And guess what? We have a brand new private FaceBook Group page just for StudioKat Designs customers? It's the perfect place for you to post pictures, comments or questions about our patterns! How cool is that, right? And don't forget to check out the best sewing pins with me on Pinterest, get your daily sewing fix and behind the scenes scoops on Instagram, and be the 1st to know about new patterns, discount codes and sample sales by signing up for "Kat Bytes", our monthly newsletter.