So…
in our last post I showed you what I consider to be a pretty close facsimile to what this final design will eventually be when we release this pattern. For some reason, the whole process of defining & refining this design has proceeded very smoothly. I wish I knew why, because I'd surely "bottle it up" for next time when I might need it!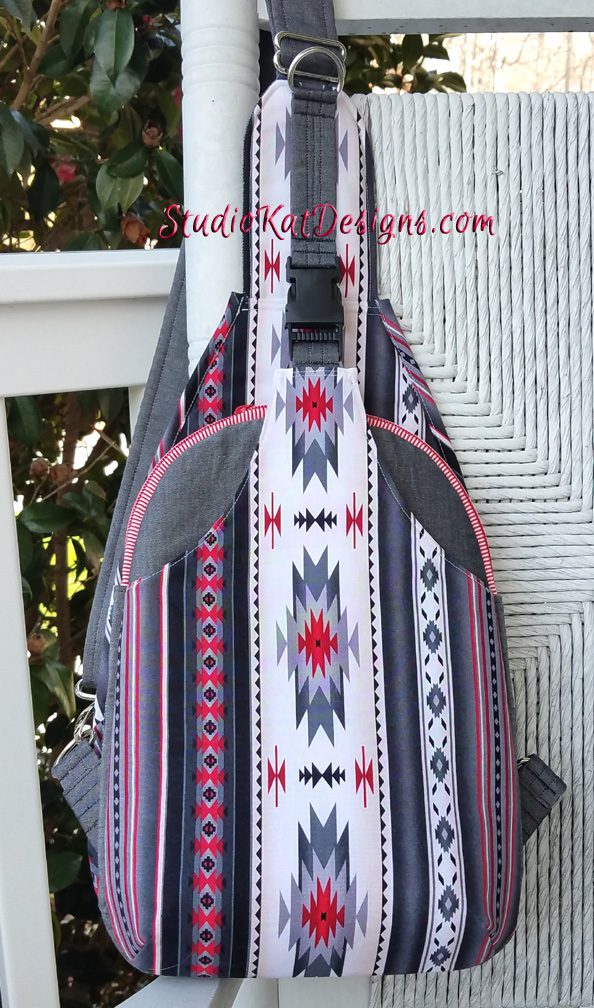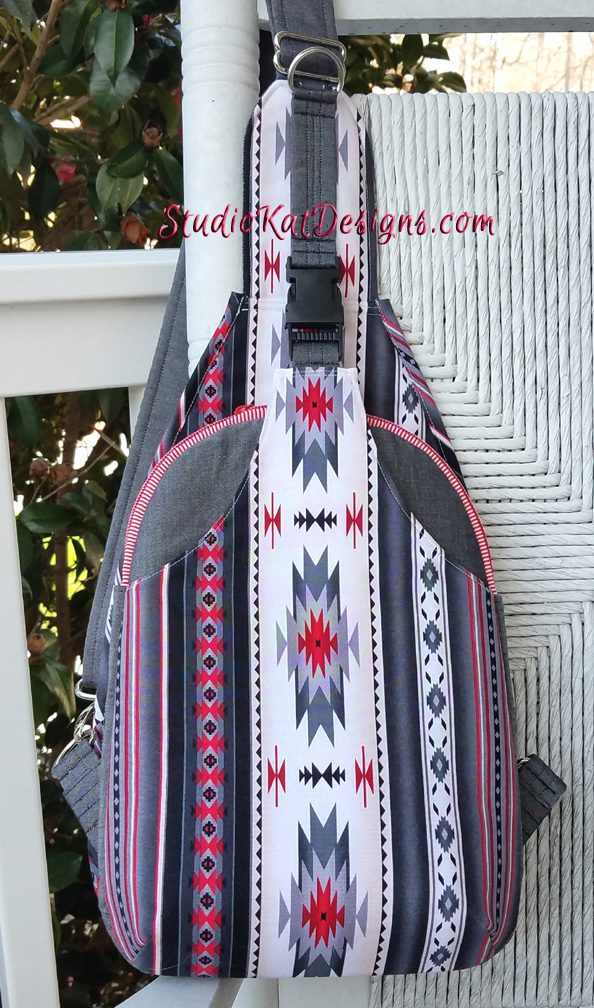 And just so you know, I made a genuine effort in the development of this design to force myself out of my box just a bit when it comes to choosing fabrics. I've been feeling like my fabrications of late were becoming just a little too predictable. Oh, I've loved pretty much everything I've used, but I don't want to be pigeon-holed so I've made a very decided effort in this cycle to force myself to look at fabrics & color schemes I normally avoid! In our last post for example, I actually used BROWN… a color which normally ends up at the bottom of my list of options!
And since I'm relatively certain that there's only been one other instance where I've ever used fabric with a Southwest flavor, I shopped and shopped until I found the perfect print, and I think I found it in this delightful print from Elizabeth's Studio, . More about this fabric at the end of this post but first, let's take a look at this sample.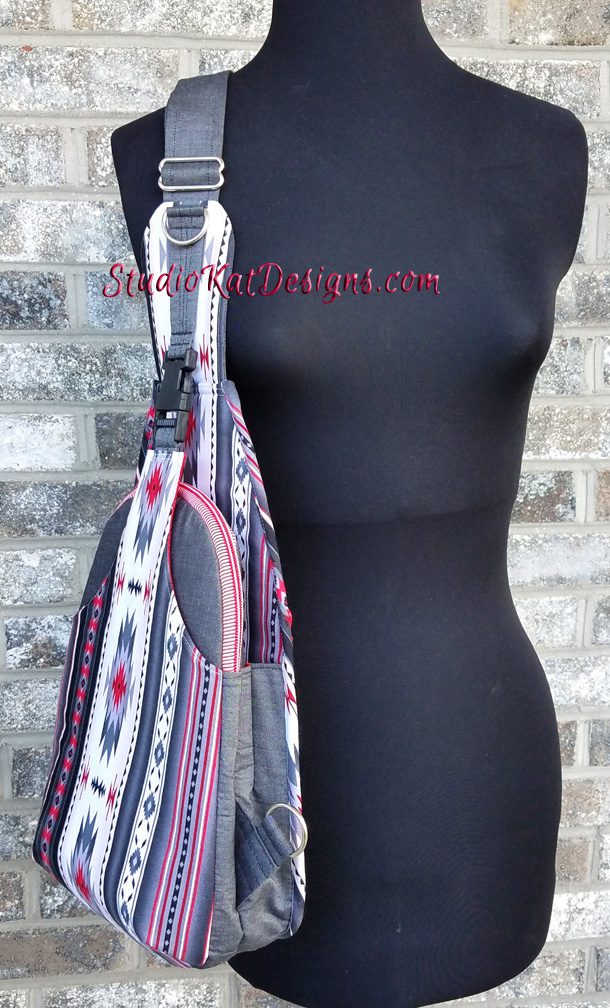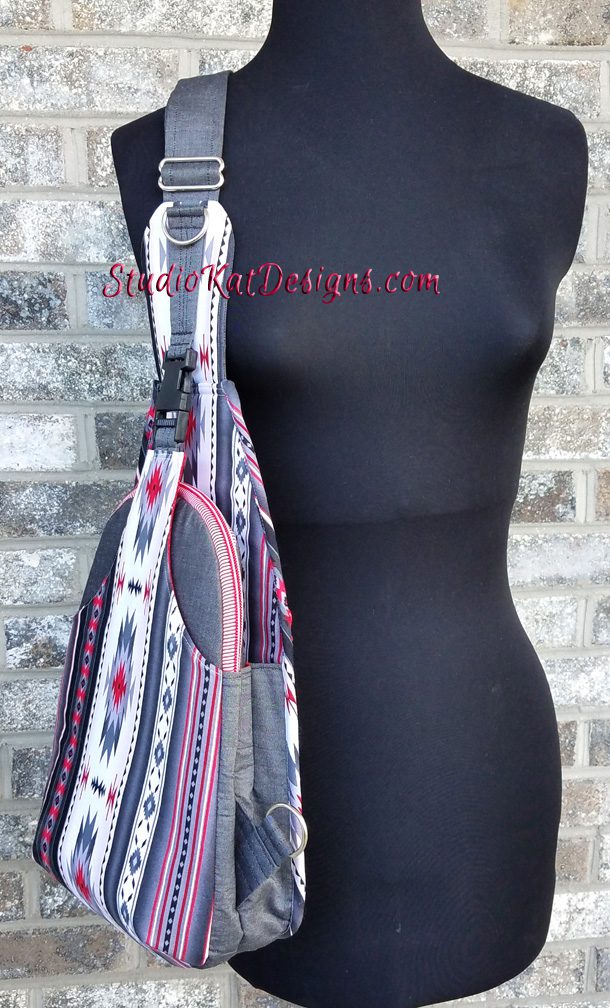 I find that more often than not I carry this bag as a shoulder bag. It's very comfortable against my body and holds an AMAZING amount of stuff! I also installed a Base Clip on BOTH sides of the bag for this sample and you can see the extra one here in this picture. I'm thinking that this would lend a bit more versatility to the wearer in that it could easily be switched from right-to-left shoulder in a flash!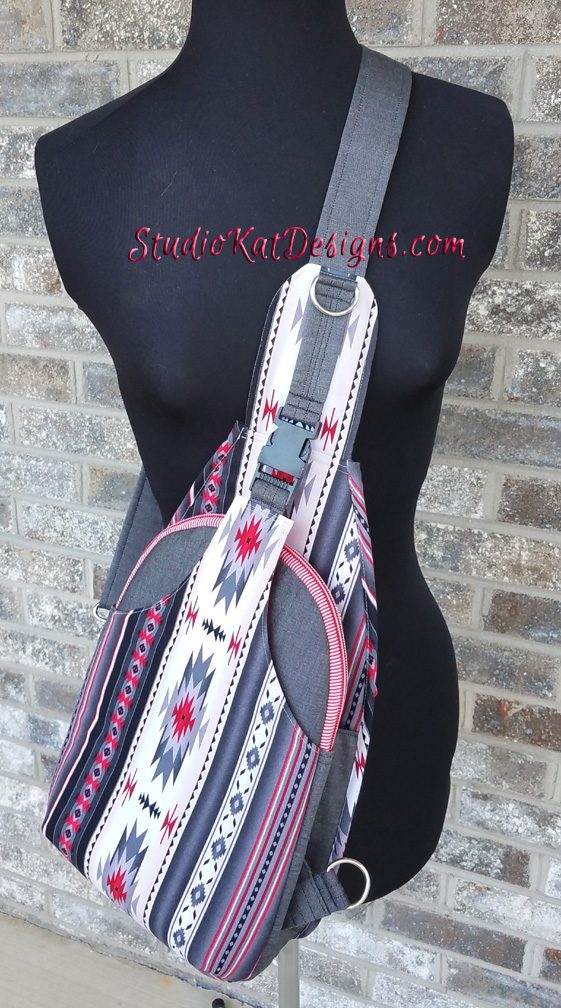 Of course it's always nice to know that all it takes is a quick adjustment of the shoulder strap and this versatile bag can transform into an ergonomic chest OR back pack! I've never been too big on wearing a back pack because I always worry about the security of that arrangement, but I find when I want to be totally handsfree, I enjoy the chestbag option.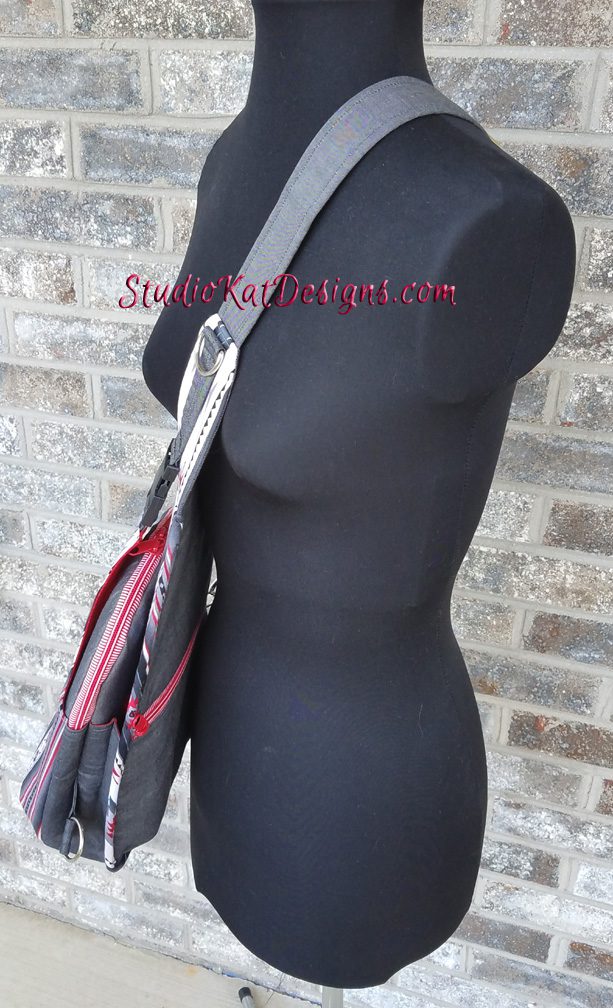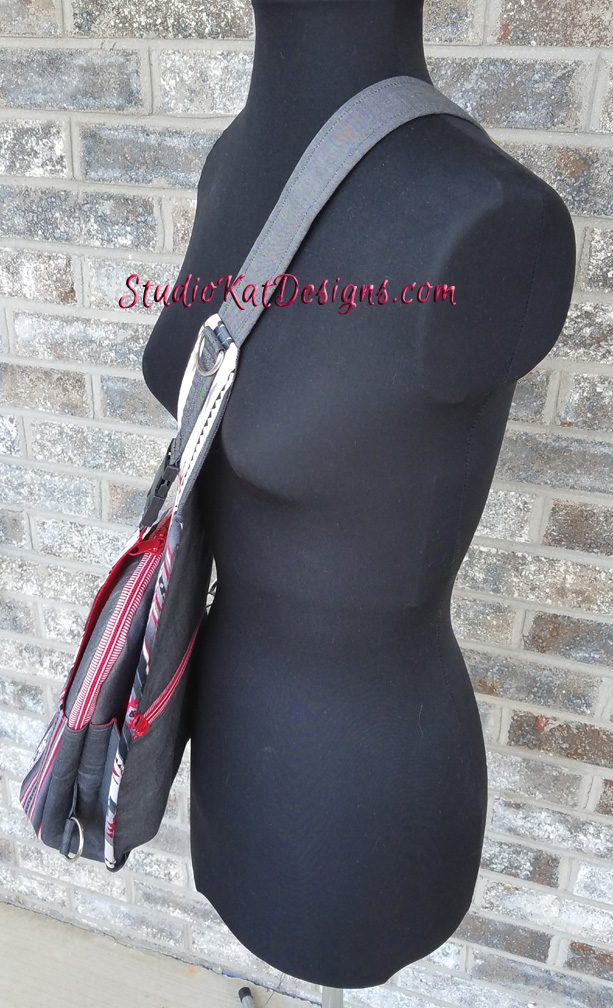 And the reason I included this photo to give you a good idea of how this bag looks on a body from a different angle. I like that it looks streamlined and doesn't add too much to a human silhouette. 🙂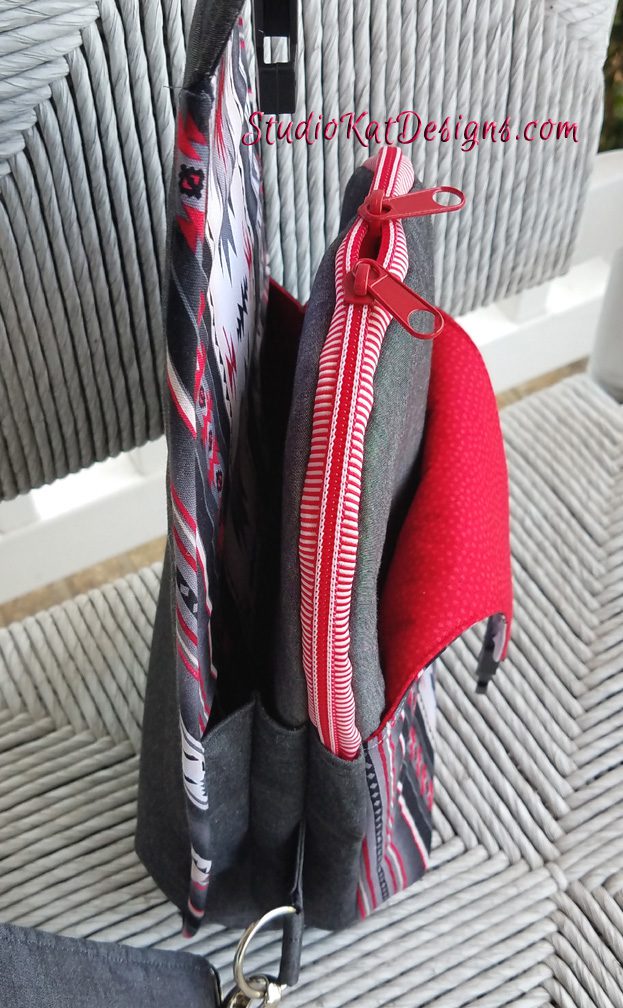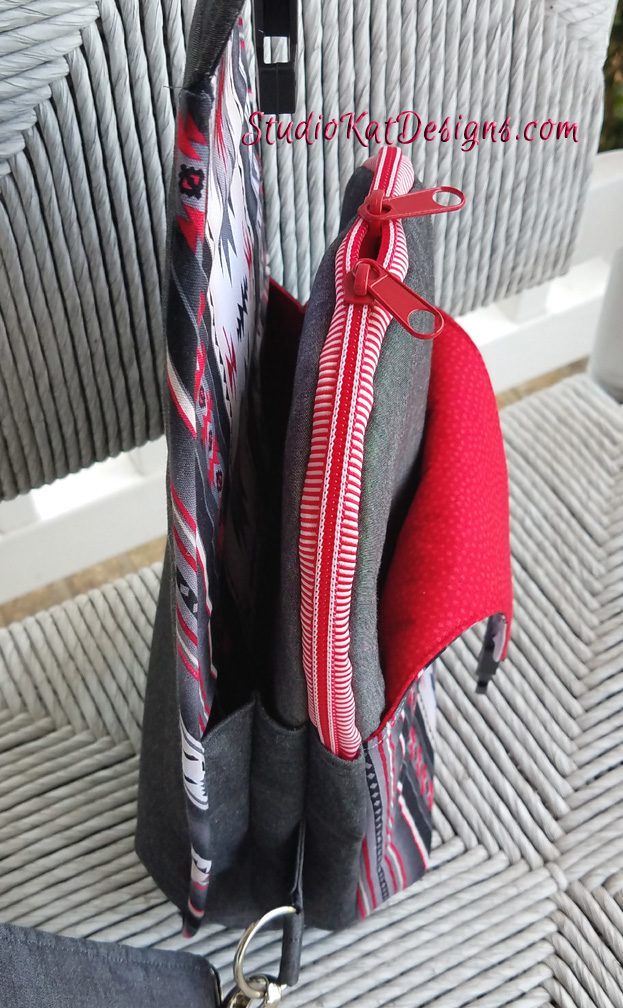 Here's a good shot of the three storage areas on the bag front. The drop-down pocket in front is a great place to store your phone, keys or anything else you want quick access to. When not in use, it clips in place to keep the contents secure. The zippered pouch pocket is very roomy and once again we have included what has become one of our signature hidden storage niches!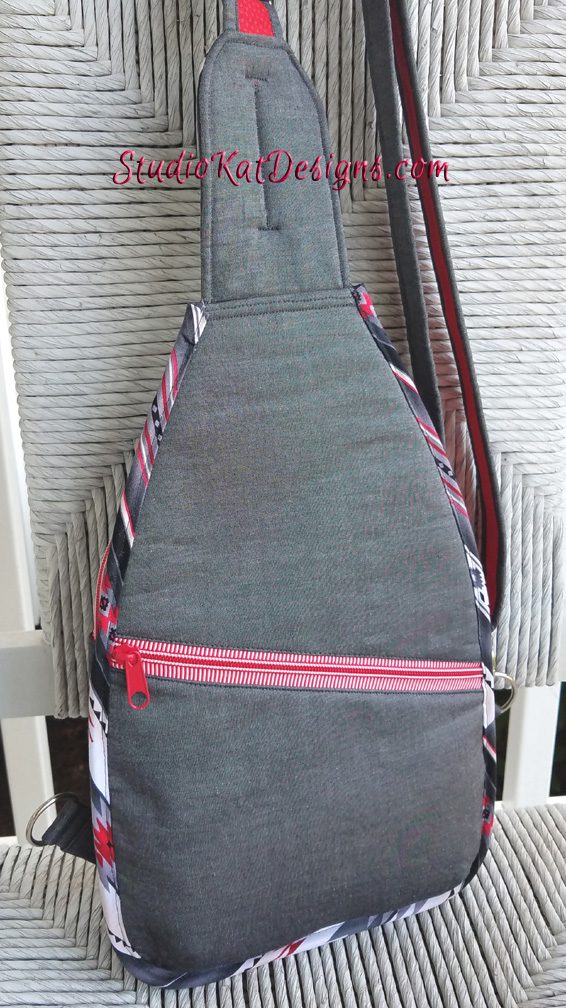 And just so you know, the full-width back pocket is NOT a throw-away feature. I purposely added some expansion darts in this area to make it more versatile and I'm looking forward to taking this bag on vacation with me this summer. I'm thinking this would be an excellent spot to store my passport and other sensitive items that need to be kept totally secure!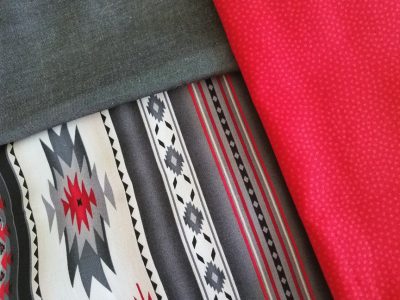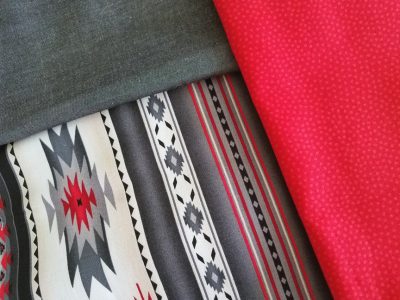 And now for this wonderful fabric from Elizabeth's Studio. It's called "Natural World Stripe" from the Tucson collection and they call this colorway storm grey. For this sample I paired it with a random red I had in my stash and a very cool grey that looked almost linen-like.
And now that I see this combination together, I have to ask myself why I haven't used a grey and red color palette in the past, because I'm really loving it!
So there you have it!
Just in case you're wondering… the overall dimensions of this bag are 12″ X 8″ X 5″ and right now we're working toward a late June to early July release and along those lines, it's never too early to start thinking about a name for this design, so if you have any ideas, I'm all ears! 🙂
**********************************************************************************************
And now…. it's YOUR turn!
I'd love to know what you think of our new design at this point in the process? And remember, we love reading your comments and answering your questions too, so please feel free to leave either or both in the space provided below.
**************************************************************************************
Check out the best sewing pins with me on Pinterest, join in on discussions or show off your work in our FaceBook Group, or get your daily sewing fix on our Facebook Business Page or get behind the scenes scoops on Instagram, and be the 1st to know about new patterns, discount codes and sample sales by signing up for our monthly newsletter.