So…
in our last post, we told you that we only had a few more samples of our new design to show you before we have to make that all-important decision… choosing a Cover Bag!!! But for this round, I used fabrics from Ivy Lane's "Imperial Paisley" collection. This purple focal print hit all the right notes with me and I hope you like it too! I'll give you all the particulars for these fabrics at the end of this post, following a little tour of this beauty!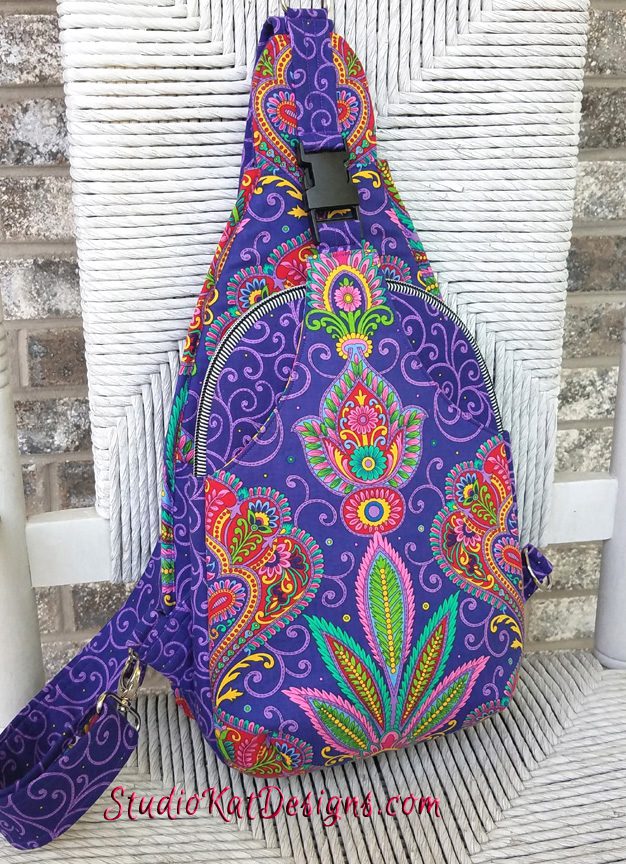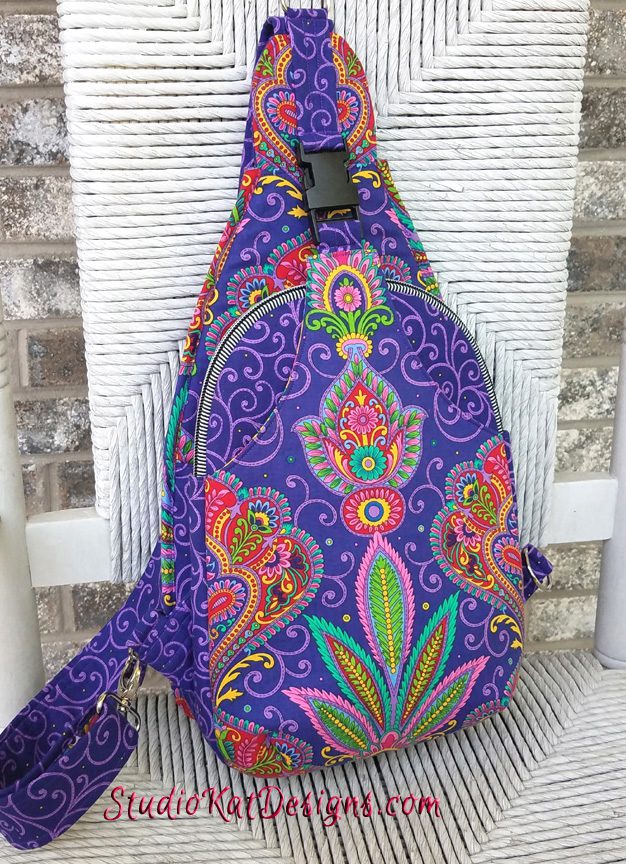 Here's the full-on view. This fabric actually showcases two completely different focal print areas that could have used and as lovely as this turned out, this was NOT my first choice. The combination of a fairly large repeat and the unlucky cut I received, precluded me from using the area I had intended, but it all worked out.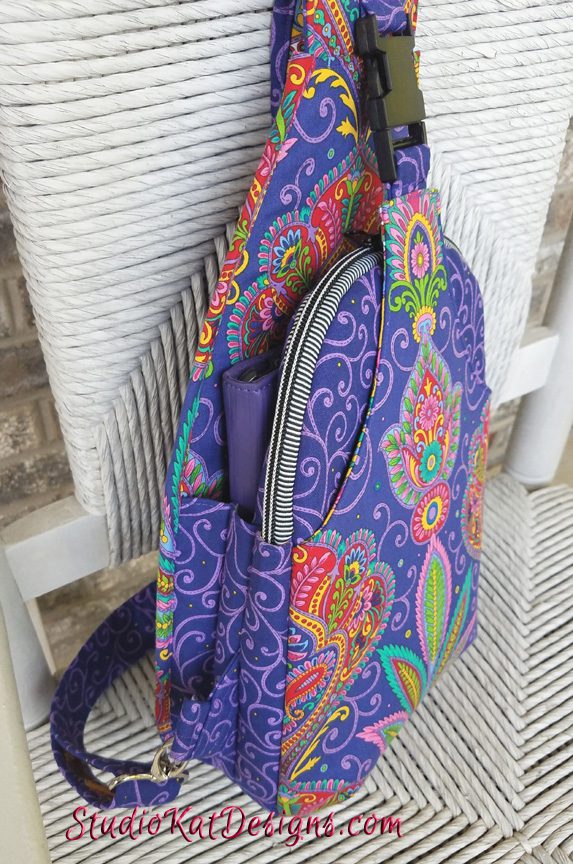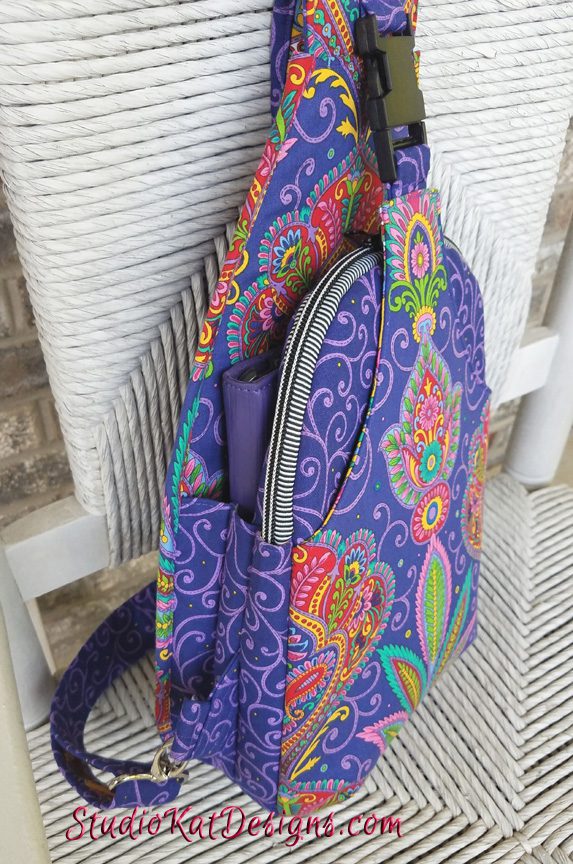 This pictures gives you a good look at three of the four storage areas this design affords. The front pocket area is clipped securely in place at the moment, but drops down to reveal an ideal spot for your cell phone or keys. The zipper pouch is totally secure and very roomy and the secret niche area behind it mag-snaps in place and is sized right so that you can even place your iPad there!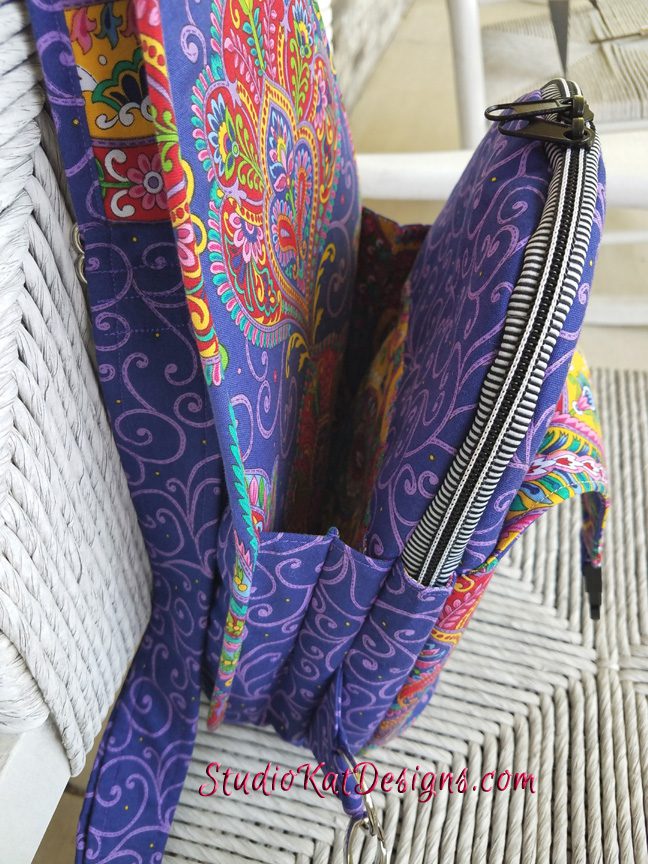 Here's how the secret niche area looks when its empty. As you can see there's plenty of room for car keys, sunglasses and anything else you want fast access to!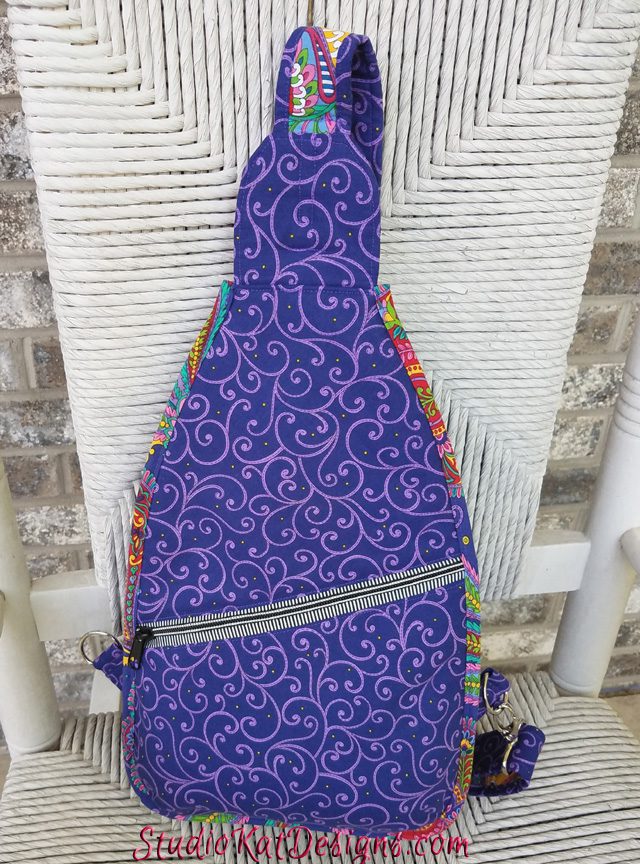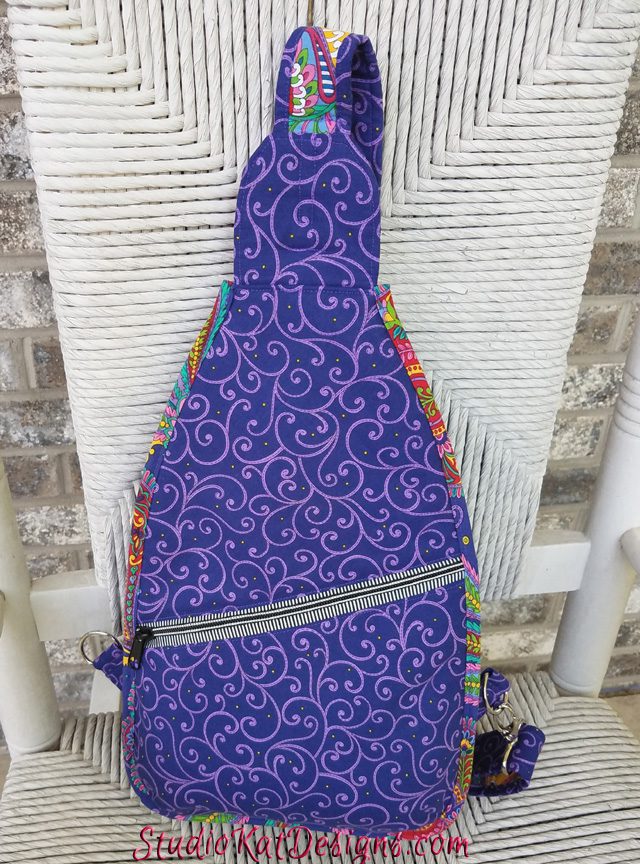 And the fourth storage area is located on the back side of this bag. This pocket is full-width AND full-height which is perfect for paperback books, greeting cards and other oddly shaped items.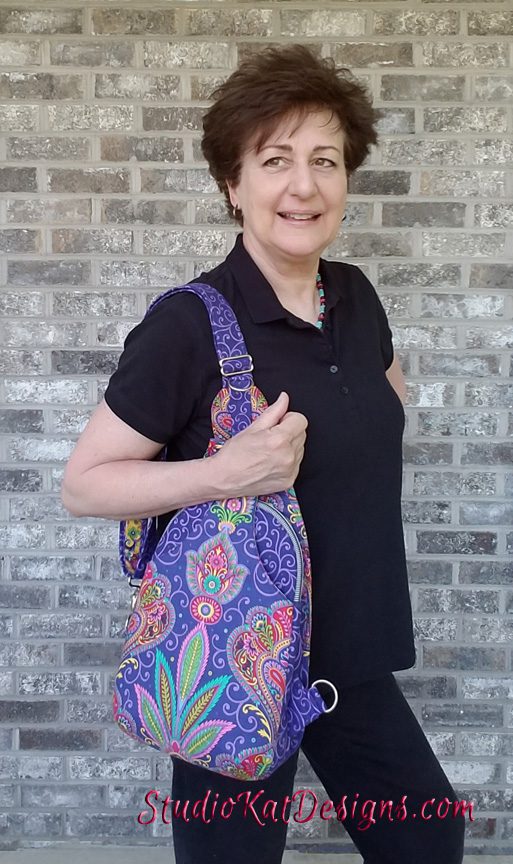 My favorite way to carry this bag is as a shoulder bag. It's very comfortable to wear and the 1 1/2″ wide strap distributes weight well and stays in place on my shoulder! There's a clip ring located on BOTH sides of the bag which makes it a quick and easy thing to relocate the strap and wear the bag on the opposite shoulder!
And if hands free is what you're looking for, this bag can actually be worn as a chestpack or as a backpack and once again, the extra clip ring provides the diversity of being able to quickly change which shoulder carries the bag!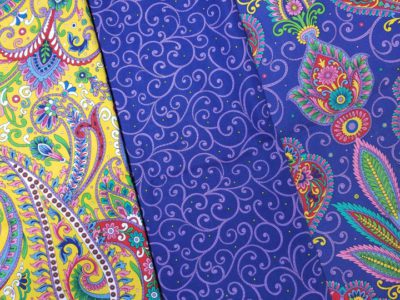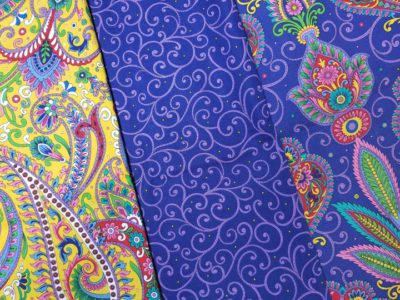 And now some fabric information for you…
All 3 of these fabrics are from the "Imperial Paisley" collection by Ivy Lane. They are as follows:
Exterior– "Paisley in Navy" (yep, looks purple to me)
Contrast– 'Scroll in Navy" (again… looks like purple)
Lining– "Paisley in Gold" (and this is as yellow as yellow gets!)
So… with that
I'm proud to say that I'm basically done making samples that will be candidates for the Sling Along pattern cover. I do plan on making and eventually showing you one more sample because its my opinion that this bag could easily work as a "Man purse", but I may not show it to you for a bit because I've got to get busy and pick out our cover model, so stay tuned for our next post in this series which is always one of my favorite posts of the year! That's because I'll recap all of the cover candidates we're considering for that coveted position and we'll be letting YOU play the part of designer and offer up YOUR choice!
And now…. it's YOUR turn!
Got any comments or questions for me? Remember, we love reading your comments and answering your questions too, so please feel free to leave either or both in the space provided below.
*************************************************************************************
Check out the best sewing pins with me on Pinterest, join in on discussions or show off your work in our FaceBook Group, or get your daily sewing fix on our Facebook Business Page or get behind the scenes scoops on Instagram, and be the 1st to know about new patterns, discount codes and sample sales by signing up for our monthly newsletter.