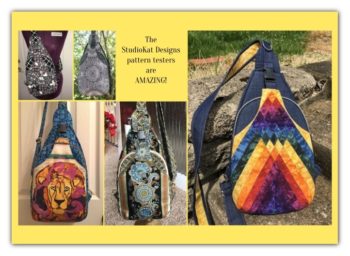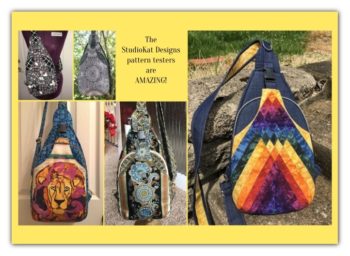 So….
It's that time again! It's time to show you what our testers created in the process of testing our pattern instructions for the Sling Along! Many of you know that one of my favorite parts of the pattern development process is the testing round. I just LOVE seeing what our testers are inspired to create, especially since each one of our testers has their own individual style and several have a real flair for the dramatic! So with that intro…
Let me show you what our testers whipped up during this,
our 17th cycle of Purse Pattern Chronicles!
(presented in the order in which they were submitted to us)
Diane Rhodes is from Monroeville, PA and started testing for us back in 2012 in the 6th cycle of Purse Pattern Chronicles with the Uptown Saddlebag. I always look forward to the seeing the bags that Diane creates because of the intricate piecing that generally adorns the exterior, and as you can see, her Sling Along sample did not disappoint! I LOVE these jewel tones and the band across the back is a new twist for her! 🙂
And this totally amazing Sling Along was created by 1st time tester, Georgia Segura of Deer Park, TX. We are SO pleased to have Georgia join us on our testing panel and all I can say is, I'd love to be a little fly on the wall when Georgia walks into the room with THIS beauty on her shoulder! Welcome Georgia!
Lori Gates is from West Henrietta, NY and has been testing for us since the Fall of 2008 when we introduced the Boho Baguette and that's before we even started the first cycle of Purse Pattern Chronicles! WOW! AND… besides being a great seamstress, Lori is an excellent grammatician (is that a word?) & proof-reader and I really appreciate this talent! GREAT job as usual, Lori!
Mary Larson of Rochester, MN started testing for us in the 11th cycle of Purse Pattern Chronicles with the Triple Play. Like me, Mary loves working with graphic prints and enjoys pairing them with bold coordinates. I appreciate that Mary is very active on our various social media pages and her Sling Along is gorgeous!
And Shannon Maciejewski of Almont, MI joined our testing team in the 9th cycle of Purse Pattern Chronicles with the Wrapsody. I always look forward to the unique exteriors Shannon creates for her bags. This is a classy Sling Along and I love how our new black w/silver zipper looks with with this fabric!
So that's how the testing rounds played out for this our 17th cycle of Purse Pattern Chronicles and aren't these bags fantastic? And hey— Didn't our testers do an exceptional job?
And now it's YOUR turn!
And here's the deal… our testers perform a great service for us (and in turn for YOU) in the process of making their test bags. I can't imagine publishing a new pattern without their input, and if you'd like to leave them some love in the "Comments" section" below I'm sure they'd appreciate it. And if you have any questions about the testing process in general or this new design in particular, I'll do my best to answer them there also!
************************************************************************************
Check out the best sewing pins with me on Pinterest, join in on discussions or show off your work in our FaceBook Group, or get your daily sewing fix on our Facebook Business Page or get behind the scenes scoops on Instagram, and be the 1st to know about new patterns, discount codes and sample sales by signing up for our monthly newsletter.