So… in our last post we had a little fun letting YOU be the designer and choosing which of our bag samples YOU would choose to grace the pattern cover for our 2nd new pattern of 2023, the Easy Go Wallet. Thanks SO much to everyone who voiced their opinion! Pattern design can be rather solitary work and I REALLY like hearing the logic behind which bag my customers would choose.
And here's the deal, the best part about this cycle was that SO many of you ALSO included your reasons why you chose the cover sample that you did. I LOVE that! Your opinions were invaluable and I really was able to take them into account this time! THANK YOU!
So with that in mind, here's the choices that
ALL of us considered for the Easy Go Wallet pattern cover.
So if you haven't already guessed, it's with great pleasure
that I now reveal the official cover for the "Easy Go Wallet" pattern!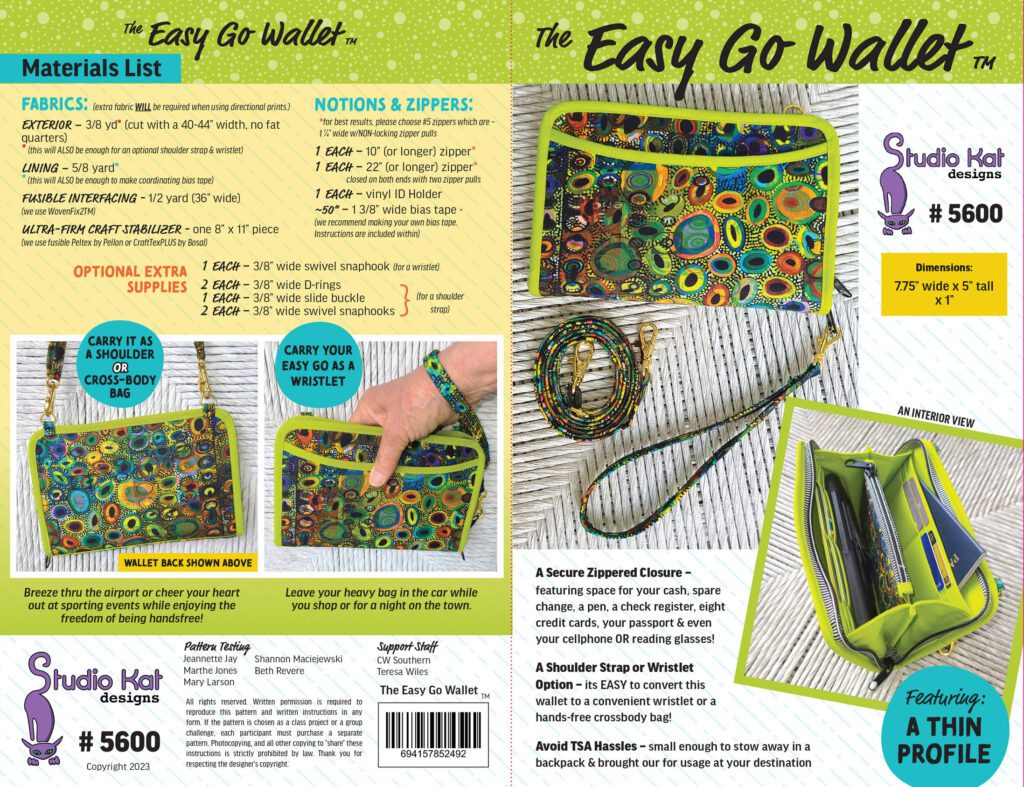 You might recall from the post I wrote about this sample (click HERE) that I spied this "circle fabric" in the booth across the aisle from us at AQS Paducah. It was calling to me and I loved the green contrast fabric that was located near it as well. And here's the deal… I knew at the time that this wasn't my "normal" color scheme, nor was it my normal exterior print but I felt it was almost a match made it heaven…
So did we make the perfect choice?
Truth is, only time will tell! The Easy Go Wallet has been very well received so far, and even though I easily could have gone with a couple other choices and it probably wouldn't have made a bit of difference "sales-wise", I feel good about this choice. I especially feel good that it was validated by SO MANY of you either by commenting on the post, or on social media or even by email! THANK YOU for all of your feedback!
So in conclusion, I like how the cover came out and how it has a totally unique yet cohesive look with our past patterns, which is actually a big deal since I had to go with a new graphics designer (for me) this time and I'm really pleased with how this cover has a fresh look and I find it quite exciting for these reasons!
But PLEASE NOTE!!!! — Just as we did in our Double Take rollout in Spring, we'll be announcing the Easy Go Wallet pattern release sometime in mid-AUGUST by way of our bi-monthly newsletter, Bag Making is FUN. As is our norm, it will include a time-sensitive discount code toward the purchase of the Easy Go Wallet pattern so don't miss out! If you don't already receive our newsletter in your Inbox bi-monthly, you still have a small window of time to sign up & get in on the fun, PLUS pick up that nifty discount coupon too by clicking HERE.
And now it's YOUR turn!
Call me crazy but I always love knowing if you agree with our selection or if you think we totally blew it! So please feel free to leave your comments and/or questions in the space provided below! Don't worry. We won't be mad if you disagree with us! 🙂
And guess what? We have a private FaceBook Group page just for StudioKat Designs customers? It's the perfect place for you to post pictures, comments or questions about our patterns! How cool is that, right? And don't forget to check out the best sewing pins with me on Pinterest, get your daily sewing fix and behind the scenes scoops on Instagram, and be the 1st to know about new patterns, discount codes and sample sales by signing up for "Bag Making is Fun", our bi-monthly newsletter.