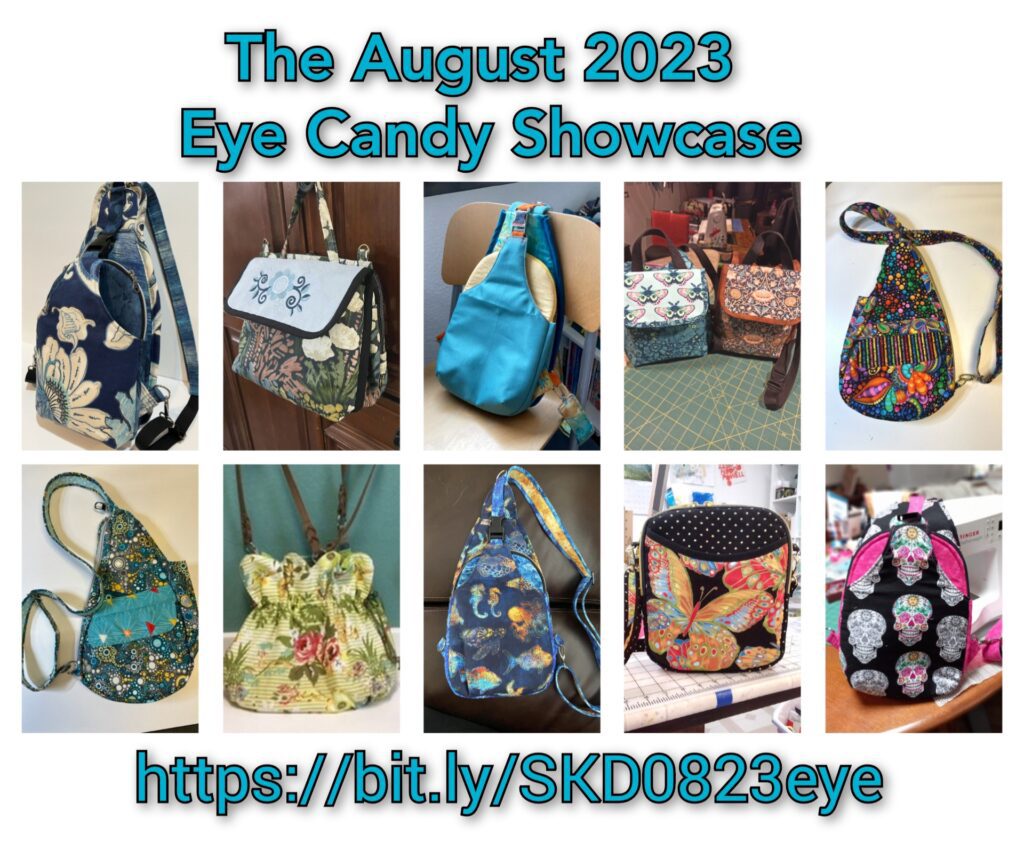 So… it's that time again!
It's time to let the skills of our customers shine in the August '23 Eye Candy Showcase! I totally love seeing the wonderful bags our customers create using our patterns and this month's lineup is really terrific!
So let's Get Started!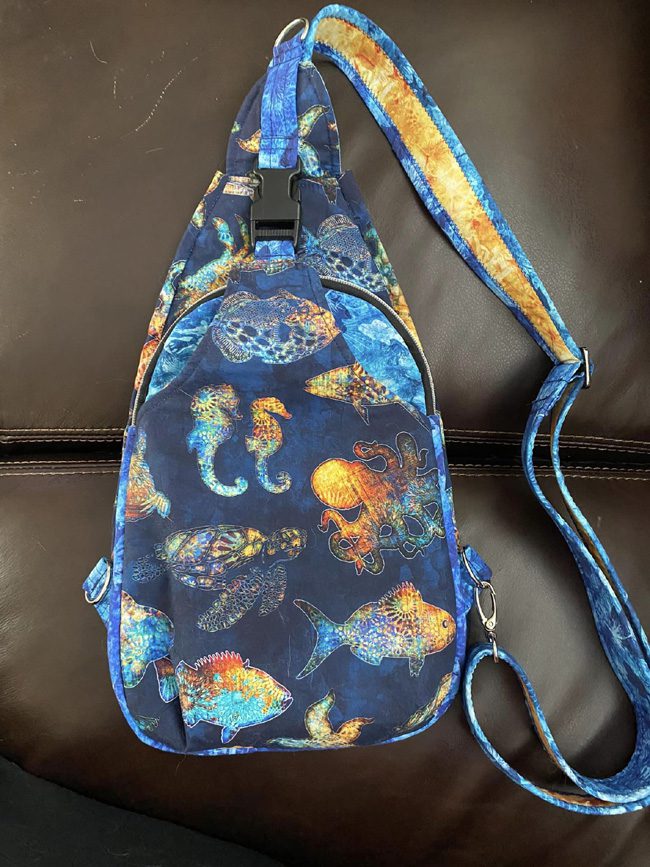 This is Sue Evans' 2nd Sling Along! Sue said that she had quite a time applying the bias tape during her 1st Sling Along outing but since then she has watched our bias tape video series and it made all the difference this time. (Her bias tape DOES look fabulous, right?!)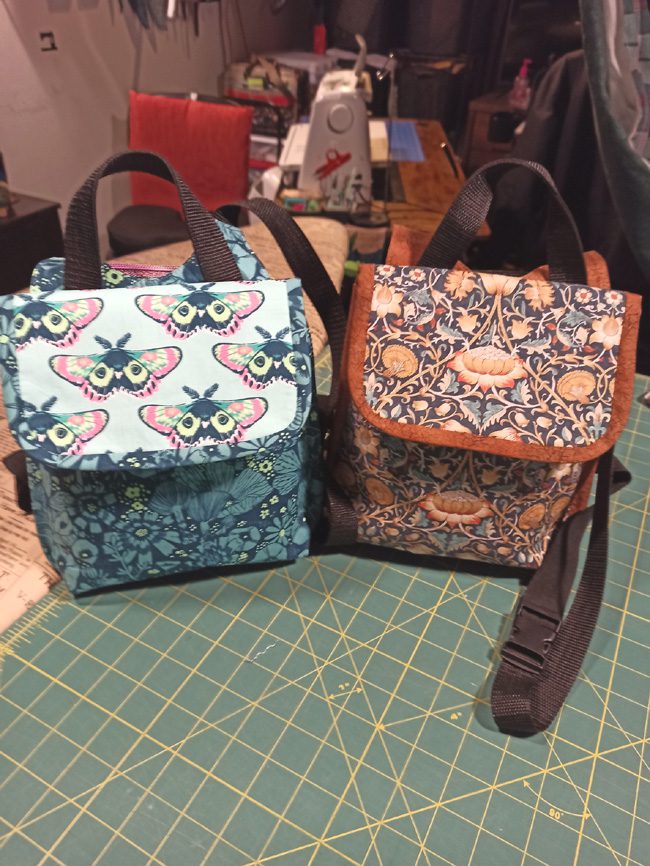 Mae Cadwell made both of these Odyssey's and this time she decided to change up the back strap area a bit so these bags could also be carried as a shoulder bag! I'm also pleased to notice that Mae is the 1st to have documented the use of our brand-new multi-color tweed zipper in the Odyssey at left.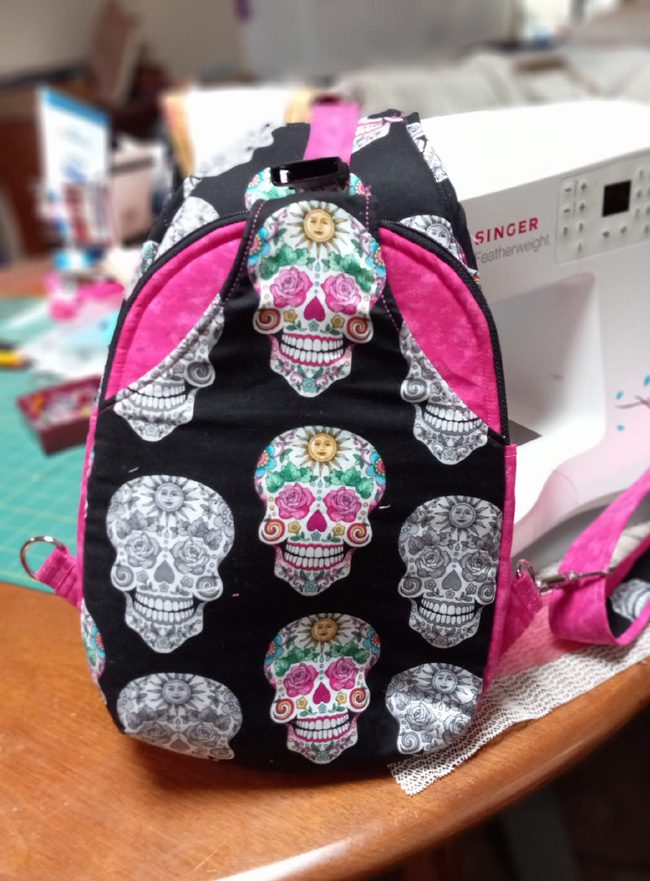 I met Marthe Jones on our recent trip overseas in May and it didnt take long
before I found out that Marthe was the "Bag Lady" for her LQS and has made
several of our bag designs, one of which is the Boho Baguette you see above.
AND… Marthe will be making her debut as one of our testers for the Easy Go pattern which will be releasing soon!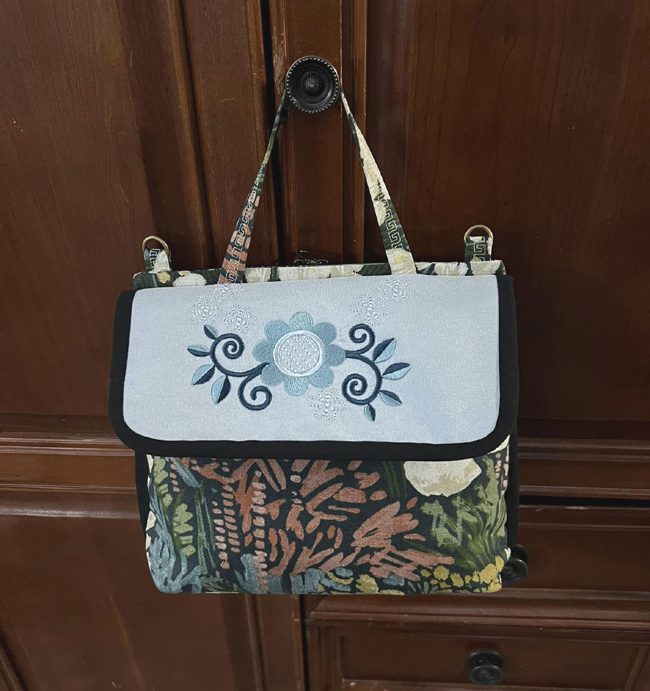 And here we have an Odyssey which was modified by Monica Perkins to make it wider. I love the fabric Monica chose
but I love even more the embroidery she added to the front flap closure!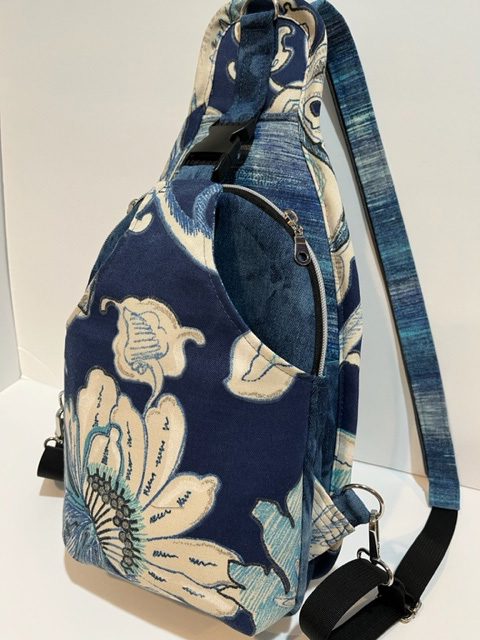 And here's Nancy Rosa with yet another of her signature Sling Along's
(with backpack straps) which she created for a friend.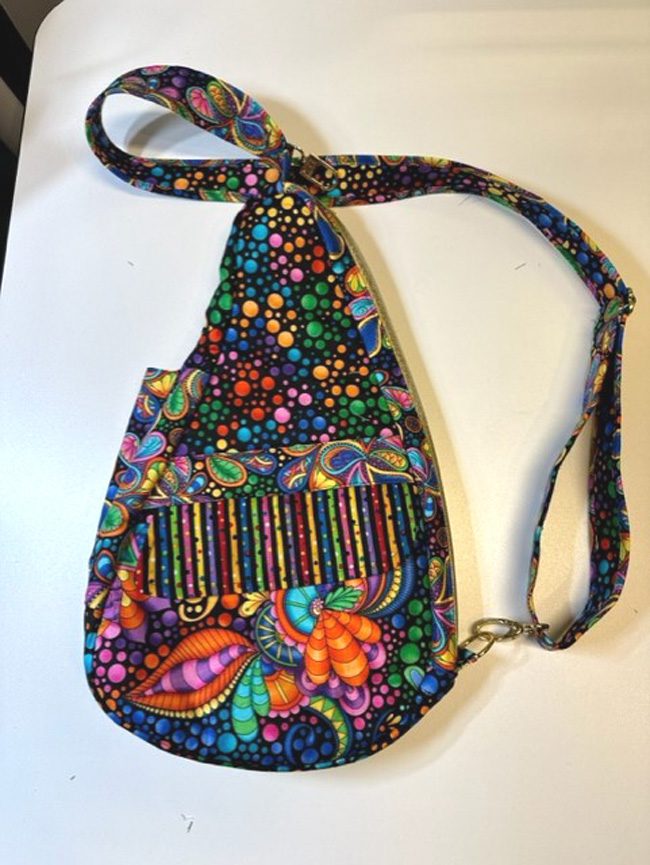 And here's Diane Faue's ErgoMatic that she made together with her friend Brenda Woods
(see them together below with their bags).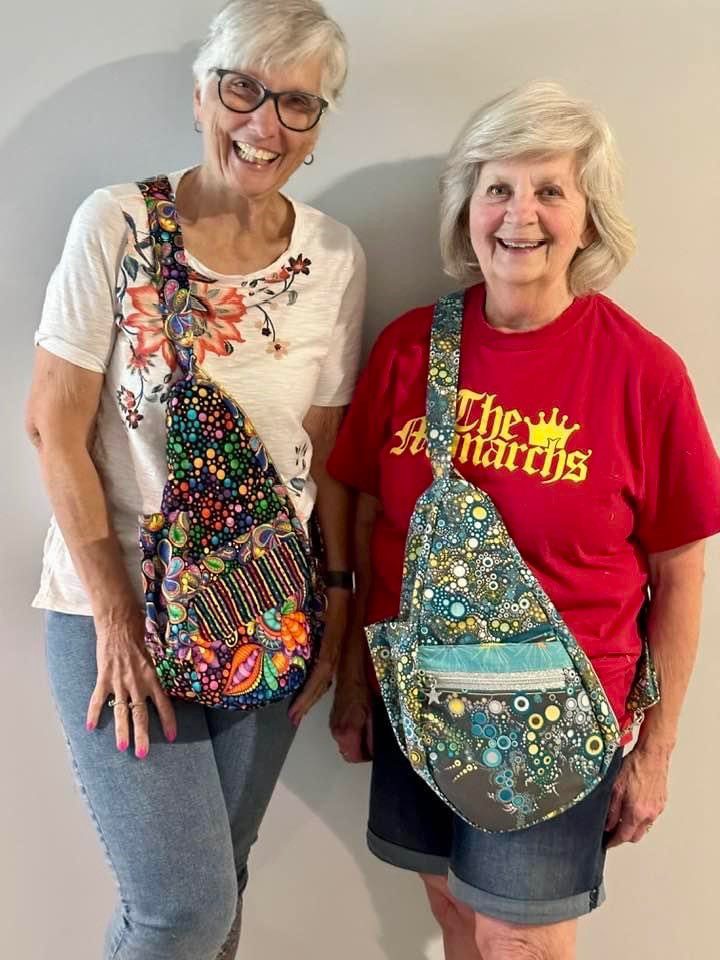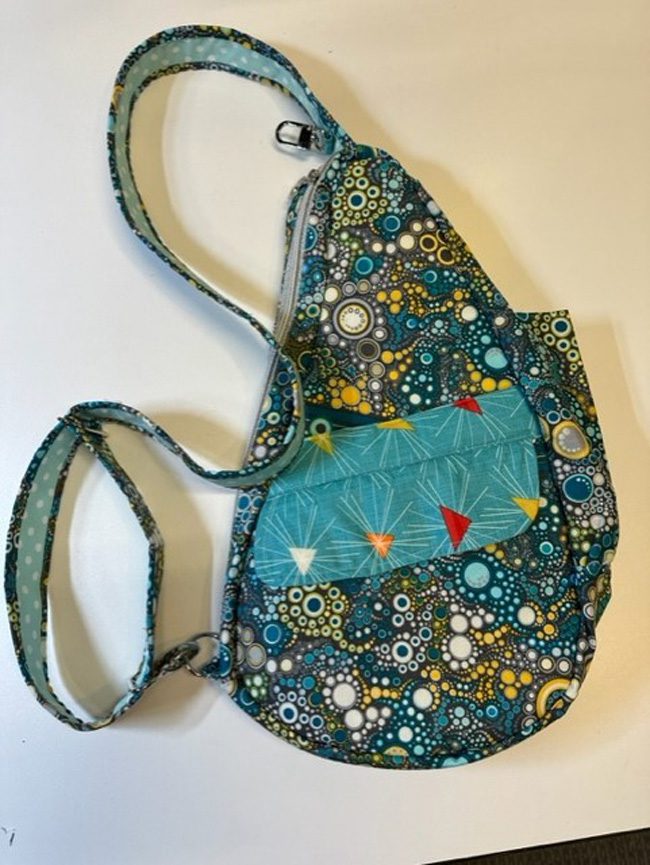 And here's Brenda Woods with her ErgoMatic that she created along with her buddy Diane Faue,
(see them together with their bags in the photo above)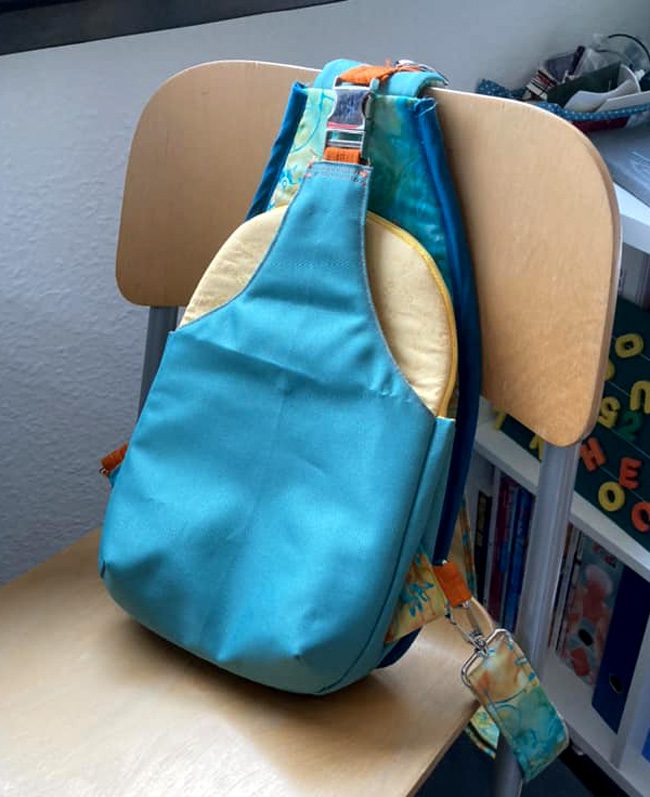 And Jodie Denhardt says that she finally finished her summer Sling Along!
She used a water-resistant fabric for the Bag Front!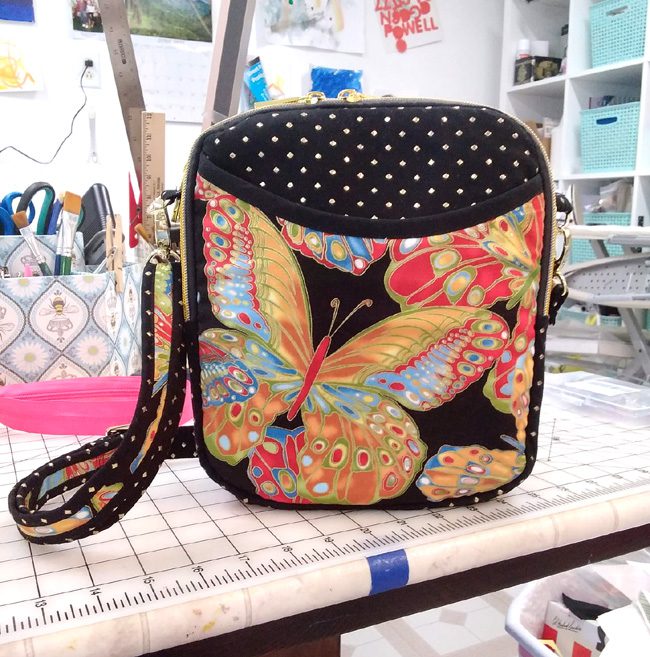 And finally, last but certainly not least, here's the very 1st SKD bag that Ann Powell has made…
a totally stunning Gemini FlightBag! And here's the deal… Ann says that she purposely did NOT
even use her choicest fabric for this 1st bag, and considering how amazing this bag is…
I'm looking forward to seeing her 2nd Gemini FlightBag!
And now, it's YOUR turn!
Which one of these beauties caught your eye initially? And which one made you want to know more? And remember, we love reading your comments and answering your questions too, so please feel free to leave either or both in the space provided below.
Check out the best sewing pins with me on Pinterest, join in on discussions or show off your work in our FaceBook Group, or get your daily sewing fix on our Facebook Business Page or get behind the scenes scoops on Instagram, and be the 1st to know about new patterns, discount codes and sample sales by signing up for "Bag Making is Fun", our bi-monthly newsletter.