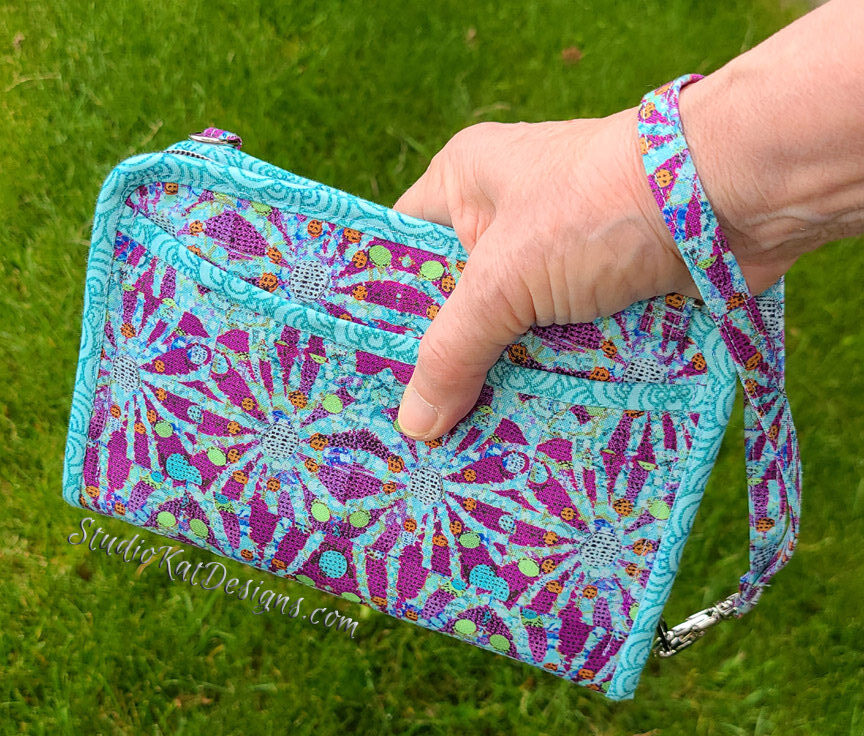 So…
after two prototypes, the time has finally come to get out the "good fabric" and create the first true sample of this new design!
I decided to go with some really cool P. Carter Carpin fabric I picked up at the Mid-Atlantic Quilt Fest (more about this fabric at the end of the post) and I'm really happy with how it turned out!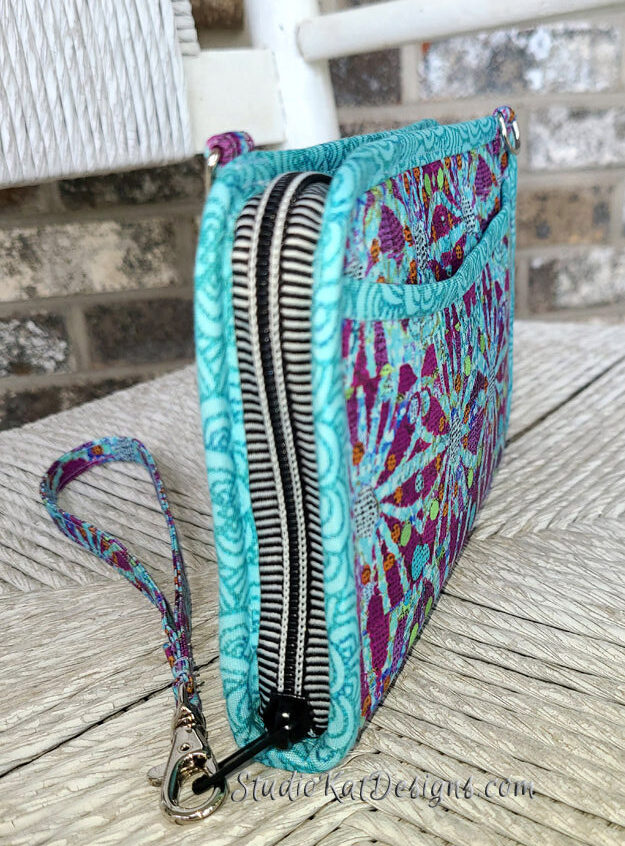 As I've mentioned before, My goal for this new wallet design can be summarized in one word… THIN!
Because I wanted it to function as a TRUE wallet… beautifully of course!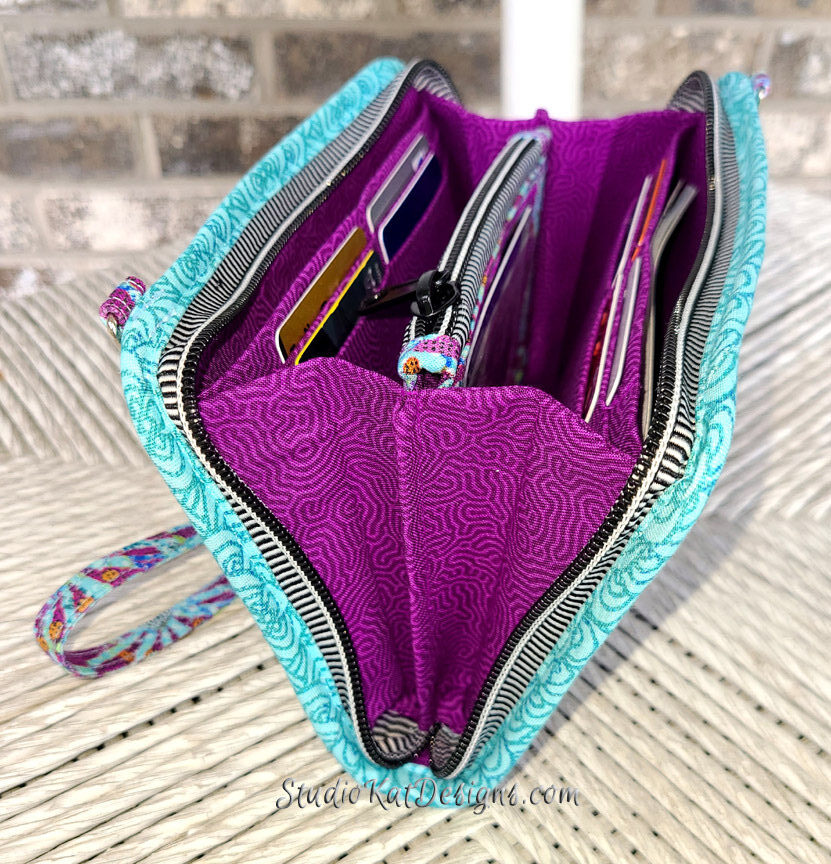 But even with this thin profile, we've packed in some serious features. There are slots for eight credit cards (4 on each sides placed inside on their short side edges) and a slot pocket on both sides of wallet for cash, a checkbook and even a passport, PLUS… there's a zippered coin purse in the center.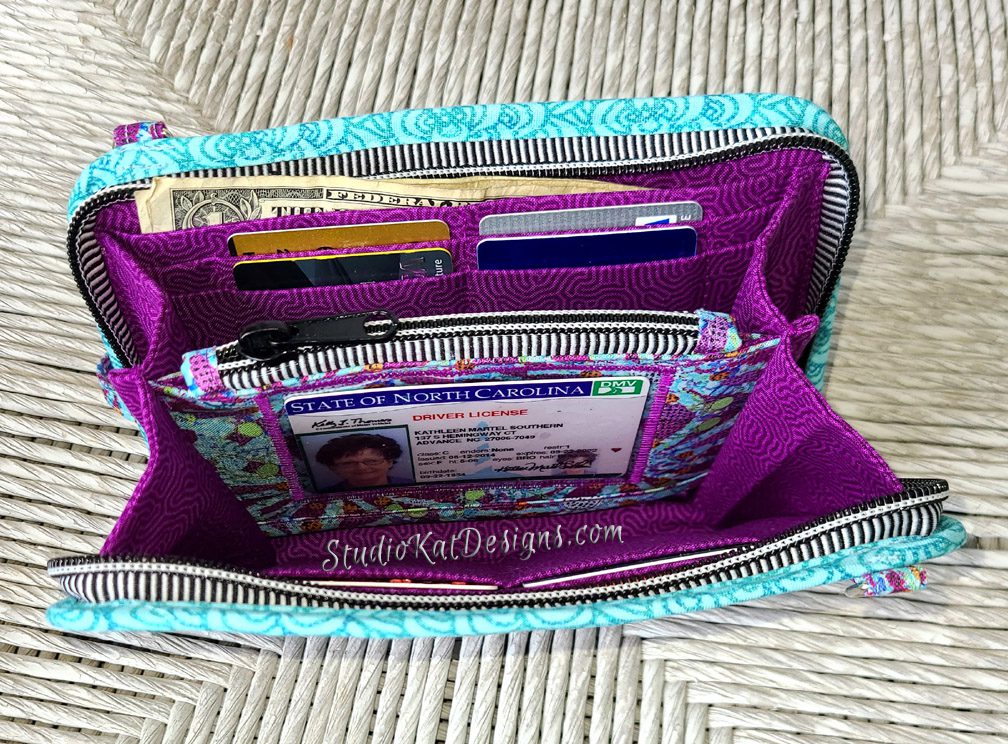 Here's a few better looks at this interior. At far left you can get a good look at the new clear ID Holder we're using, and at far right you can see that this Samsung Galaxy S20 (a relatively LARGE phone right now) fits just right on the inside of this wallet. Of course you won't be able to place as many items inside this wallet as was possible for the Walkabout Wallet, especially if you plan on carrying your phone inside.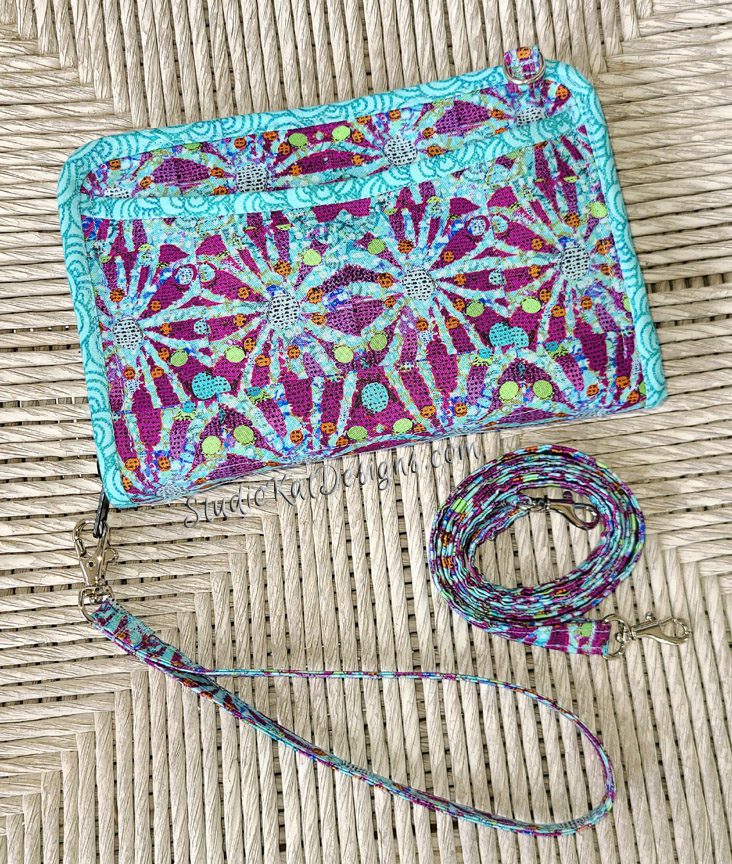 And because there may be times that our customers would want to carry this wallet with a wristlet or with a shoulder strap I've included optional pattern pieces and instructions to make either or even BOTH!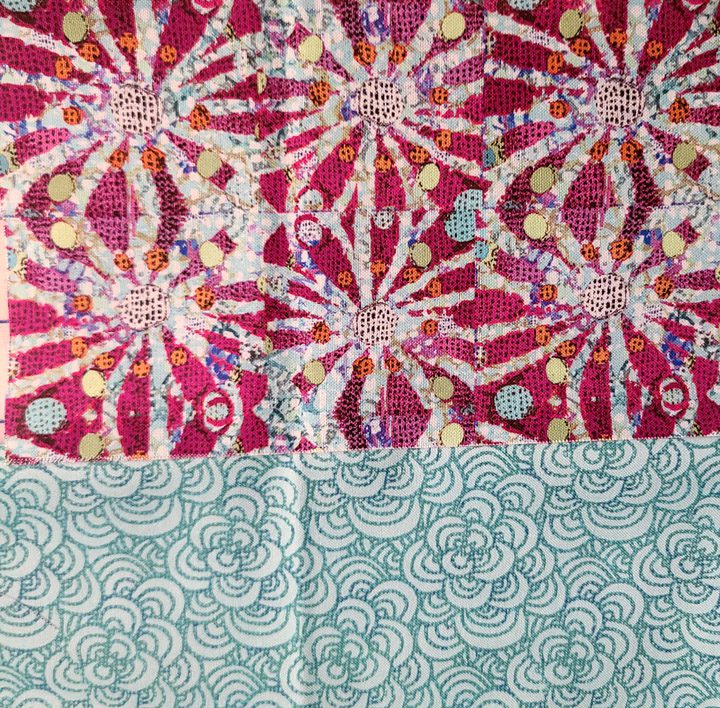 And now… let me give you some information about this yummy fabric by P. Carter Carpin, a very prolific fabric designer primarily found on Etsy. Carter also vends a quite a few retail shows so you may be able to catch her at one of those.
I love using her fabrics. They have a happy and whimsical feel to them and for this particular sample I used the following;
and now… since this design is pretty much solidified…
IT'S TIME TO NAME THIS PATTERN
As usual, I find this to be literally the hardest part of publishing a new pattern! So if you have a great name idea for this design please let me know! You can either email me your idea, or leave it in the comments section below! and thanks in advance for your ideas!
And here's some other Important Info-
Wallet size= 7 3/4″ wide X 5″ tall X 1″
projected release date- August 2023
And now, it's YOUR turn!
If you have comments you'd like to share or questions you'd like to ask about this design in general or this sample in specific, please feel free to leave either or both in the space provided below.
Check out the best sewing pins with me on Pinterest, join in on discussions or show off your work in our FaceBook Group, or get your daily sewing fix on our Facebook Business Page or get behind the scenes scoops on Instagram, and be the 1st to know about new patterns, discount codes and sample sales by signing up for "Bag Making is Fun", our bi-monthly newsletter.