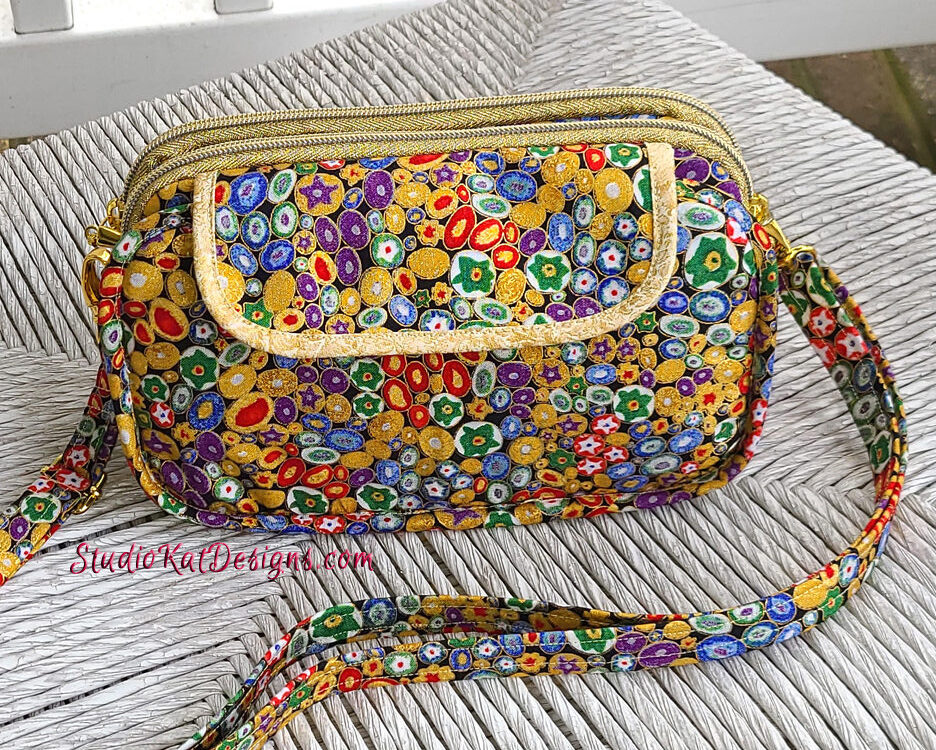 So…
In our last post I showed you the first REAL sample of what will eventually be our first new pattern of 2023!
But before we go on, you might find this fabric slightly familiar but with a definitive difference from fabric we used in a previous installment of "Purse Pattern Chronicles". If you click HERE you'll immediately recognize these fabrics as belonging to the same collection as those we used in both Cycle 25 and in Cycle 27 but in a totally different colorway.
More about this delicious fabric later on, but first…
Let me first give you the grand tour of this, our 2nd true sample for this design!
In the opening photo above is a front view of this sample. And here's the deal… as happy as I am with the width of this newly elongated closure, I'm thinking that I might just extend it another 1/2″ further down the front pouch for our next sample. Not a big change… probably one that most folks won't notice. 🙂
Do stay tuned for this change in our next post. I think it will be subtle, yet significant, but for now cast your eyes on the photo at right showing a clear view of the bag back as well as one of our signature "secret niche's" located between the two pouches, and secured with a magnetic snap.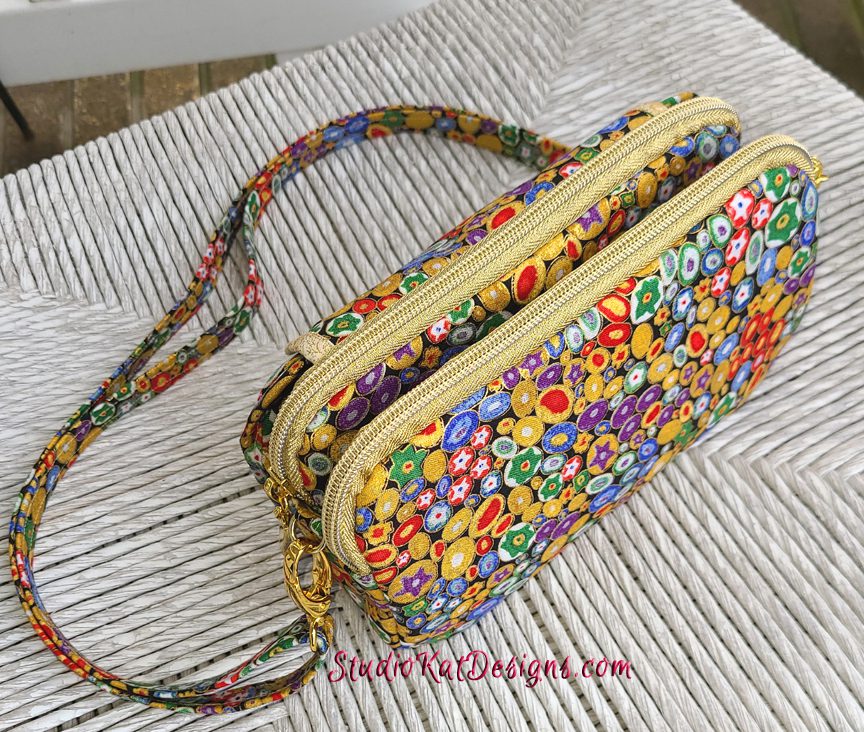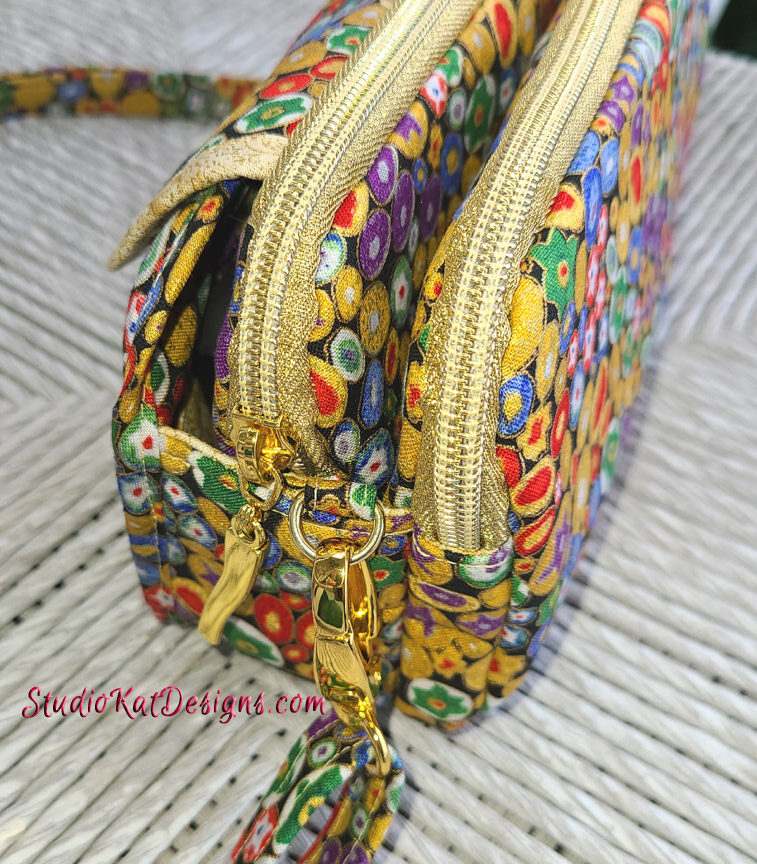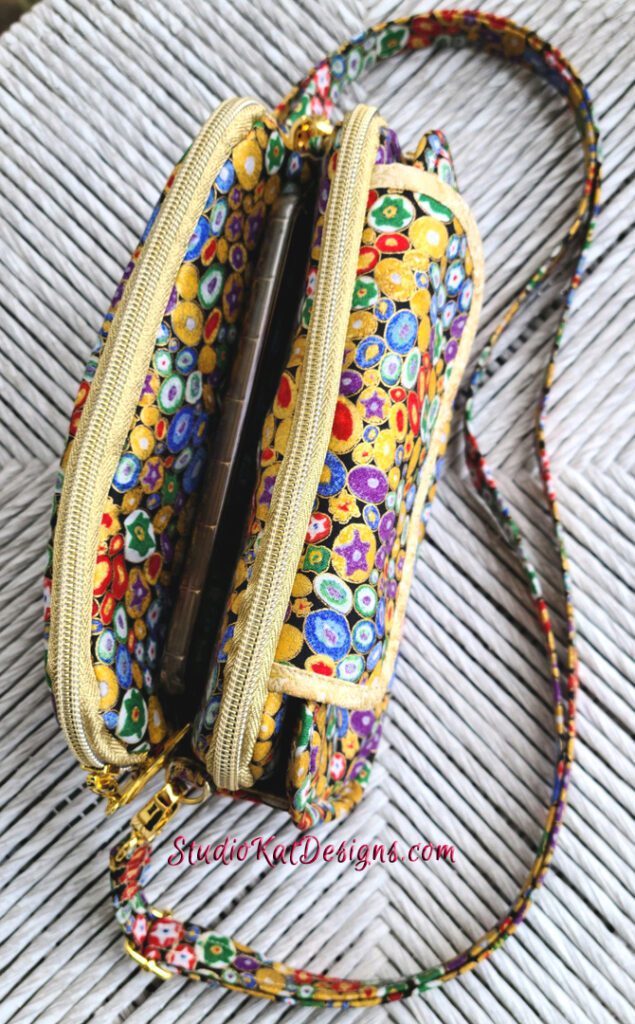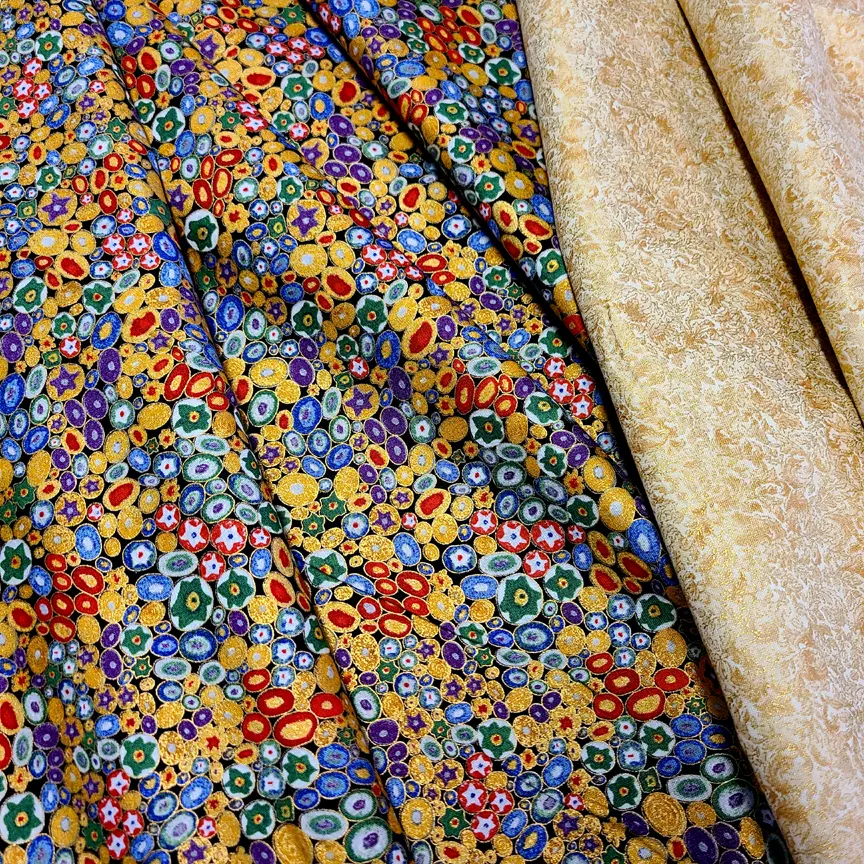 And now a word about these two amazing fabrics that were a total pleasure to work with on this design!
The multi-colored metallic print is called "Gustav Klimt" (in gold), and the subtle gold contrasting print is called "Fusions" (also in gold). Both are produced by Studio K for Robert Kaufman Fabrics and you can pick up a fabric kit with 1/2 yard of each for YOUR next project by clicking HERE.
For this sample I combined these two fabrics with two of our ALL GOLD zippers which you can find out more about HERE!
And here's some answers to some common questions we get asked about this new design!
What are dimensions of this bag? 8.5″ long X 5″ tall X 3″
When will this new pattern be released? This pattern will most likely be published in late February or early March of 2023. I know that's vague, but I'll be able to be more specific in a few weeks.
When will you decide on a name for this bag? I've mentioned in the past and it's still increasingly true, that naming a bag is one of the toughest and most frustrating parts of pattern designing. This is because a bag name needs to be completely original to avoid confusion and copyright issues with other patterns on the market now or in the past. So… if you have any bright ideas you'd like to share with us, I'm all ears! You can do so in the space provided below or you can email me privately at info@studiokatdesigns.com
Where can I get some of the fabrics you've showcased for this bag design? We currently carry many of the fabrics we've used or intend to use for this new design. To check them out, click HERE.
And now, it's YOUR turn!
Check out the best sewing pins with me on Pinterest, join in on discussions or show off your work in our FaceBook Group, or get your daily sewing fix on our Facebook Business Page or get behind the scenes scoops on Instagram, and be the 1st to know about new patterns, discount codes and sample sales by signing up for our monthly newsletter.