So… in our last post I told you that we coming to the end of line with the Katalina Shoulder Bag pattern and sure enough, this will be the last sample we'll show you before its time to choose the one sample that will represent this design best for the pattern cover. And as is our usual practice… stay tuned for the next post in this chapter of "Purse Pattern Chronicles" when as is our custom… we'll actually let YOU have a say in which of our Katalina samples will have the honor of gracing the pattern cover for this design!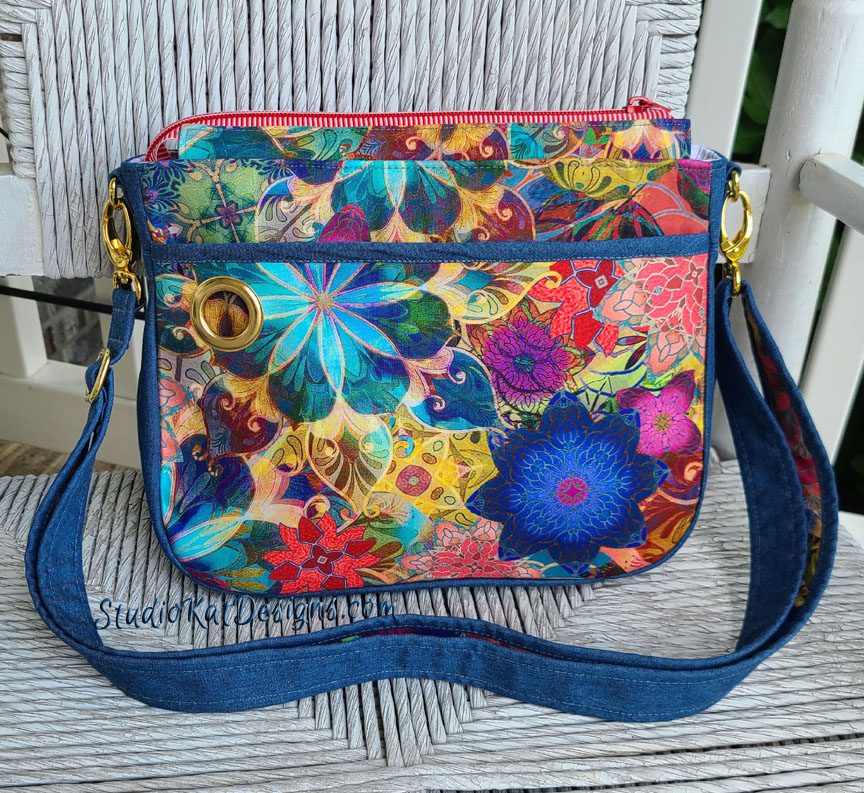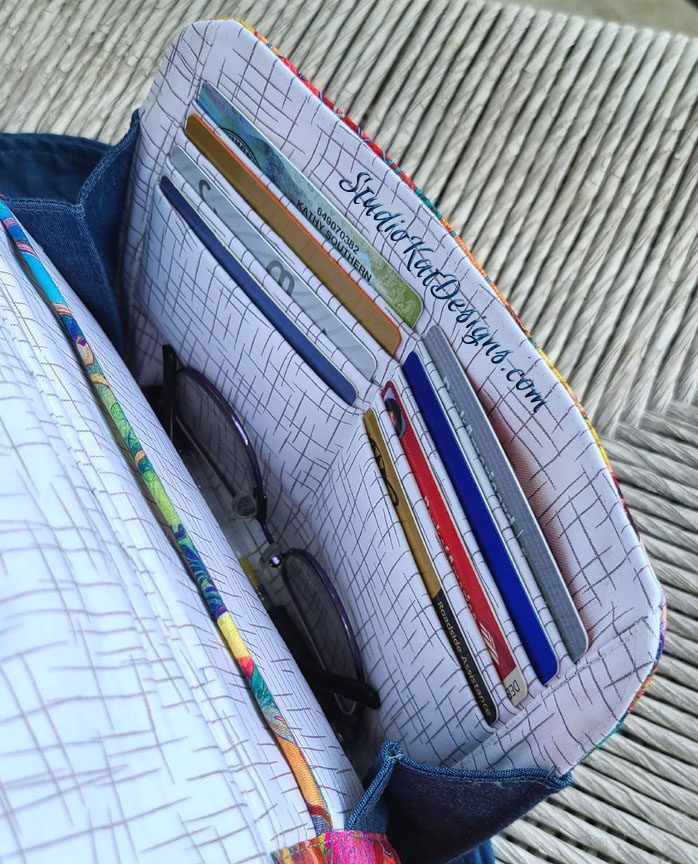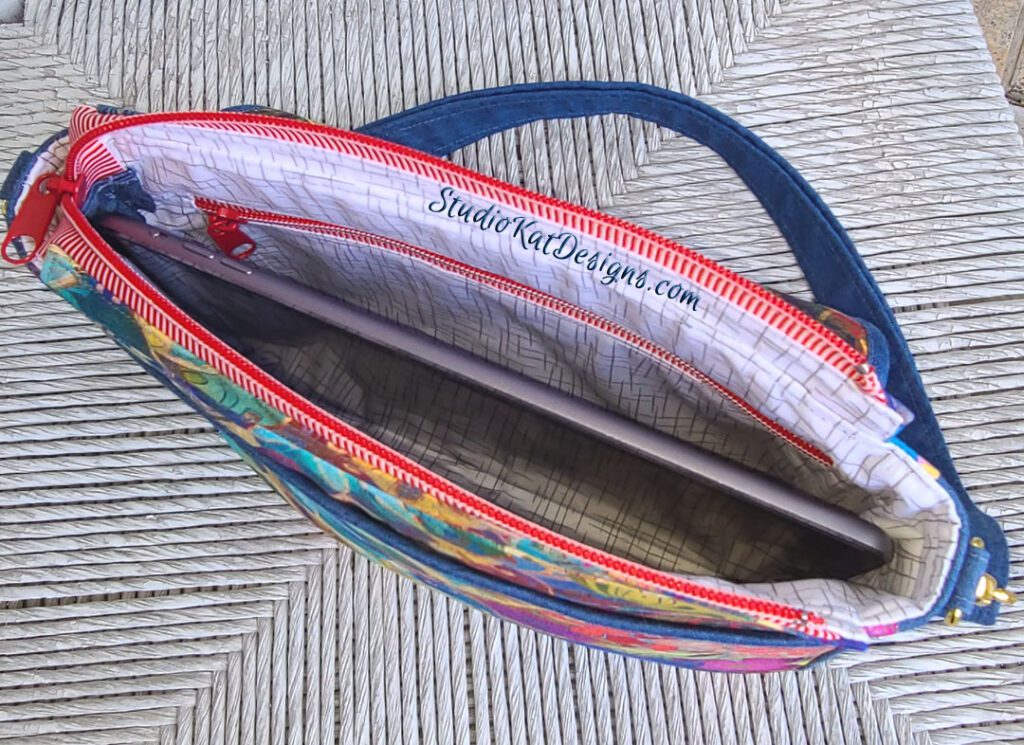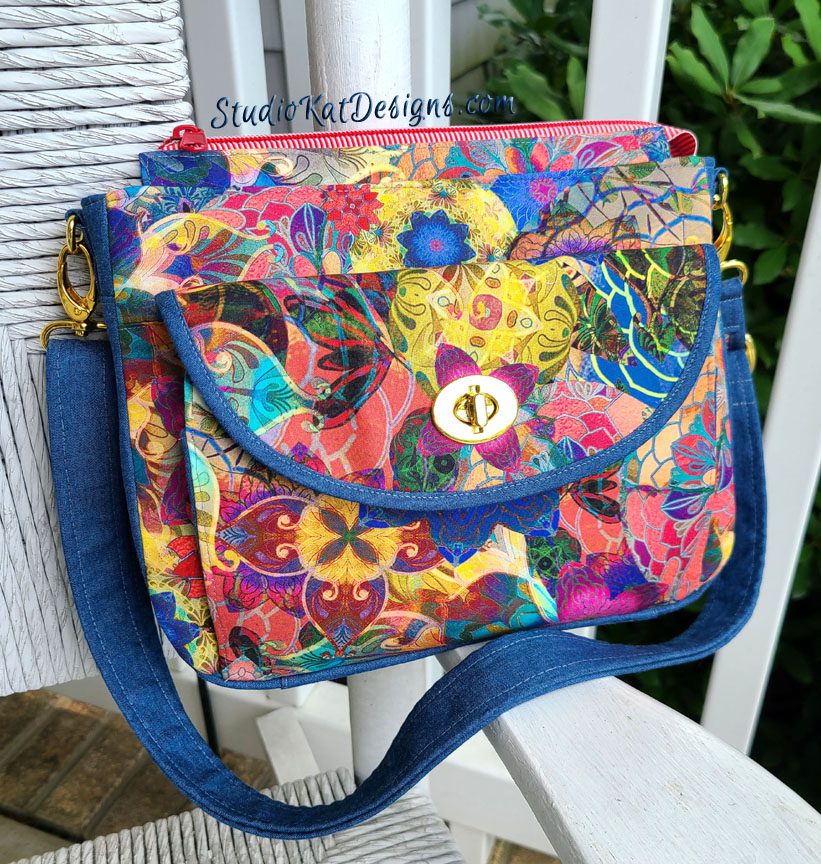 So… since this is the end of the line for our Katalina samples, let me just say in closing that this design is actually among the easier-to-sew of the 45 some odd bag patterns we've brought to market.
It's also one of my personal favorites for an everyday bag. I find the size to be perfect for my needs. Large enough to hold all of the items I need to carry but not so large that it gets bogged down and heavy on the shoulder.
And… with just a simple change in the adjustable strap, the Katalina can easily be transformed into a cross-body bag for handsfree convenience!
So in closing, please stay tuned for our next post where you'll get your chance to help us choose the cover model for the Katalina design and we covet your input!
And here's a few answers to the questions we most often receive
when we're working on a new pattern design!
What are the dimensions? the dimensions of this bag are 8″ tall X 10″ wide X 3″
Will my iPad fit inside? yes, my iPad Air easily fits in the main compartment of this bag.
When can I purchase this pattern? right now, I'm hoping for a late August '22 release for this new pattern, but this may turn into early September. Fingers crossed… I'll keep you posted.
And now… it's YOUR turn…
Do YOU have a favorite Katalina sample yet? If so… do stay tuned for our next post (later this week) when we'll give you a quick recap of ALL the sample we've created in support of this design and give YOU the opportunity to take part in deciding which one deserves to be the cover model on our pattern cover. (It's one of my favorite posts of the whole year!) And if you have comments you'd like to share or questions you'd like to ask about this design in general or this sample in specific, please feel free to leave either or both in the space provided below.
Check out the best sewing pins with me on Pinterest, join in on discussions or show off your work in our FaceBook Group, or get your daily sewing fix on our Facebook Business Page or get behind the scenes scoops on Instagram, and be the 1st to know about new patterns, discount codes and sample sales by signing up for our monthly newsletter.