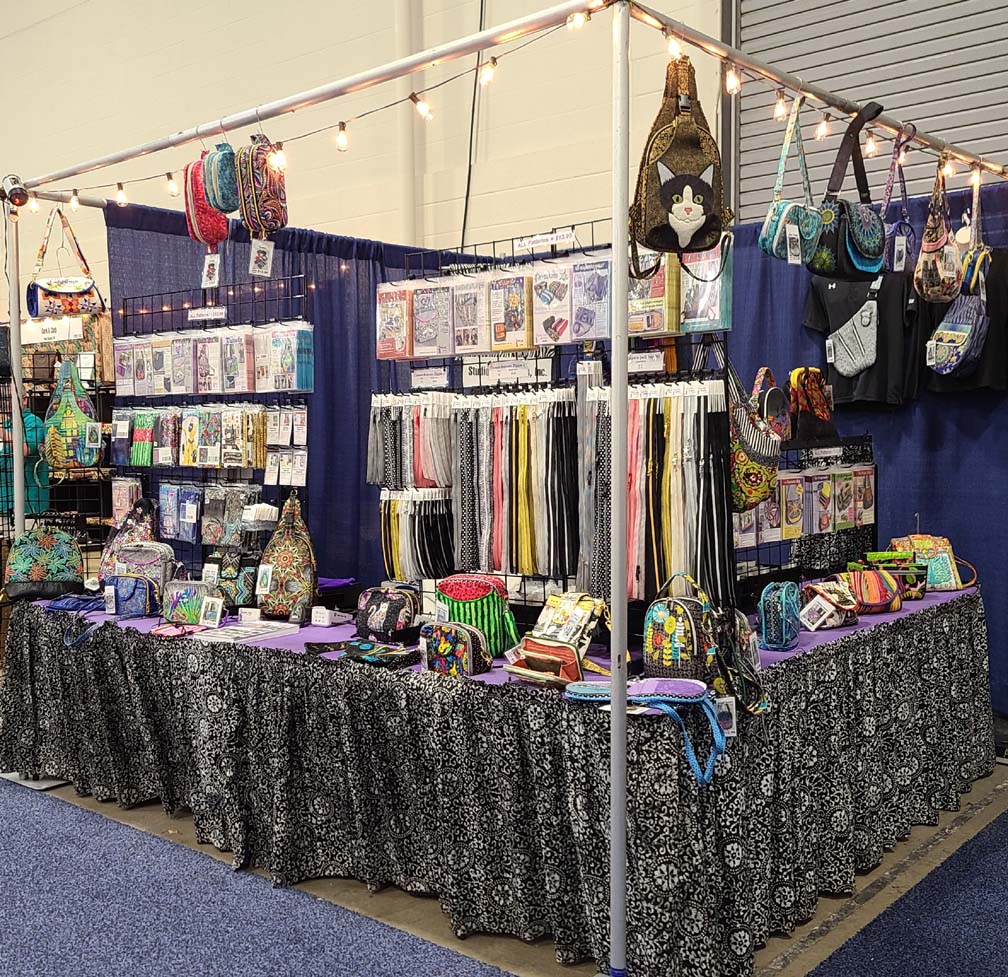 So…
we sure were happy to be headed down I-40 to our 1st AQS Paducah show since 2019. That's right, we went two whole years without going to Paducah, KY which is easily one of our favorite places to go!
And why wouldn't it be?
Because It always seems like the ENTIRE town is THRILLED for us to be there! And this year was certainly no exception!
So how did the show go for us?
You might remember from our pre-show post that we had BIG plans this time for our booth set-up to be totally devoid of grid wall boxes because they are SO labor intensive to both set up & take down. Let me show you below!
Additionally— in the photo at right (above) is an interior view of how this new setup has helped how we function within our booth, because here's the deal… the smaller "footprint" of this new gridwall affords us a LOT more space on the inside as well! In this case, ALL of our hardware kits can now be placed alphabetically on this one table behind this new grid wall and I SO enjoyed this!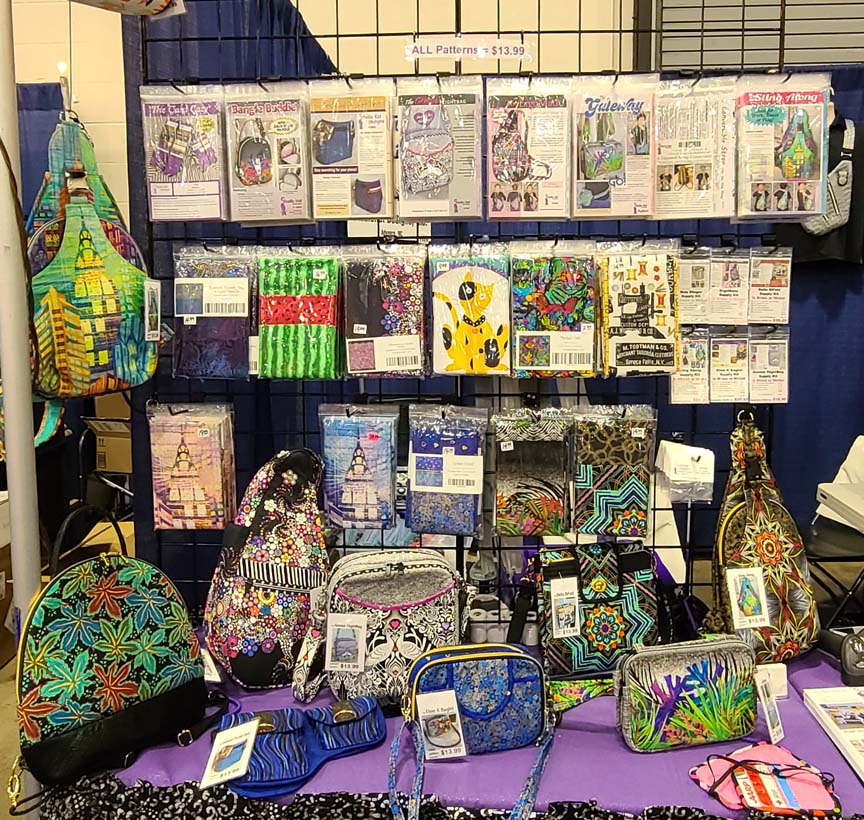 The result? In a nutshell, this was the single BEST AQS Paducah show we've ever had! One the plus side, we got to meet SO many more customers than we normally do, but we also started running out of products on Thursday, the 2nd day of the show! In the photo above left you can see how our display looked on day 1, but in the photo above right you can see how depleted we look on Day 4.
All in all, we sold out of 7 patterns, 4 fabrics, 5 zipper styles and 3 hardware kits! Which goes to show you no matter how well you plan for any show outcome, you better have a Plan B! and our Plan B has always been that if we run out of a pattern, fabric or hardware kit, we'll mail it to you FREE of charge, on us!
And 35 customers took advantage of this option.
Sound like a win-win to you? You bet it was!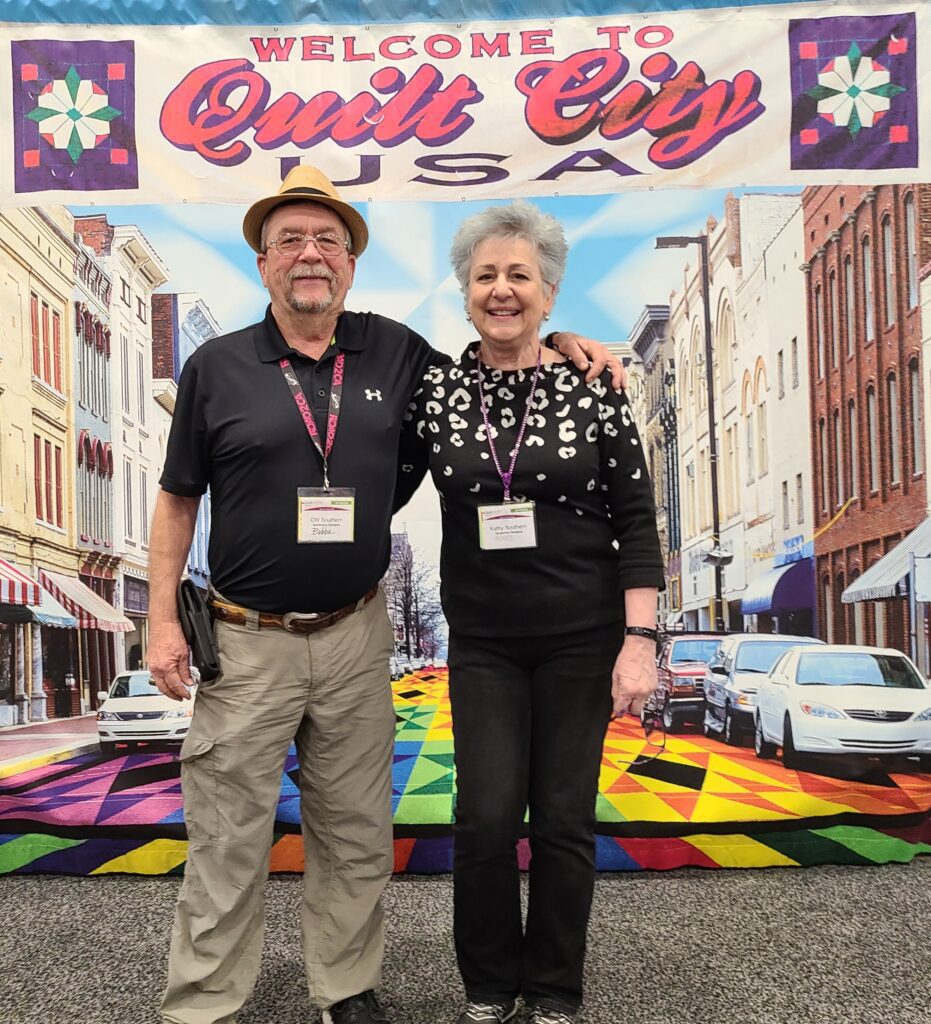 So thank you Paducah!
and thanks to all who stopped by to see us!
We came home with smiles on our faces, so happy for being able to feel normal at a show again after such a long time, and in one of our all-time favorite places on earth!
And now, it's YOUR turn!
If you have comments you'd like to share or questions you'd like to ask us about this show or any of our other shows, please feel free to leave either or both in the space provided below.
Which one of these beauties caught your eye initially? And which one made you want to know more? And remember, we love reading your comments and answering your questions too, so please feel free to leave either or both in the space provided below.
Check out the best sewing pins with me on Pinterest, join in on discussions or show off your work in our FaceBook Group, or get your daily sewing fix on our Facebook Business Page or get behind the scenes scoops on Instagram, and be the 1st to know about new patterns, discount codes and sample sales by signing up for our monthly newsletter.