Well here we go again!
We're at the start of that long road on the way to what will eventually be a brand new pattern design to share with the world!
I love this stage of the process. I love it because right now ALL things are still possible and ALL options are still on the table.
So… what was inspiring me this time?
Well… we've been asked for quite a while now to design another wallet pattern, but this time with more of everything we gave you in the Walkabout Wallet pattern.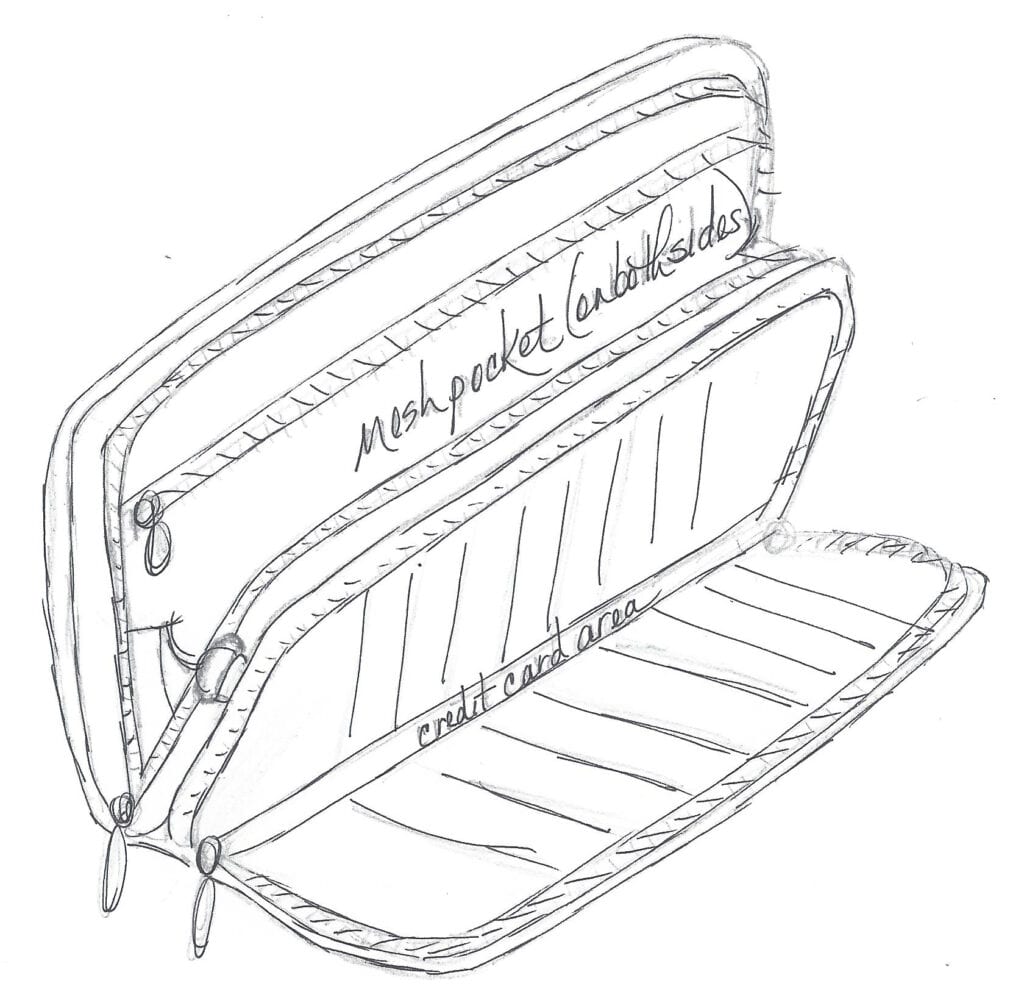 This would mean MORE credit & loyalty card slots…MORE pockets for storage, including a place for a passport, receipts, a notepad, and a checkbook…and especially MORE room for the stuff that women need to carry everyday like makeup, key fob(s), pens, reading glasses and nowadays… a mask or two!
In order to make this a reality, I'm envisioning a design with two separate and distinct zippered storage areas… one that's specifically designed for the multiples of credit & loyalty cards we all carry and need on a regular basis. I don't know about you but I'm so tired of storing these cards in 2 if not three different areas of my bag and/or wallet!
The other storage area will be designed to be a true wallet, containing areas for coins, paper money & a check record but SO much more! I'm envisioning two mesh pockets which will be perfect for sequestering receipts, notes & other loose items PLUS a very roomy section for stuff… you know what I mean by stuff, right? I'm talking about the other necessary items we as women carry everywhere we go. And by having all of this room available, along with an exterior pouch for a smartphone as well as a zippered pocket for other items you need quick access to, this design should be a true everyday handbag for modern women.
What I'm envisioning may not be the bag you would carry if you're accustomed to carrying everything including "the kitchen sink" as so many of my contemporaries sometimes did. But the modern woman of today is apt to be more of a minimalist when it comes to a handbag and this bag is being designed with that very woman in mind!
And now, it's YOUR turn!
What do you think about my vision? Do these options appeal to you? Would YOU be interested in carrying a bag like this? And here's the deal… if you have an idea for us to consider including in this design, we would love to hear it, sooner rather than later! And remember, we love reading your comments and answering your questions too, so please feel free to leave either or both in the space provided below.
Check out the best sewing pins with me on Pinterest, join in on discussions or show off your work in our FaceBook Group, or get your daily sewing fix on our Facebook Business Page or get behind the scenes scoops on Instagram, and be the 1st to know about new patterns, discount codes and sample sales by signing up for our monthly newsletter.