So…
it's a new year and it feels like its LONG past time to get back into a routine, which for us means starting work on a new bag design! Yep, that means we're looking down that long road that eventually culminates in a brand new bag pattern! It's exciting, and scary, and fraught with possibilities all at the same time and I especially love this part of the process for these reasons and many more!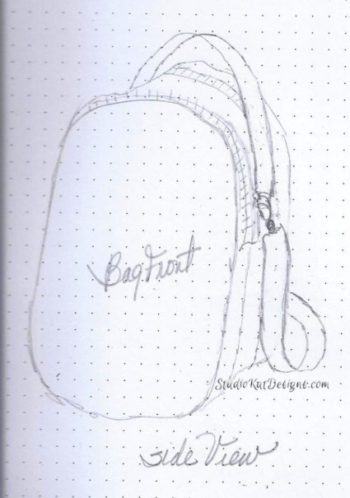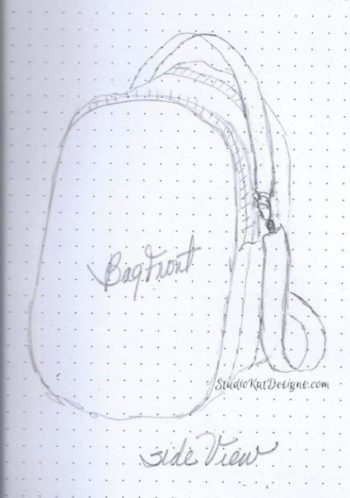 So let me share a few of my thoughts about this new design!
I'm aiming for what I would call a medium-sized bag with a structured exterior.I like the idea of a plain front, providing me with plenty of room for some creative fussy-cutting or even some innovative piecing.
You might notice that right now I'm planning for what amounts to TWO carrying options. That's because I like the idea of a long adjustable strap that allows for cross-body carrying, but I'm also going to include a shorter grab n'go handle which I plan on installing in such a way that it will not only be carrying option, but also a design feature! Check out the sketch below to see what I mean by that. 🙂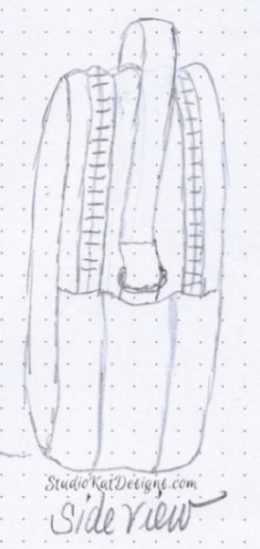 Check out this sketch at right and you'll notice that the shorter bag handle actually serves 3 purposes.

it secures the D-ring in place which will be how the long, adjustable shoulder strap will be attached to the bag and,
it stitched in place on both sides and around the entire base of the bag which adds a bit of design interest. It'll be a fun way to add a bit of contrast to the side area, and of course,
it provides the aforementioned grab n'go option.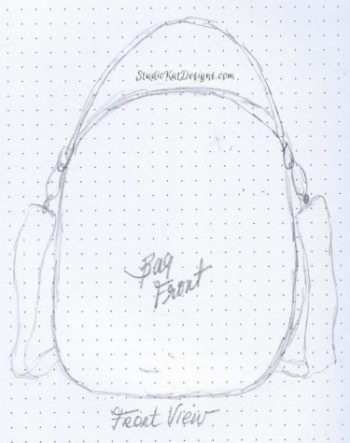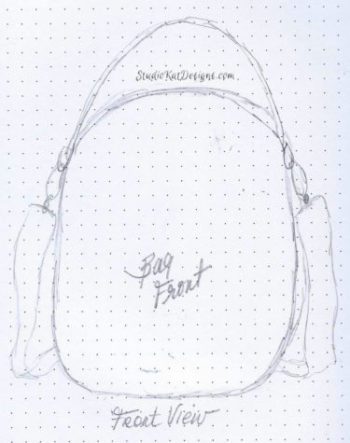 Other features planned are 2 completely separate, zippered, top-loading compartments plus I'll probably include some pen holders in one compartment and perhaps a mesh pocket in the other. On the back side I generally place a smartphone-sized pocket, but I haven't yet decided if I'll go with a zippered or a slip pocket.
And now…. it's YOUR turn!
I'd love to know what your general reaction is to the ideas & sketches I've presented here. Do you see anything here that intrigues you? And most importantly, do you have any suggestions for us to consider as we move forward? And remember, we love reading your comments and answering your questions too, so please feel free to leave either or both in the space provided below.
******************************************************************************************
Check out the best sewing pins with me on Pinterest, join in on discussions or show off your work in our FaceBook Group, or get your daily sewing fix on our Facebook Business Page or get behind the scenes scoops on Instagram, and be the 1st to know about new patterns, discount codes and sample sales by signing up for our monthly newsletter.