So…
with this year's Road to California show in the books, its time to let you know how it went, and to be honest we can sum up the entirety of the show in one single word, and that would be…
AWESOME… totally AWESOME!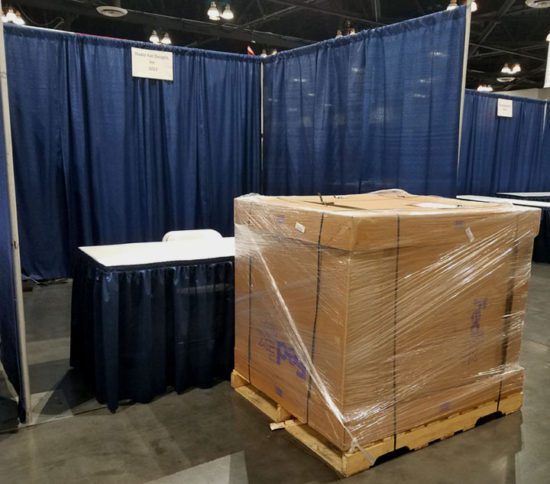 First of all, when we walked into the Convention Center on the Tuesday before the show, our freight box was sitting in front of booth, just as promised and this is a BIG deal for us! You might remember that last year's shipment, involving a different shipper (who shall remain nameless but it begins with a "U" & ends with an "S"), was NOT held at the terminal as directed and instead was delivered FIVE days early causing us to incur a $150/day penalty!
Yeah… you can just imagine how unhappy I was about that, so even though setting up our account with FedEx was anything but easy, all the heartburn involved was worth it due to correct delivery, not to mention the reduced cost!
Secondly, our new booth setup (having ALL of our zippers facing forward) proved to be VERY effective use of our space and this was born out in our zipper sales at this show which rivaled the records set at the Quilt Festival in Houston last Fall.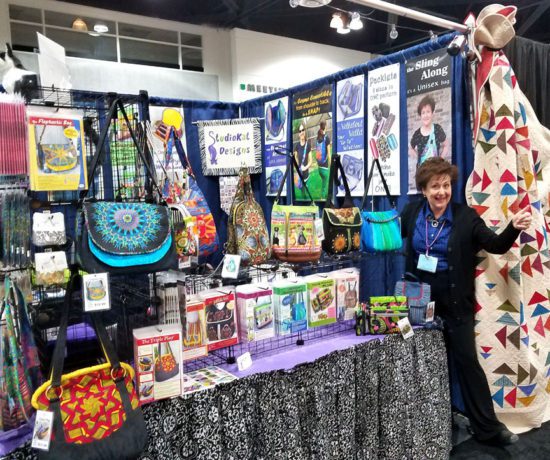 The only thing was… Many of you were concerned that the only way would be able to get in and out of our booth was to leap over the counter! But as you can see from the photo at right, there was plenty of room at the end of the side table to enter & exit!
Bottom line though— we were SO pleased with this new setup that we plan on using again in the upcoming Mid-Atlantic Quilt Festival where we're hoping it will lead to similar sales results!
Additionally, our new POS system worked flawlessly! Yes, we were excited to finally be able to provide our customers with a paper receipt and the new barcode scanner operated with lightning speed but there were also a few unanticipated benefits!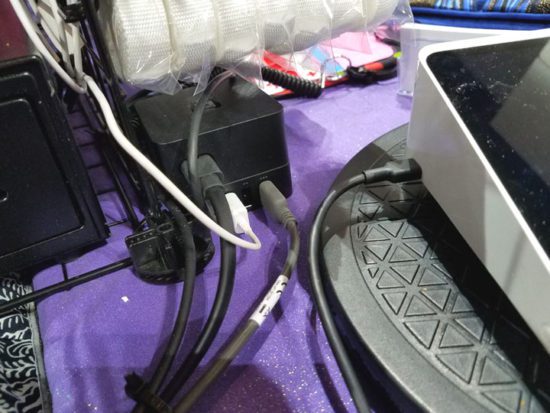 For one thing….the chip card reader was also F-A-S-T! As a matter of fact I have seldom seen a chip reader in any retail store that can process chip cards as fast as our new system does, but that's not all! If you check out the photo at left, you can see that this tiny little unit connects to a small hideable hub that we can plug ALL of our other devices into… hence fewer cords and more free space for ME!
And lastly… we LOVED our new location facing the outside edge of the Exhibition Hall across from the Ballroom. Thanks to everyone who stopped by to visit, do a little shopping or to just say Hi! We had a great time at Road2Ca and we enjoyed meeting each and every one of you!
And now…. for your viewing pleasure, and to give you a closer look at our booth, here's a little video I thought you might enjoy! The next best thing to being at Road2Ca yourself, right?
And remember, we love reading your comments and answering your questions too, so please feel free to leave either or both in the space provided below.
*********************************************************************
Join us in our FaceBook Group! It's just for StudioKat Designs customers and its the perfect place for you to post pictures, comments or questions about our patterns! How cool is that, right? And don't forget to check out the best sewing pins with me on Pinterest, get your daily sewing fix and behind the scenes scoops on Instagram, and be the 1st to know about new patterns, discount codes and sample sales by signing up for "Kat Bytes", our monthly newsletter.