So… in our last post I told you a bit of what I had in mind for our next pattern design and showed you the original sketches. And here's the deal… if you're a fan of our Purse Pattern Chronicles series, then you know that normally what's next on our agenda is a sample "prototype", which is generally unlined, uncomplicated by interior features and made with throwaway fabrics, followed closely by a "gorilla sample" that I actually carry for a week or so to evaluate the pro's and con's of the design.
But this time, I felt pretty certain I could save some time & resources by combining these two samples into one step and I was actually pretty happy with the result. And…since I knew up front I'd be carrying this sample for a while, I deliberately chose some fabrics that I liked and this actually might not have been too good of an idea because as it turns out, I LOVE this fabric for this design, so much in fact that I may actually make another sample out of it later on in the process because I think it could wind up on the cover…. you just never know! But first, let me give you a quick tour of this sample. (I'll share more about this yummy fabric at the end of this post.)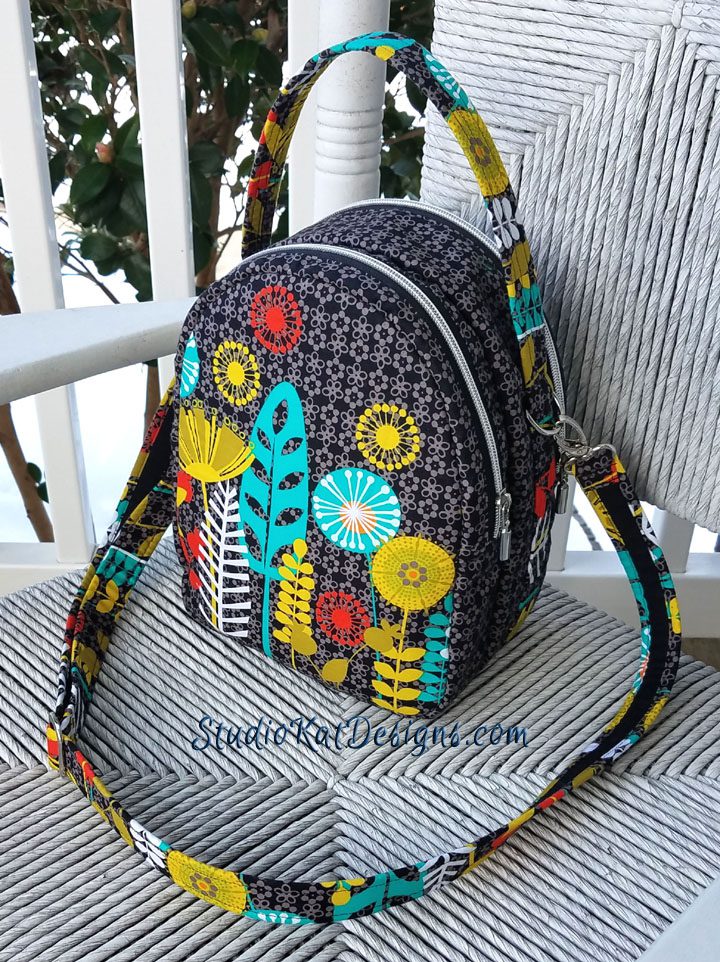 First off- I would call this a medium sized bag featuring 2 completely separate, zippered storage compartments. It's actually taller than it is wide and FYI, my wallet fits better when it stands upright on its side edge. I've included a long adjustable strap for use as a conventional shoulder strap or for cross-body wear for a hands-free option.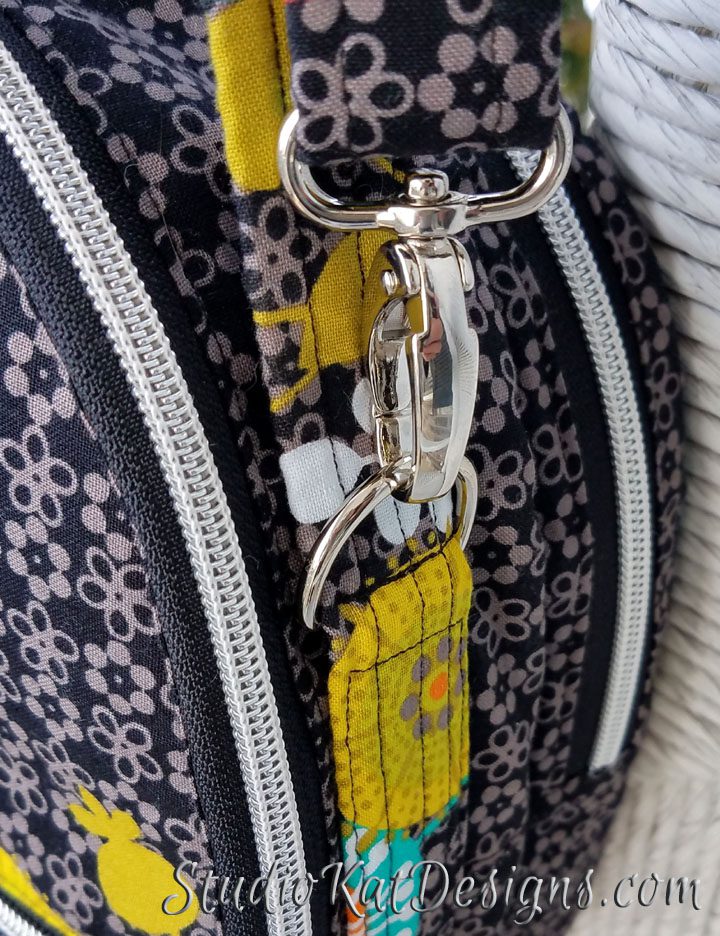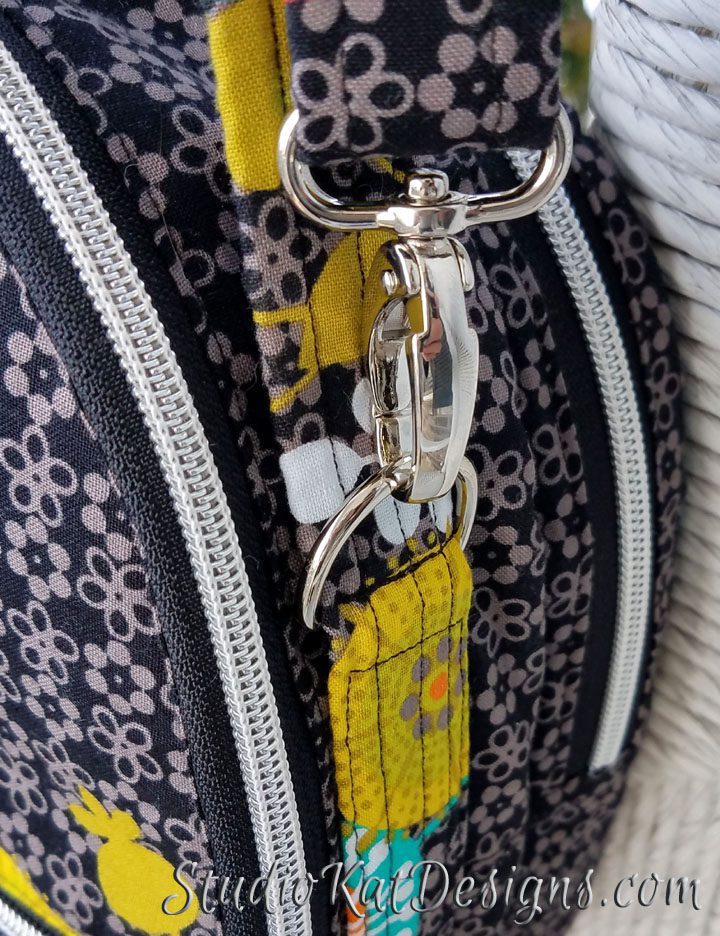 I've also included a "Grab n' Go" handle which actually serves several purposes, both functional AND decorative! Functionally, the D-ring that the shoulder strap snap to is held in place by this handle which is stitched in place on 3 sides of the bag, providing innovative and decorative impact!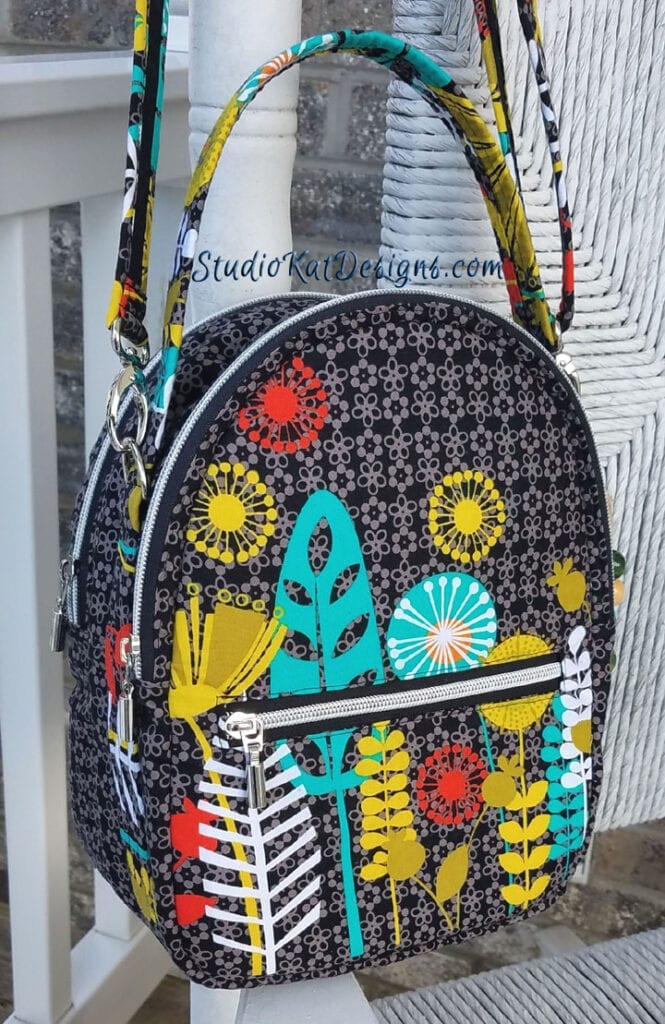 I placed a zippered pocket on the back of this bag, but I'm not at ALL satisfied with the size or the placement. This horizontal pocket just barely holds my Samsung Galaxy 8, so I'll be rethinking this pocket before I create the next sample.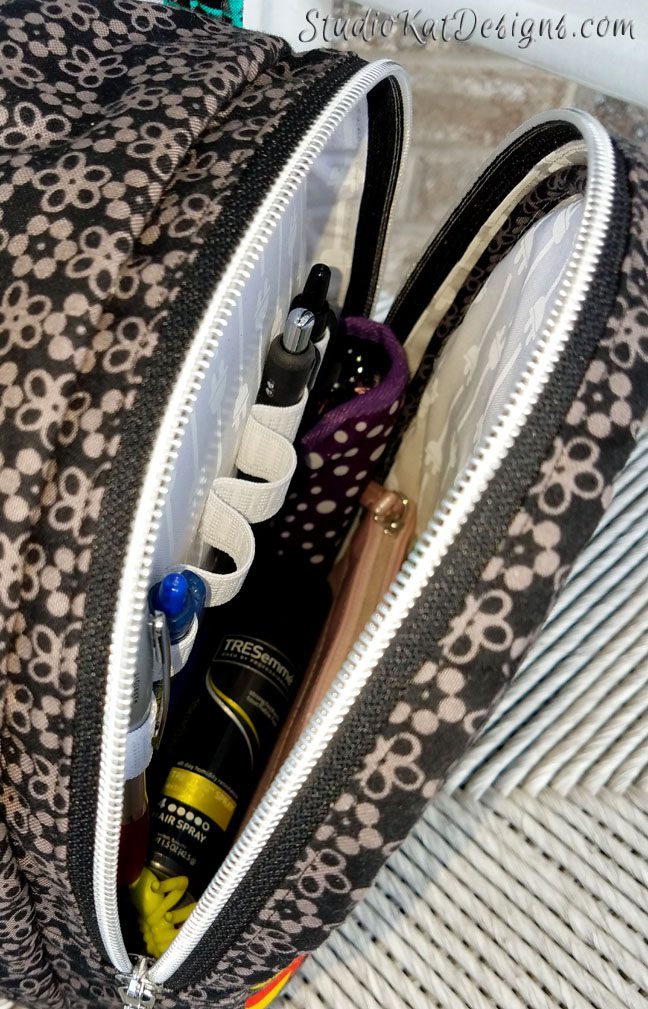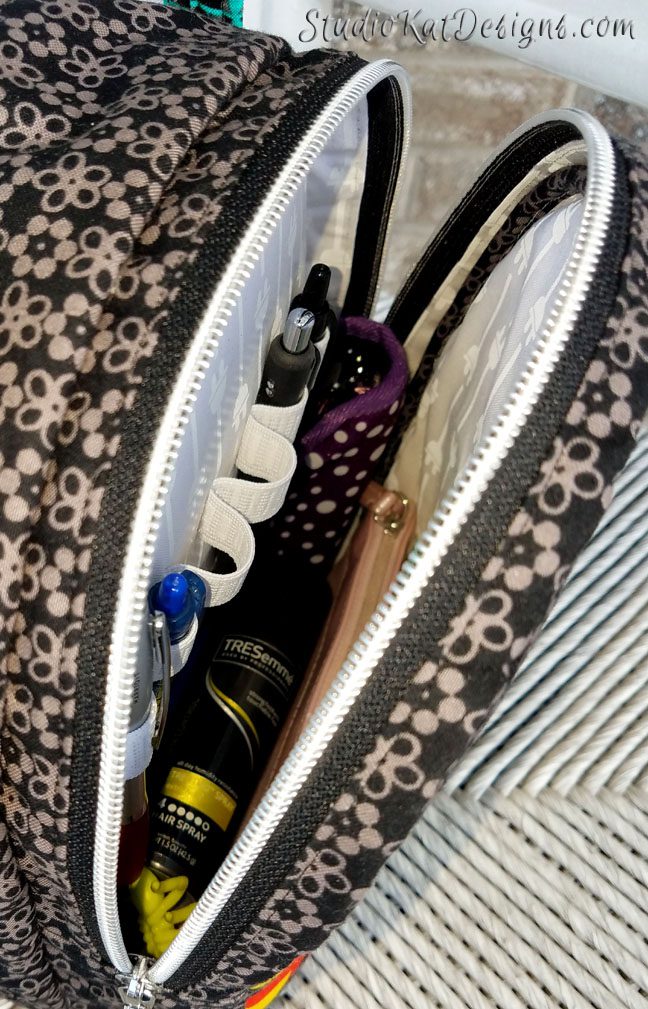 I spent very little time on the interior features for this sample. I did however add a few elastic pen holders since this is a feature I really enjoy. I haven't thought too far ahead about other features I might include here, but its quite possible we'll add a mesh pocket or two. 🙂
So… after carrying this bag for 2 weeks, what was the verdict about this sample?
Here's what needs to be modified or changed entirely…
This bag is just too big to suit me. It's a little too tall (about 10%) but it's a LOT too wide. It sticks out from my body too far and looks pretty much empty even with all of my stuff in it! I'll change the size before I make the next sample.
That circular bag handle needs to be placed differently so that the bag will be more balanced. As it is, the bag pitches forward and I don't like that. I may however need to change the width of the two storage units in order to make this possible.
As already mentioned, the exterior phone pocket needs to be resized and possibly relocated.
Add an interior mesh pocket or two.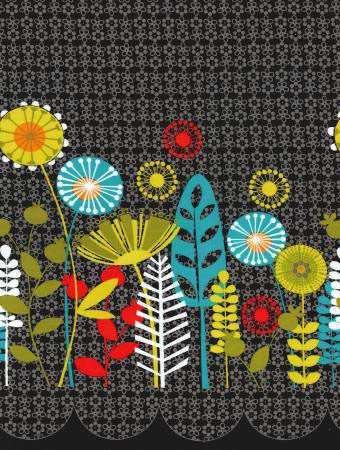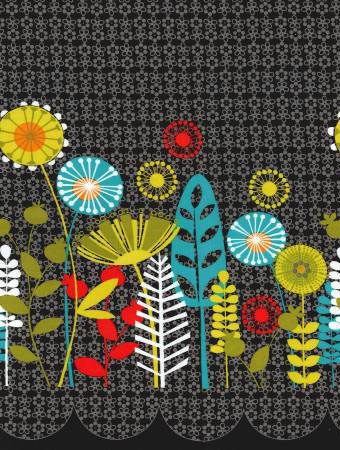 And finally… here's some info about this AMAZING fabric!
It's called "Coin Flowers a Plenty" by Michael Miller and guess what? We're carrying it on our website NOW!
Just click HERE to find out more information and to pick up some yardage for YOUR next project or to duplicate this look when the pattern is released!!
And now…
it's YOUR turn!
I'd love to know what you think of our new design so far! Does this seem like a project you'd like to make for yourself or someone else? And if so, what features would YOU like to see us include!
And remember, we love reading your comments and answering your questions too, so please feel free to leave either or both in the space provided below.
******************************************************************************************
Check out the best sewing pins with me on Pinterest, join in on discussions or show off your work in our FaceBook Group, or get your daily sewing fix on our Facebook Business Page or get behind the scenes scoops on Instagram, and be the 1st to know about new patterns, discount codes and sample sales by signing up for our monthly newsletter.