So…
in recent posts I've shown you six of the eight little bags that will eventually be part of our next pattern release. We've shown you the "Long Ones", the "Wide Ones" and most recently, the "Short Ones", and today we're going to show you the last two sizes to be included in this pattern (which we've decided to call Packlets), and that would be the "Tall Ones".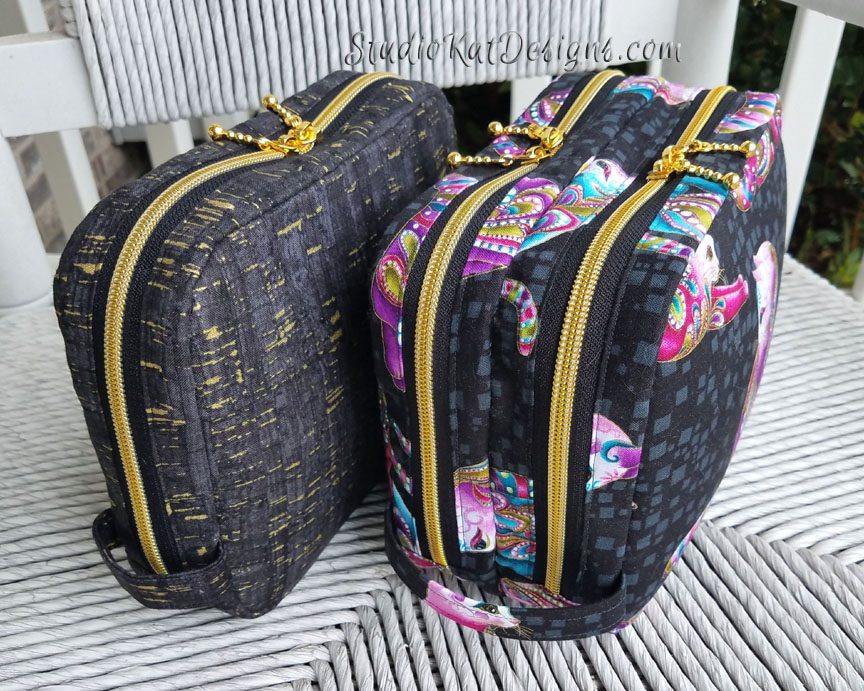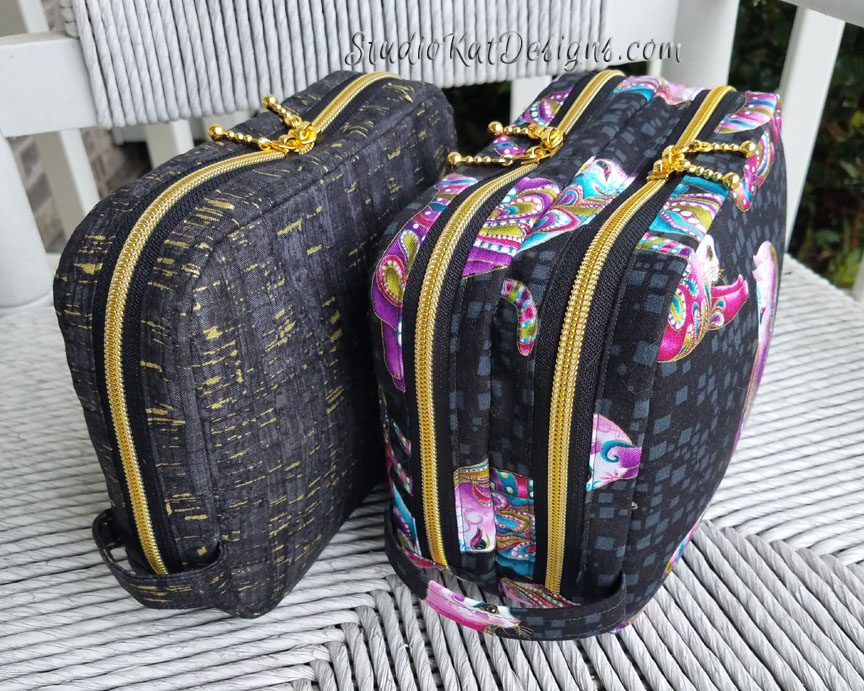 As with out other sized duos, the smaller size has one zippered compartment and measures 8″ X 6.5″ X 2″, and the larger has two completely separate areas, each with its own zipper and measure 8″ X 6.5″ X 4″.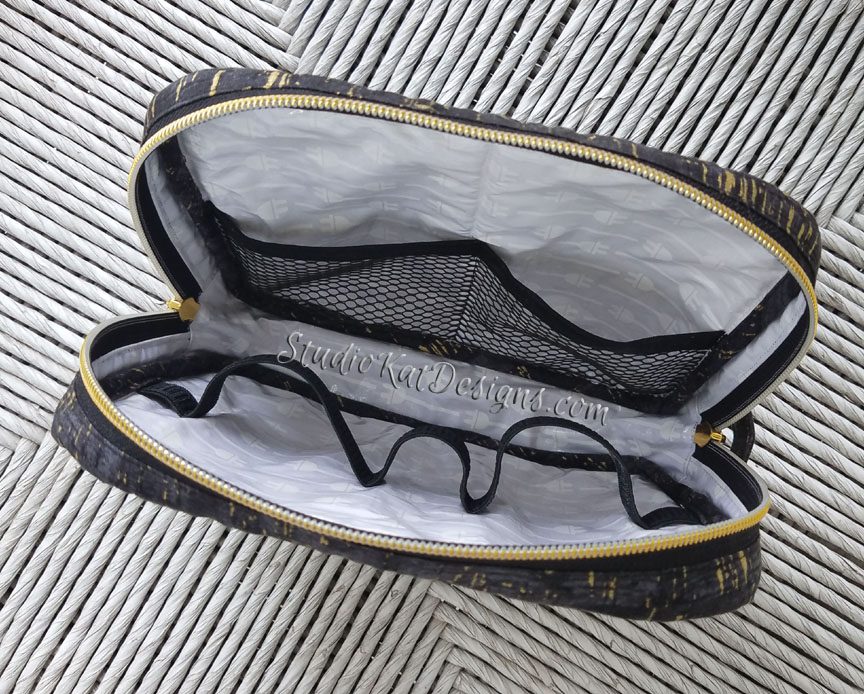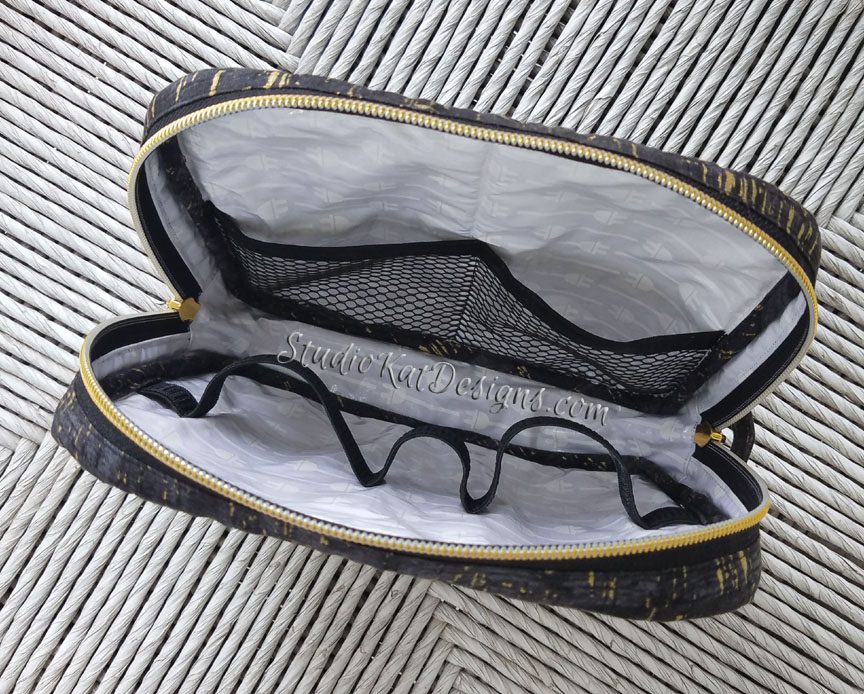 Once again I laminated the lining for both of these bags. Of all the units I've made, I kinda thought the extra protection that the laminated surface provides from moisture and stains was probably most important for these particular sizes due to the fact that its designed to house larger bottle and tubes of creams, oils and liquids.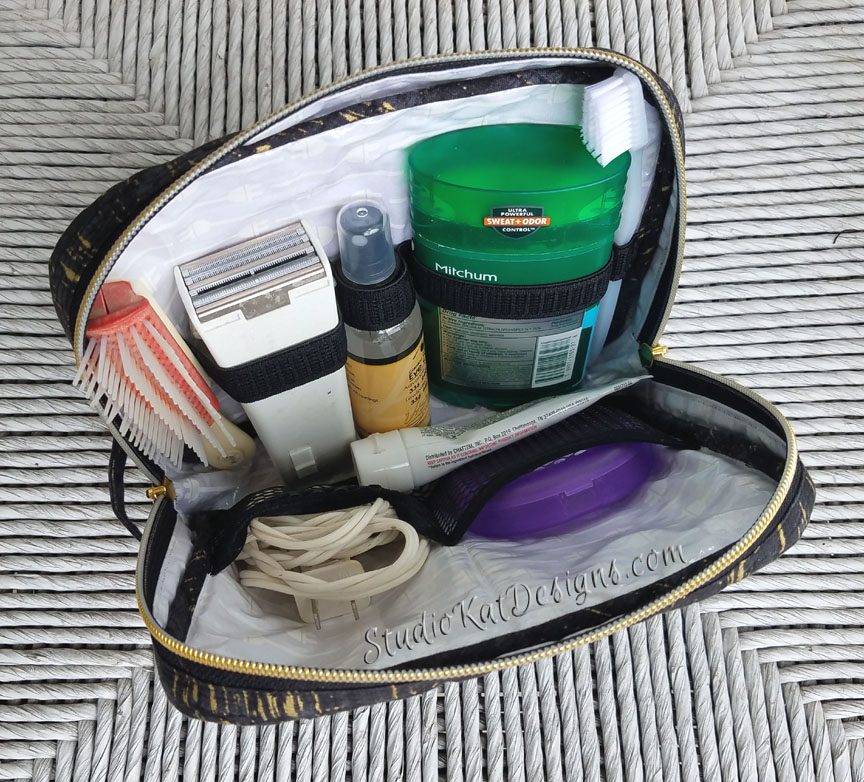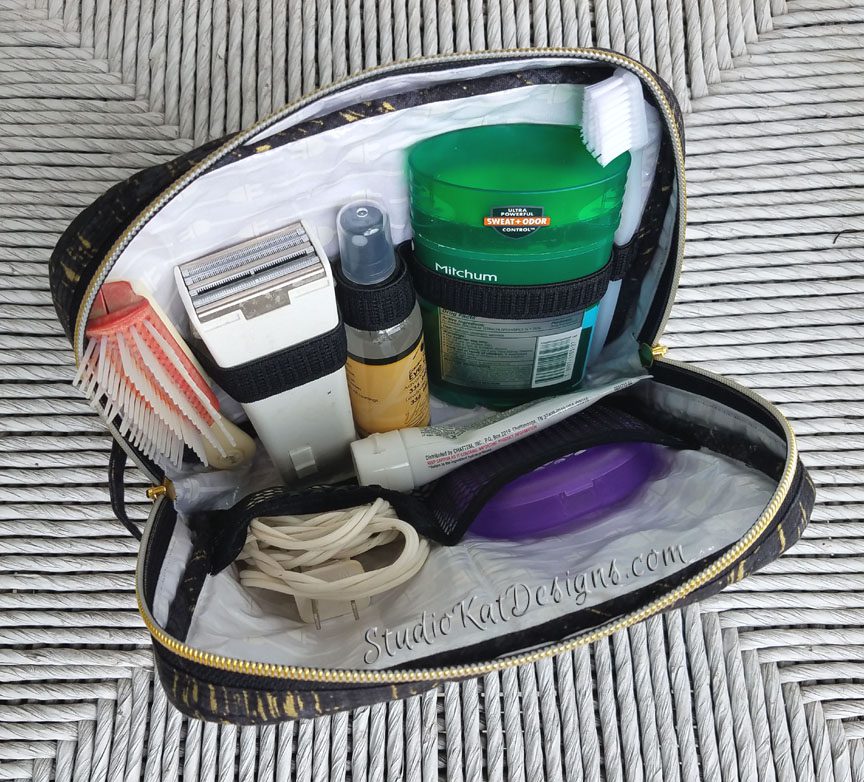 And here's how it looks loaded up and ready for a long weekend away from home. For this sample I made the elastic dividers ESPECIALLY for these items (as opposed to just making them a generic width) which is surprisingly easy and I'm planning on showing you how to do that in an upcoming post AND an upcoming Thursday morning video on FaceBook, so stay tuned for that?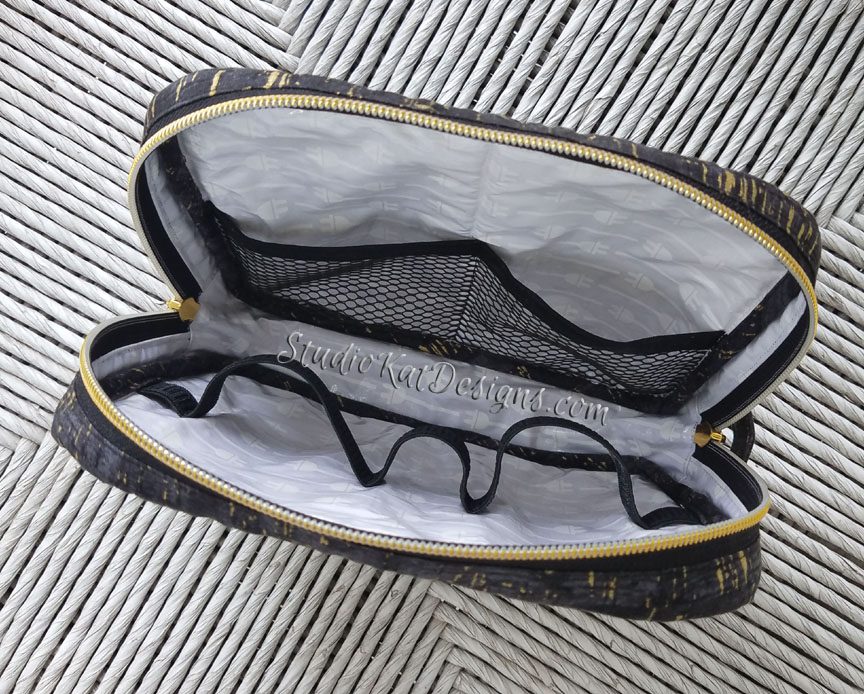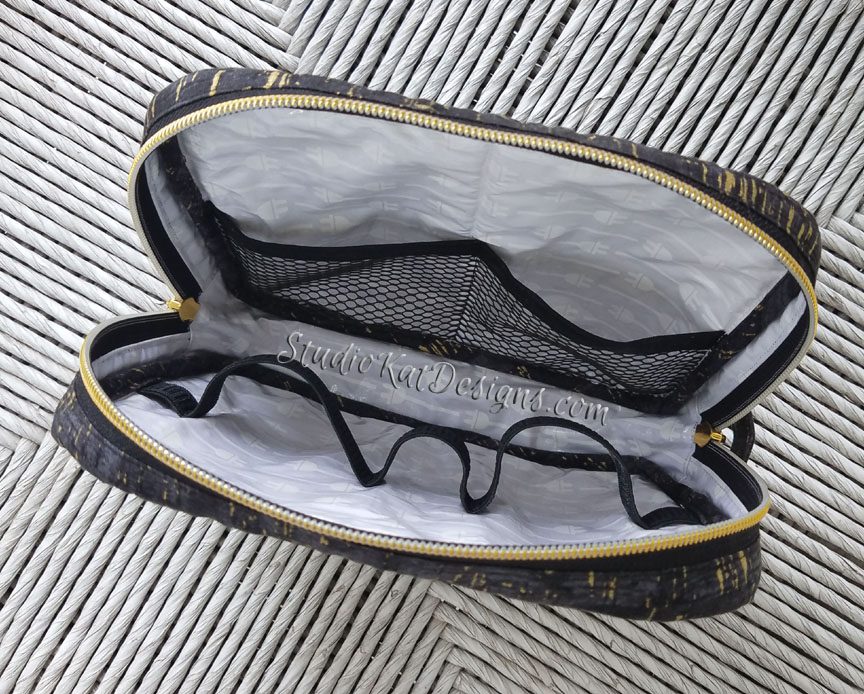 Here's a good look at the interior of the Tall double Packlets which of course has a laminated interior for the reason as the single unit.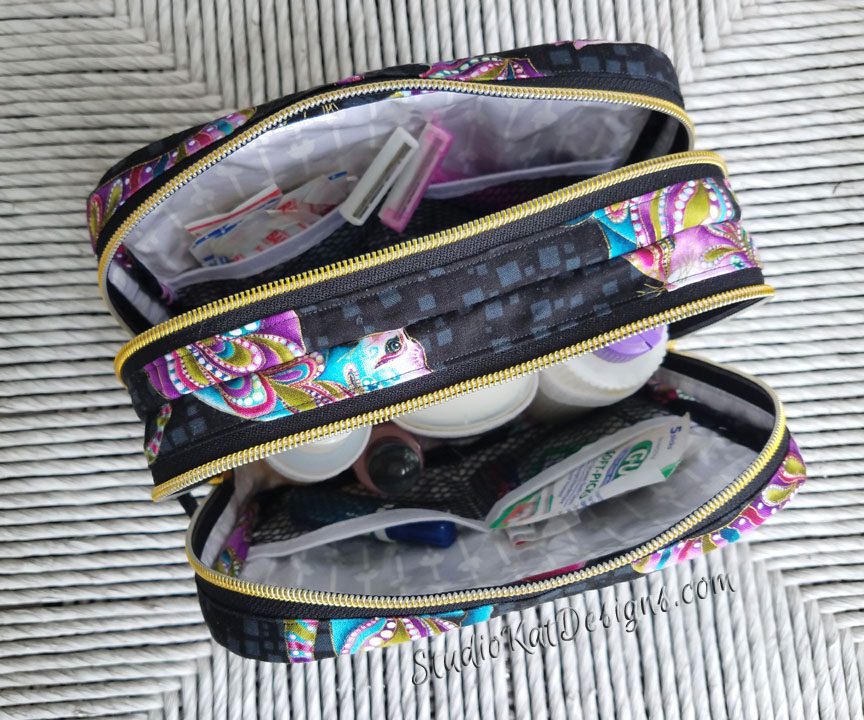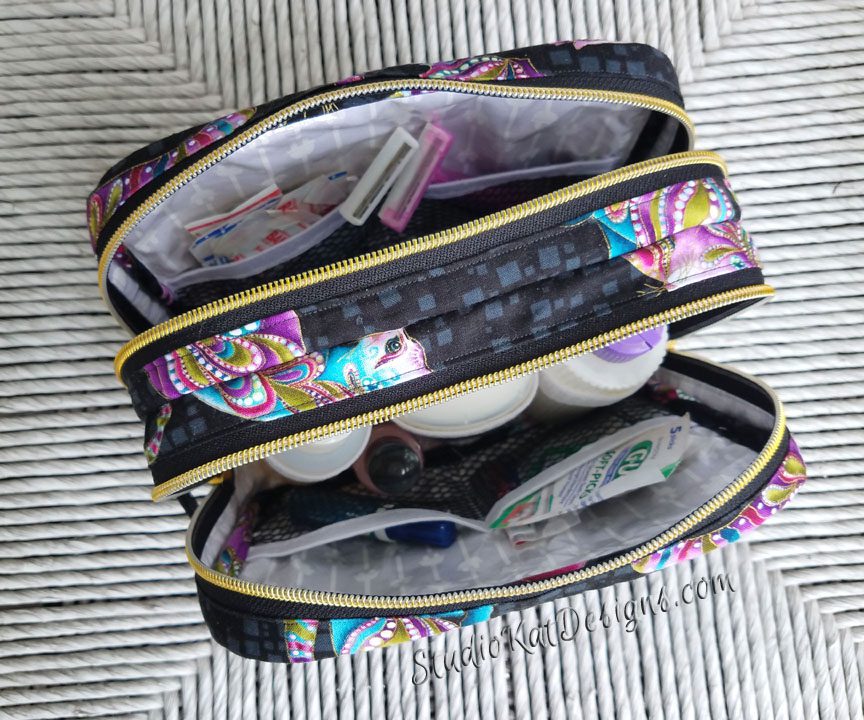 And its really surprising how much stuff can be packed into this tall unit. I recently spent a weekend at my daughter's house and packed up a prototype of this unit and took it with me to see how I liked the functionality and I have to say I was very pleased!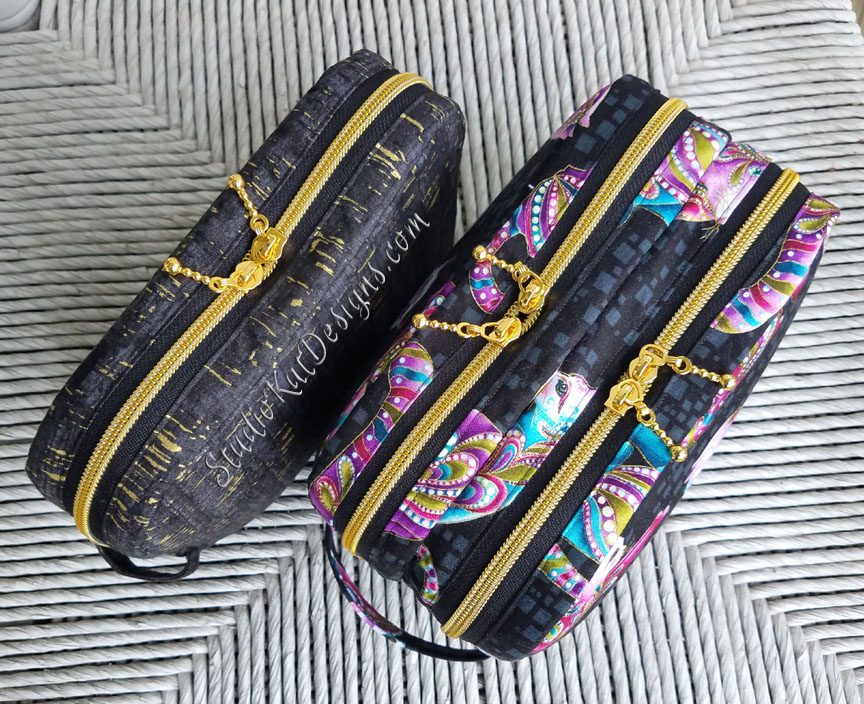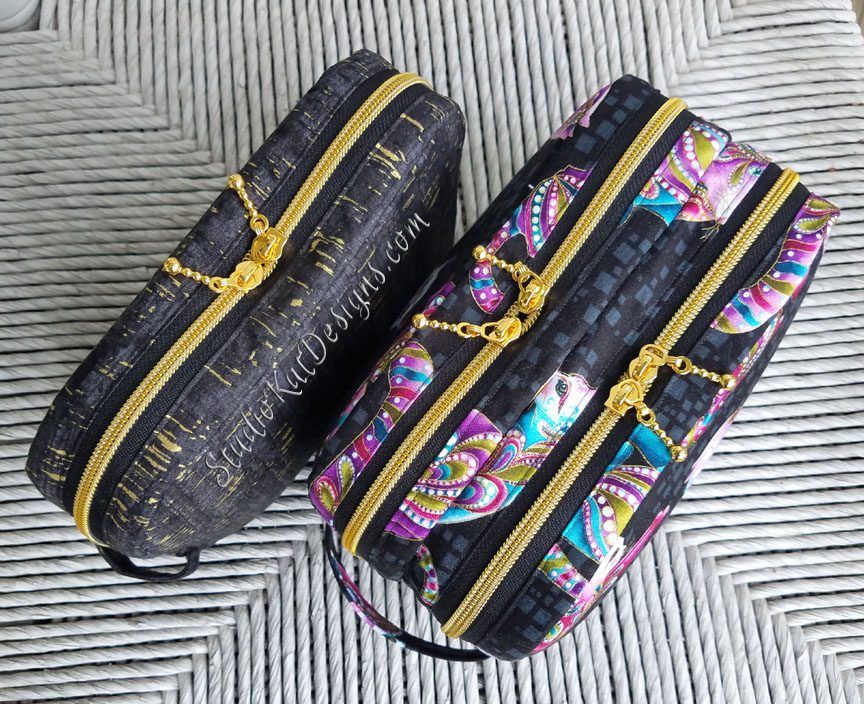 What I like best is how they both easily stand upright on the counter even when they're completely open, and unlike other little storage bags I've tried, is that even thought they open REALLY wide, all the contents stay safely INSIDE!
*********************************************************************************************
And now…. it's YOUR turn!
I'd love to know what you think of our new Packlets design at this point in the process? My goal at this point is to try hard to get this pattern finished up in time to make a big debut at the Fall International Quilt Market and Festival! And remember, we love reading your comments and answering your questions too, so please feel free to leave either of both in the space provided below.
*********************************************************************************************
Check out the best sewing pins with me on Pinterest, join in on discussions or show off your work in our FaceBook Group, or get your daily sewing fix on our Facebook Business Page or get behind the scenes scoops on Instagram, and be the 1st to know about new patterns, discount codes and sample sales by signing up for our monthly newsletter.