So…
in our last post I showed you the first duo in what will eventually be a 4-duo set of storage/travel bags, and the first accessory pattern we've produced since the Porta-Pockets PLUS Purse Insert in 2012! So let me give you the quick tour!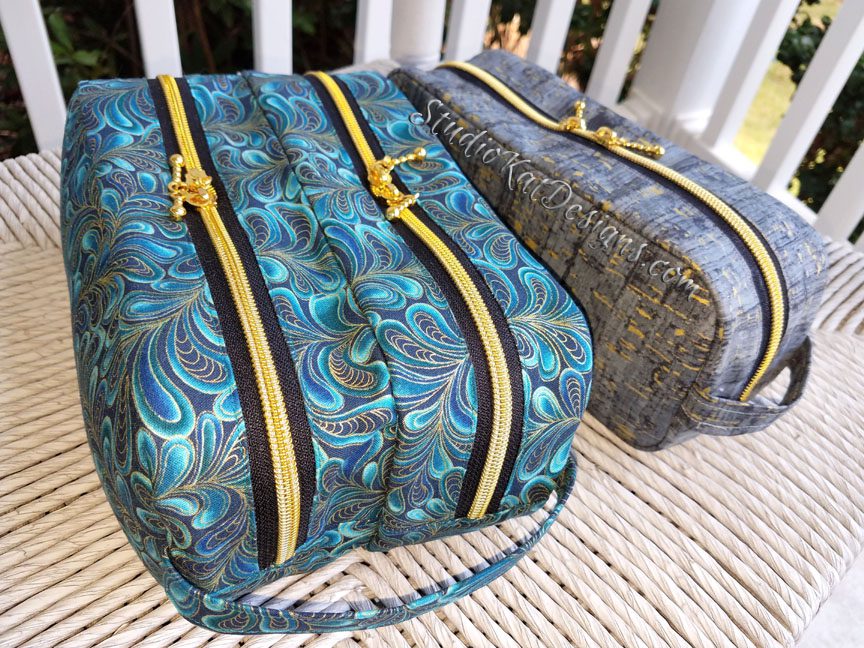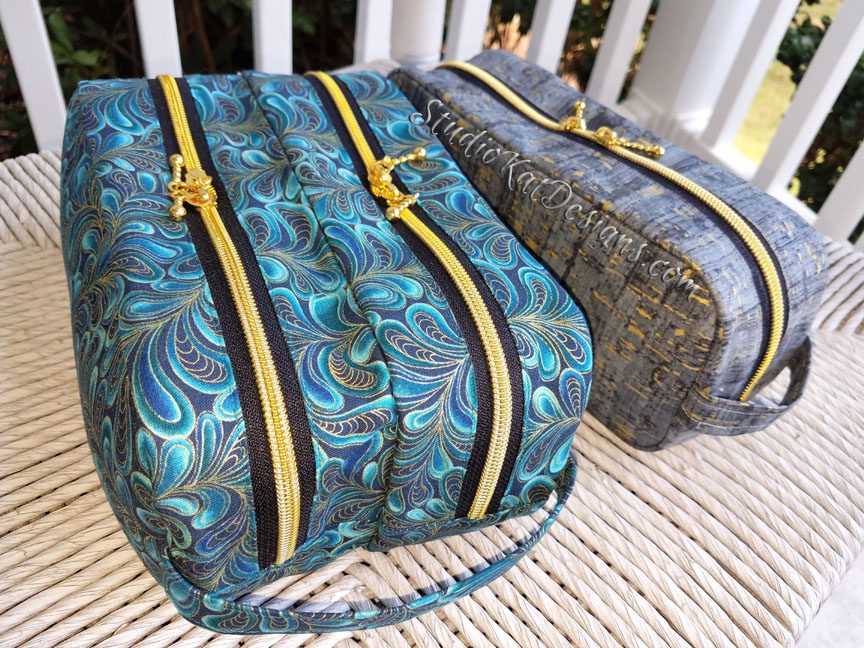 Since we had affectionately termed the bags in our last post as "The Long Ones", it just stands to reason that this duo should be dubbed as "The Wide Ones! And once again there is a single-zipped "Wide" option and a double-zipped option to choose from.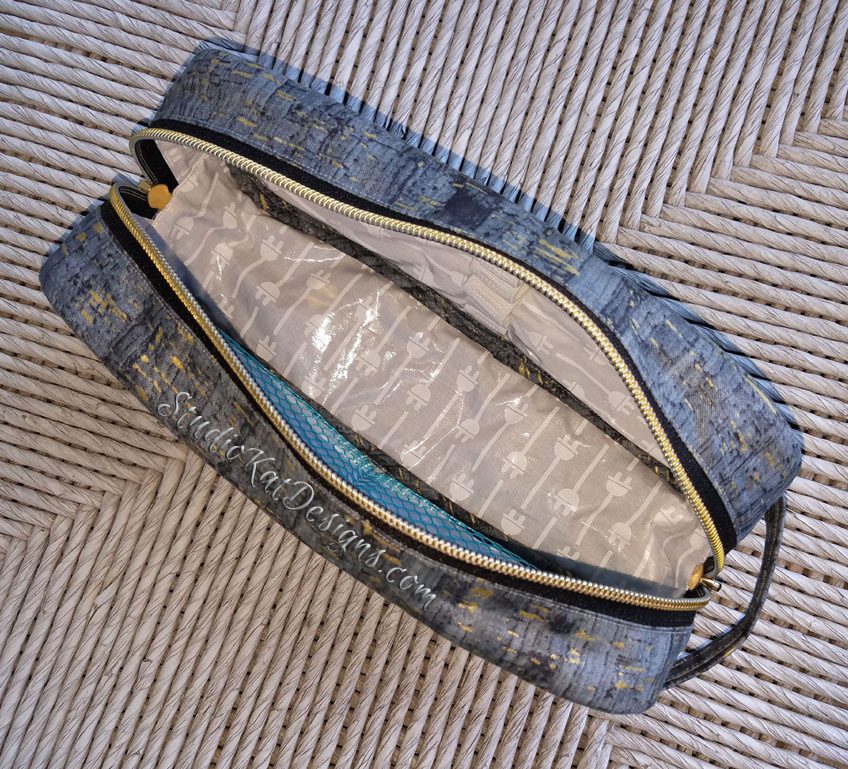 For this sample I lined one of the interior walls with a double-meshed pocket for smaller loose items and I placed strategically sized elastic slots on the other interior wall. I think this size would be just right for carrying my "Geek Gear"… all the various cords, chargers batteries, jump drives and adapters it takes to keep my gear running when I'm on the road.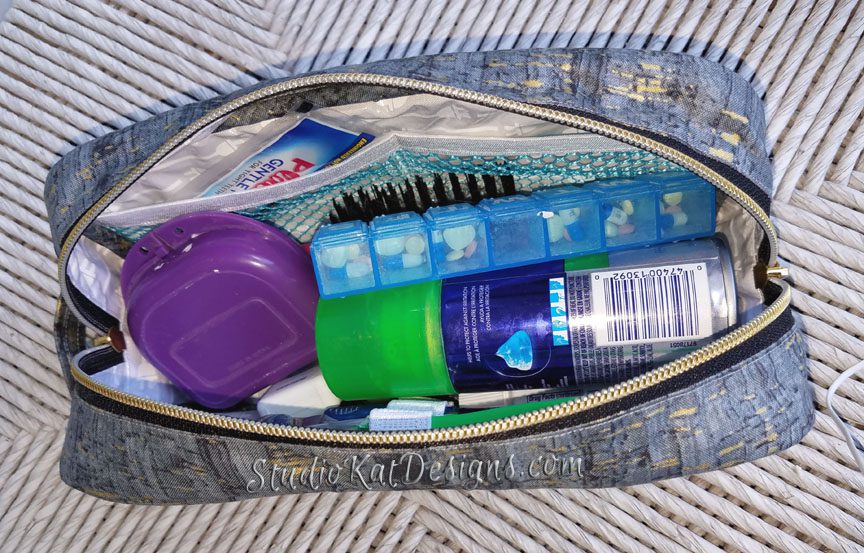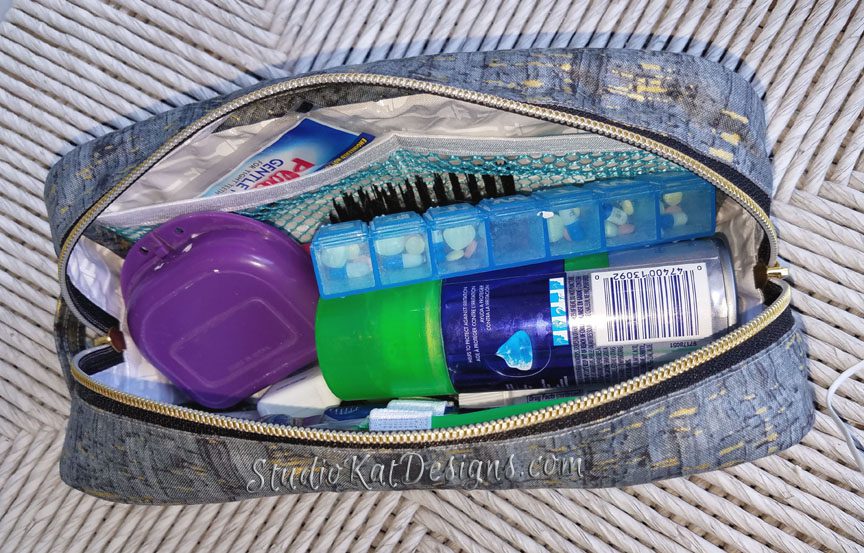 But on the other hand, I asked the hubster to load it up with all the stuff he normally carries in his shaving kit when we travel and it fit just perfectly! And since I took the opportunity to laminate the interior walls of this bag, it would be really easy to wipe away any spills or leaks that could occur mid-flight! 🙂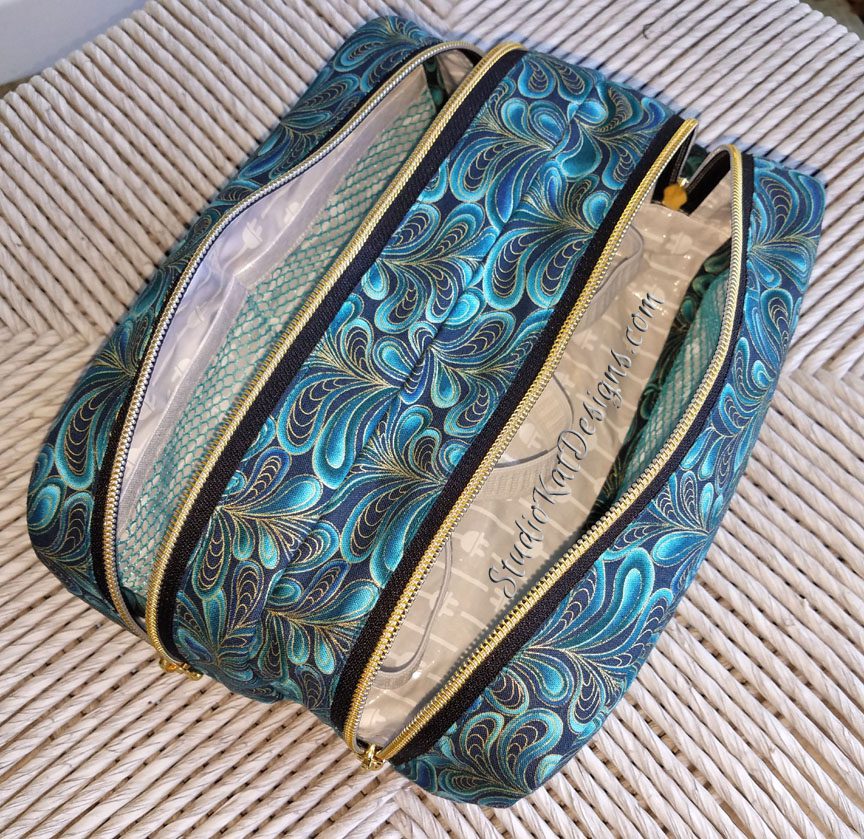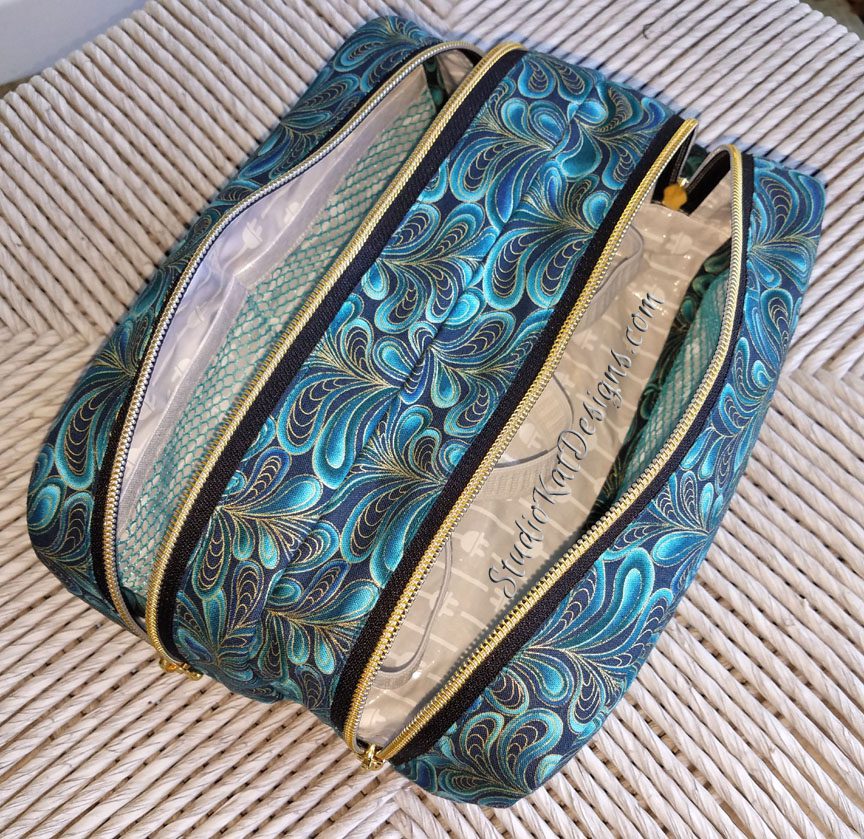 On the other hand, the double-zipped unit has TWICE the interior space as the single unit and will be the largest of the eight included in this release at 9.5″ X 4″ X 6′. For this sample the shared center wall has elastic slots on both sides, running vertically on one side and horizontally on the other.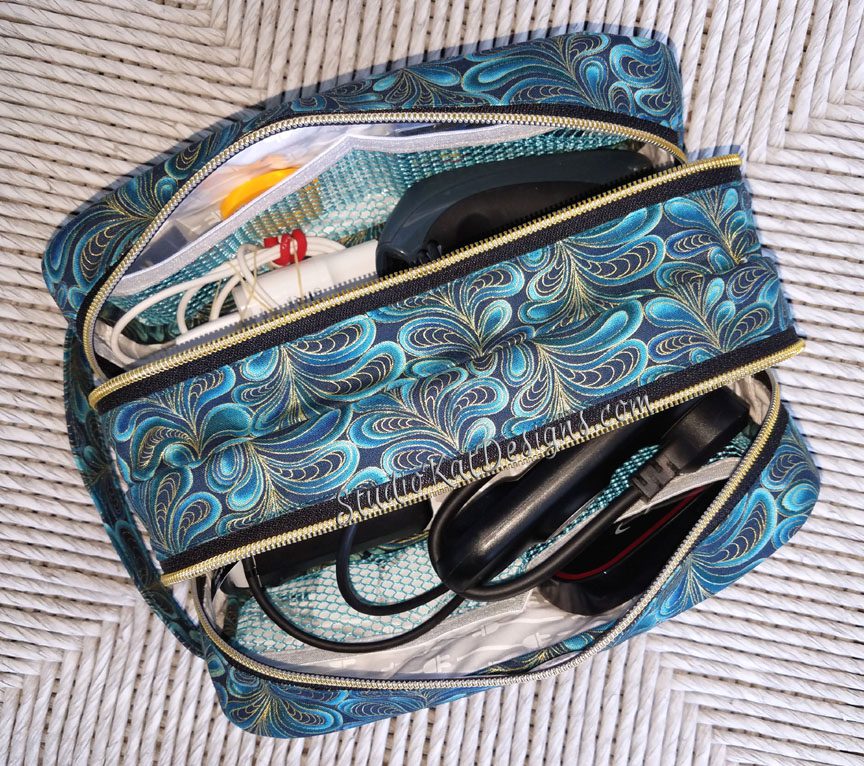 For this photo I loaded this big guy down with my "Geek Gear". At this point I have SO much stuff to carry when I travel, particularly when we're vending at Quilt Shows. Here's the current list…2 gang plugs, 2 extension cords, an external jump drive, the computer charger cord, a usb connector for my phone, extra camera batteries, camera battery wall charger, 2 phone chargers for me, the husband's phone charger, TWO FitBit charging units, a bar code scanner, the barcode scanner charging cord, my iPad charging cord, a camera battery, at least two square card readers, a charging cord for the square card readers. And voila! It all fits with room to spare!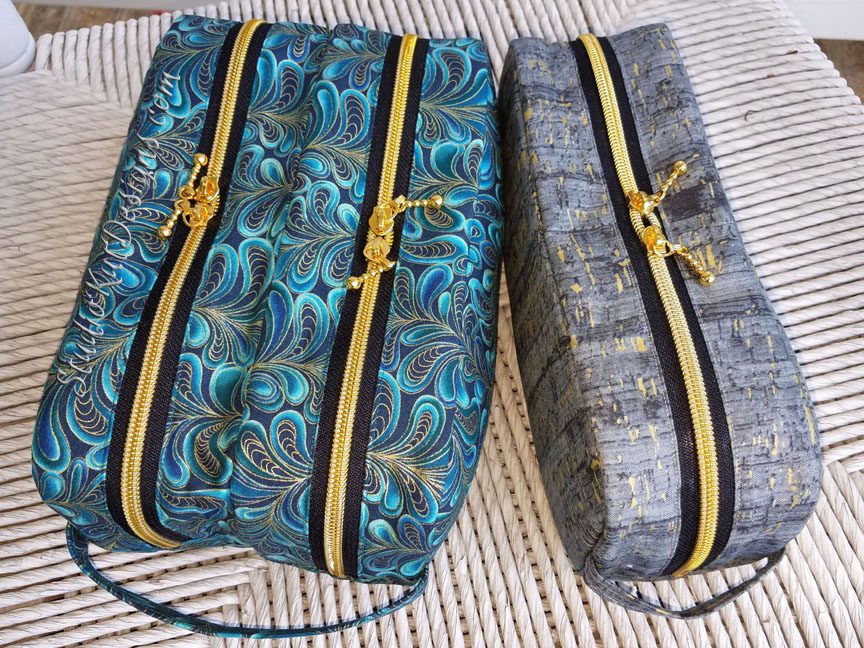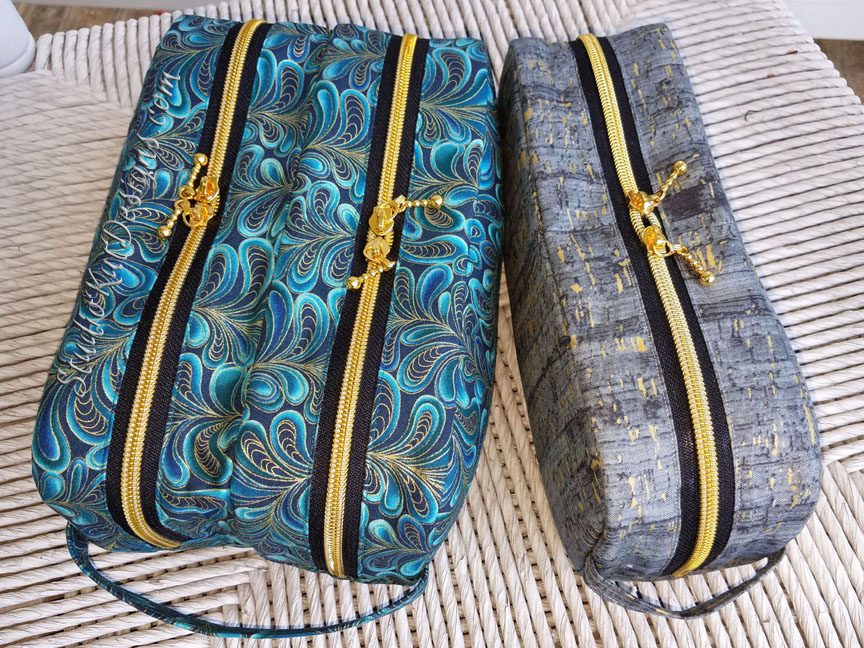 *************************************************************************************************************************
So there you have it!
We've shown you two of the four duos that will be available in this new accessory pattern. Stay tuned for our next post in this series when we'll be showing you "The Short Ones"! And I'd also love to know which of these 4 sizes we've shown you so far would be the most useful to you? And remember, we love reading your comments and answering your questions too, so please feel free to leave either or both in the space provided below.
*********************************************************************************************
Check out the best sewing pins with me on Pinterest, join in on discussions or show off your work in our FaceBook Group, or get your daily sewing fix on our Facebook Business Page or get behind the scenes scoops on Instagram, and be the 1st to know about new patterns, discount codes and sample sales by signing up for our monthly newsletter.