So…
we're halfway along in the process of showing you the EIGHT different "looks" that will ultimately be available in our next new pattern offering which will hopefully be available in time to make a grand debut at the International Quilt Market in Houston, TX this November. And here's the exciting part… if we hit all of our deadlines, this would be our 3rd pattern release in 2018 and that's something we haven't done for a long, long time. I really don't have an explanation as to why we were able to do that this year, so it's probably just a fluke and of course it remains to be seen if I can actually get it ready in time for Houston, so stay tuned for that, OK?
In the meantime, let me show you what is known around here as the "Short Ones"!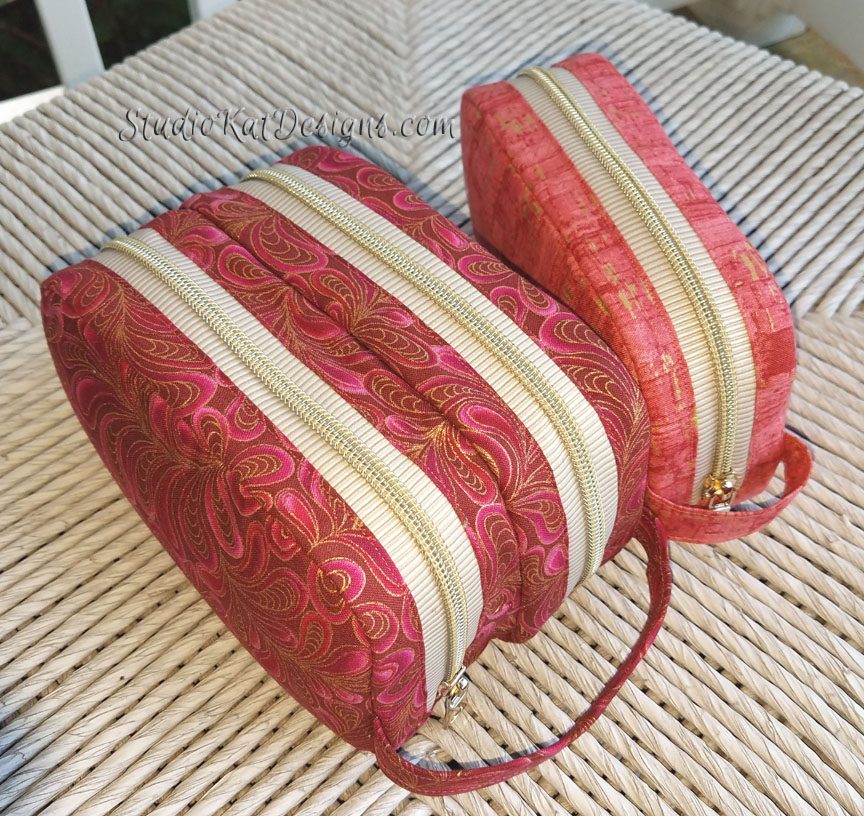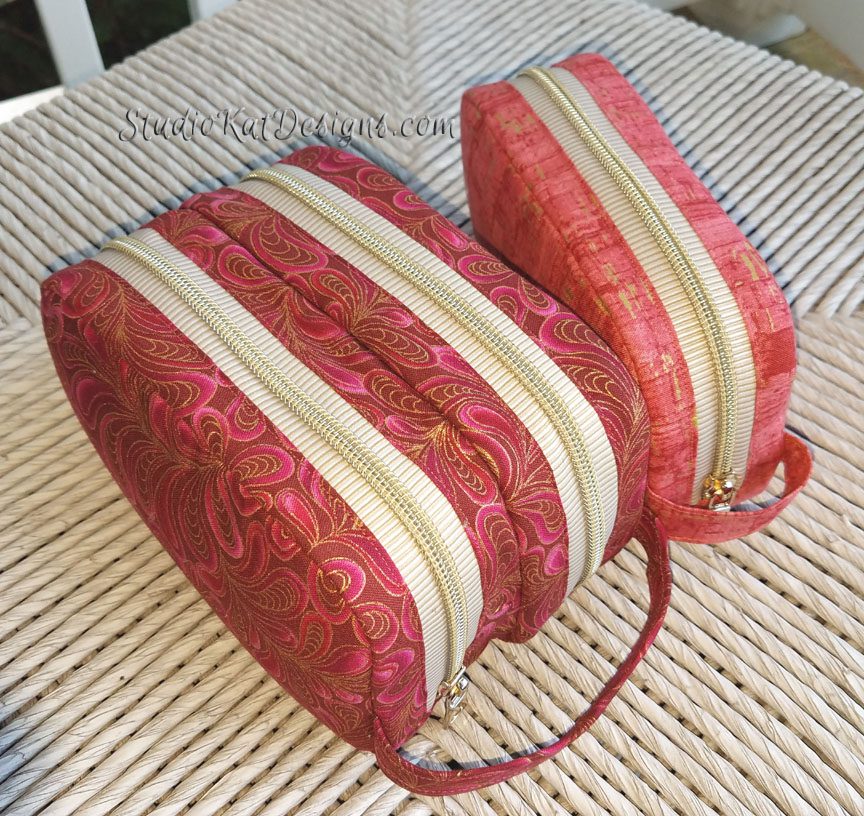 I wasn't totally sure that I'd like these short sizes, but as it turns out… I LOVE 'EM! The little single unit measures 6.5″ X 4″ X 2″ which is prefect for storing cosmetics or tech gear in an everyday handbag, and besides…. it's so dad-gum CUTE, right?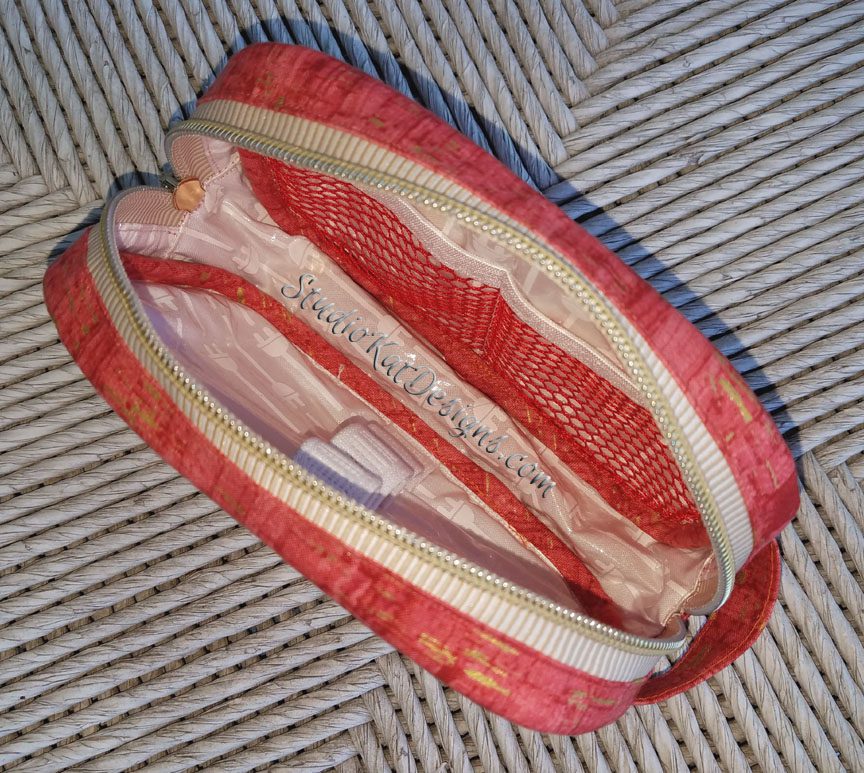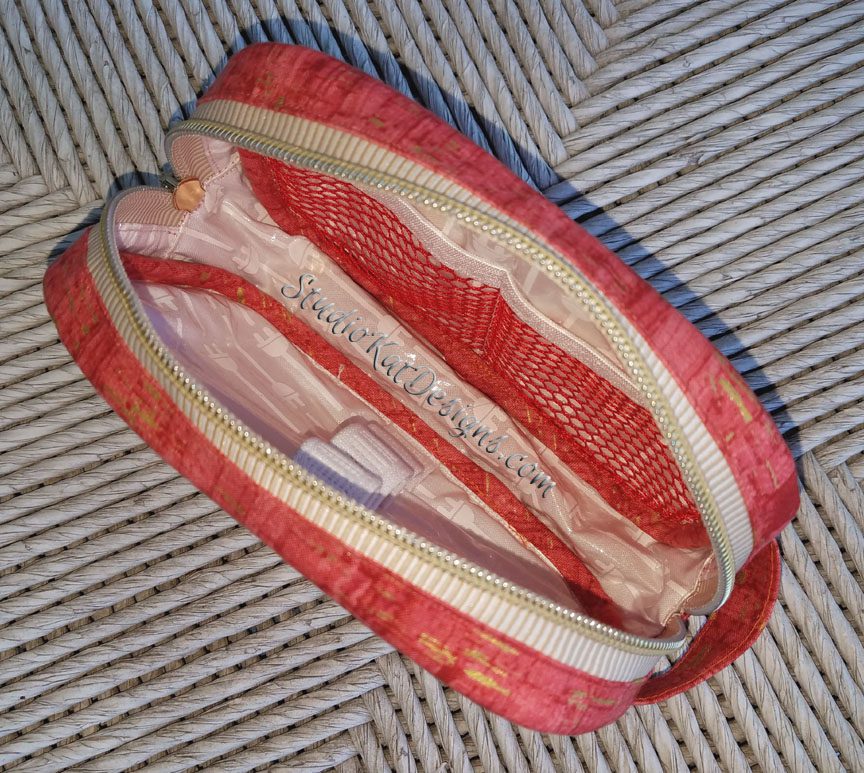 I built the interior of this Single Unit with a few vertically placed elastic slots which are very handy for lip glosses and other tubed cosmetics and the divided mesh pocket will keep smaller items separated and secure.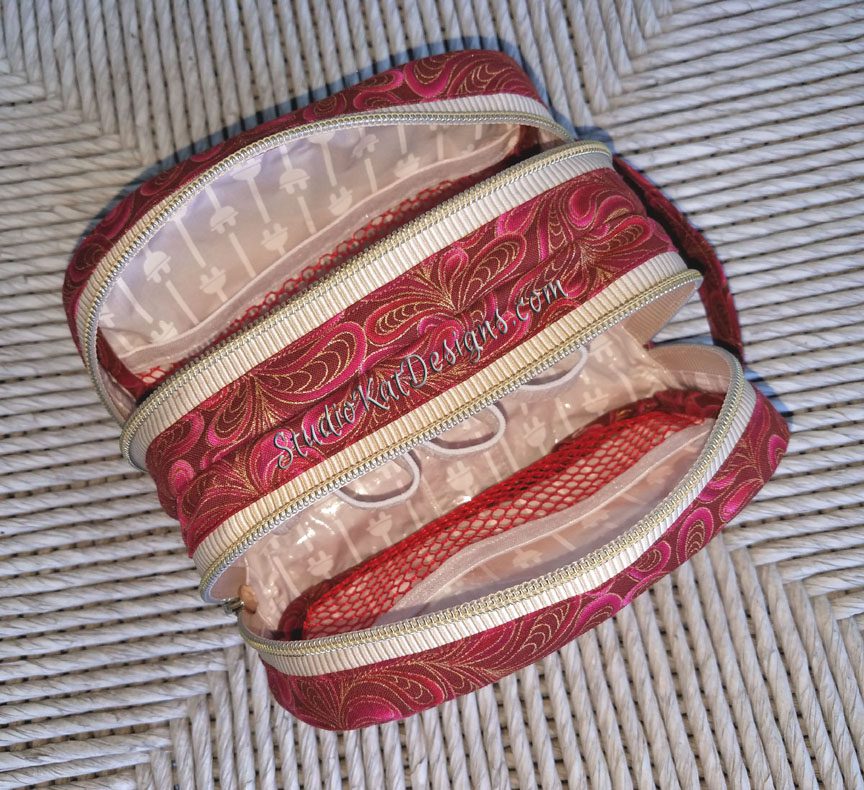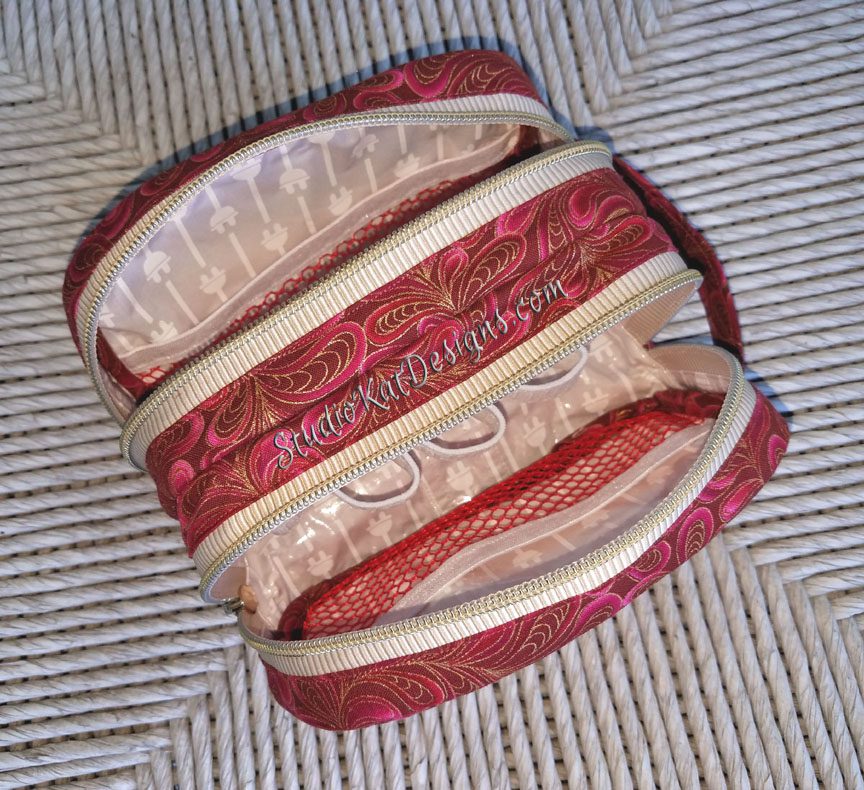 And of course as usual, short double unit is the same length BUT double the width of the single unit, and as you can see I built three horizontally placed elastic slots into one of the chambers which will be perfect shorter bottle of lotion, shampoo, and other toiletries. The double unit measures 6.5″ X 4″ X 4″.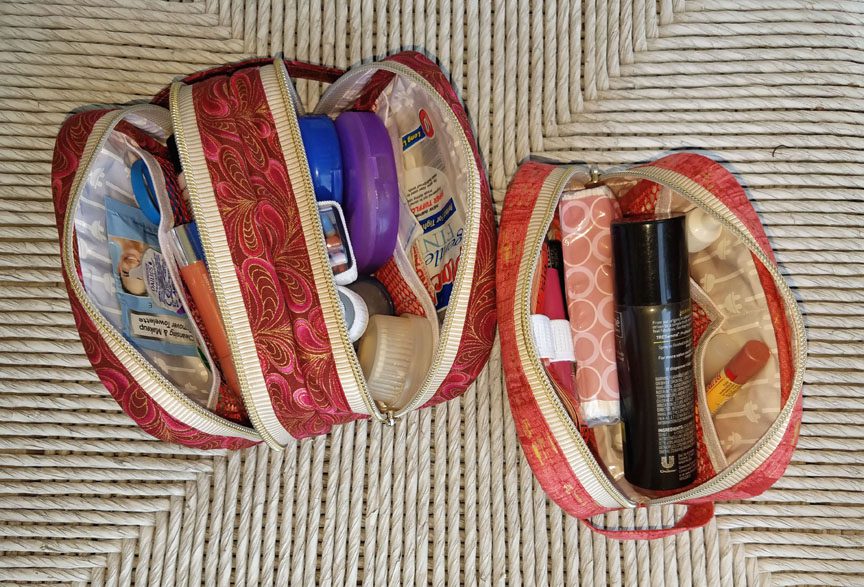 And here's the "shorties" all loaded up and ready to go. The single unit is perfect for carrying those smaller items you could have need of on a daily basis… a small can of hairspray, tissues, extra contacs, lip glosses, eye drops and medications. The double unit works great for smaller quantities of items you'd need for a weekend away from home.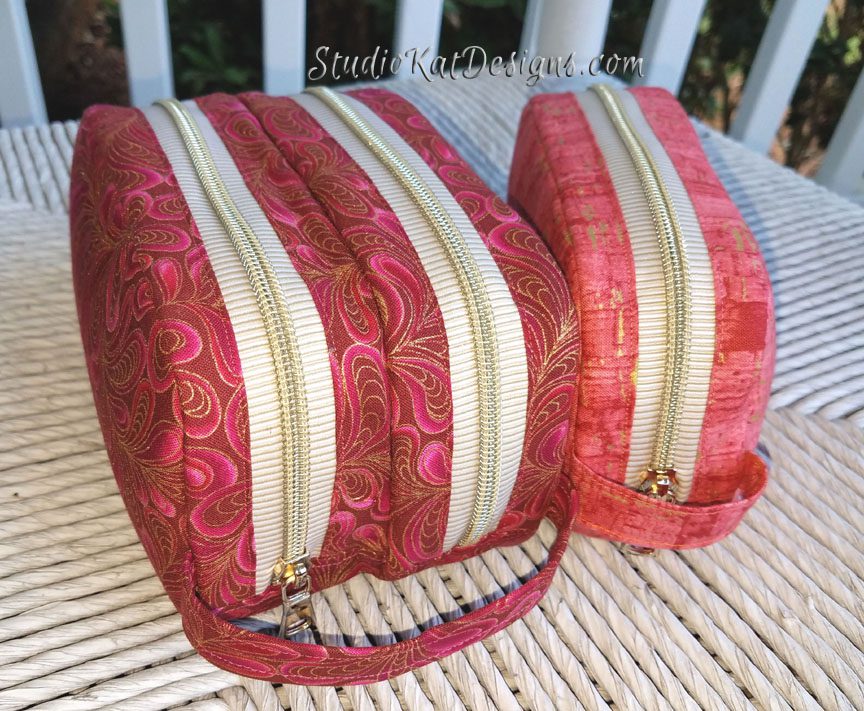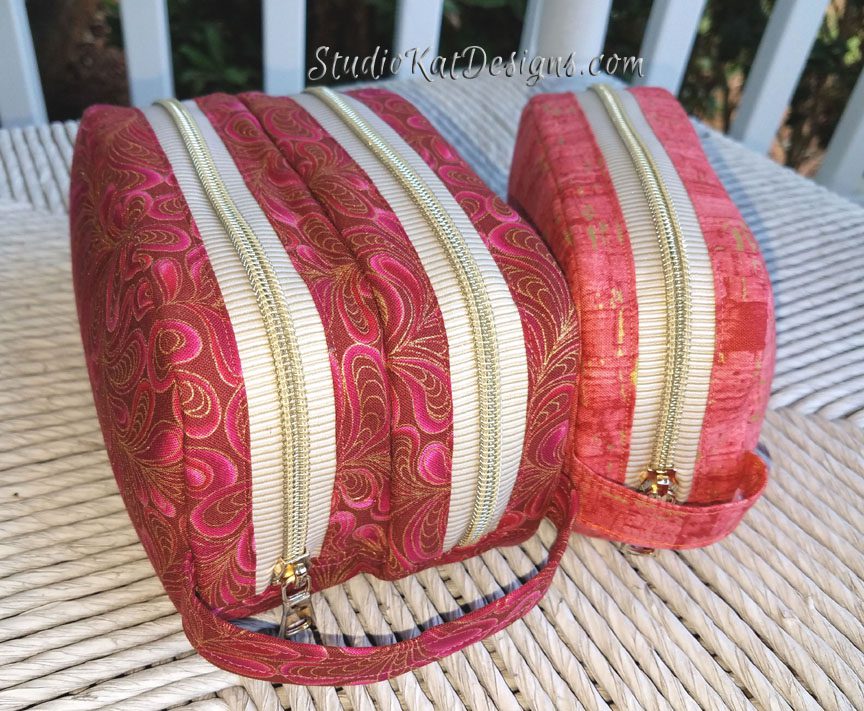 Both of these little bags have a rather small "footprint" and can easily be squeezed into the various nooks and crannies of your suitcase and neither will they take up much counter space once you get to that hotel where counter space is often at a premium!
*********************************************************************************************
And now…. it's YOUR turn!
I'd love to know what comments you might have about our new design at this point in the process? Of the sizes we've showed you so far (the Long, the Wide and the Short), which do YOU think would be most useful for your style of traveling? And stay tuned because we have just one more set of bags to show you… and that would be the TALL ones! But in the meantime remember, we love reading your comments and answering your questions too, so please feel free to leave either or both in the space provided below.
**************************************************************************************
Check out the best sewing pins with me on Pinterest, join in on discussions or show off your work in our FaceBook Group, or get your daily sewing fix on our Facebook Business Page or get behind the scenes scoops on Instagram, and be the 1st to know about new patterns, discount codes and sample sales by signing up for our monthly newsletter.