So….
we've started a brand new edition of Purse Pattern Chronicles and since we've finished making our test samples and reasonably set on the design details for these little storage bags, it's time to start planning and making our first complete set of true show samples! You might recall from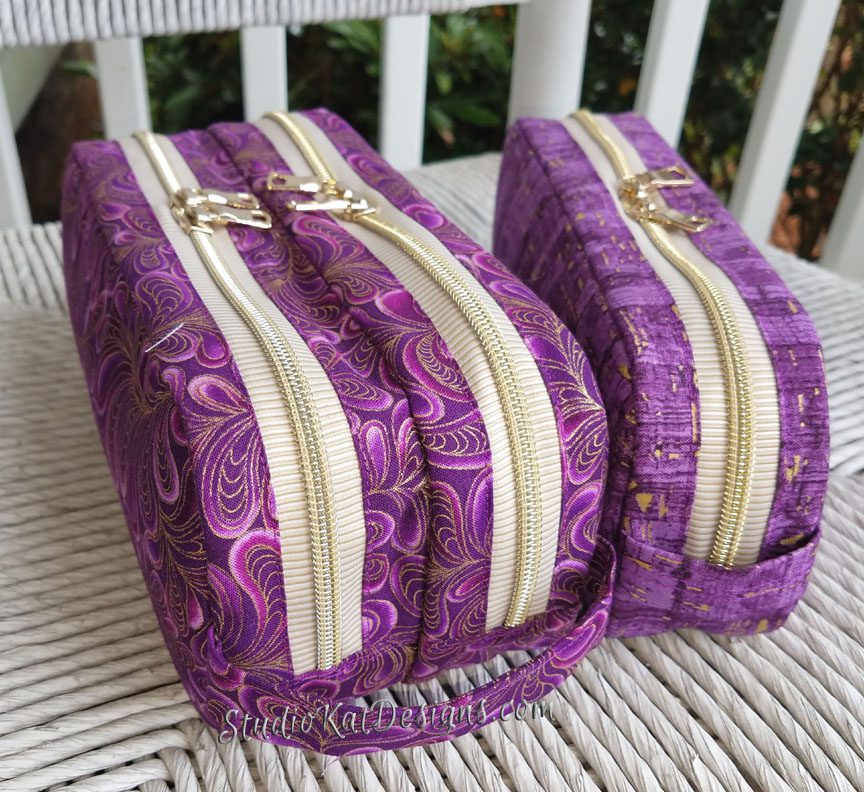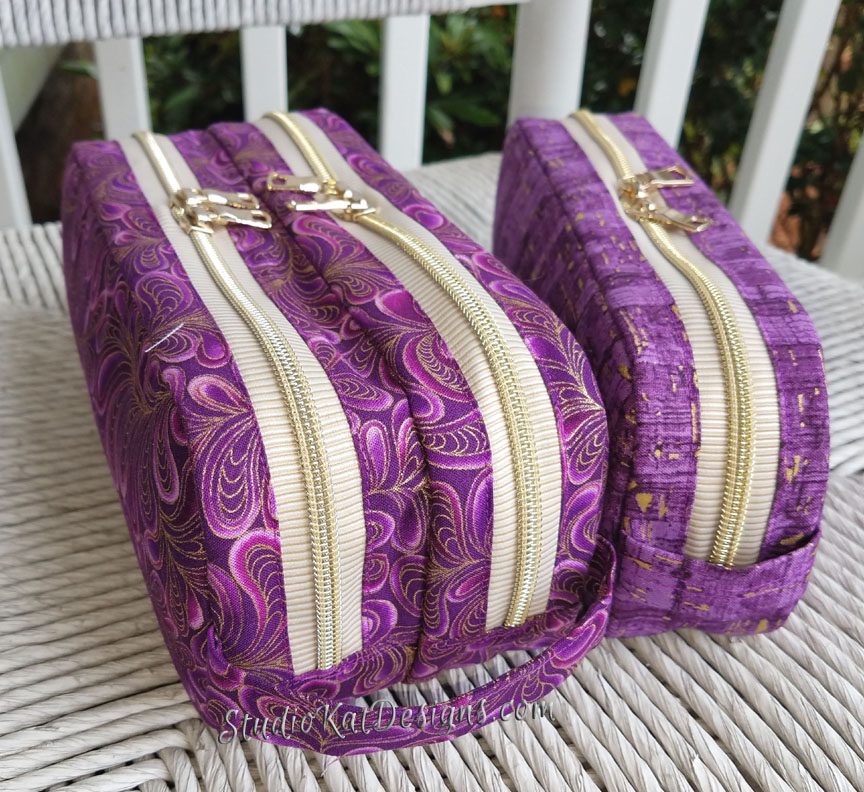 My plans are to have a total of eight bag sizes for you to choose from in the same pattern. And get this… each bag set is made with only 4 different pattern pieces. Yep, it doesn't matter if you're making the long "single" bag or the long "double" bag, you'll be using the SAME 4 pattern pieces!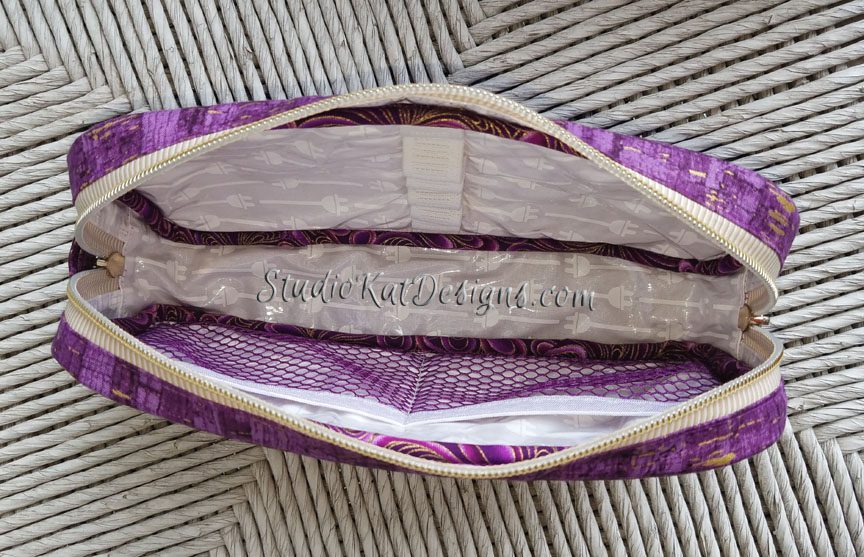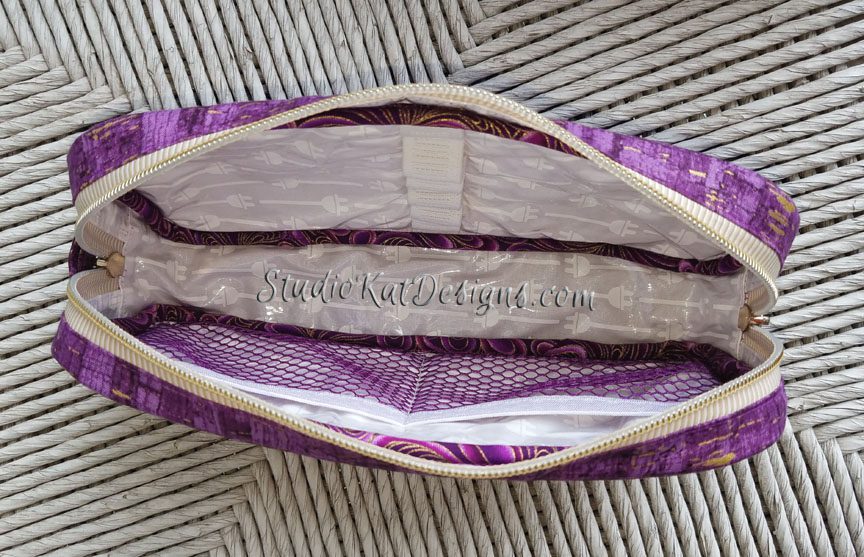 So here's a peek inside the "single" and as you can see, this time I "laminated" the interior lining fabric with Slicker (by Lazy Girl Designs). I'm thinking these little bags will be perfect for carrying cosmetics and toiletry items so a soil-resistant interior would be a definite plus! For this sample, I included a couple of Mesh pockets for smaller items and a few elastic loops which would be perfect for tubes of mascara, eyeliner or lipstick. This single compartment unit measures 9.5″ X 4″ X 2″.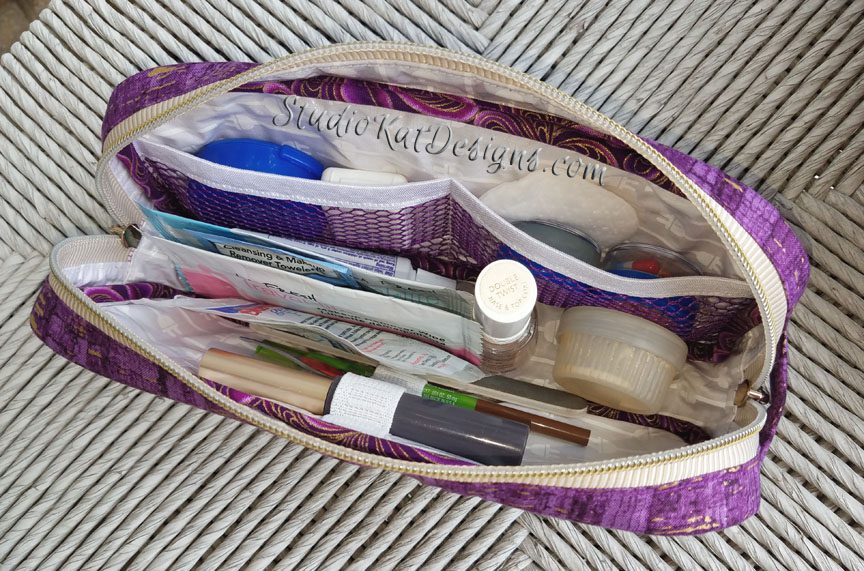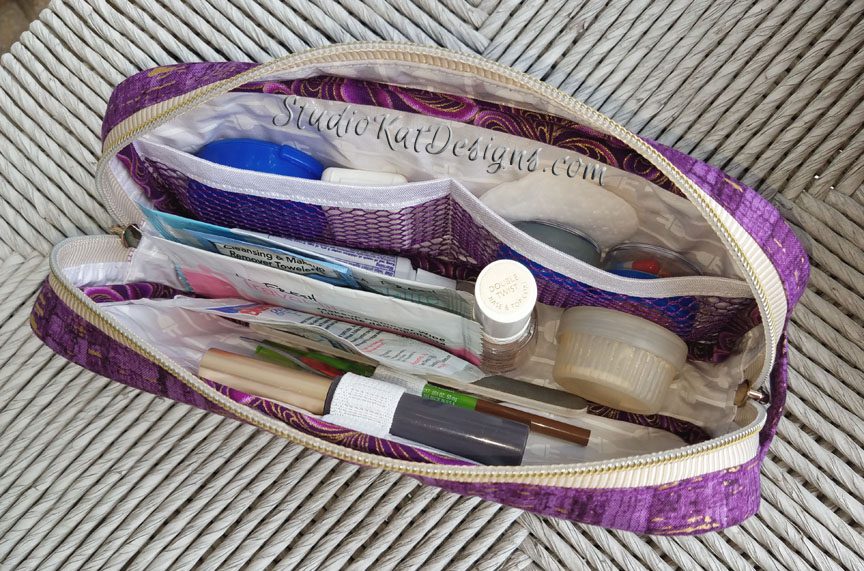 And here's how it looks loaded up and ready to GO! Another thing I like about these bags is that they all open very WIDE, but not TOO wide. Years ago I once had a little travel bag that opened ALL the way but stuff was constantly falling out the sides, but that's not a problem with this design!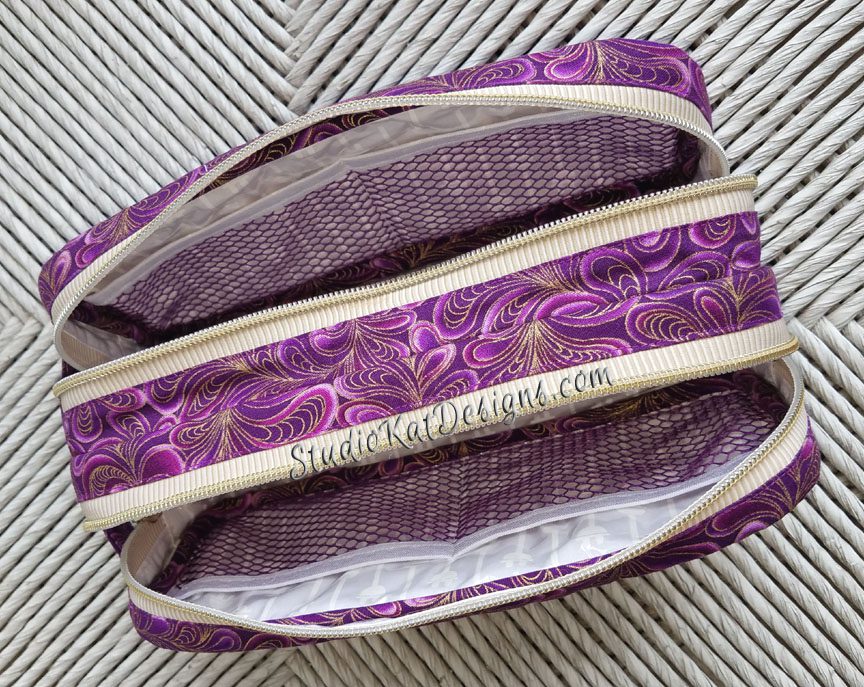 And here's a look at the empty "double" bag. It features a mesh pocket on both outside interior faces and a center face with elastic loops. One side has vertically placed loops and the other side has horizontally placed loops. The picture below gives you a good look at the horizontal loops.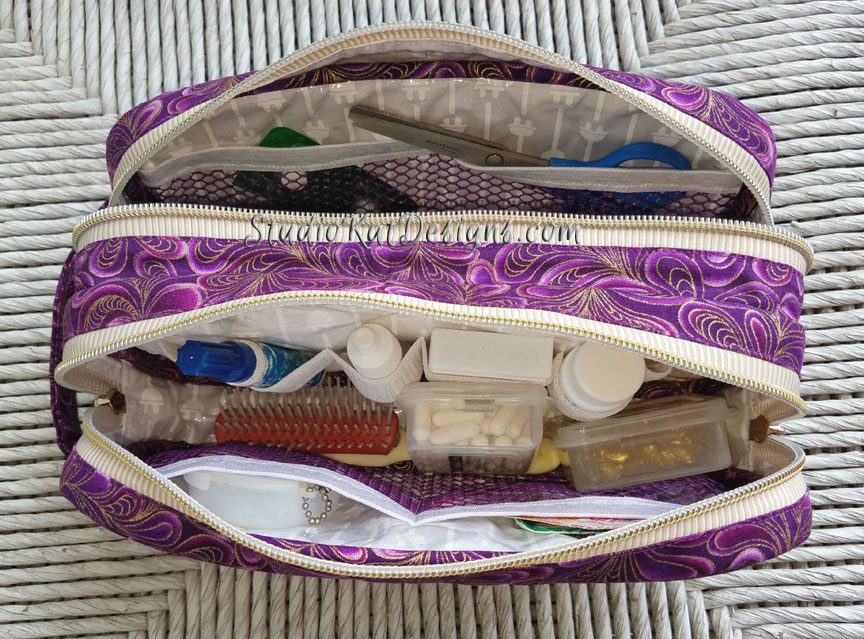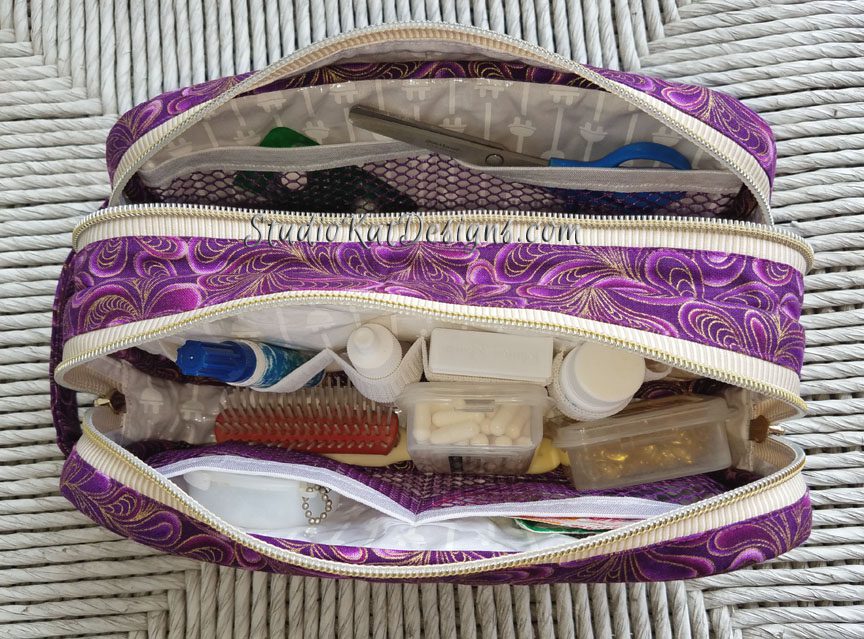 These loops are perfect for smaller toiletry items. You can actually get an amazing amount of stuff in this bag and yet it still has a minimal profile for easy packing in tight places. This double-sided, double-zipped tote measures 9.5″ X 4″ X 4″.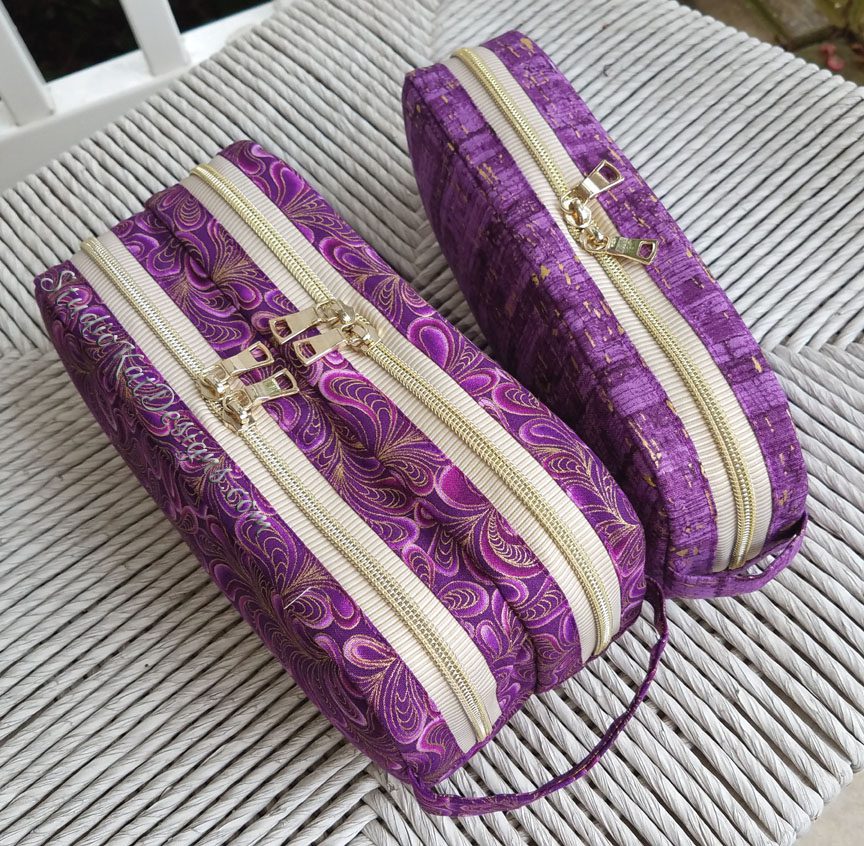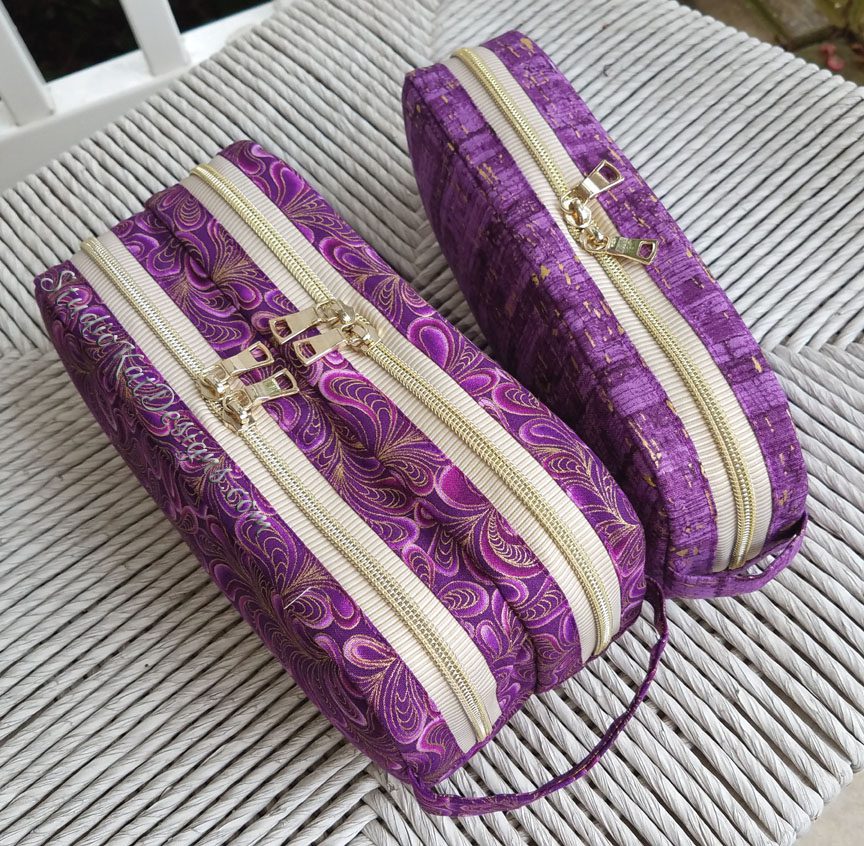 And there you have it!

I'm very pleased with how these little bags turned out. Other than moving a few notches and making a bit of a modification on the strap length for the "single" these bags are pretty much a keeper! But do stay tuned! Because I still have 3 other sets to show you… a short "single & double", a wide "single & double" and a tall "single & double", and it's still my intention to have this pattern finished and ready to go in time for the Christmas gift-giving season which is just around the corner! YIKES!
But in the meantime, I'd love to know what you think of our new design at this point in the process? Does this seem like an item you'd be inclined to use yourself or gift to others?
And remember, we love reading your comments and answering your questions too, so please feel free to leave either or both in the space provided below.
*********************************************************************************************
Check out the best sewing pins with me on Pinterest, join in on discussions or show off your work in our FaceBook Group, or get your daily sewing fix on our Facebook Business Page or get behind the scenes scoops on Instagram, and be the 1st to know about new patterns, discount codes and sample sales by signing up for our monthly newsletter.