So…
in our last post I showed you the first two little bags in what I intend to be a set of four, all with two separate zippered compartments! We showed you the long sample and the wide sample in out last post and this time we'll be showing you the short and the tall sample!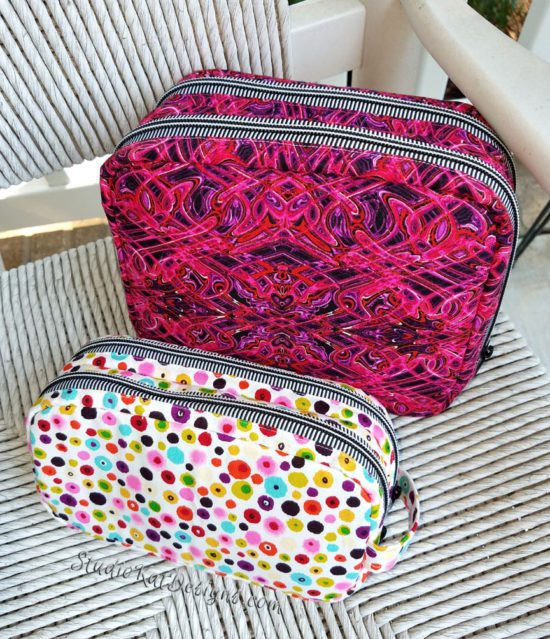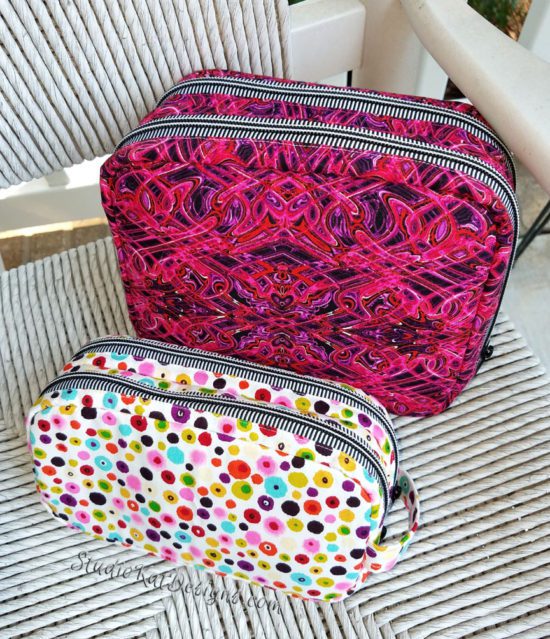 And I made some pretty big changes in this round.
For one thing, instead of just using foam stabilizer on the front and back walls this time, I added it to the center wall as well. I know that's not a change you can actually see, but it definitely makes the little bag more stable and durable.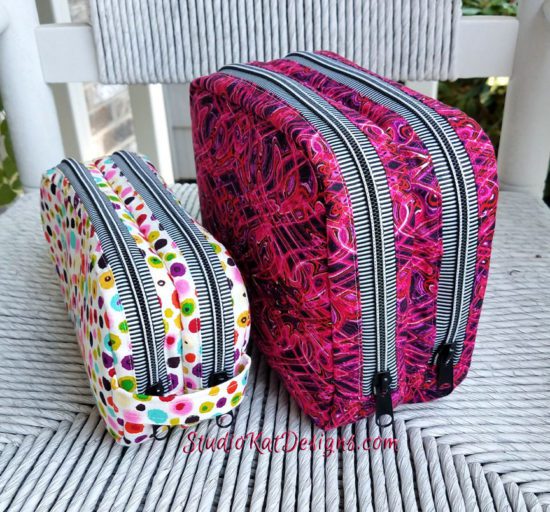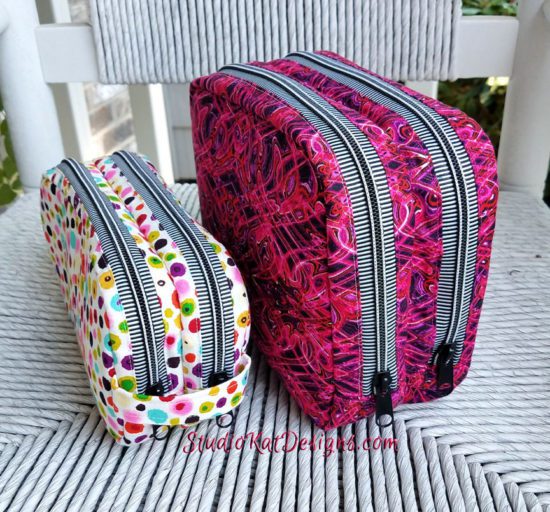 I also made another couple of BIG changes when I made up these two samples.
First off, instead of using fusible interfacing behind these fabric walls, I used fabric laminate on TOP of the walls! I figure that since folks could be storing makeup and other toiletry items in these little bags, that it would be good if the interior was liquid repellent and stain resistant and this nice shiny surface should be both!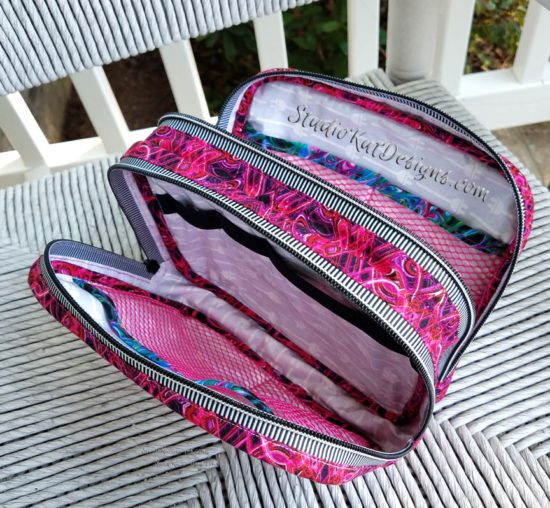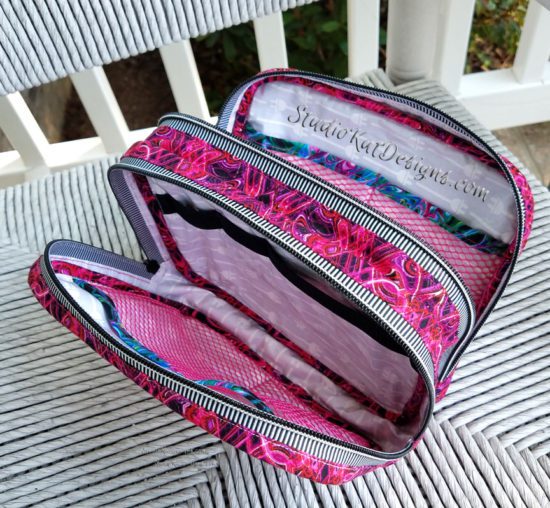 I also started accessorizing this bag's interior in this round! As you can see, I added mesh pockets with dividers… Perfect for smaller items that might be hard to find in the bag bottom and could be prone to falling out! I also added some formed elastic slots which are perfect for stabilizing items such as lipsticks, nail polishes, toothbrushes and the like.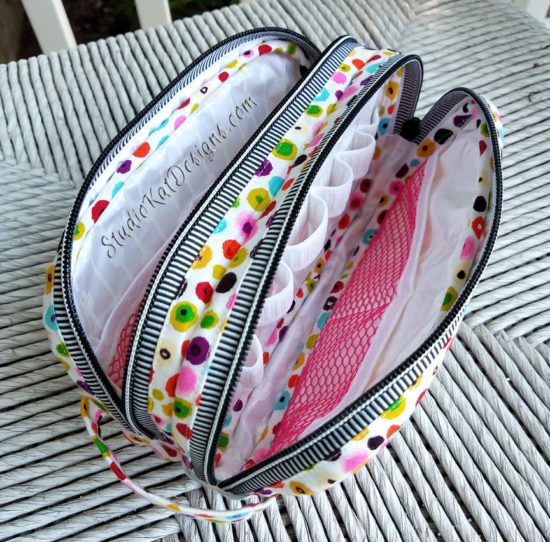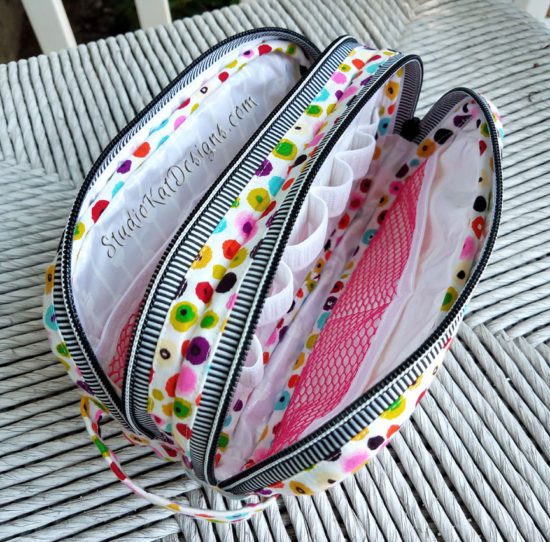 But as much as I love this small/short size (and I DO!), the construction was kinda tough! Those little skinny walls are basically only as wide as the 1/4″ raw edges underneath & they were stiff and not very pliable and that wasn't a good combination on a project this small. So… the bad news is that I'll need to make some adjustments to the next short sample I make, but there IS some good news, and that would be that this means I can keep this little cutie for myself! Yippee!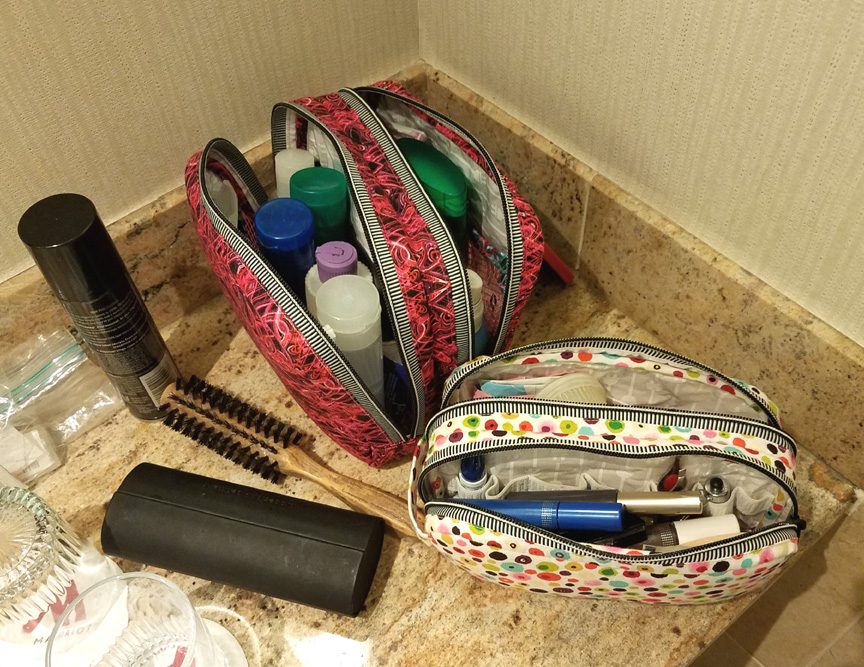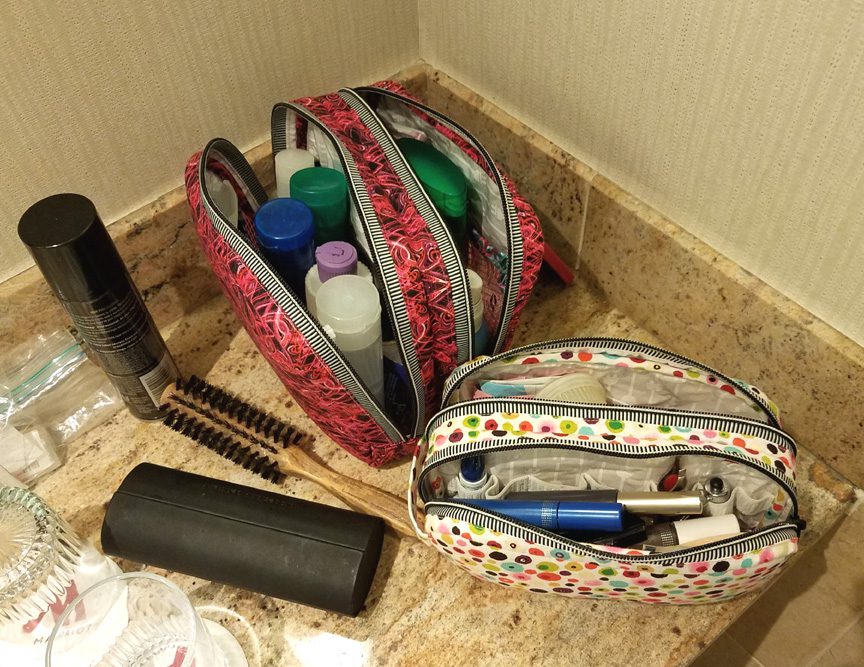 So there you have it!
Do stay tuned for our next post in this series when we'll begin showing you a whole new set of samples made up in the finalized dimensions! Right now I think it will be entirely possible that they'll be EIGHT sizes available in the final pattern offering! YIKES! I better get busy! Oh, and I almost forgot the most IMPORTANT thing! I decided on a name for this pattern without too much duress this time! We're going to call them PACKLETS!
In the meantime, I'd love to know what you think of our new design and in particular the name we picked out! And remember, we love reading your comments and answering your questions too, so please feel free to leave either or both in the space provided below.
*********************************************************************************************
Check out the best sewing pins with me on Pinterest, join in on discussions or show off your work in our FaceBook Group, or get your daily sewing fix on our Facebook Business Page or get behind the scenes scoops on Instagram, and be the 1st to know about new patterns, discount codes and sample sales by signing up for our monthly newsletter.