Description
Design Highlights
enjoy the advantages of a large tote without the bulky weight
secure exterior zippered pocket.
TWO Interior pocket pouches for your cellphone and other items
Soft, cotton handles that are easy-on-the-shoulder.
This bag looks great no matter where and how you fling it!
And best of all- it works perfectly with our Porta-Pockets Purse Inserts!
The Boho makes up cute in a WIDE variety of fabric!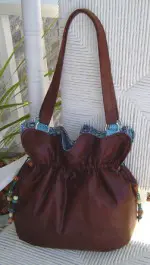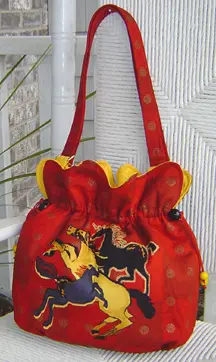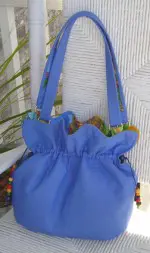 Closeup of Interior Pockets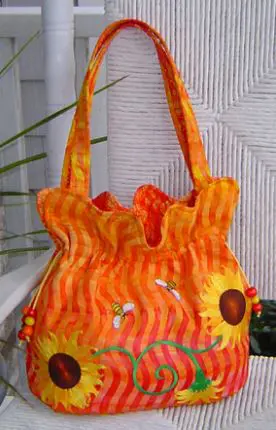 Embroider yourself a BEAUTIFUL exterior!
Here's a closeup of this amazing design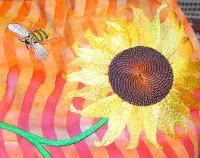 Embroidery Design provided by
Susa Glenn Designs
This Boho was fashioned in collaboration with Susa Glenn Designs, using her Bodacious Sunflowers embroidery CD. You can also get a layout schematic for this bag by clicking here.For more information, click here.
Follow us on:
Additional information
Dimensions
9.5 × 12 × 4.5 in
Product

(You may need more for fabric for directional prints)
Exterior Fabric: 1/2 yd.
Contrast/Lining: 1 yd.
Fusible Interfacing: 1/2 yd. (I recommend CraftFuse TM or the equivalent.)
Fusible Fleece: 1/4 yd. (I recommend Thermolan TM or the equivalent.)

1 each- 9-10" Nylon zippers (or longer)
1 each- 3/4" magnetic snap
4 each- 1" wide metal loops (You may substitute 1" wide D-rings)
48 inches- 1" wide cotton webbing
2 yds- 2mm wide waxed cotton cording (you may substitute rawhide laces)
12-24 beads of various widths ranging from 1/4" to 1/2" wide (these are optional)