So…
there were SO many changes that needed to be made to this design following our last post in this series, that I fully expected that this would unfortunately relegate this sample to being a third prototype. But… I decided to take my time and make most of the changes "on the fly" while in the process of actually sewing up this sample. Over the years I've found that as long as I'm fairly cognizant of the changes that need to be made, AND, as long as I'm willing to take my time, AND, don't allow myself to get frustrated with having to rip a section out several numerous times until I get the look I'm after, sometimes a prototype can turn into a "Gorilla Sample". And such was the case here!
So without further adieu, here's the Gorilla Sample for this…
the 30th edition of "Purse Pattern Chronicles"!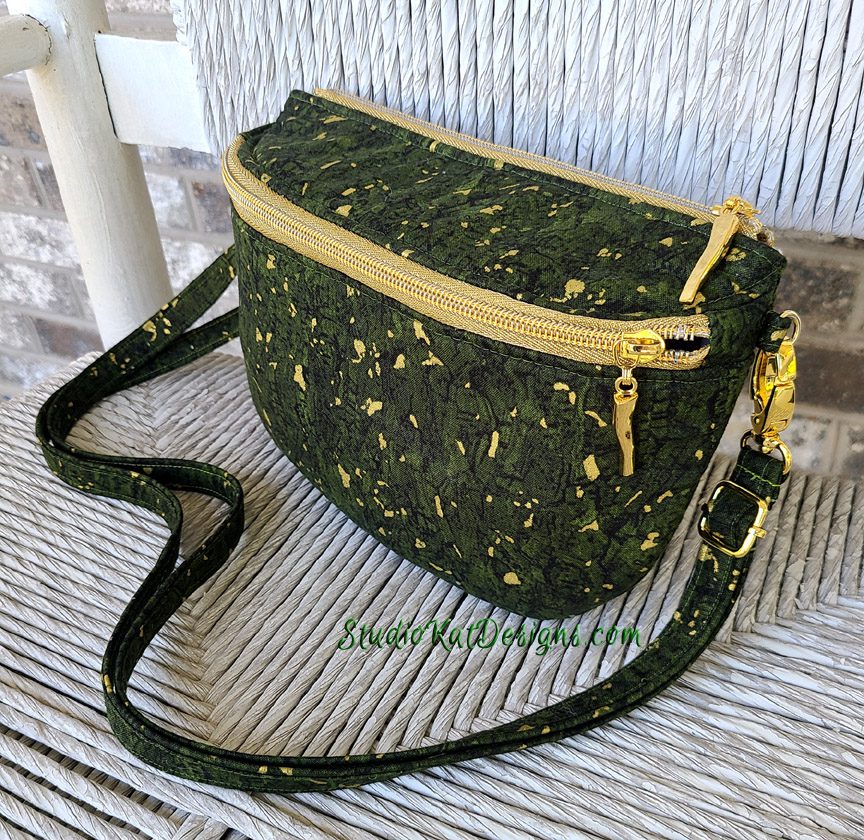 In this two pictures we're showing you the front and back of this design. I made some pretty big changes to the zippered top area of this bag this time. My goal was for the flap to have a more flattened appearance which I'm happy with here, but the upper corners of this sample just didn't go together easily. Additionally, the lower area of this zipper pouch is quite thin and once I carried it around for awhile, I realized that the bottom 1.5″ or so of this sample was basically useless for storage, except for maybe a pen or a comb. I'll need to address these two issues in the next sample. 🙂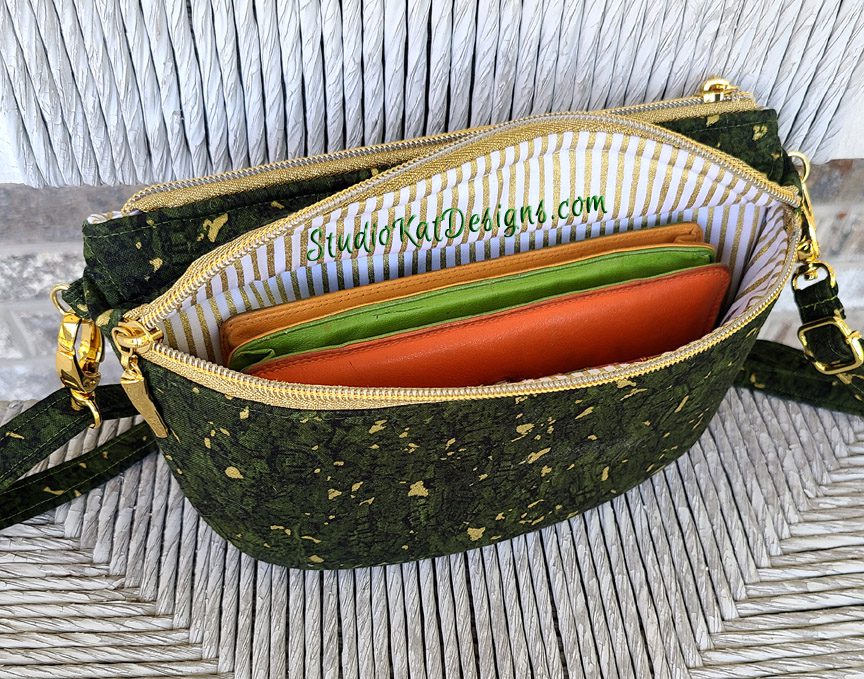 Here's a shot (at left) of the interior of the afore-mentioned Pouch area. As you might notice, My wallet is "riding kinda high" in the Pouch and that's because the bottom of the Pouch is so thin that not much more than a pen can fit down there. I'll fix that in the next sample but thankfully, this is not the case for the back pocket (which you can see at right).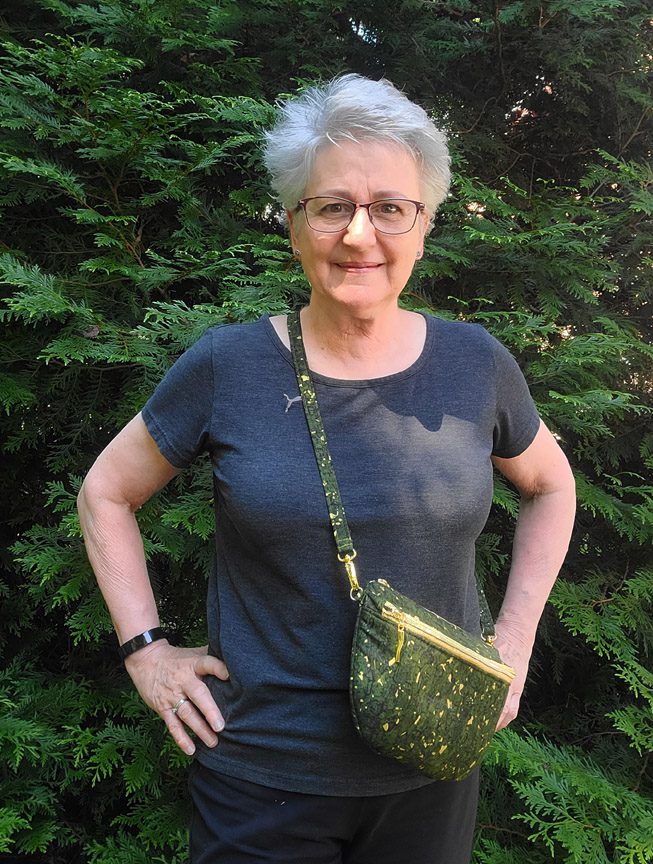 And finally, here's a couple of shots of me wearing this new bag…at left, as a one-armed sling bag, and at right, as a conventional shoulder bag. I like carrying it both ways but just in case your wondering, I'm sure it could also be carried as a a hip bag although I would probably recommend going with a wider carrying strap for that option.
And now, it's YOUR turn!
I'd love to know what you think of this design thus far. Does this bag seem like one you might enjoy carrying? And if you have comments you'd like to share, suggestions you'd like to make, or questions you'd like to ask about this design in general or this sample in specific, please feel free to leave either or both in the space provided below.
Check out the best sewing pins with me on Pinterest, join in on discussions or show off your work in our FaceBook Group, or get your daily sewing fix on our Facebook Business Page or get behind the scenes scoops on Instagram, and be the 1st to know about new patterns, discount codes and sample sales by signing up for "Bag Making is Fun", our bi-monthly newsletter.