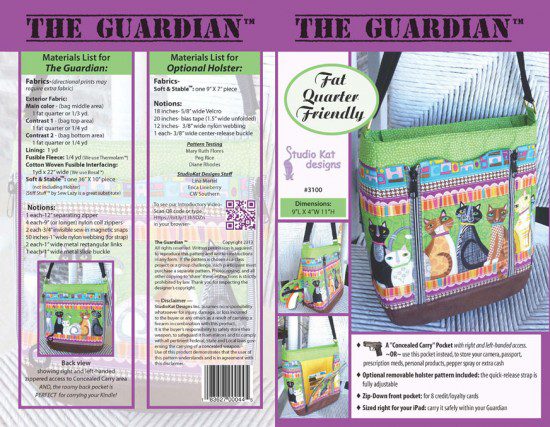 So… in 2012 we released what turned out to be a very popular pattern, the Guardian. Our customers fell in love especially with our cover sample. (I've always said that if only I had the foreknowledge to acquire 10 bolts of this fabric, I surely would've sold it all!) But here's the deal….
NONE of our other samples had the impact that our "Cover Girl" had.
Everytime I took a sample other than this "cover girl" to a show, the resuIt was that I barely sold one of the Guardian patterns. Consequently, after ten years of taking pretty much ONLY taking this model on the road with us, it's looking pretty worn out & deserving of retirement. But that presented me with a serious problem…
What new sample could possibly generate
the enthusiasm of our original "Cover Girl"?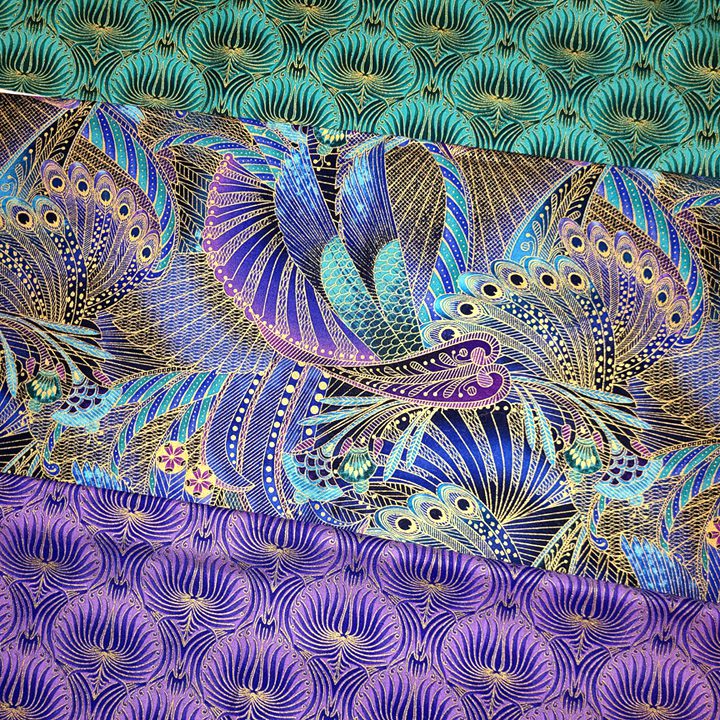 I've literally put off making this decision for 2 years but then… all my the answer to this dilemma literally showed up on doorstep when these fabrics were delivered!
My imagination was instantly captured and suddenly I could visualize the perfect successor to our "Cover Girl"!
And here she is!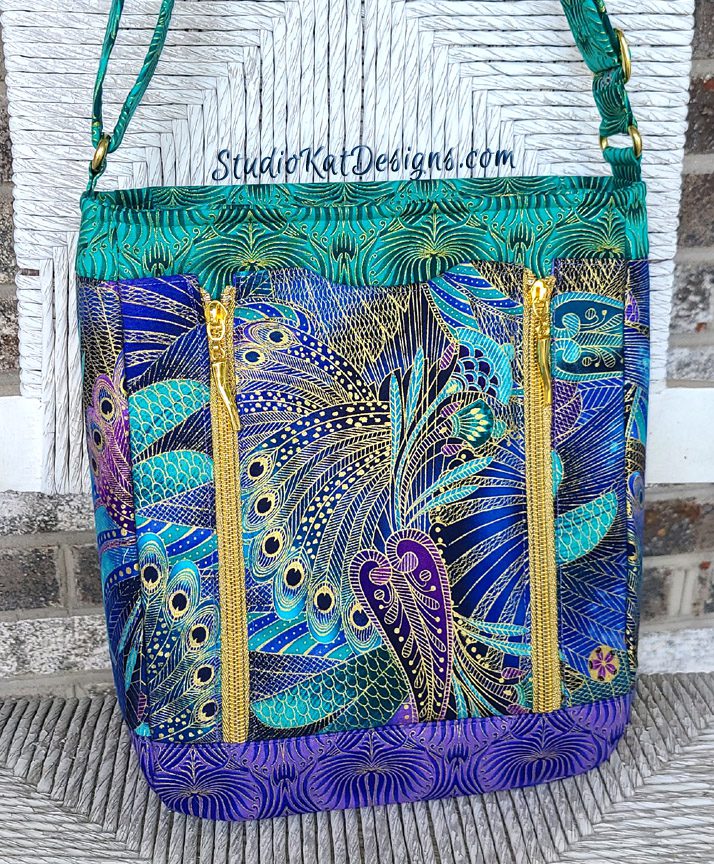 I love EVERYTHING about these fabrics! The jewel-tones are bold,
and the gold metallic highlights add to the "bling factor",
PLUS our gold zippers really solidify & complete the overall look!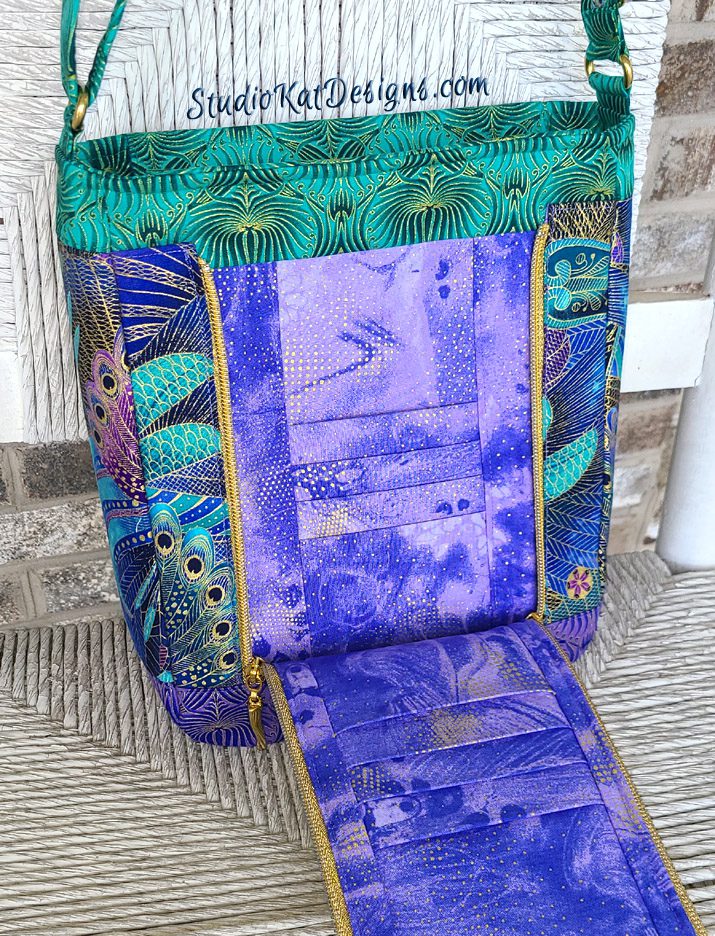 And of course, all of the features that made the Guardian pattern so successful are still present in this new sample! At left is a good look at the drop-down credit card area which is secured with double zips and a magnetic snap closure, and at right you can see that there's a zippered closure on roomy main compartment!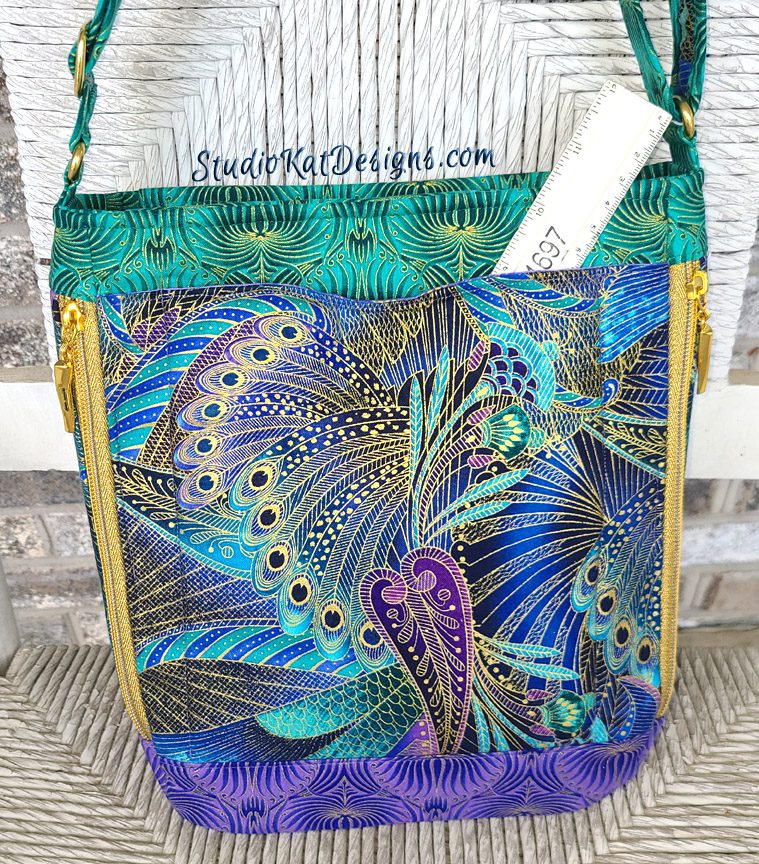 The photo at above center is of course the Guardian back, but there's some really innovative features on the back side of this bag. First, there's a huge padded pocket visible in the photo at above left (indicated by the white ruler). It's sized perfectly for a Kindle or even a smaller-sized iPad. Then, the red ruler in the photo above right, indicates that there's a completely separate, pass-thru pocket there, secured with two zippered closures…
PERFECT for anything you want to sequestered in a secured and concealed way!
So… what cha think?!
Is this a sample that would capture YOUR imagination? and will this sample ever live up to the hype that was generated by our original "Cover Girl"?
If you have comments you'd like to share, or questions you'd like to ask about this design in general or this sample in specific, please feel free to leave either or both in the space provided below.
Check out the best sewing pins with me on Pinterest, join in on discussions or show off your work in our FaceBook Group, or get your daily sewing fix on our Facebook Business Page or the behind the scenes scoops on Instagram! And don't forget to check out our video tips & tricks on our You Tube Channel and be the 1st to know about new patterns, discount codes and sample sales by signing up for "Bag Making is Fun", our bi-monthly newsletter.