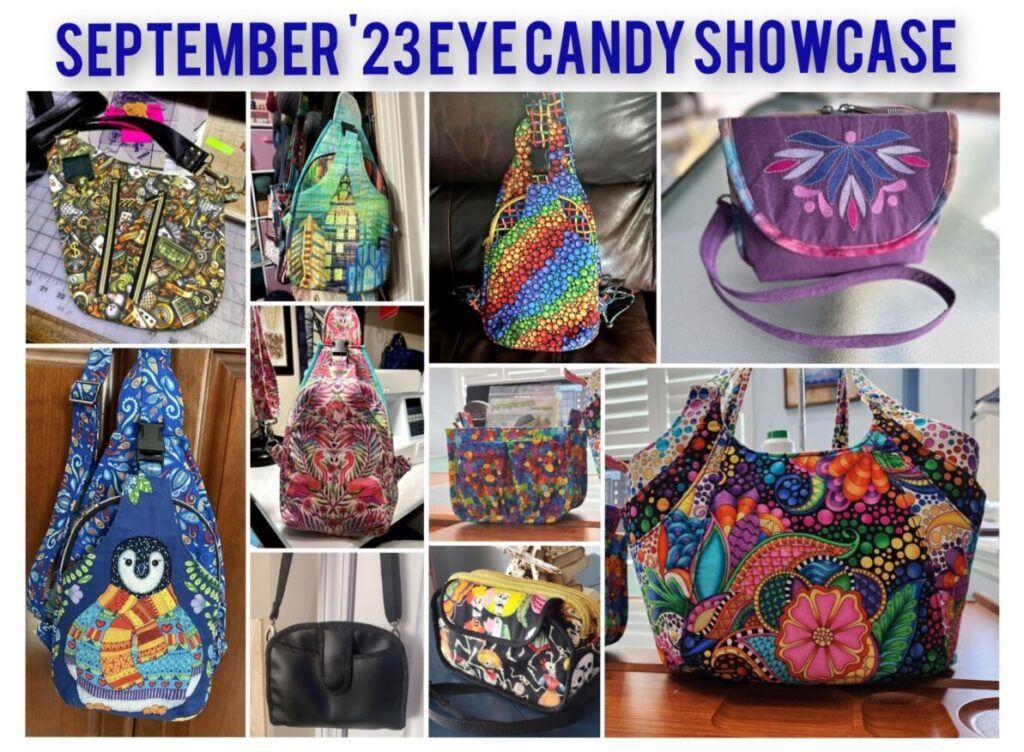 So… it's that time again!
It's time to let the skills of our customers shine in the September '23 Eye Candy Showcase! I totally love seeing the wonderful bags our customers create using our patterns and this month's lineup is totally amazing!
So what are we waiting for? Let's get started!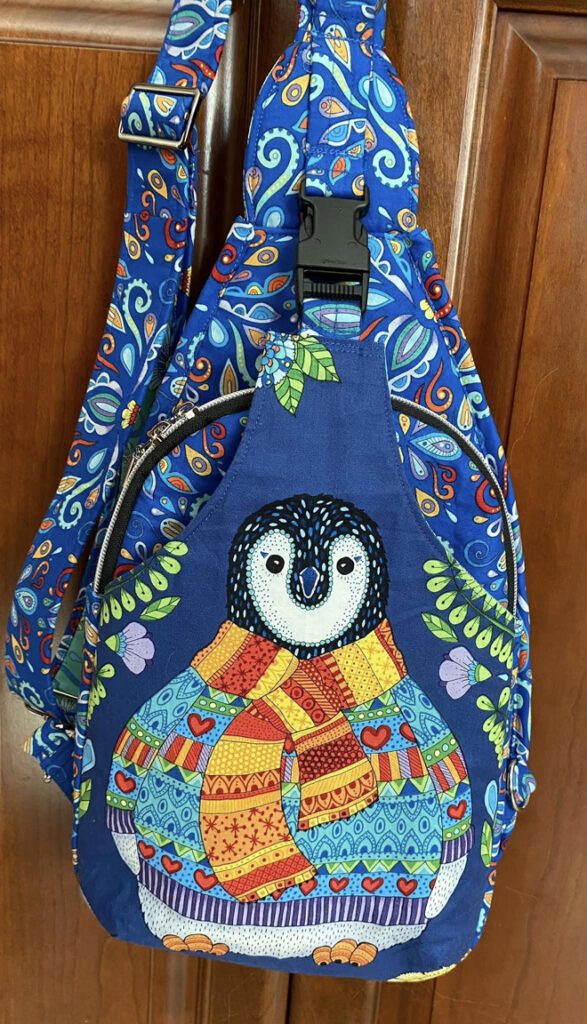 Sue Evans decided to go with a "focus fabric" for this Sling Along and it came out SO unbelievably cute!
I love everything about this bag INCLUDING the adorable zipper pull!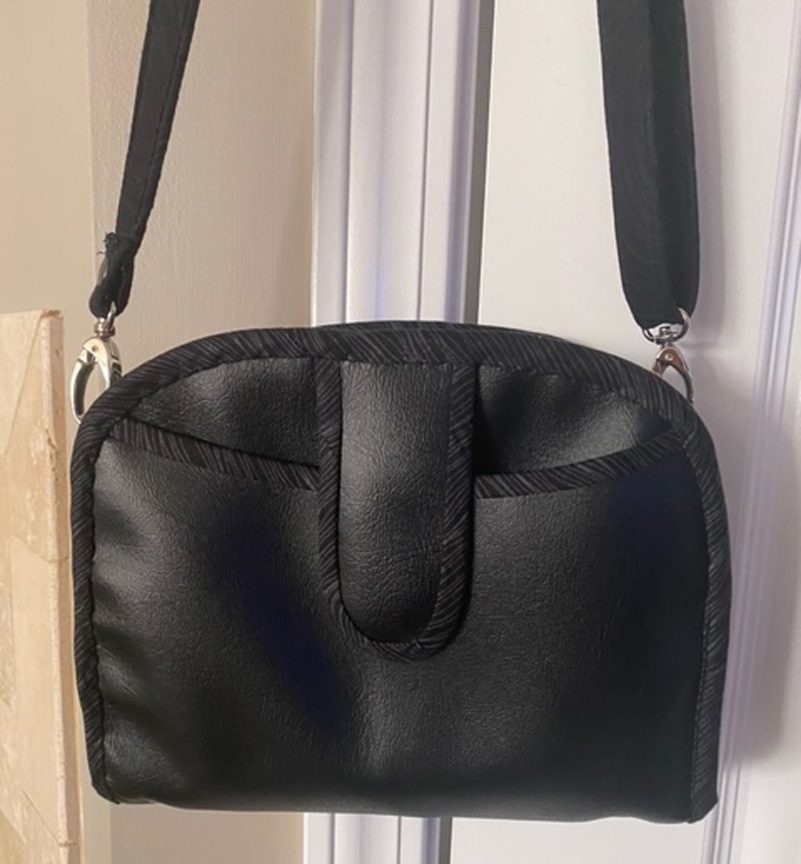 Karen Netherton got brave with her Everyday Attache and used vinyl for the exterior.
She said this choice worked out well for her in combination with our hardware and zippers!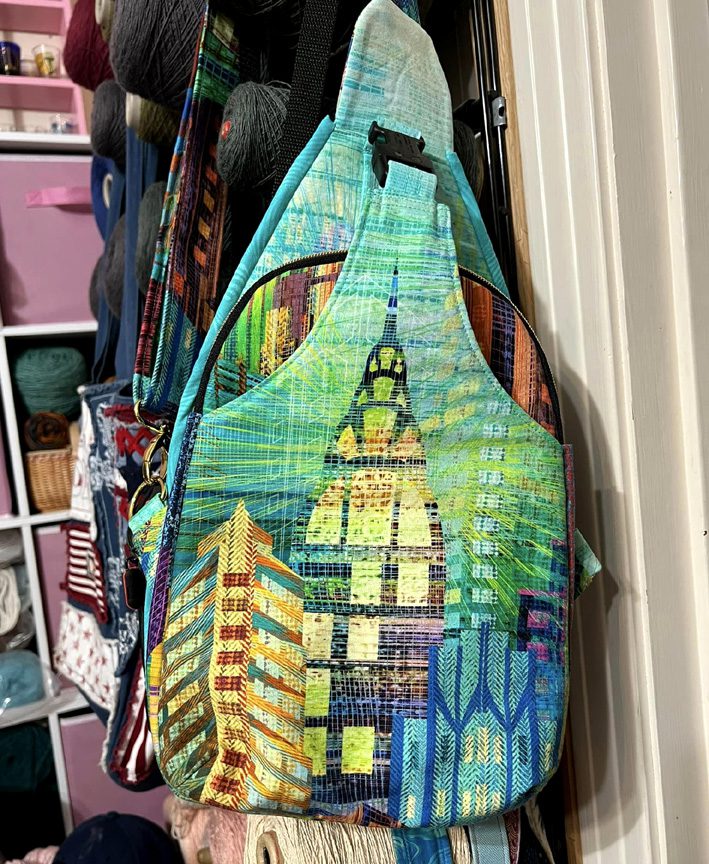 And Virginia Compton said that she's had this NYC fabric for ~4 years and finally used it for this amazing Sling Along. She LOVES how it turned out (I do too) and says now its time to finish her next which will feature flamingos!
And I'm so glad to see that Jeanette Jay is "back in the saddle" again having created this eye-catching Side Slinger!
She said that it felt good to finish up this UFO with time leftover for a September custom order!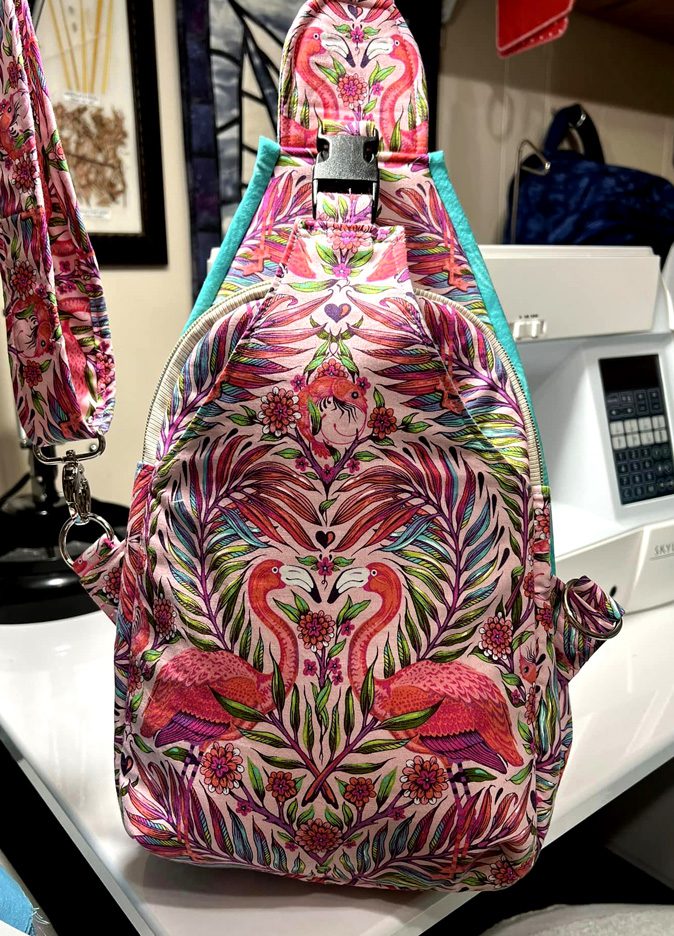 Here's Virginia Compton's promised Sling Along featuring flamingos, as she promised (above). Virginia said she started this bag a few years ago, but put it aside for a bit when someone else posted a Sling Along in this same Tula Pink fabric!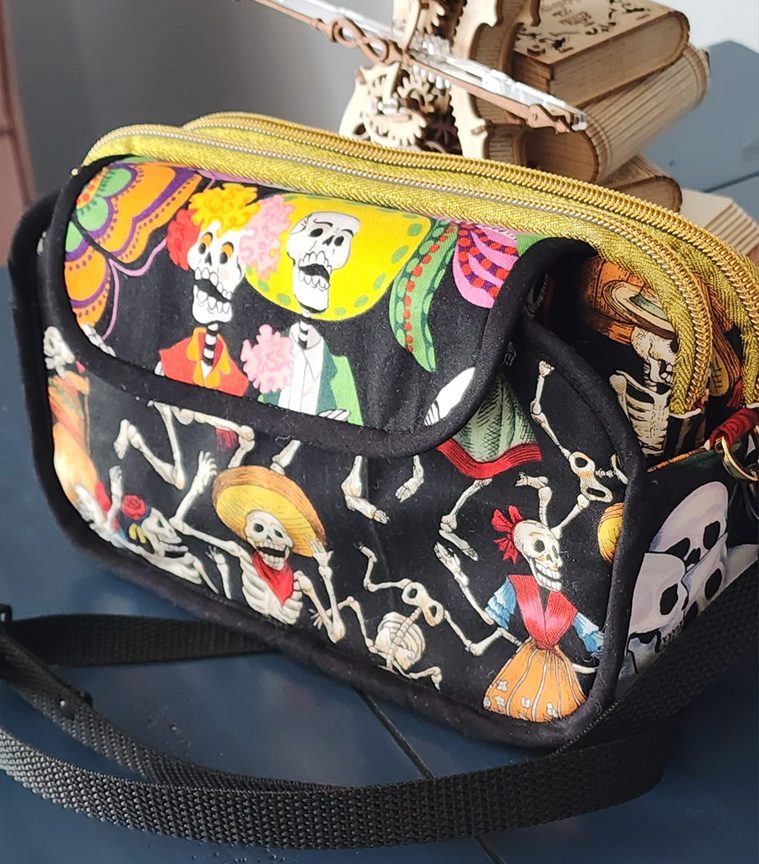 And he's BACK! Our favorite sewing guy, Don Distler, is back in the sewing saddle,
celebrating the "Day of the Dead" with a spooky Double Take!
Don says that this little bag is one of his favorites, with so much storage yet lightweight & easy to carry!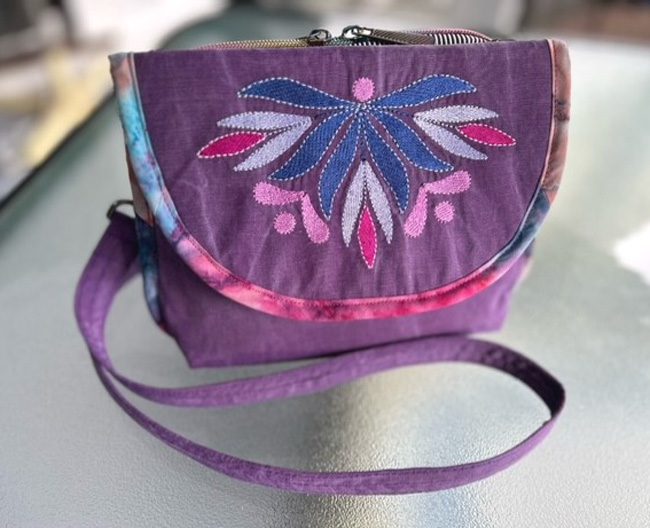 It's been quite some time since we've heard from Pat Leask but she's back in a fantabulous way with this amazing HipBag Hybrid. Pat says that this design is her favorite small bag to carry & I'm totally in awe of the embroidery she added to the flap & how the bias binding blends perfectly with it!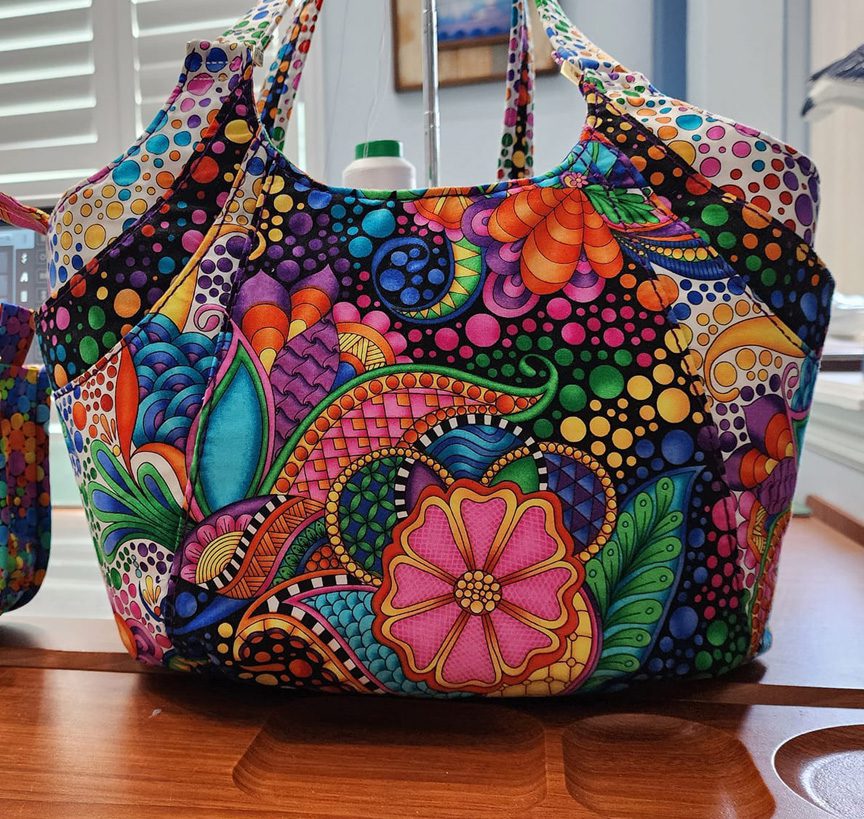 And Don Distler has been a busy guy this month! He calls these two the "perfect pair" and he's RIGHT! He created Quattro and added a coordinating PortaPockets Purse Insert (pattern now retired in favor of our PortaPocketsPLUS Purse Insert).
Here's a closer look at Don's PortaPockets Purse Insert. Just in case you didnt know… the PortaPockets still holds the record for being our most successful pattern, but we retired it a few years ago in when foam stabilizers appeared on the scene!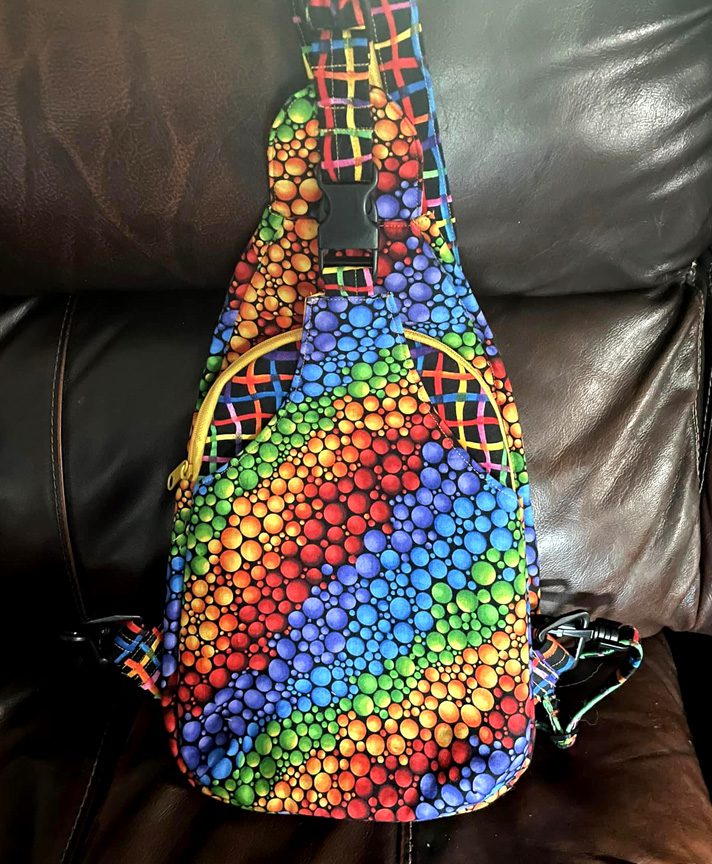 And finally, Cora Bray said she was psyched to have finished this Sling Along with backpack straps after months
of recovering from a two-week stay in the hospital! So glad you're well now and "back in the saddle" again Cora!
And now, it's YOUR turn!
Which one of these beauties caught your eye initially? And which one made you want to know more? And remember, we love reading your comments and answering your questions too, so please feel free to leave either or both in the space provided below.
Check out the best sewing pins with me on Pinterest, join in on discussions or show off your work in our FaceBook Group, or get your daily sewing fix on our Facebook Business Page or get behind the scenes scoops on Instagram, and be the 1st to know about new patterns, discount codes and sample sales by signing up for "Bag Making is Fun", our bi-monthly newsletter.