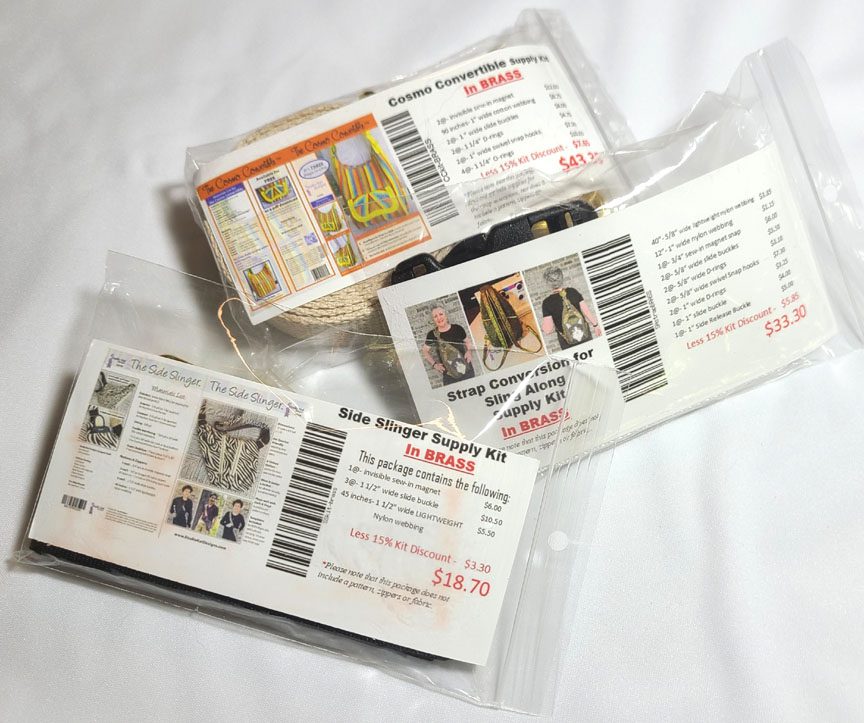 So…
if you're familiar with the Supply Kits we offer on our website then you know that they include all the hardware, webbing, elastic, mesh, and zippers required for a particular bag project, with an option of adding in foam stabilizer, interfacing, fabric, (and sometimes a few other items as well)!
But I often get questioned as to why the Supply Kits we take to shows aren't the same as the Supply Kits on our website and the truth is… there's really TWO answers to that question.
First off— The space limitations at these shows automatically dictates that we cannot include foam stabilizer in our kits because if we did there would be no place for us to sit or move about.
And secondly— since I have 11 zipper types in 3 different sizes within our collection, we can't possibly prepackage each one of our kits with each one of our zipper prints, because if we did we would need to expand our footprint to at least a double booth or maybe even a triple booth. The cost for us to do this would absolutely be cost-prohibitive!
and alternatively, if we allowed for our customers to choose the zipper print they wished to include with their notions kit at checkout, it would inevitably slow down our checkout process SO MUCH that it would cause aggravation for the customers waiting in the cue behind them. And its for this reason primarily, that we have decided to prioritize speed at the checkout over including zippers in these Kits.
And now, it's YOUR turn!
If you have comments you'd like to share or questions you'd like to ask about the checkout process at our various shows, please feel free to leave either or both in the space provided below. You never know, your idea may just be something we'd consider implementing in the future!
Check out the best sewing pins with me on Pinterest, join in on discussions or show off your work in our FaceBook Group, or get your daily sewing fix on our Facebook Business Page or get behind the scenes scoops on Instagram, and be the 1st to know about new patterns, discount codes and sample sales by signing up for our monthly newsletter.