So… here we go again!
With the Double Take pattern safely in the books, it's time to start working on our next pattern and this time I thought I would finally design a true "wallet" pattern. Oh I know, way back in 2016 we introduced the Walkabout Wallet pattern, but that design was never meant to be a true wallet pattern. It was my intention that the Walkabout Wallet pattern would be a combination wallet AND shoulder bag! It was perfect for carrying one's wallet contents along with a phone, reading glasses and other small items into a theatre, a ballgame, or any other traveling venue securely and easily as a shoulder or a cross-body bag.
And here's the deal… even though the Walkabout Wallet was, and continues to be a very successful pattern, it was never really meant to be a true wallet pattern. The fact is, it's a little too tall, and a tad too fat, soft and bulky to be a true wallet.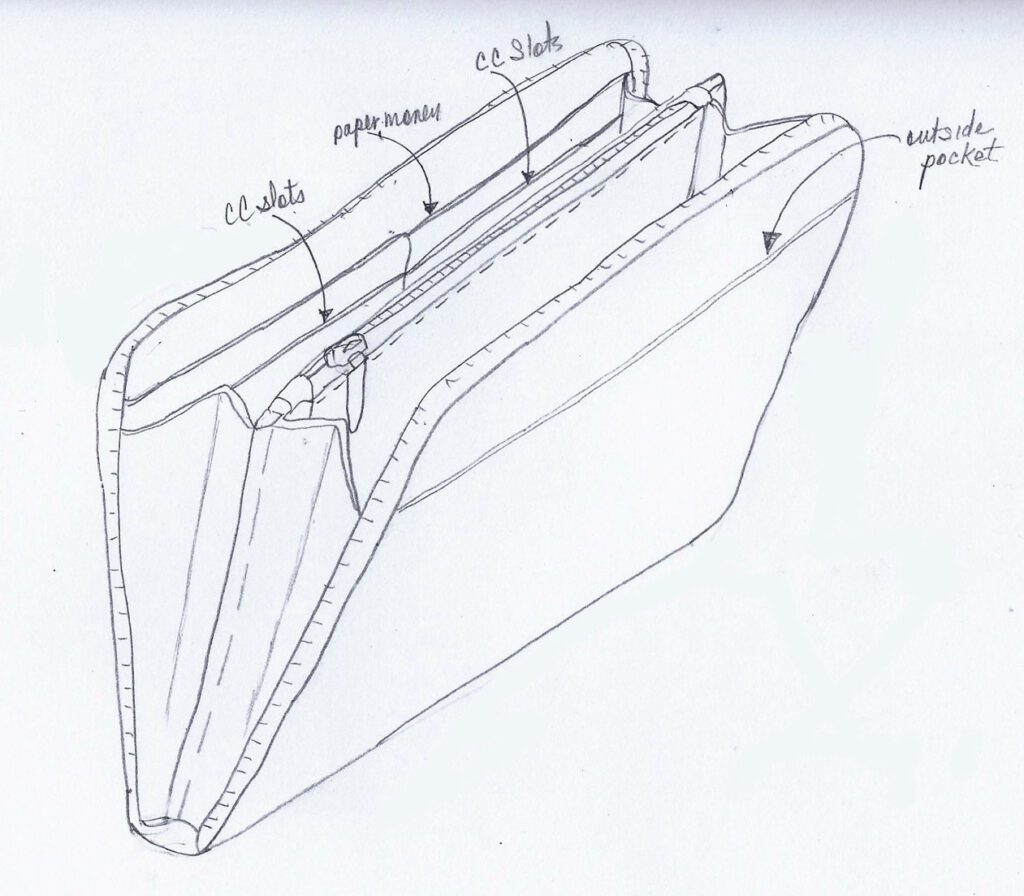 But this time, my intention is to create…a true wallet pattern!
First of all— This wallet will not be as tall as the Walkabout Wallet. It'll be more the size of a standard commercial wallet because I'd like for it to fit easily into most bags.
Second — I'm thinking that I will NOT be using foam stabilizer (as is our norm) for this design. I'm thinking that I'd prefer for this wallet to have a firmer, stiffer feel and foam stabilizer adds considerably to the width of a project. I'd prefer for this wallet to slip in and out of a bag with ease. I'll include an option to add a wristlet strap for those who'd like to carry this wallet outside of a bag.
Third — I'm including 2 slip pockets for paper money because I don't know about you, but when I travel I like to have separate slots for US money and foreign money. Of course one can always use the additional slot to house a check register… (another item I can't live without)!
Fourth — I'm planning on 12 slots (six on each side) credit or loyalty cards plus a coin purse divider.
And now, it's YOUR turn!
Does the idea of wallet pattern designed to be rather low-profile appeal to you? If you have comments you'd like to share or questions you'd like to ask about this design in general or this sample in specific, please feel free to leave either or both in the space provided below.
Check out the best sewing pins with me on Pinterest, join in on discussions or show off your work in our FaceBook Group, or get your daily sewing fix on our Facebook Business Page or get behind the scenes scoops on Instagram, and be the 1st to know about new patterns, discount codes and sample sales by signing up for "Bag Making is Fun", our bi-monthly newsletter.