So…
in our last post I revealed both our sketch and our plans for our next pattern design, which generally means that the next step in our process would be to create the 1st prototype, which sometimes turns out to be the "Gorilla Sample". And the thing is… indeed our 1st prototype for this design turned out exactly as expected.
Ultimately, I'm really happy with how the pattern pieces went together and the final product is very functional. I will surely enjoy using this wallet myself as it checks "all the boxes" for my personal use… BUT… there's one glaring problem with this prototype!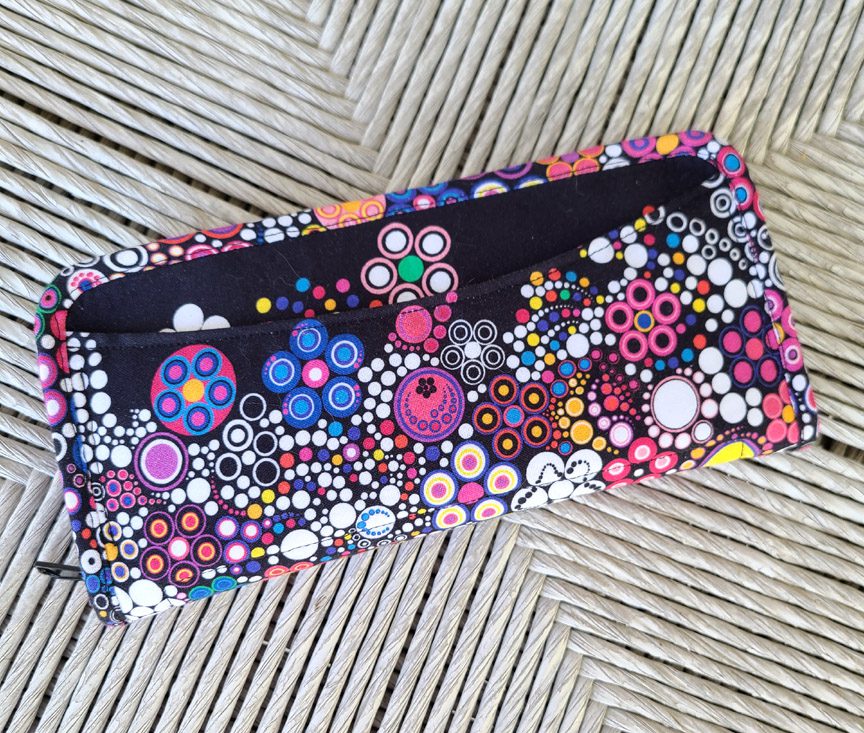 In photographs, it just looks TOO much like our Walkabout Wallet!
Essentially, this wallet is meant to be VERY different than the Walkabout Wallet. It will have a MUCH thinner and more functional profile (since we're using Peltex as our foundation material as opposed to a foam stabilizer) and the interior is designed very differently also, but in a frontal photograph as seen above (at left in this new design) and at right (in the Walkabout Wallet), the only appreciable difference between these two designs seems to Tab on the Bag Front.
If found this to be totally disappointing!
Because let's face it… first impressions are REALLY important! And if our customers cannot immediately detect a functional difference between this new design and the Walkabout Wallet, (even though the interior and the ultra slim profile are different), then unfortunately this will be a recipe for failure for us!
My primary concern here is that the majority of our customers will never have the opportunity to compare these two designs side-by-side up close and personal. The only chance they will have to do this be at retail shows and for this reason, and even though I really LIKE this wallet and have enjoyed carrying it for over a week now, I simply MUST do a pretty major re-design that can clearly delineate the differences between these two designs. I want our online customers to KNOW right up front that these two designs are totally different!
And now, it's YOUR turn!
Please stay tuned for our next post in this new Purse Pattern Chronicles series when we'll show you (I hope) a brand new prototype for this new design! And if you have comments you'd like to share or questions you'd like to ask about this design in general or this sample in specific, please feel free to leave either or both in the space provided below.
Check out the best sewing pins with me on Pinterest, join in on discussions or show off your work in our FaceBook Group, or get your daily sewing fix on our Facebook Business Page or get behind the scenes scoops on Instagram, and be the 1st to know about new patterns, discount codes and sample sales by signing up for "Bag Making is Fun", our bi-monthly newsletter.