So…
If you've ever worked with a piece of woven fabric, you know that its advisable to stabilize your fabric prior to cutting into it. WHY? Because if you don't… the cut edges will immediately start unraveling and once the unraveling begins, its pretty hard to make it stop!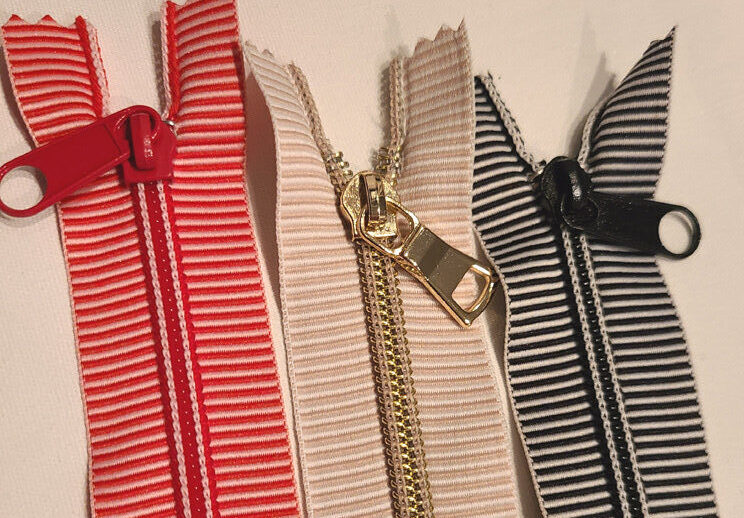 And such is the case with woven zippers also!
I LOVE working with woven zippers because they have a bit of "give" to them that fabric zipper tapes simply don't have. This makes them easier to ease into place, particularly along curved bag edges. BUT— when you're inserting a woven zipper…
There's one BIG thing to keep in mind!
And that would be… do NOT, under ANY circumstances cut into the side edge of a woven zipper.
As a matter of fact, just nicking the side edge of a woven zipper can produce catastrophic results!
How do I know this?
I present to you "Exhibit A", a beautiful Cosmo Convertible that actually was a contender to be the "cover model", until a few days after its completion when all of a sudden, the zipper seemed to be pulling away from the seam.
I was HEARTSICK!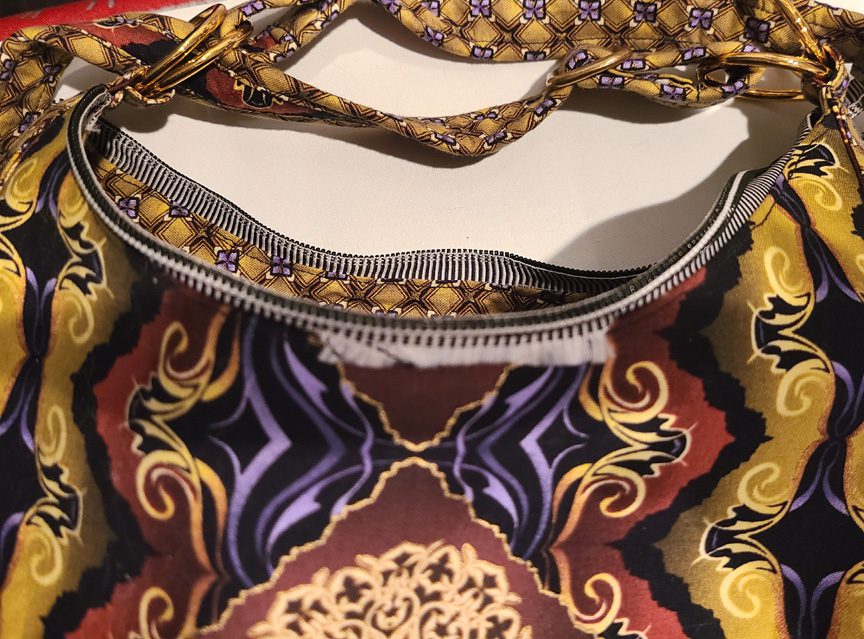 Believe me when I say that I tried everything to salvage this bag (which was heartbreakingly one of my favorites)!
I even tried stay stitching above the fraying (which wasn't this extreme at the onset),
and reinserting the zipper, but like I said, once this chain reaction begins, it can almost never be stopped!
So what's the best way to avoid this catastrophe?
For my part, nowadays I caution those who use our patterns to NEVER clip into the edge of any zipper, regardless of the type. I've come to the realization that even if its a non-woven zipper, it only serves to weaken an area that gets constant & vigorous usage.
But how can you tell if your zipper is a woven zipper?

In the photo above, the two zippers at far left are printed zippers, the two zips in the center are fabric zippers and the two woven zipper are pictured at right…. but to see the difference between the three, here's some closeups below.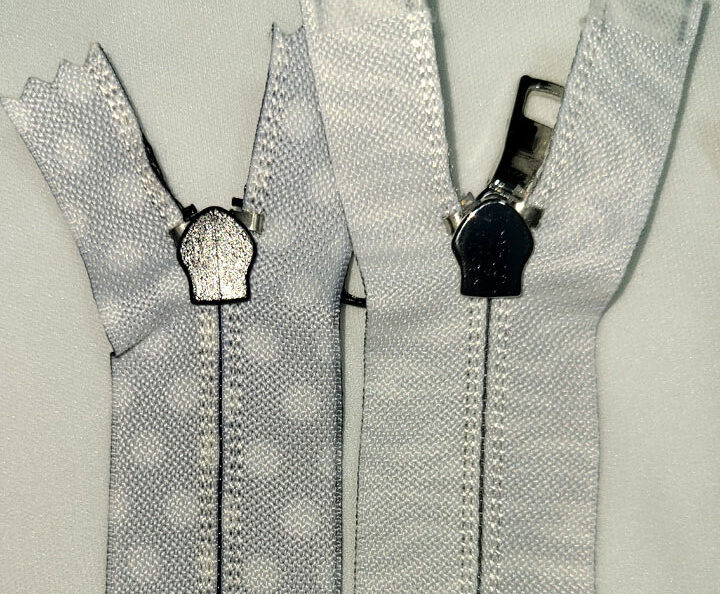 These fabric zippers are obviously printed zippers because the backside is totally devoid of the print that's on the front side.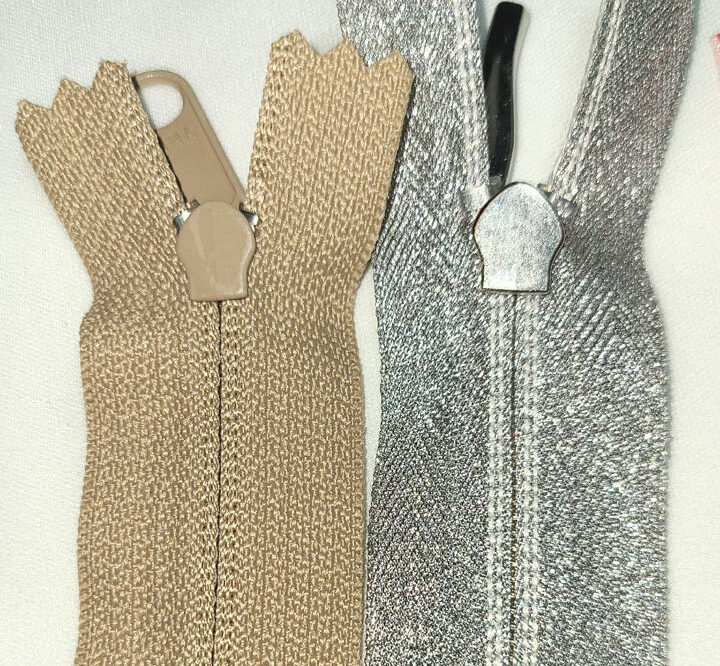 The fabric for these zippers has been pre-dyed and looks exactly the same on the back as it does on the front, and if you run your finger along the fabric of these zippers you would find they are smooth & flat with no texture, just like fabric.
These woven zippers also look the same on the front and the back, but there is obvious texture lines you can both see AND feel.
Another feature to note and be careful to protect is the side edges which is actually what "seals off" the weave. If you so much as nick this side edge you will expose the woven interior of the zipper and unraveling will soon ensue! (which is what happened in "Exhibit A" above).
So what's the easiest way to avoid an "Exhibit A" of your own?
My rule of thumb ever since then has been to never…
and I DO mean to NEVER cut into the side edge of a zipper!
And now, it's YOUR turn!
But what do YOU think? If you have comments you'd like to share or questions you'd like to ask about zippers in general or woven zippers in specific, please feel free to leave either or both in the space provided below.
Check out the best sewing pins with me on Pinterest, join in on discussions or show off your work in our FaceBook Group, or get your daily sewing fix on our Facebook Business Page or get behind the scenes scoops on Instagram, and be the 1st to know about new patterns, discount codes and sample sales by signing up for our monthly newsletter.