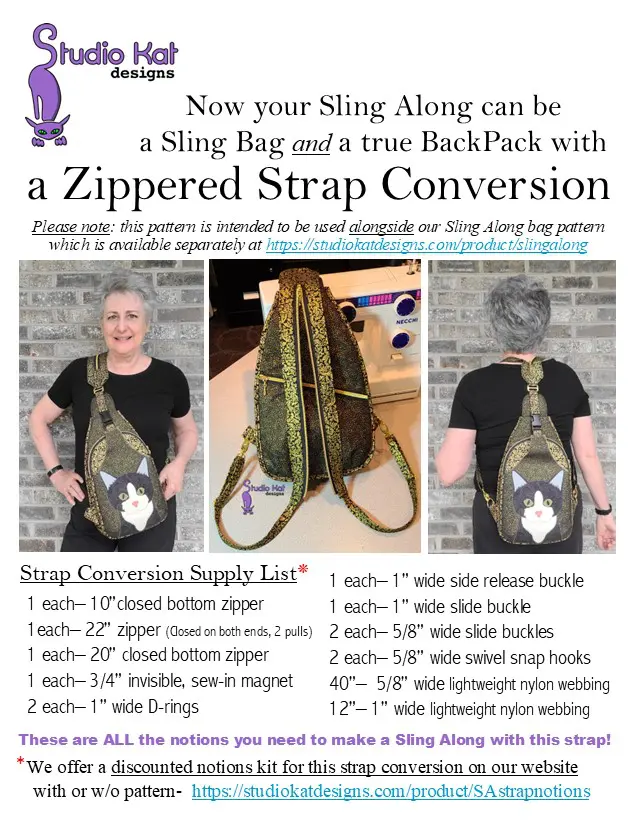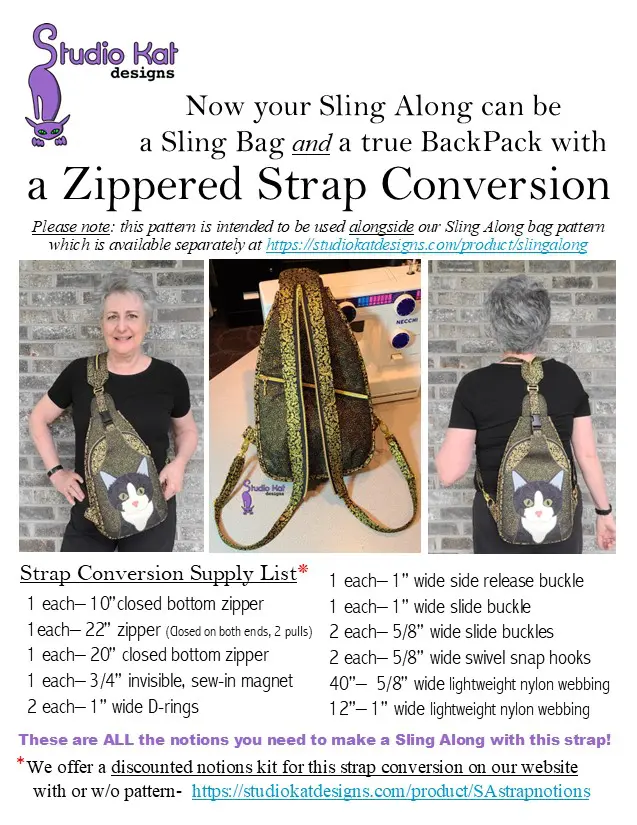 So...
ever since we released the Sling Along pattern, we've received countless requests to produce a "backpack strap" option for it. And finally in 2021, armed with a hot idea and mid-way thru the Covid Pandemic (when most of our retail shows were concelled), it was finally the right time to hammer out a supplemental pattern to one of the most popular designs we've ever created!
We developed this pattern as an add-on, meant to dove-tail specifically with the Sling Along pattern. In other words…one would need BOTH the Sling Along pattern AND the "new Strap Conversion pattern" to achieve the intended result, (pictured at left), which is a convertible strap which would allow a Sling Along to be worn as a "sling bag" (as it was originally intended to be), AND ALSO as a true backpack!
And here's the thing, even though the pattern has done well…
we're STILL getting inquiries about adding a backpack strap option to our Sling Along pattern which only goes to show that our marketing plan for our Strap Conversion pattern was not totally effective. So the purpose of this post at this time is to formally announce the release of the Zippered Strap Conversion for the Sling Along pattern!
and here's some beautiful customer-created samples for your consideration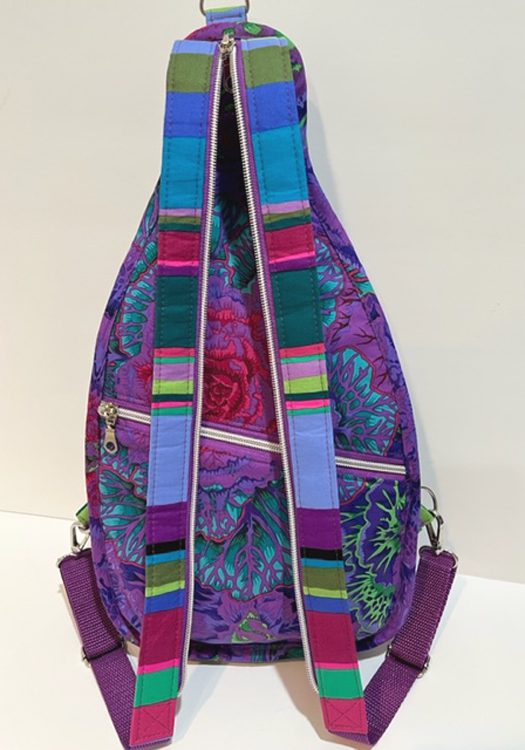 For more information about the Sling Along add-on pattern…
Please understand that this pattern has been created to work in conjunction with the Sling Along pattern itself, and the Notions Kit required to complete your Sling Along with the Strap Conversion option is available HERE!
And now, it's YOUR turn!
What additional questions might you have on this Strap Conversion Option for the Sling Along pattern? If you have comments you'd like to share or questions you'd like to ask, please feel free to leave either or both in the space provided below.
Check out the best sewing pins with me on Pinterest, join in on discussions or show off your work in our FaceBook Group, or get your daily sewing fix on our Facebook Business Page or get behind the scenes scoops on Instagram, and be the 1st to know about new patterns, discount codes and sample sales by signing up for our monthly newsletter.