So…
after six previous trips to the Road to California Quilter's Convention,
there's a few things we've come to expect from this show.
Warm, sunny weather? YES!
Unique quilt competition categories? You bet!
Along with one or more stressfully dramatic situations? Unfortunately YES!
but let's start at the beginning!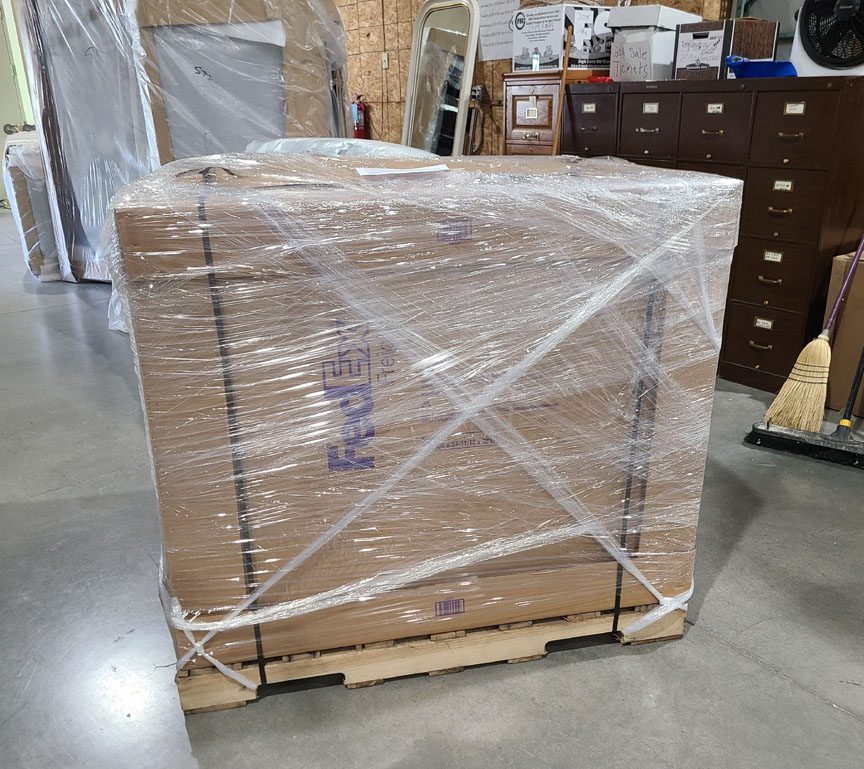 Here's our FedEx freight box all packed and ready to make that long drive out to California. This year I paid the extra fees to send ship it priority and have it stored for a couple of days at the Ontario Convention Center just so I could be sure to have access to it on MY time schedule.
So when FedEx called me on Friday, just hours before we were to head for the airport to tell me that the Convention Center had refused to accept our shipment, it just about took my breath away.
THEY REFUSED OUR SHIPMENT?!?
So what did I do? I did the only thing I could do at the time… I agreed to pay the hefty redelivery fee for Monday in hopes I could get it all straightened out once we got on site ourselves!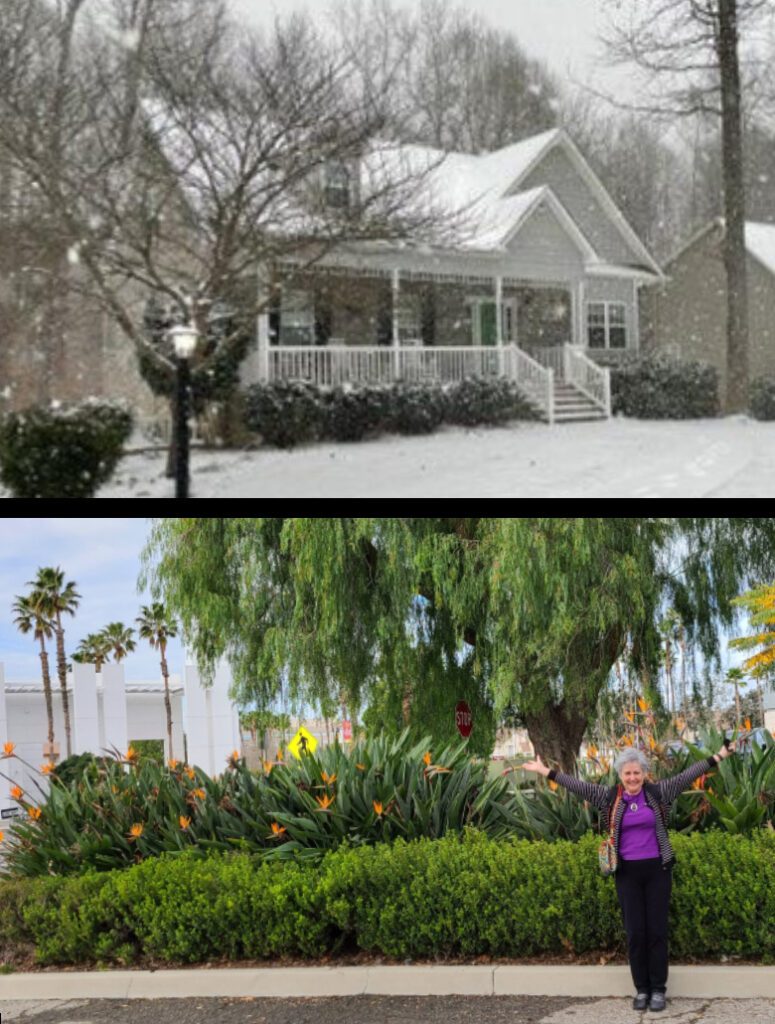 And speaking of flying… it wasn't without drama of it's own this year! We were originally scheduled to fly early on Sunday morning, but with a monster winter storm in the offing, American Airlines advised us to fly out Saturday if possible. And fortunately for us it WAS possible, which got us to our destination on Saturday night, where it was sunny and 72 degrees, (see the dual-shot picture at right which shows the weather that was happening in NC at the same time that we were walking to the Convention Center).
Getting to the Convention Center on Sunday also gave me time to get some answers as to why my freight box was refused! And as it turns out, there wasn't a good reason. Just a case of poor communication with the gate guard. The Convention Center refunded my storage fee and promised my shipment would be accepted on Monday morning… and it was.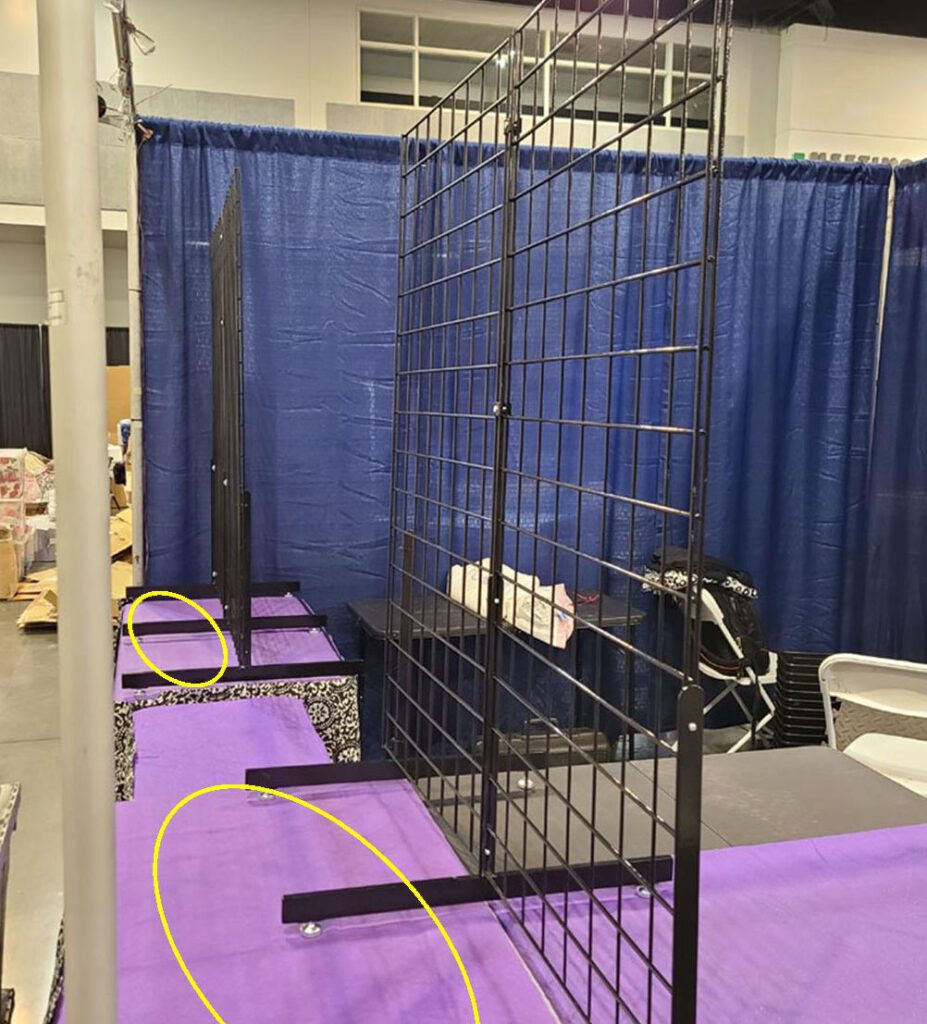 So… with our freight box at the ready now, I finally felt relaxed and ready to set up our booth, and if you read our recent post about the BIG change we were planning for the Road to California show, then you know that we brought four 2″ X 4″ grid walls to take the place of 18 of our grid wall boxes. First of all… they are WAY easier to put together, but one advantage I didn't anticipate at all was…
the extra space for products in front of them!
Circled in yellow at right, you can see what a large area of space this new arrangement gives me for displaying sample bags! But one thing I did not anticipate, was how close the iron supports would be to the side edges of the tables, so thank you Debbie Wendt for the brilliant suggestion of zip-tieing the iron to the grid wall further inward rather then using the hard ware provided on the outside of the supports!
So… here's the way our booth looked at the opening bell!
I've never EVER had the luxury of showing this many sample in front of my hanging display items. For the 1st time there are samples displayed in front of the zippers AND in front of the patterns on the side area.
And just look at all of those samples hanging from the overhead poles. I made a special effort this time for these samples to be all hanging at roughly the same level and I really like the way this turned out. And not only that… at no time during this entire show did I have to worry about ANY of these sample being brought down (which is really quite dangerous for both us AND the customer) and with only one exception, all of these designs were available for a closer inspection in a similar sample on the tables below. This is a big WIN for us!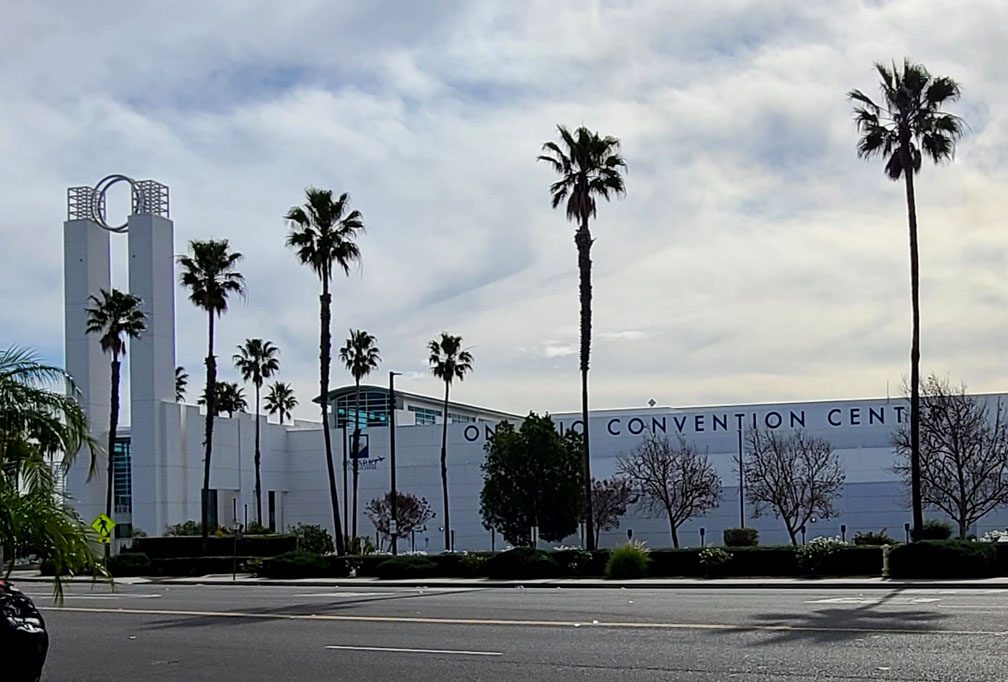 But the big question of course is…
was Road to California a big win for us?
And actually the answer is yes and no! The 1st two days of the show were nothing but horrid, having all the potential of being the worst show on record for us. But then the next two days were remarkably better! Which all added up to a decent show… particularly in a time of Covid, with an Omicron surge.
In short, we covered our expenses, and considering that our expenses are considerable for this show, that's pretty big thing considering the odds that were stacked against us.
So… will we be back next year?
The short answer is that I just don't know at this point. We do LOVE this show, but the problems with our freight deliveries are SO stressful. I think we need some time away to think things over. Road to California is normally a VERY successful show for us, and I would hope that by next year at this time that Covid-19 would truly be in our rear-view mirror, but then that's what I thought last year at this time as well. So for now, we'll just have to wait and see!
In conclusion- Here's a quick peek at how our booth looks from the INSIDE
And now, it's YOUR turn!
Do you have questions or comments you'd like to share about this post in general or specifically about retails shows in the time of Covid, please feel free to leave either or both in the space provided below.
Check out the best sewing pins with me on Pinterest, join in on discussions or show off your work in our FaceBook Group, or get your daily sewing fix on our Facebook Business Page or get behind the scenes scoops on Instagram, and be the 1st to know about new patterns, discount codes and sample sales by signing up for our monthly newsletter.