So…
in our last post we had a little fun letting YOU be the designer and choosing which of our bag samples YOU would choose to grace the pattern cover for our first pattern design for 2021, the Gemini FlightBag. Thanks SO much to everyone who participated! Pattern design can be rather solitary work and I always enjoy hearing the logic behind which bag my customers would choose. But as much as I enjoy these interactions, (and I do), this time I REALLY did take your thoughts into account because I still think my brain is in a bit of a fog following the COVID infection in January!! Only time will tell if I made a good choice but…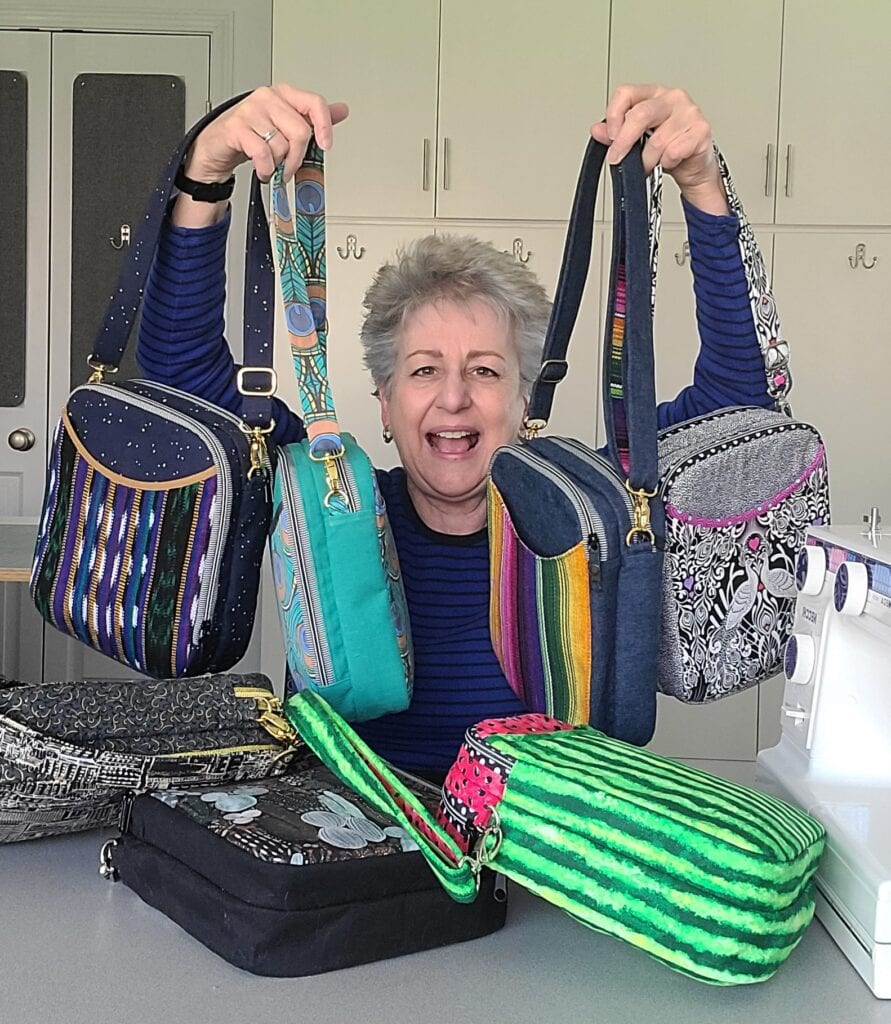 Let's get started…
by telling you why I DID NOT choose the following bags as the cover model!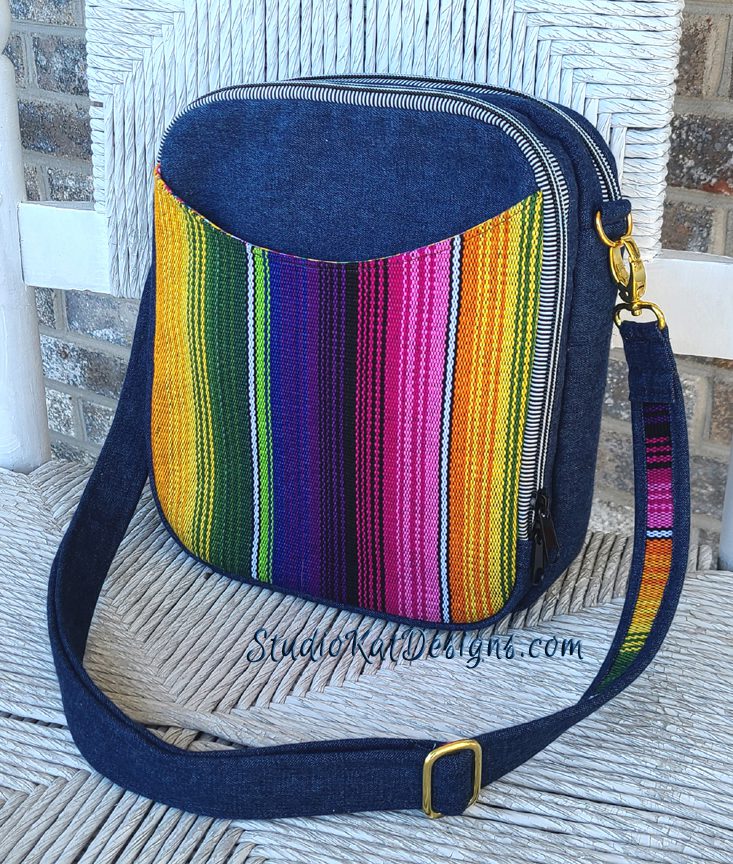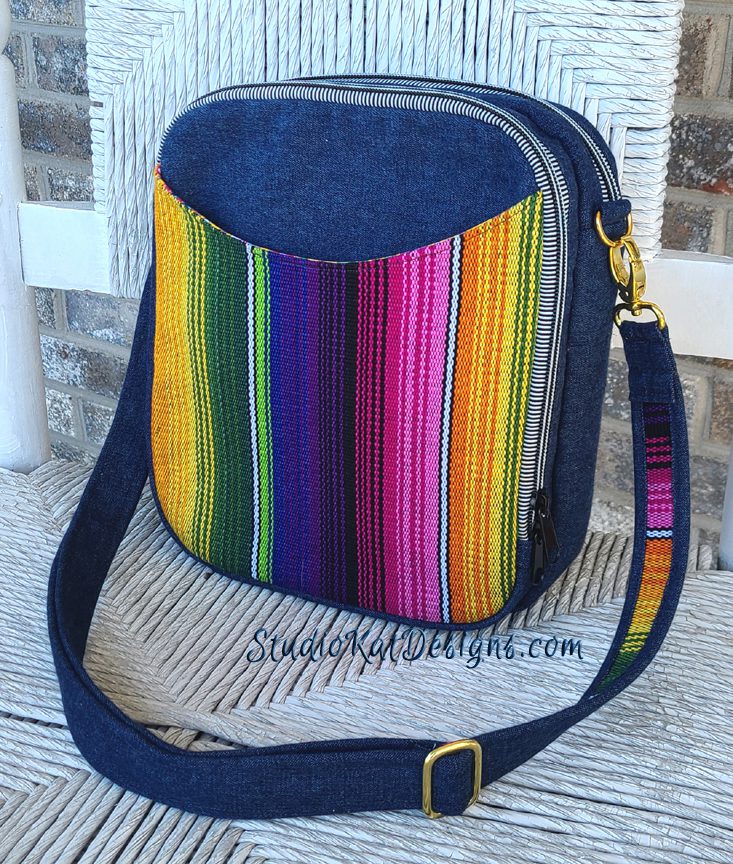 So this was the 1st "true to design" sample I made in support of this pattern and I was kinda surprised at how much I liked it… especially since I used fabrics that I've had in my stash for well over 10+ years!!!
This bag actually did get serious consideration for the cover especially since I'm thinking that a large percentage of our customers could "see" themselves carrying this bag on a regular basis. In the end my decision came down to the fact that I didn't use bias tape on the curved edge of that front pocket. And while that's not the end of the world in and of itself, I don't like to put a sample on the cover that doesn't show all the "tricks"!
So for that reason…it was OUT!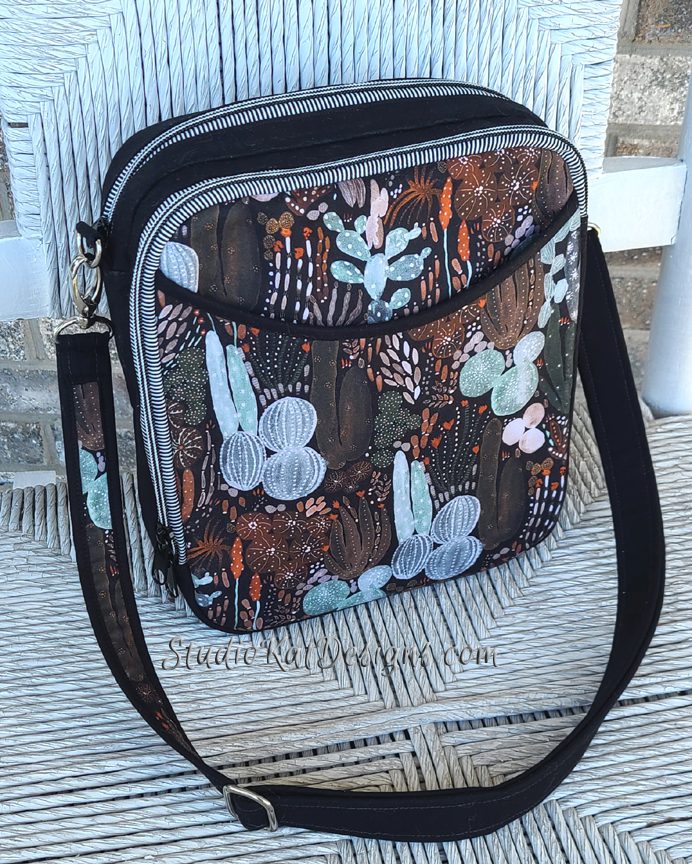 I was really excited about the prospect of using this fabric. LOVED the look of it, but then I made the fatal error of also using this opportunity to try out Decovil Light for the first time and you might recall that that little experiment really didn't work out so well for me.
So even though I like this sample, there are some wiggly, wavering and totally unattractive flaws in a few of the seam areas and I know this sample could never appropriately represent this design.
And for that reason… it was OUT!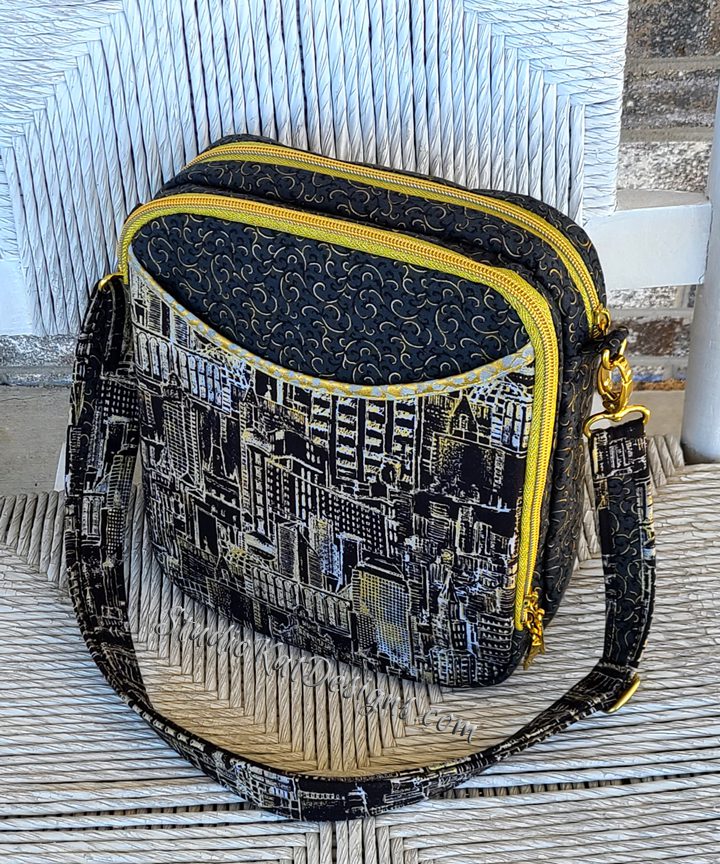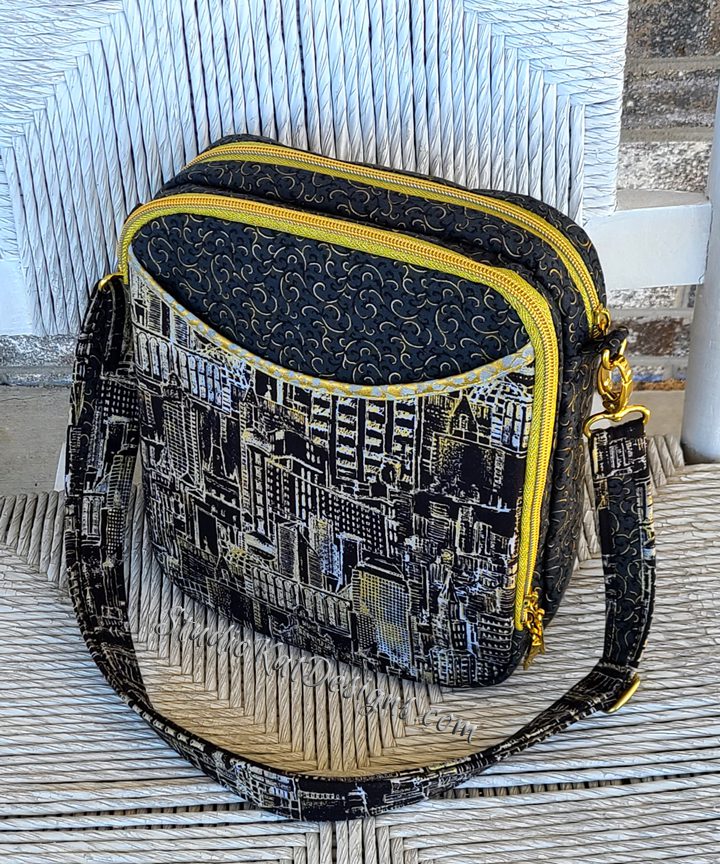 Now if you've been following any of our previous editions of Purse Pattern Chronicles, you know that I will generally create one sample that is predominantly black, even though I've always maintained that samples that are black on black are difficult to photograph because the bag features become almost impossible to see.
So why then do I create black samples at all? Well, its because a lot of our customers prefer bags that are primarily black for their own personal use so its in our own best interest to SHOW them what the design will actually look like made up mostly in black. I do think the gold zippers do a better job of highlighting the bag features for us but still, as much as I like the sample, (and I do), I'm not confident that it will have the "curb appeal" to compete in a visually noisy arena, such as a retail show or store.
So for that reason… it was OUT!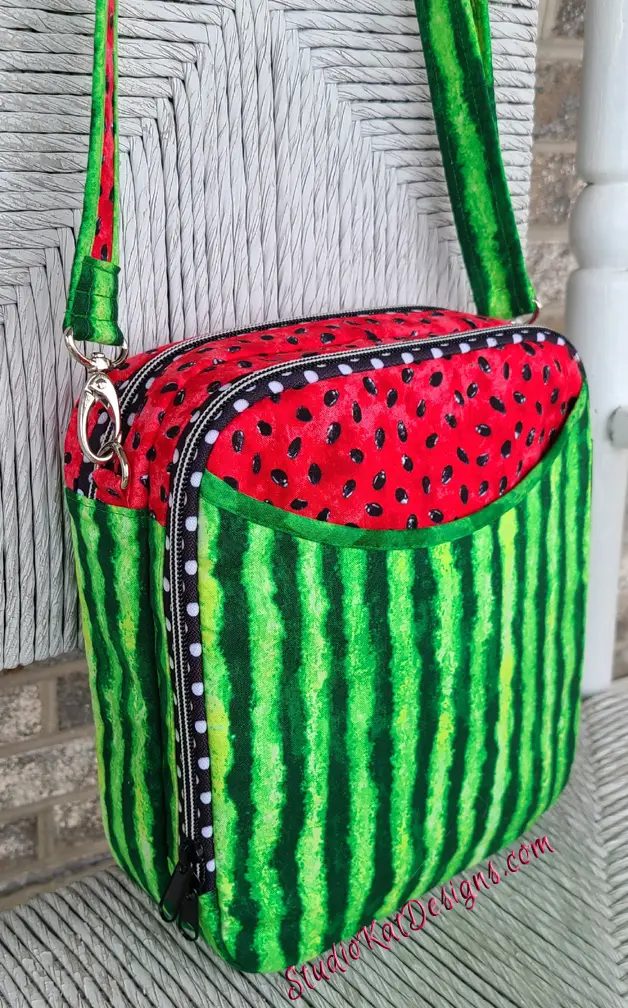 Now if this sample isn't the antithesis of the black on black sample (above), I don't know what is! But here's the deal…sometimes its fun just to make something that's FUN to make and this bag certainly was all that!
Seriously though, this sample does have everything going for it. It's eye-catching. It can command attention even in a visually LOUD environment and the design features are easy to see!
The only drawback is that it is a novelty bag and some customers could be turned off by that. It's so visually quirky that they may have difficulty visualizing it in any other fabrication…
so for that reason, it's OUT!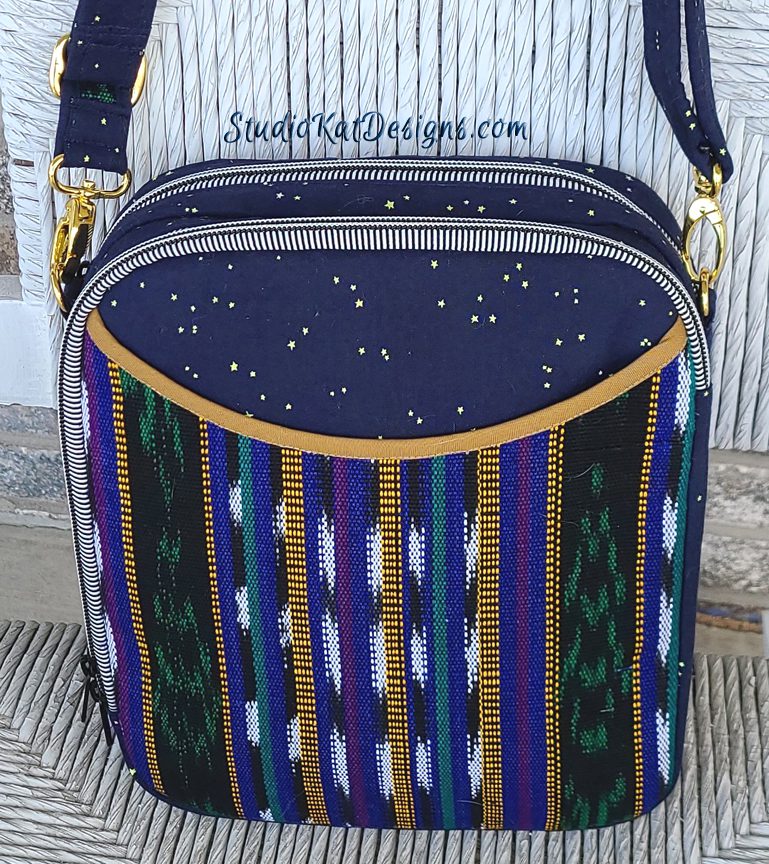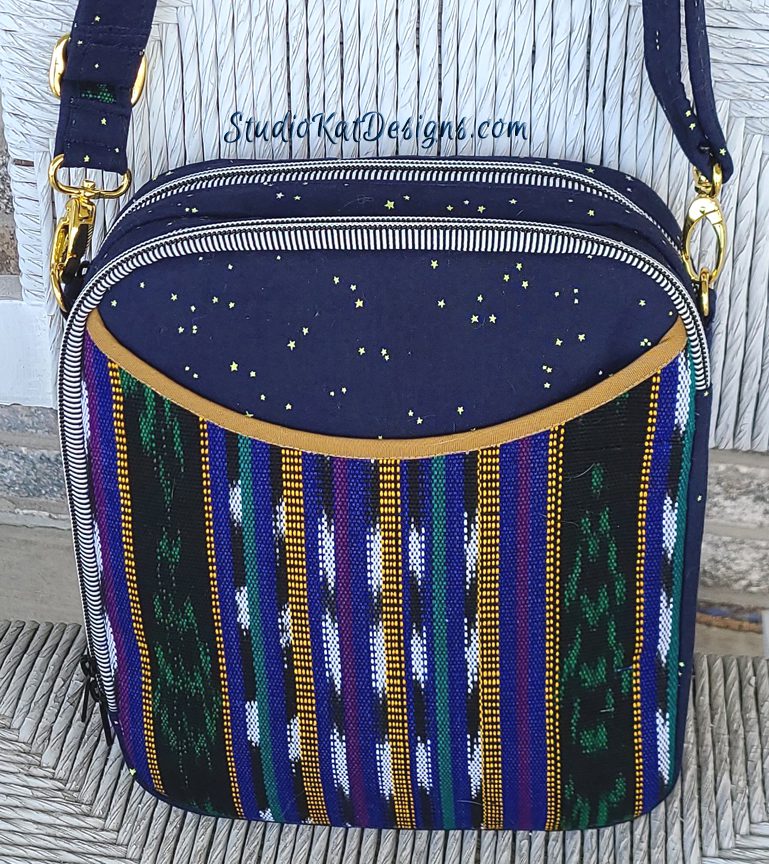 And I had SO much fun making the Panama sample above, that I thought I'd try my hand with another woven fabric exterior in my favorite of all colors… purple!
This sample was fun to make and I think it would appeal to many customers. Additionally, the woven fabric is really a good match for this design but as appealing as this bag is to me personally, I'm not sure it would command attention and cause a consumer to look twice in the visually competitive environment of a quilt show…
so for that reason… it was OUT!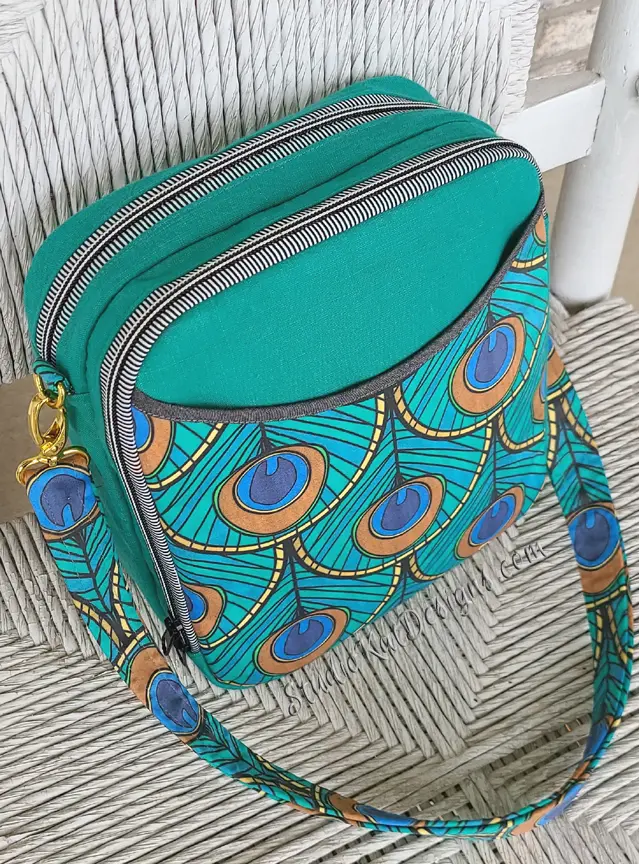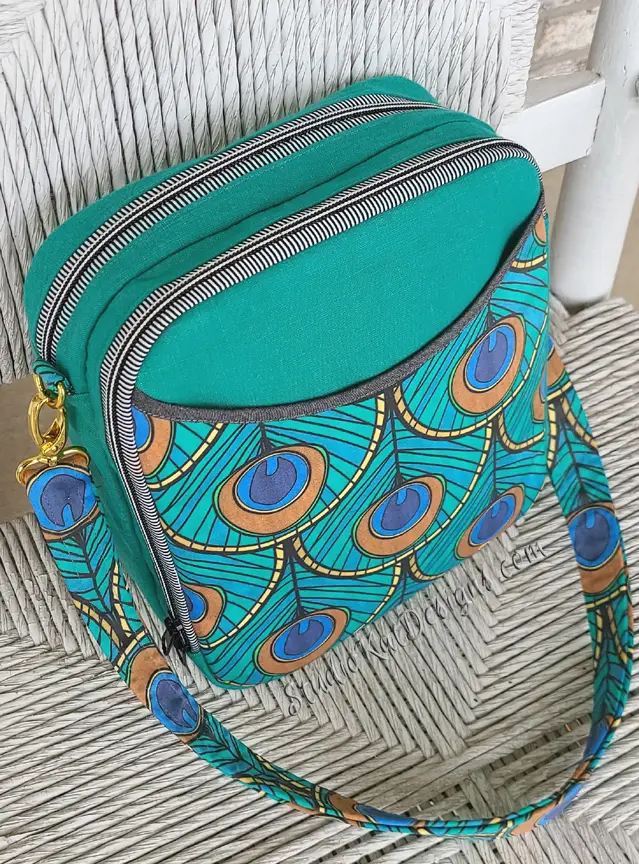 And finally, I was very torn between choosing this sample for our pattern cover, and the sample we eventually did choose.
First off, as a full-on fan of all things Art deco, I actually preferred this fabric. The colorations are slightly different that our normal fare and let's face it… peacocks are HOT right now.
But something was holding me back. I don't know, maybe it was the lingering "Covid fog"? (It's real folks) But anyway, I had such a hard time choosing that I actually had my graphics gal make up the cover with this sample also so I could make my choice, but sadly it really didn't help me. In the end I just went with my gut and chose the sample I thought had the most universal appeal…
Which only leaves the sample we finally DID choose!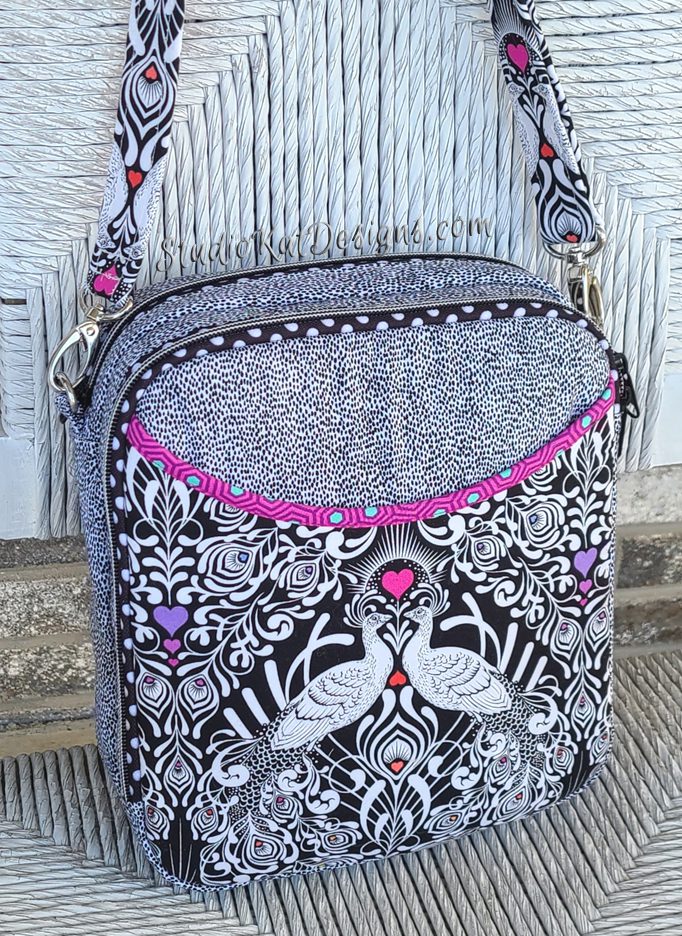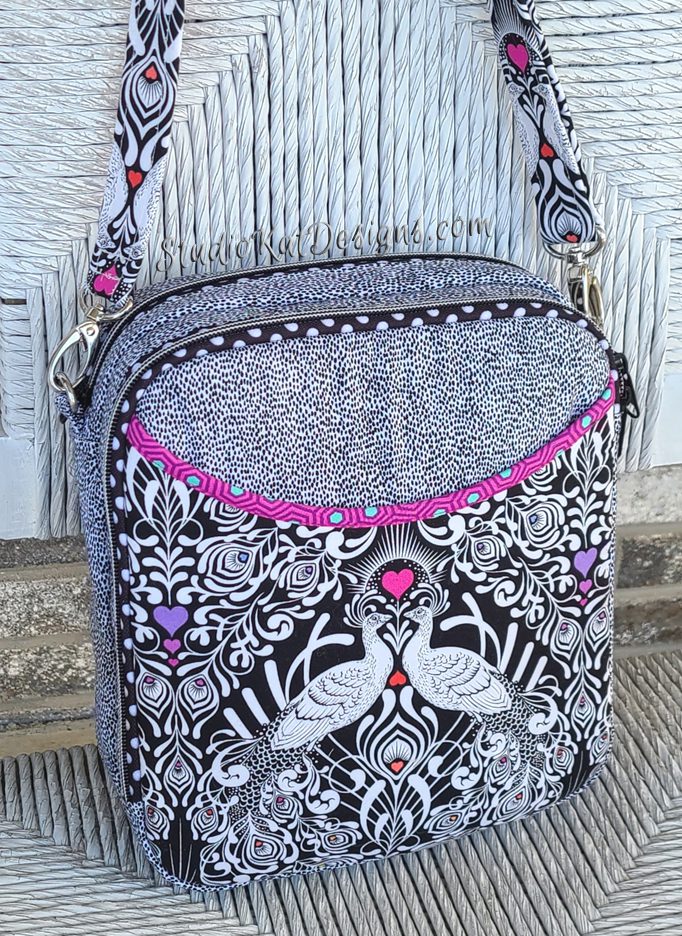 And here's how it looks on our new pattern cover!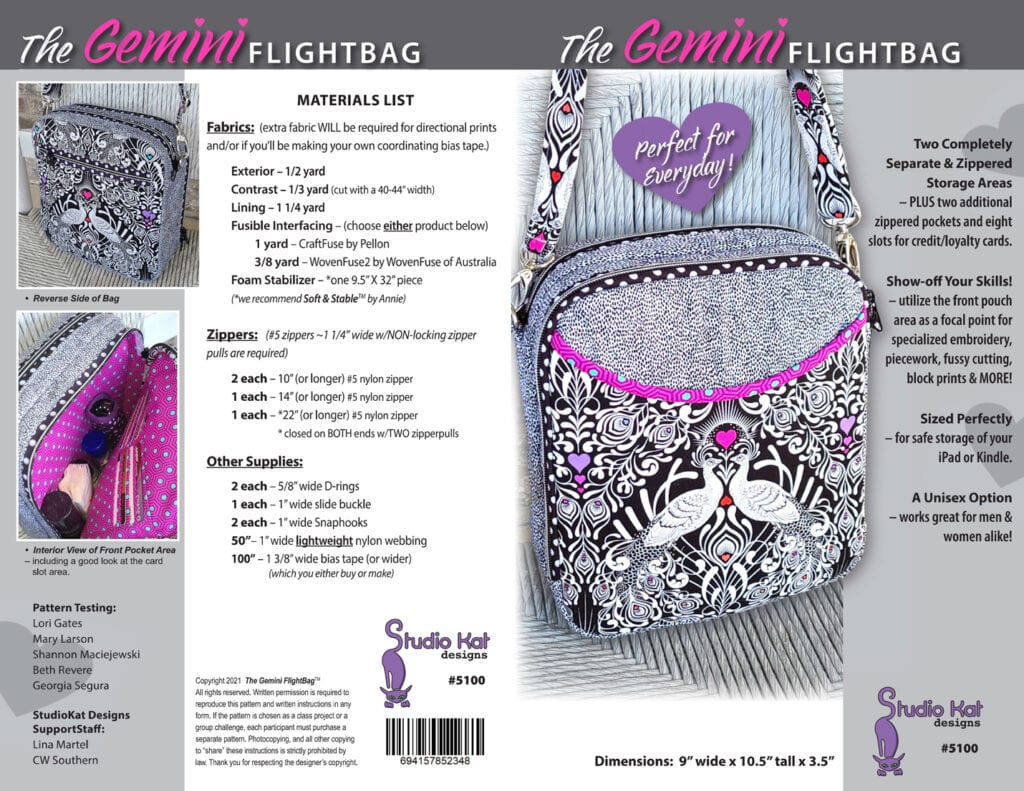 1- As prolific as Tula Pink is in the world of fabric design, it's a wonder I've never used any of her fabric before, but I knew from the moment I first saw her "LineWork" collection that it was perfect for me! Many of the SKU's in this line are black & white with just a splash of color and it should come as no surprise that I loved them all but finally decided to go with this amazing print. I thought it was perfect for the Gemini design!
2- I haven't used a fabric with THIS much white in it since the Quattro (from WAY back in 2011), but even though most women probably wouldn't dare to carry a bag of this color for an everyday bag, I think the neutrality of the primarily black & white print will have close to universal appeal.
3- It photographs like a dream. No matter what feature I want to highlight in a picture, that feature is easy to see (even if the picture is quite small)! Additionally, this bag is pretty from all angles and that's important, because remember, a pattern cover needs to tell a story and since we may only get to tell that story once, our goal is for the story to be SO compelling that once a customer picks this pattern up, they won't want to put it down!
So… did we make the perfect choice?
Only time will tell. Truth is, the Gemini FlightBag design has been very well received so far, and I easily could have gone with another choice and it probably wouldn't make a bit of difference "sales-wise" but I'm pleased with how the cover came out nevertheless.
AND PLEASE NOTE!!!! — Just as we did in our last rollout in November, we'll be announcing our pattern release in the next edition of Kat Bytes, our mid-month Newsletter! (Here's a hint: you might want to mark your calendar for THIS FRIDAY, 3/12!) YIKES! That's tomorrow!
The newsletter will be complete with a time-sensitive coupon code, so don't miss out… you still have a small window of time to get in on the fun and pick up a nifty discount coupon too by clicking here to join our mailing list, OR by joining our brand new FaceBook Group!
And now, it's YOUR turn!
Call me crazy but I always love knowing if you agree with our selection or if you think we totally blew it! So please feel free to leave your comments and/or questions in the space provided below!
Check out the best sewing pins with me on Pinterest, join in on discussions or show off your work in our FaceBook Group, or get your daily sewing fix on our Facebook Business Page or get behind the scenes scoops on Instagram, and be the 1st to know about new patterns, discount codes and sample sales by signing up for our monthly newsletter.