So…
as I write this post its been almost a year since we've vended at a Quilt Show of any type and the sad thing is… our next normally scheduled opportunity to vend at any of our normally scheduled shows is the Quilt Market & Festival in Houston, Texas in October 2021. It's a good thing I didnt know this last March as the country locked down or I might have needed some serious medication to get thru it, afterall… these shows comprise a HUGE part of our bottom line.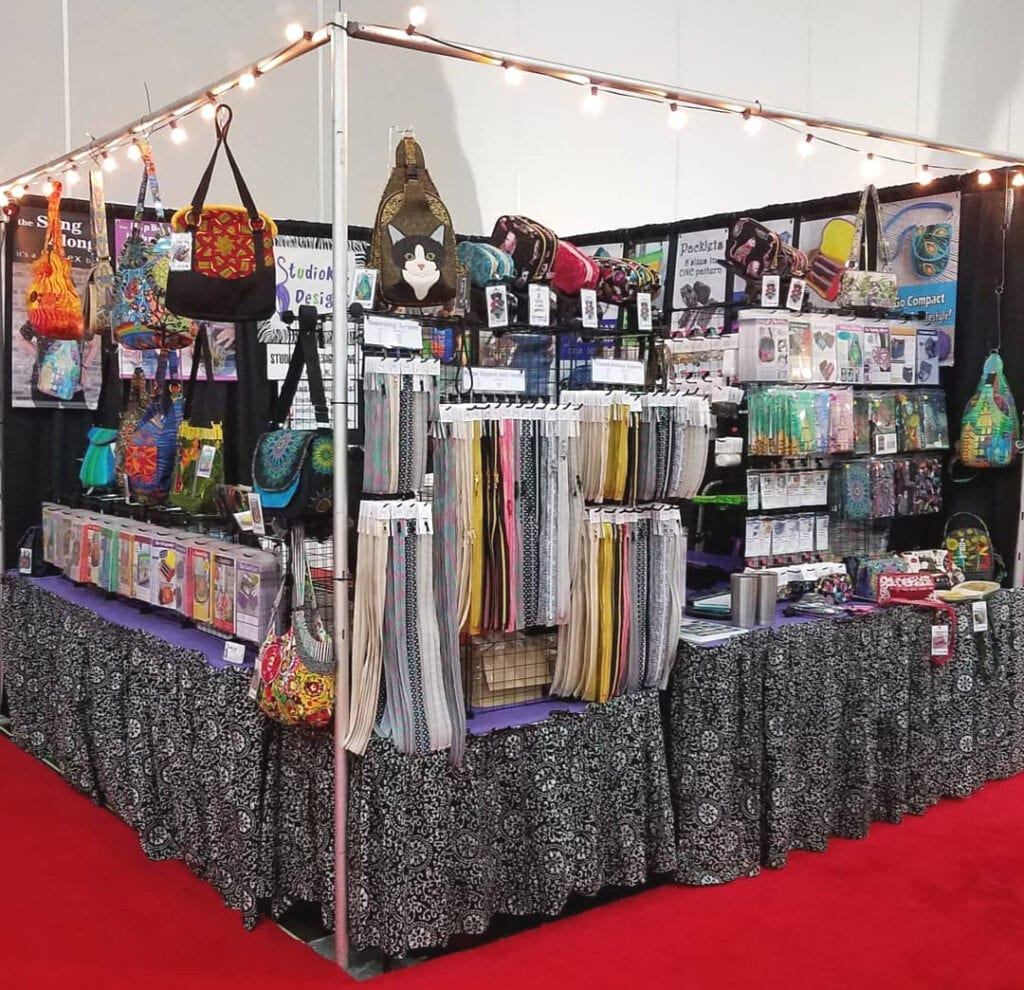 In retrospect, we were SO fortunate & blessed that we were able to get two great shows under our belt in 2020 prior to the BIG nation-wide shutdown in mid-March of 2020. (Our last shows were the Road to California Quilters Showcase & the Mid-Atlantic Quilt Festival which was only a week prior to the shutdown.) I shudder to think of where we would be right now had we not had that "2 show cushion" leading into that shutdown.
So what does this all mean to us going forward? And why am I concerned?
Look at it this way…. Ever since we started doing live shows (2008), we've produced 2 new patterns per year (with only one notable exception). That means that no matter what show we're talking about, be it Road 2 California, Mid-Atlantic Quilt Festival, AQS Paducah or the Market & Festival in Houston, we'd always have two new patterns to highlight (since the last show a year ago).
And since we have the same size booth at every show, its always been relatively simple to reorganize our layout in order to make sure we located at least 2 samples each of our two "new designs" front & center in our booth (near our checkout area), so they were easy for our customers to see & evaluate, while rotating a couple of our older designs to spots of lesser importance.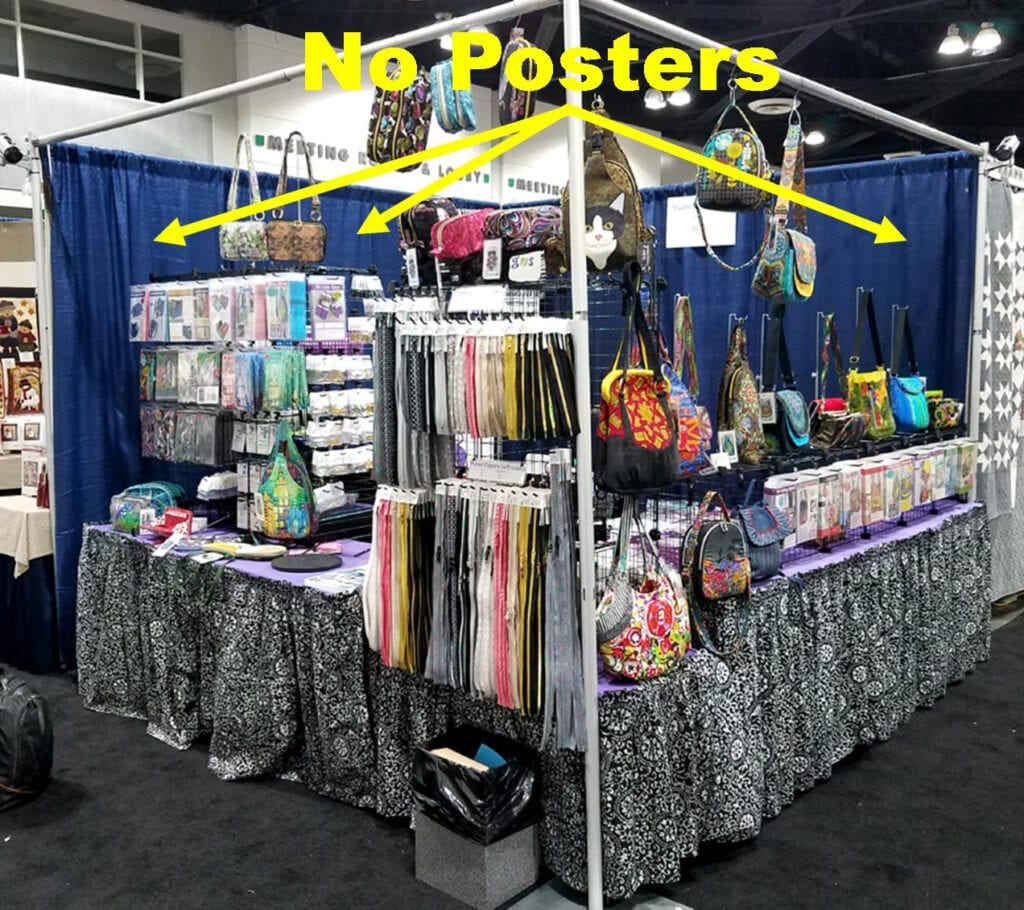 But let's face it… we haven't vended at a show in a year! Which means while I haven't been spending my time getting ready for, going to & from, and recovering from shows, I've had more time to workup new pattern designs. And here's the deal, we've published FOUR new patterns since our last show in March of '20 with the very real possibility of publishing at least two more before October of '21, and if we do that means we'll roll into the Houston Quilt Market & Festival with no less than SIX new pattern designs to introduce & promote… an almost impossible feat to accomplish in 20 linear feet of booth space, along with all of our zippers, hardware & other bag patterns. And if for some reason (God forbid) the Houston Shows are unable to go forward, we'll likely have even MORE new patterns at our next year-long cycle of shows!
Now some might say, "Just get a larger booth!", and while that would seem to make sense, there's a couple of drawbacks to that solution.
First off– there's the additional expense, which would be considerable…
booth -rental fees.
additional display expenses– we'd need more display tables, more grid walls, lights, curtains, table dressings
and add to that– the cost of getting all these extra stuff to & from the show because believe me, there's not much room (if any) left in our current vehicle!
Secondly- it's all about location, location, location— after years of waiting our turn & paying our dues we're FINALLY really happy with ALL of our booth locations at ALL of our shows and if we make a change to a bigger booth it would be at the expense of our coveted locations.
And thirdly- let's face it– that's a WHOLE lotta changes & expenses for what will end of being one year's worth of shows, because after that life should happily go back to our old normal clip of two new patterns per year! (I hope, I hope.)
Which brings me around to a big announcement!
We have made tentative arrangements to vend at A Mountain QuiltFest in Pigeon Forge, TN in May! I am DESPERATE to get out of this house and get back to some semblance of normal in our life and for right now it looks like this nice little Tennessee show is going forward with their arrangements! Of course everything is tentative and they will be re-evaluating the situation as the time draws near, but since the hubster & I have now survived our bouts with the virus and since we're scheduled to get our followup vaccines in early April we've decided to go forward. Of course there will probably be some restrictions in place and it may not feel quite normal, but on the other hand, things COULD feel considerably different by then.
But either way, we're IN! And besides, it will feel SO good to be actually dreaming and scheming about getting ready for a show and arranging our booth! But here's the deal….based on how difficult it might be to arrange our bag displays and how out of practice I'll be by then, it might be a good idea to go "old school" and actually practice by setting up the booth in the garage just to make sure I can still "Make it Work"!
So do stay tuned for that! …
I'll keep you apprised about how we decide to handle this and in the meantime we're open to any and all suggestions! And remember, we love reading your comments and answering your questions too, so please feel free to leave either or both in the space provided below.
Check out the best sewing pins with me on Pinterest, join in on discussions or show off your work in our FaceBook Group, or get your daily sewing fix on our Facebook Business Page or get behind the scenes scoops on Instagram, and be the 1st to know about new patterns, discount codes and sample sales by signing up for our monthly newsletter.