So…
in our last post of Purse Pattern Chronicles, I showed you the 1st "Gorilla Sample" for our next pattern design. And if you recall, there were some features I was very pleased with but there were also some pretty major changes to be made, hence this 2nd "gorilla sample".
So let's get to it!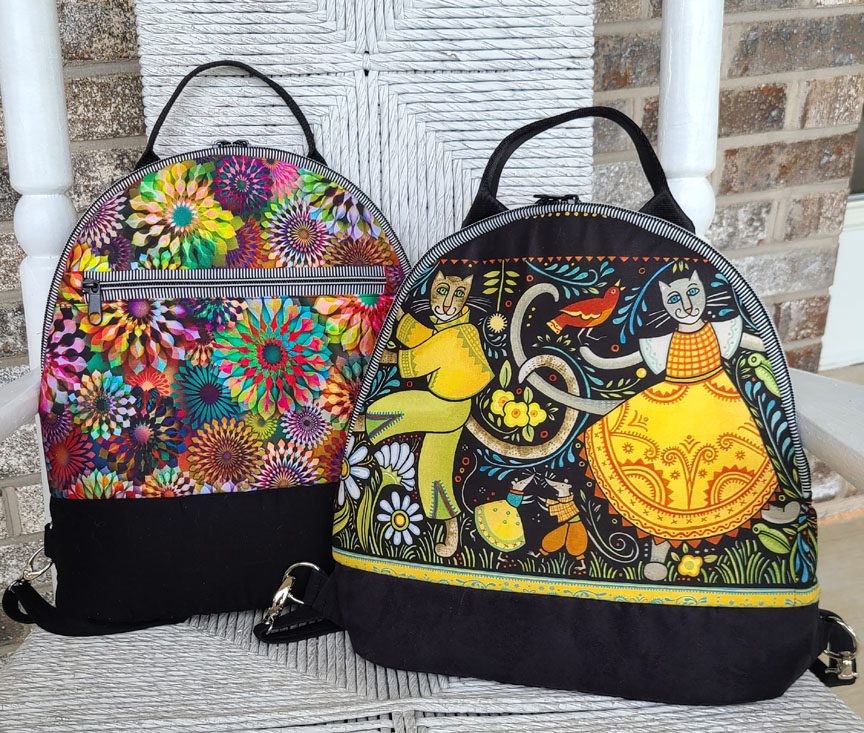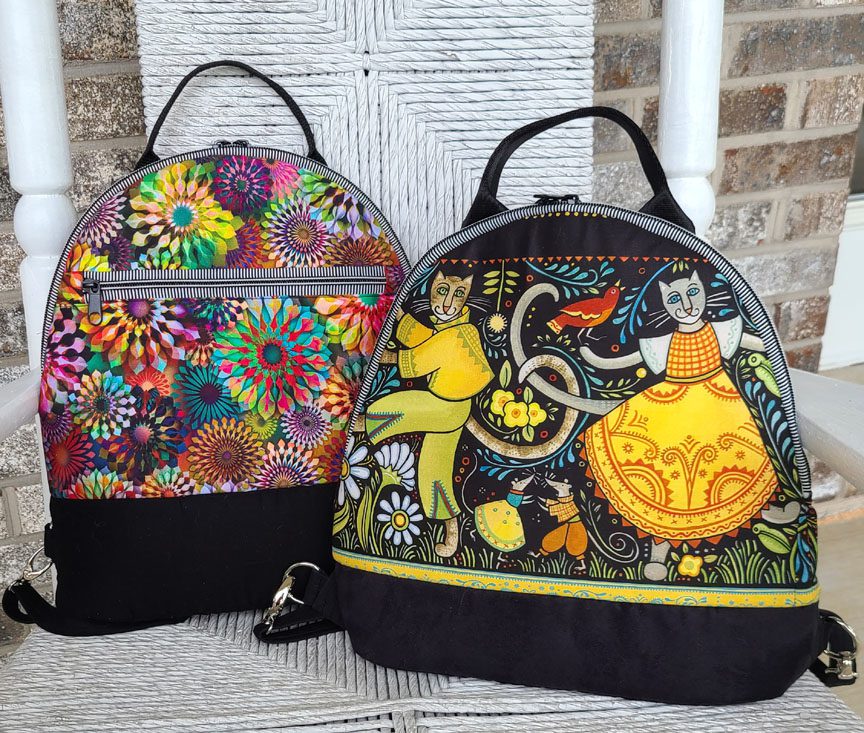 To kick it off, I thought I'd show you these two samples "side-by-side" so you could more easily see what a MAJOR change we made to the overall silhouette of this design and I'm SO much happier with this version!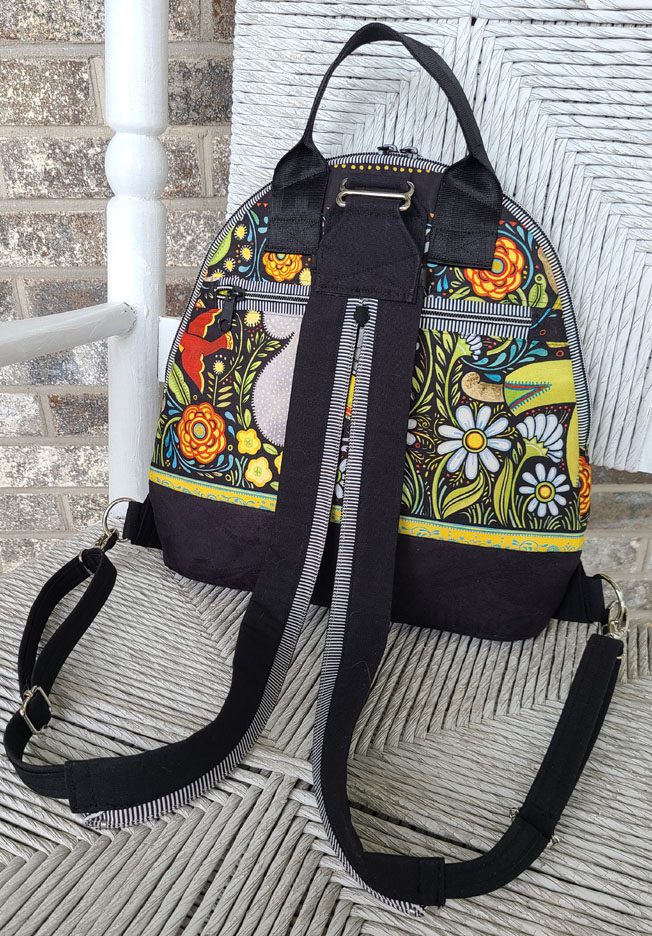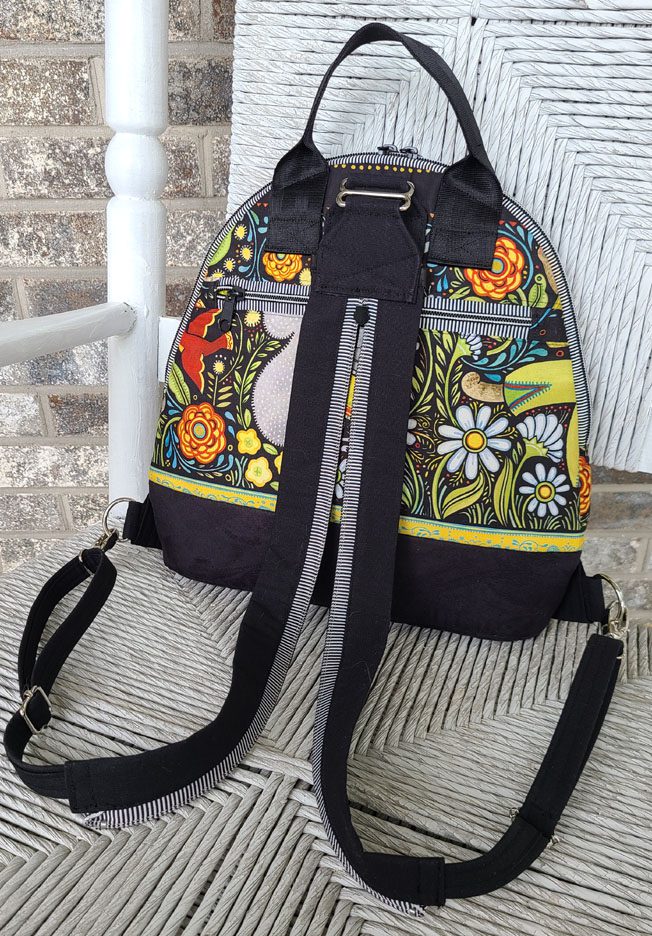 And because this sample was destined to be a "gorilla sample" I was still experimenting a bit. I decided to try using 1 1/2″ wide webbing for the bag handle this time because I thought it might be easier to work with which it was… but I wasn't at all happy with the look of it for this design. So going forward, I'll be switching back to the 1″ wide webbing.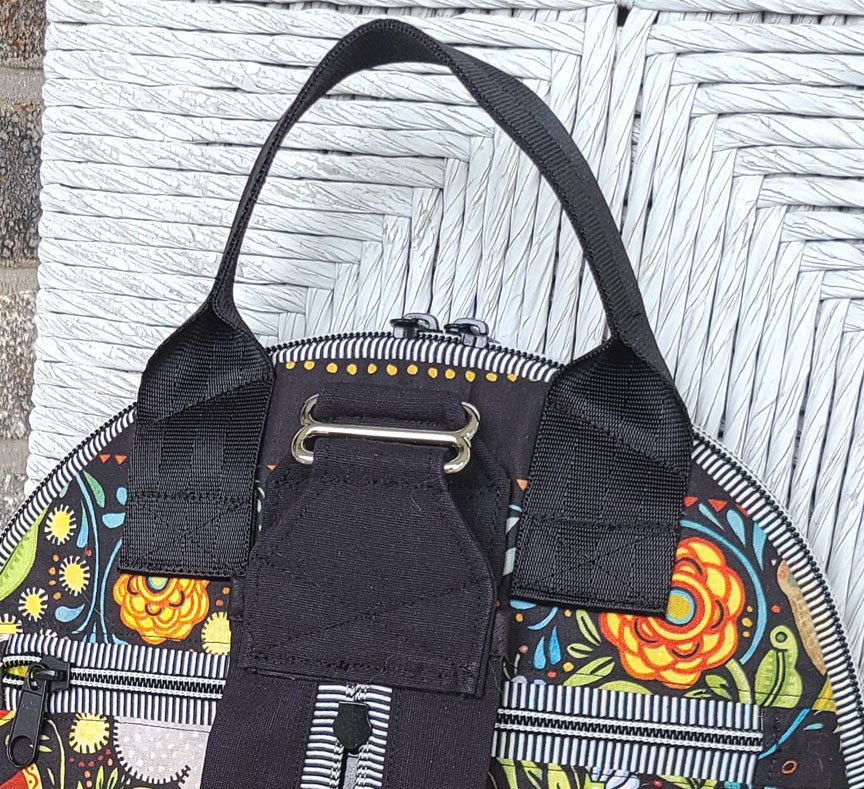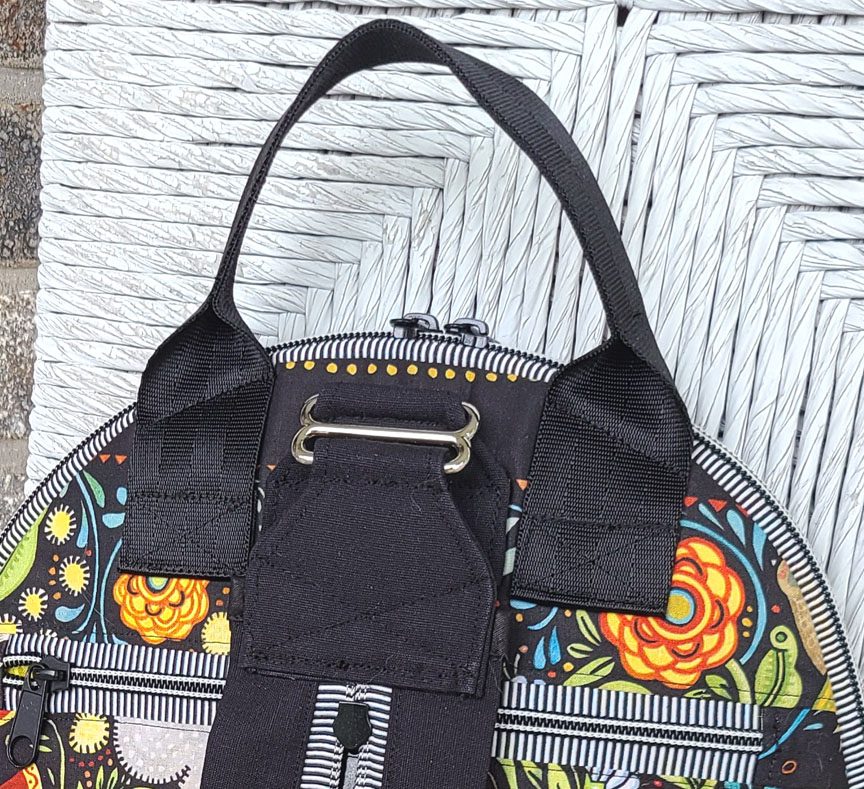 You might also remember that it was my intention to change the curvy form of the strap attachment area from our last sample to something more angular and easier to sew and while I was pleased for the most part you might have noticed and the zippered portion of the strap is oversized and hanging over beyond the side edges of the strap holder. I'll fix this as we move forward.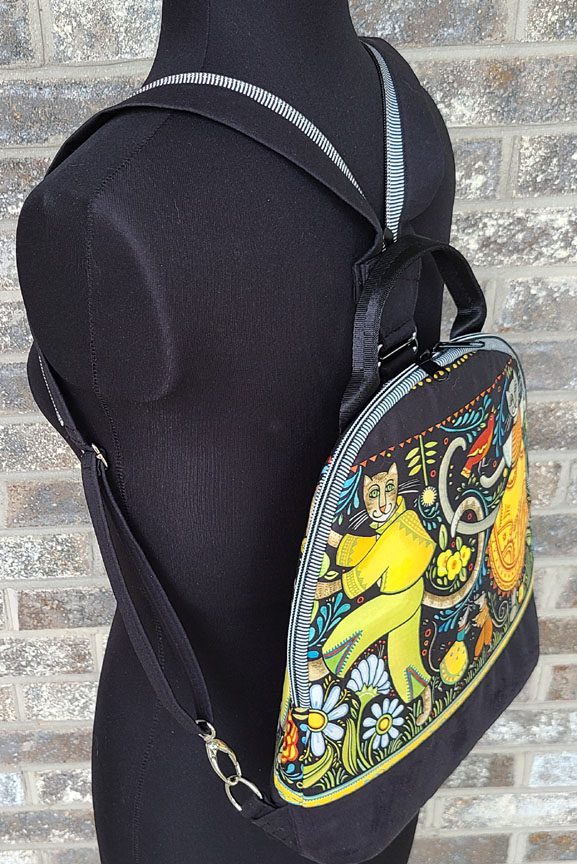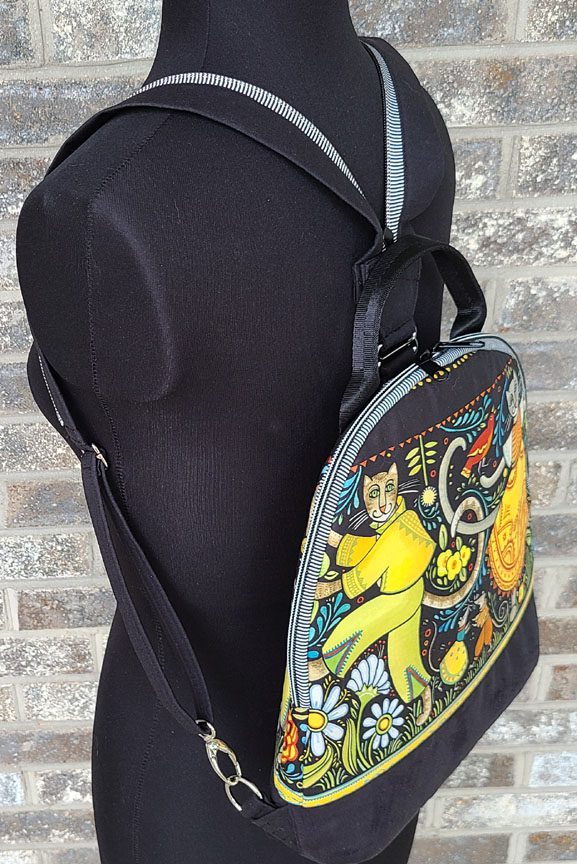 I'm much more satisfied with how the backpack feels now though because I shortened this unit in a couple of key locations and it "rides" in a more appropriate spot on my back with even more adjustability available for those that prefer it higher on their back!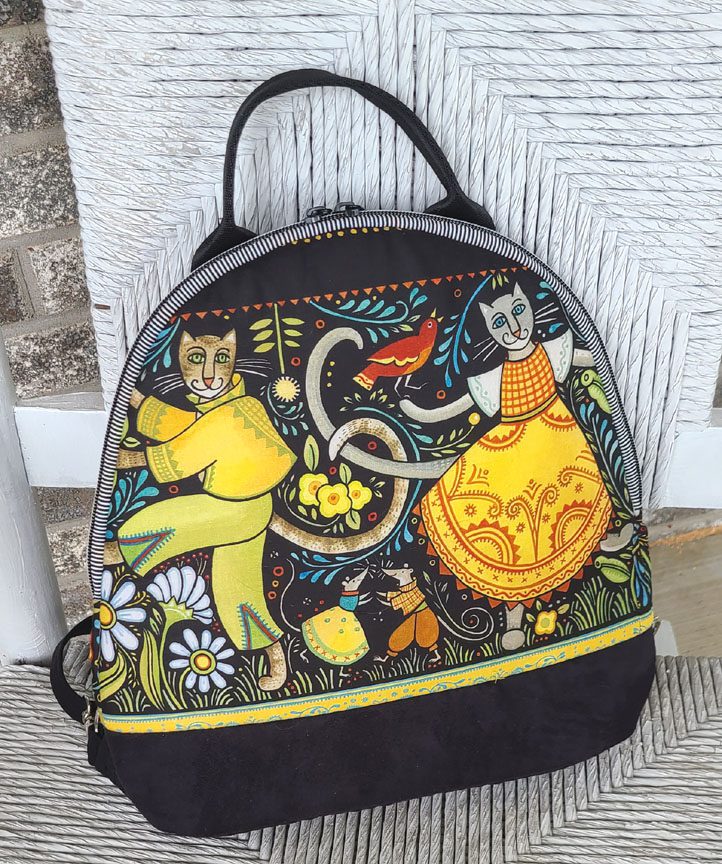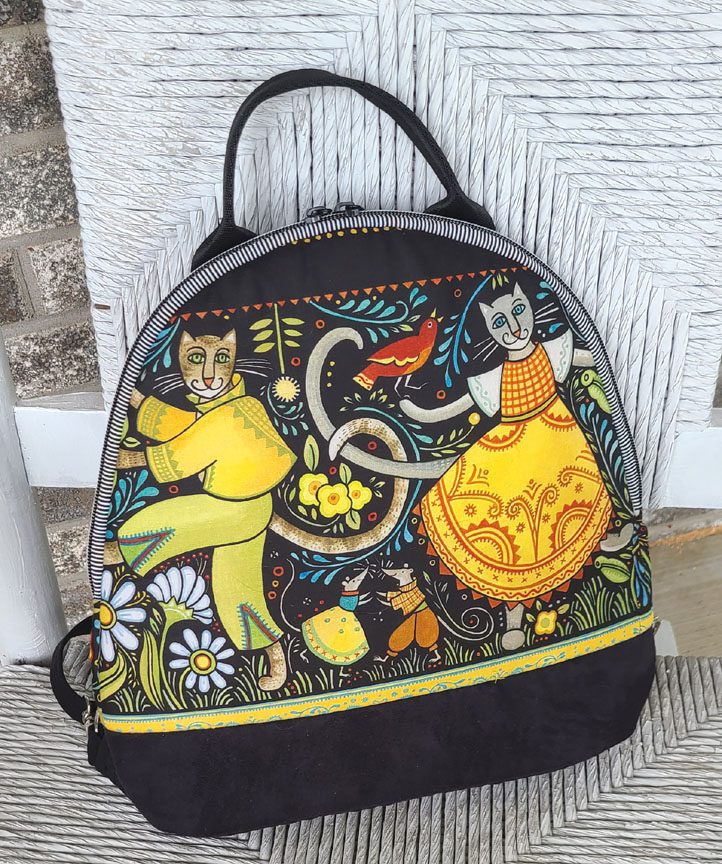 So… even though I have a couple of corrections yet to make, they are for the most part easy fixes so my plan is to press on and starting with the next post, we'll begin showing you samples that could qualify as potential cover models! I'm excited about that and I hope you are as well!
But before I turn this post over to you, I thought there might be a few among you that could be interested in this fabric which was fun to work with! It's called "Hey Diddle Diddle" and it was designed by Julie Paschkis for In The Beginning Fabrics.
And now…. it's YOUR turn!
I'd love to hear what you have to say about this sample. Do you like this silhouette better and do you agree with the changes we've made? And remember, we love reading your comments and answering your questions too, so please feel free to leave either or both in the space provided below.
---
Check out the best sewing pins with me on Pinterest, join in on discussions or show off your work in our FaceBook Group, or get your daily sewing fix on our Facebook Business Page or get behind the scenes scoops on Instagram, and be the 1st to know about new patterns, discount codes and sample sales by signing up for our monthly newsletter.