So…
in our last post in this, our 22nd cycle (can you believe it?) of Purse Pattern Chronicles, I showed you the 1st prototype for our next pattern design. If you recall, I was reasonably pleased with the 1st prototype I made so I went ahead and made a complete set of templates (including interior options) and made up the "Gorilla" sample. 
Now if you've been following any of our previous cycles of Purse Pattern Chronicles, then you know by now that I like to carry the first complete sample that I make of any new design for a week or two just to find out if there are "issues" with functionality because I like to know about these as soon as possible. If the bag opening needs to be wider, or if the silhouette needs to be taller, or if it needs more pockets or if it's hard to open, or if it sags in the middle when I'm carrying it, I want to resolve those issues immediately! Around here, we refer to this as the "Samsonite Gorilla Test"and yes I realize I'm dating myself with that phrase so if you're under 50 just click that link, and it just might start your day off with a smile!
So… with all the preliminaries out in the open, let's talk about this, the "gorilla sample" for our new design which as of yet, is unnamed.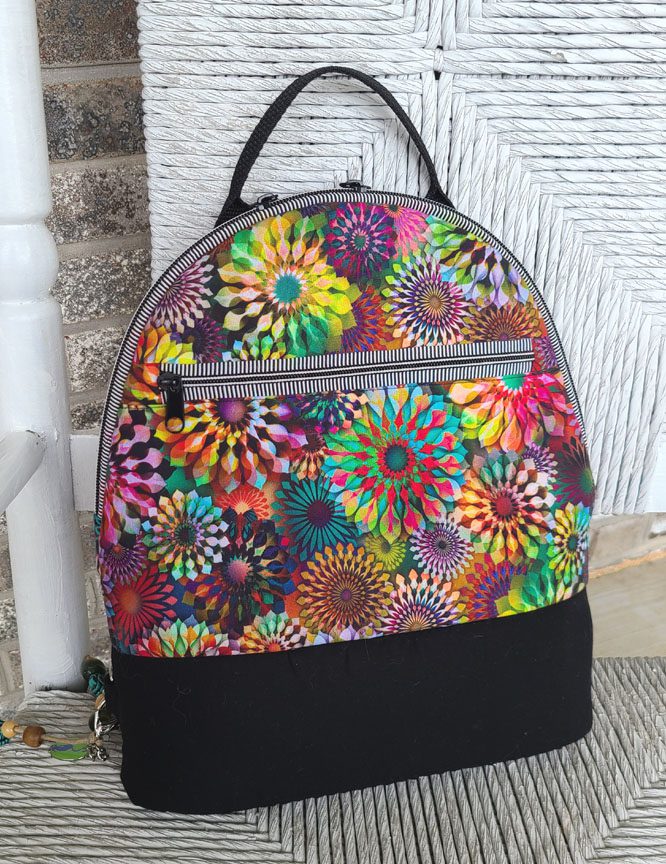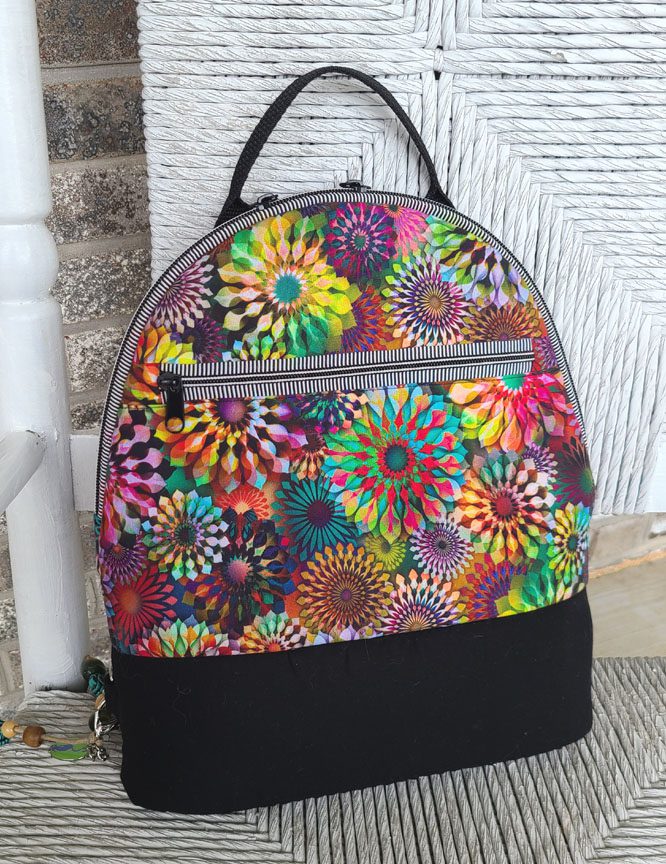 So this is the Bag Front. It was my original intention that this bag have a zippered closure to the main storage area, and also a zippered pocket on the Bag Front AND Back. But since I also know that having a zipper on any BackPack exterior that's facing the public is a security risk, I'm deliberately making the pattern pieces used for the Bag Front & Back as well as the both sides of the interior completely interchangeable. So…
if you prefer a flat front exterior in order to show off a large & lovely panel print… you can do that, or…
If you would rather have two zippered pockets on the bag interior… and NO pockets on either the Bag Front OR Back, you can do that.
the choice is completely YOURS!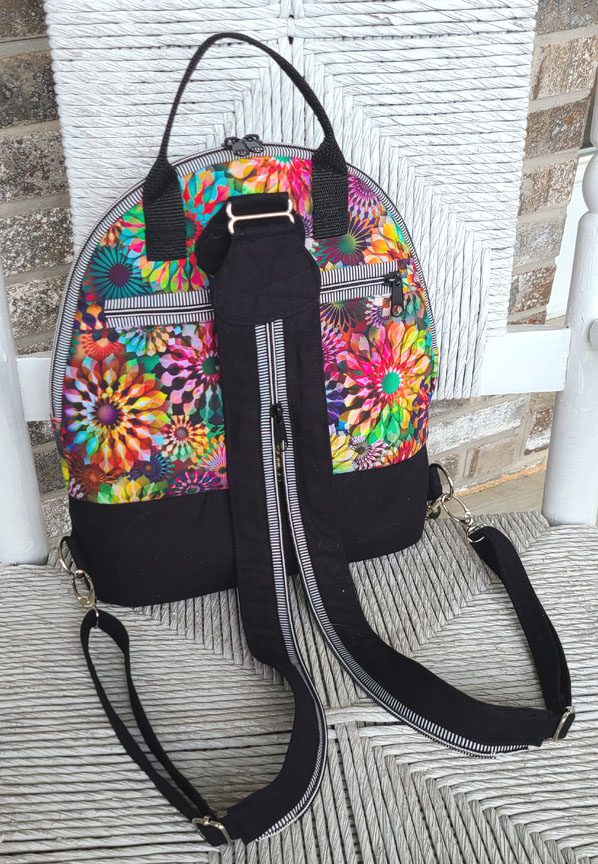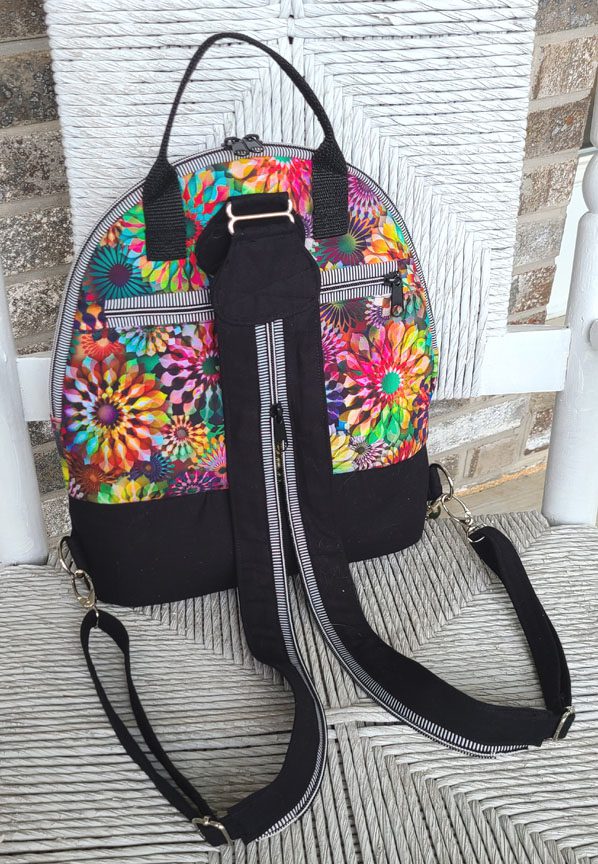 As much as love the pocket options this bag affords, there's another feature I ALSO love! And that would be how our beautiful zipper can be "unzipped" to instantly provide the straps that allow you to carry this bag as a backpack! Of course if you prefer to carry this bag as a shoulder or as a cross-body bag you need only zip up the zipper and snap both hooks into the same D-ring. (I'll show you picture of these options in an upcoming post, so do stay tuned for that?)
But… because this is a "gorilla sample, and if were thinking that there were some things I was NOT particularly happy about with this design… then you would be RIGHT!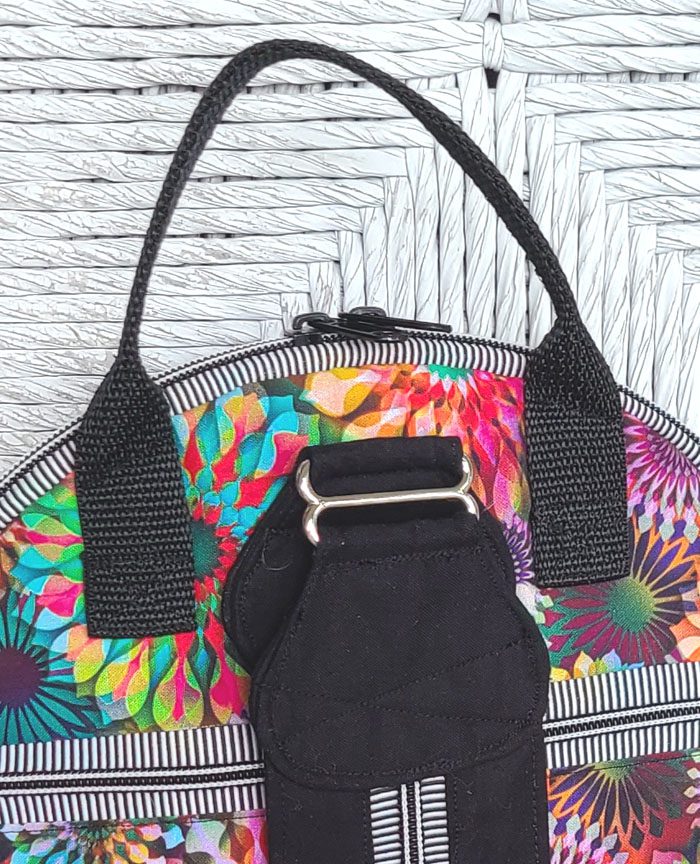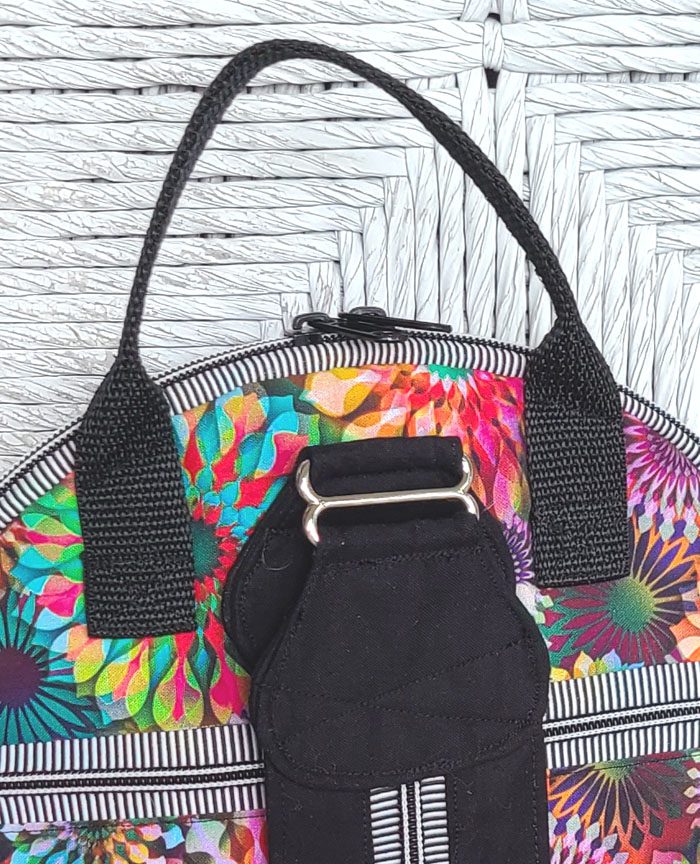 First off– as a lover of curvy shapes as opposed to angular ones, I thought these curved strap holders would be more pleasing to the eye than would straight edges and I actually loved this look! So what's the problem? The problem was for some reason, this curved edge was really tough. It was almost impossible to get one side to look like the other (even for me, and I LOVE sewing up curved edges), so I knew it was going to be a source of great frustration for many of our customers and would need to be changed! 
But that's not all!!!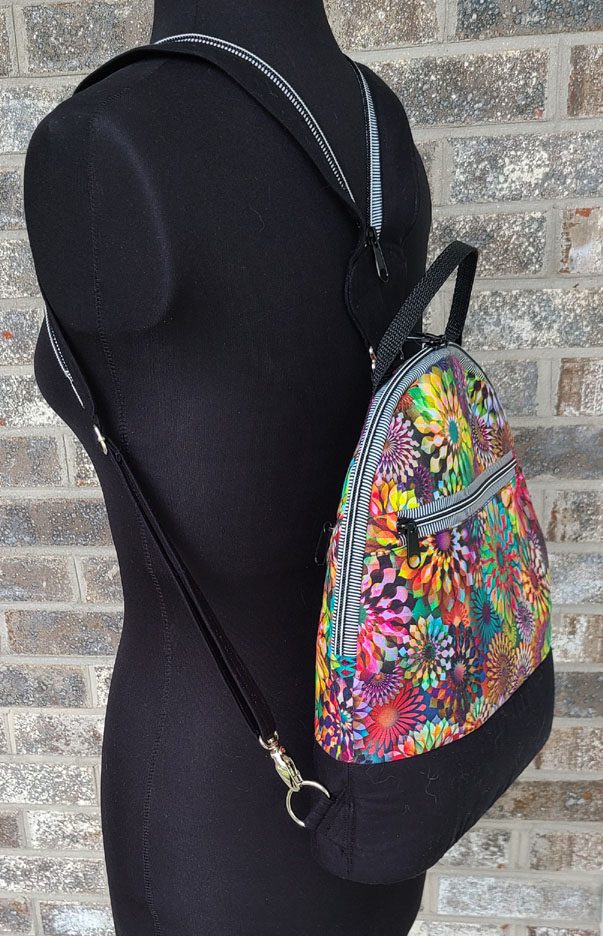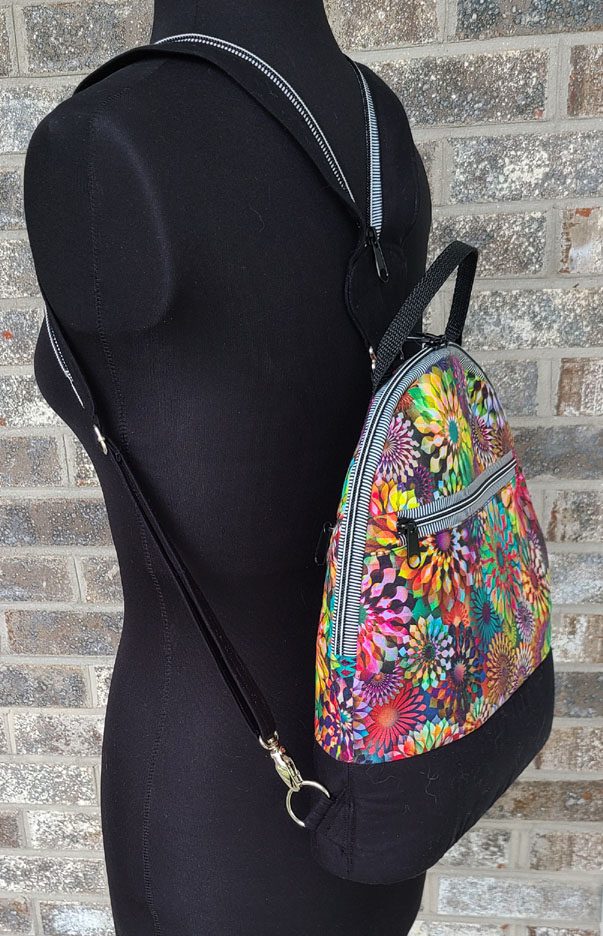 As much as I loved the look of these straps, I need to make a major adjustment because the the bag is riding too low on my back (and also on my model's back above) even though the straps are adjusted as short as possible. It's an easy fix though and I'll correct that in the next round!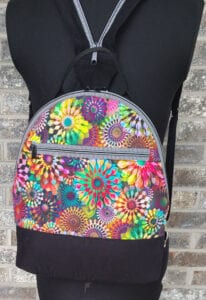 And finally, and probably most importantly… there just looked to be something about the proportions of this sample that seemed off… maybe its  something in the overall silhouette? Or maybe the ratio between the upper and lower bag is "off". Either way it looks like this many significant changes calls for us to make yet another "gorilla sample" in order to get on top of this between now and the next post in this series, so do stay tuned, OK?  
And now…. it's YOUR turn!
How do YOU feel about this new design? I know we've got a few kinks to work out, but assuming we do, would it this style of bag be of interest to you? And remember, we love reading your comments and answering your questions too, so please feel free to leave either or both in the space provided below.
---
Check out the best sewing pins with me on Pinterest, join in on discussions or show off your work in our FaceBook Group, or get your daily sewing fix on our Facebook Business Page or get behind the scenes scoops on Instagram, and be the 1st to know about new patterns, discount codes and sample sales by signing up for our monthly newsletter.