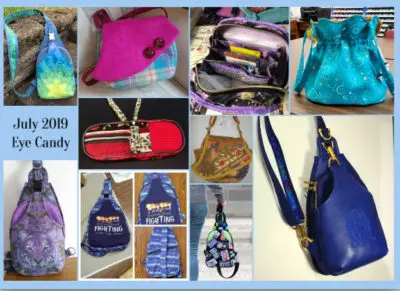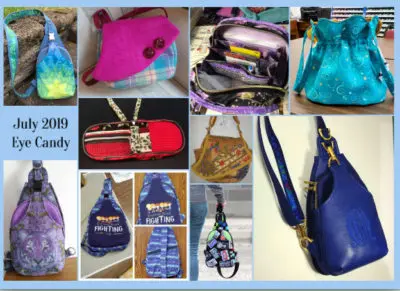 So…
ALL of the bags pictured below were created using our patterns & either shared on our FaceBook Group page, or mailed to us directly!
But here's the deal… even though the bags we showed you here last month were pretty incredible, THIS month's Eye Candy has WAY more variety!
So let's get started, shall we?
Here's my favorite "Eye Candy" for the month of July 2019!
Let's kick it off with this beauty by Diane Rhodes who normally favors the jewel-tones when she pieces together her incredible bag exteriors. I love this color scheme change for this Sling Along. It reminds me of summer!
And Karen Emi said that she originally thought this Sling Alongwas going to be a difficult make, but was pleased to find out that it wasn't! She add that she'll definitely be making more of these! Great job Karen!
Debra Harrower says that she "finally" made her 1st Boho Baguette but will be giving it away since its to be a gift! Next up on her agenda? The Sling Along!
And another month means yet another incredible Sling Along by Don Distler. He fashioned this bag with leather and twill and as you can see, he has one satisfied client!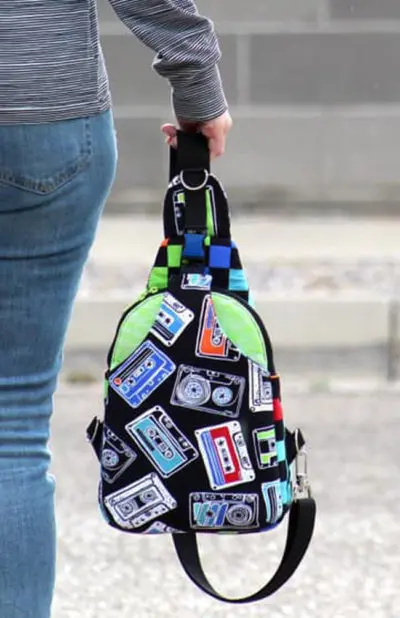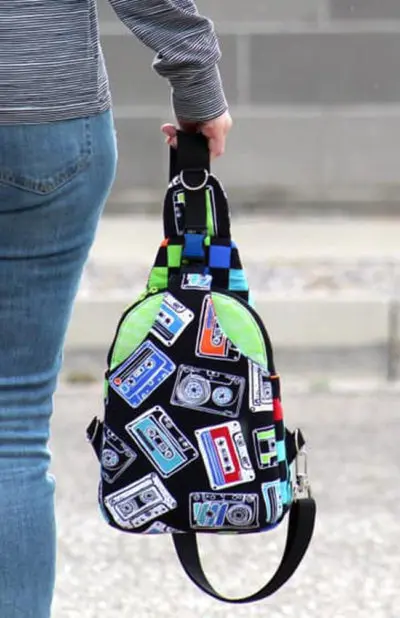 This is also Shannon Gale's very 1st Sling Along, but she enjoyed the process so much that she can't wait to make another!
Vickie Servais said that this Everyday Attache was her 1st StudioKat bag and she's really happy with how it turned out.
Perhaps inspired by Celia Anne Oliver?… here's Linda Bott's amazing Bellagio Bag which she created in Harris tweed! I love the color scheme!
And this vision in Tula Pink was created by Joy Carr. Her fussy-cutting in this Sling Along was excellent and I love the pull on her purple zipper!
Debbie Harris created this unique Go-Go Compact for her sister. Debbie said she learned a lot during the process and her bag is as cute as a button!
And last but not least, Peta Lawes added a few features to her Bellagio Bag and actually her fabric source was a sari which I'm thinking must have been a little difficult to work with! beautiful result though! 🙂
So there you have it!
These are the bags I thought best qualified as "Eye Candy" for the month of July 2019. I hope you enjoyed seeing them as much as I did and if you'd like to join our new FaceBook group page to see these types of posts and SO much more, just click HERE. And remember, we love reading your comments and answering your questions too, so please feel free to leave either or both in the space provided below.
******************************************************************************************
Check out the best sewing pins with me on Pinterest, join in on discussions or show off your work in our FaceBook Group, or get your daily sewing fix on our Facebook Business Page or get behind the scenes scoops on Instagram, and be the 1st to know about new patterns, discount codes and sample sales by signing up for our monthly newsletter.