So…
in our last post in this series, we discussed some of the things that worked well for us in 2013, as well as some of the things that didn't quite go as we had hoped. And so now, with our 2013 assessment completed, here's a sneak peek at our stated goals for 2014.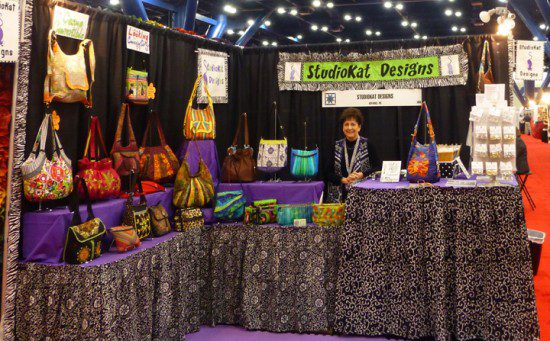 Our Shows for 2014- After reading our 2013 Assessment, it should be fairly clear that even though 2013 was a very successful year for us, it was also VERY stressful. The push to get a pattern completed and released in time for each of the two Quilt Markets seems to be getting tougher with each cycle. And here's the deal, even though it's pretty much a waste of our time and investment to go to a Quilt Market without a new product to unveil, that is not the case at all for Retail Shows.
SO…. after taking all of this into account, along with the success we enjoyed at the two retail shows we participated in last year, we are ready to make a few MAJOR changes for the new year (and all of these changes are inter-related).
1) We're planning to release only ONE new bag pattern in 2014. The time constraints are ALWAYS tougher during the Spring cycle anyway, and this Spring would have been EXTRA tough for us since we are expecting our 2nd grandchild to arrive in early March, so our plans are to release our new pattern for 2014 at the Fall Quilt Market in Houston.
2) We will not be vending at the Spring Quilt Market in Pittsburgh. As already mentioned, it would really be ill-advised for us to commit our time and resources to a wholesale show without a new pattern release.
3) We've committed to vending at THREE Retail Shows in 2014. In addition to the Fall Quilt Market and Festival we'll also be displaying at the AQS show in Charlotte and in Chattanooga, both of which are new shows and within driving distance for us. If all goes well we may venture further from home in 2015, but since one has to plan WAY in advance to vend at these shows and coupled with the due date for our granddaughter, we really couldn't consider any of the fun Spring shows in 2014.
4) We'll continue to expand our Zipper and Notions line. If I can find a cool new zipper tape I like as good as the ones we currently offer, and if our new pattern release calls for any hardware we don't already carry, then we'll add those items to our current line.
So… there you have it.
These are our most important goals for the year 2014.
Next year at this time, we'll once again analyze how well we met these objectives and share our findings with you here.
And now it's YOUR turn!
---
I'd love to hear YOUR thoughts about the changes we'll be making next year, so please feel free to share them in the space provided below. 

Did you enjoy this post? If so, please feel free to share it via FaceBook or Twitter!