Way back in 2007 we released a pattern that would turn out to be a game-changer for us. For the better part of 10 years or more this little pattern was a best-seller for us. And here's the deal… up until the time the Porta-Pockets Purse Insert hit the market we were able to print, fold and pack our patterns on our own from our studio, but after that release and to this day we've had to go with a professional printer for our printing, folding and at times even the packing of our patterns! So in short…
the Porta-Pockets Purse Insert
(and the Encore Purse Insert that came shortly after)
put us on the map!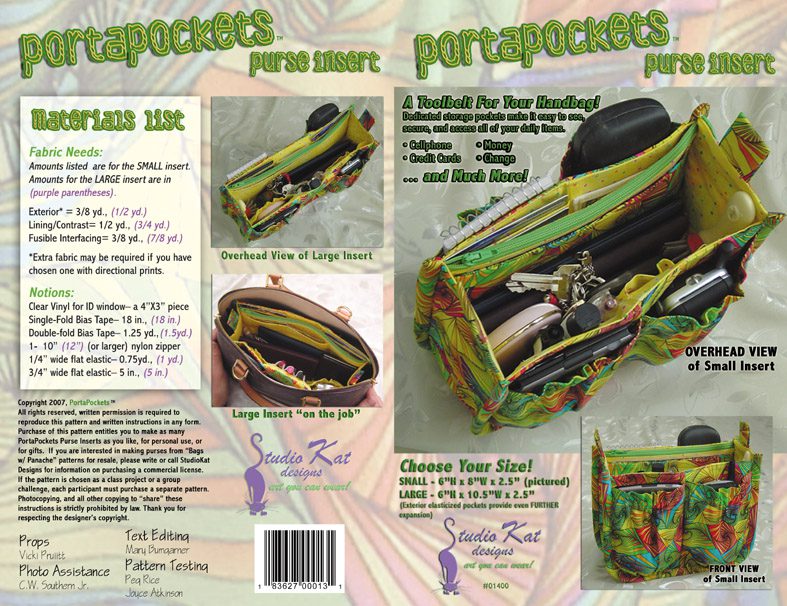 But as the old saying goes… ALL good things must come to an end!
So with this in mind, I reassessed the situation in 2012 in view of the fact that there were now several new foundation materials on the market, most notably, foam stabilizers like my favorite… Soft & Stable by Annie, that REALLY changed the course of bag pattern designing forever. By my way of thinking, the foam stabilizers were such a game changer for the purse-making industry that I was certain that most of our patterns not utilizing this new material would be soon rendered obsolete, including two of our most popular patterns…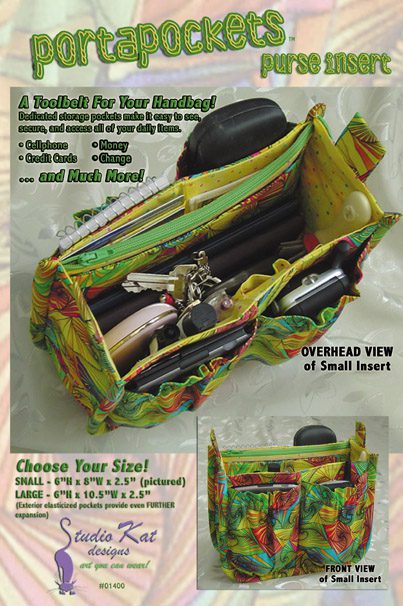 The solution I thought,
was one pattern to eventually replace them BOTH!
and I finally decided that the best way to accomplish this was to design several different-sized units that could be connected together for use in larger bags or disconnected and used as stand-alone units when carrying a smaller bag!
Enter… the Porta-Pockets PLUS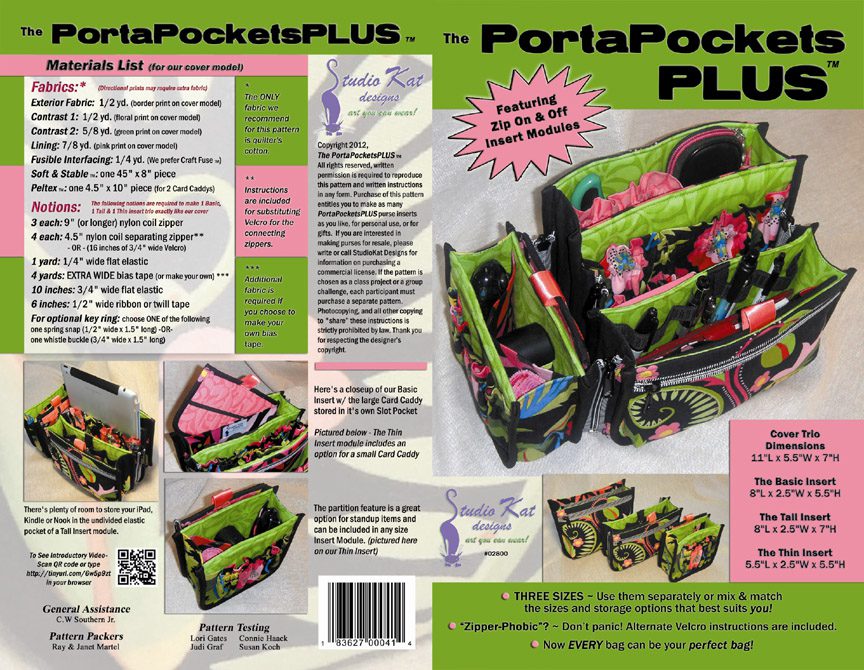 But surprisingly, as well-received as the Porta-PocketsPLUS pattern became, both of those older patterns remained popular for quite some time, even after we released the Porta-PocketsPLUS. As much as I thought the sales of those two older patterns would tank, they've hung around even until recently. As a matter of fact we sold our last copy of the Encore Purse Insert 3 weeks ago. And believe it or not, we're STILL selling copies of the original Porta-Pockets Purse Insert, although we're down to our last 16 copies!
But here's the deal. Because the sales are so slow on the Porta-Pockets pattern now, we cannot afford to keep printing it (since printing costs are determined by the size of the print run). So…to sum things up, I still maintain that our newer pattern, the Porta-PocketsPLUS is the superior pattern due to the fact that it uses modern foundation materials which are FAR superior to those I used and recommended years ago and that there are three sizes included along with the flexibility of being able to utilize them singularly or as a group depending on the purse size you are carrying. BUT— if you would like to get your hands on one of the last 16 original Porta-Pockets patterns available prior to its permanent retirement (with accolades of course), then just click HERE to grab your copy before they're gone forever!
And now, it's YOUR turn!
If you have comments you'd like to share or questions you'd like to ask about any of our purse insert patterns please feel free to leave either or both in the space provided below.
Check out the best sewing pins with me on Pinterest, join in on discussions or show off your work in our FaceBook Group, or get your daily sewing fix on our Facebook Business Page or get behind the scenes scoops on Instagram, and be the 1st to know about new patterns, discount codes and sample sales by signing up for our monthly newsletter.