So…
I've always enjoyed giving and receiving handmade gifts. When I think back on my most memorable experiences involving gifts, more often than not, there's a handmade gift involved… either one that someone made for me, or one that I made and gave to someone else. And here's the deal… in case you haven't noticed, D-I-Y gifts are in vogue now! So this year, instead of rushing to the store and buying something just for the sake of having something to give, here's six GREAT reasons to give some handmade gifts this holiday season (whether you make the gifts yourself, or purchase them from a craftsman) ?
1. It's the Trend– Believe it or not, giving handmade gifts is all the rage right now! Blame it on the Pandemic, or the burgeoning youth movement in the sewing industry, people are finding that giving handmade gifts is charming, practical, even sweet. People now realize that you can give quality gifts without really spending a lot. And further, when you factor in the thought and effort that goes into a handmade gift, it's actually more expensive than anything you can buy in a store. Like the commercial says, it's priceless.
2. It Can Be Cost-Effective– It certainly is possible to save money by giving handmade gifts this year, BUT sometimes, if you're not careful, the cost of your raw materials can really add up! You could in fact find out that your handmade gifts cost MORE than a comparable store-bought gift! So be careful!
3. It's Therapeutic– I'm sure I don't have to tell you that working with your hands, especially in art & craft projects is relaxing. As a matter of fact, art projects have long been considered as an effective therapy because it allows you to express your feeling without words. So… you could actually find that the process of making your gifts is a relaxing & calming experience, and who couldn't use a little extra calm in their lives at this busy time of year?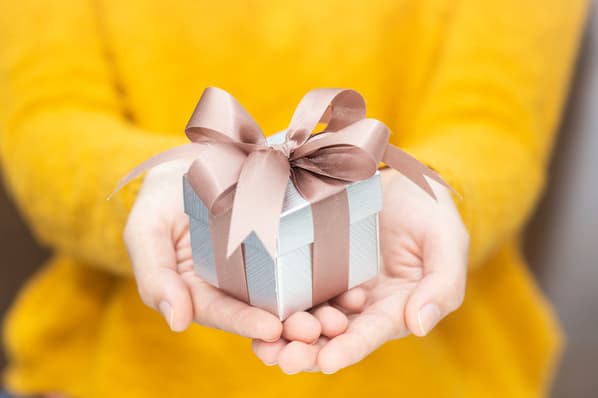 4. It's Different & Unexpected– A really great thing about giving handmade gifts is that it's generally unanticipated by the receiver. This makes the whole experience of giving the gift VERY exciting and fun! I LOVE watching someone open a gift that I've taken the time to make just for them. I can honestly say that NO ONE has ever had a blase reaction to a gift I've made for them, and how cool it THAT?
5. It's Thoughtful– Making homemade gifts is a very personal process, because it's a way of showing the special people in your life that you care. When I take the time to make a gift for someone, I try to keep in mind what's important to them and about them. What colors do they love, what are their favorite pastimes, what is their personal style like? In short, I know right up front that this gift is so perfect for this person, that there is very little possibility that they could ever find anything remotely similar in a store!
6. It Might Just Become a Treasure- I can't recall too many gifts I've received in my life, but I do know that it is near impossible for me to part with anything that someone has taken the time to make just for me. I still have the baby blanket that my grandmother crocheted for me when my daughter was born. It's wrapped in tissue in a very special box in the upstairs bedroom, right next to the box that holds just about every little gift my daughter ever made me, no matter how primitive. I like going up there and looking at these things from time to time. I like to imagine the excitement they must have felt while during the process of creating them for me, and I like remembering how special each gift made me feel!.
In retrospect, I doubt I ever showed the proper amount of gratitude when these gifts were given to me. Sadly, this is often the case. But when I look back now, my heart is filled with gratitude as I recognize the care, and the time, and the love that must have gone into making these extraordinary things. Do I still purchase gifts for family and friends from regular stores? Of course I do! But even though I don't always have the time to make all the gifts I'd like to, I always find it more fulfilling to do so, if possible.
So… how about you?
I would LOVE to hear about a special handmade gift that you either gave to someone, or received yourself. Please feel free to share your stories in the Comments box below.
Check out the best sewing pins with me on Pinterest, join in on discussions or show off your work in our FaceBook Group, or get your daily sewing fix on our Facebook Business Page or get behind the scenes scoops on Instagram, and be the 1st to know about new patterns, discount codes and sample sales by signing up for our monthly newsletter.