So…
as we all know, the International Quilt Market & Festival was cancelled due to Covid-19 in 2020 as were almost ALL the regularly scheduled Quilt Shows from March of 2020 thru the rest of 2021! But we are REALLY hoping and are cautiously optimistic that our Houston shows will be a GO for Fall 2021 considering that the forecasting models all seem to agree that most Americans who want to be vaccinated, will be by Fall of this year…
which leaves us with a true dilemma!
So one of the most important displays we set up at the International Quilt Market & Festival is called a "Sneak Peek" shelf. These "shelves" are set up in glass display units in the LOBBY of the George Brown Convention Center. You see, the Convention Center floor area is a VERY "visually noisy" area and due to the sheer size of the floor, the number of vendors and the literal crush of the crowd, its really easy to be overlooked.
On the other hand, the Sneak Peek area is much quieter and is open well before and after the normal show hours allowing customers to leisurely browse thru these displays, often taking notes about products and vendors they want to make sure they see & visit!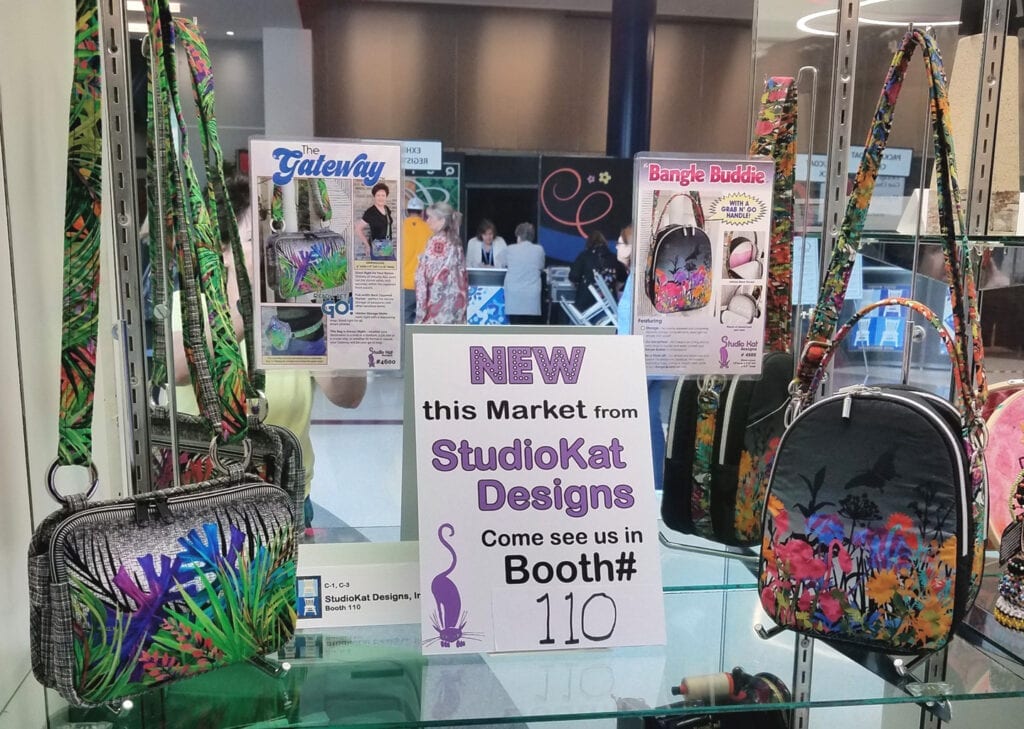 For this reason, its always been our choice to display our newest pattern designs, zippers and notions in our Sneak Peek display area and typically this means 2 new pattern designs, and occasionally a new piece of hardware or a new zipper design that was introduced over the course of the past year. Our habit is to contract for two Sneak Peek shelves (the maximum allowed per vendor) and opt for a stacked arrangement (since we need the extra height to display our bags properly). But herein lies our problem…
for our next Quilt Market & Festival…
because of the aforementioned cancellations we actually have SIX new patterns that have never been properly introduced to our distribution outlets! And therein lies our quandry… since our "Sneak Peek" display will only have room for two (perhaps three) bag samples at best! Now I need some serious help deciding which of these designs should we choose for our Sneak Peek display at the Fall Quilt Market & Festival?
Here are the choices?
Post Script: since writing this post we have since been told that International Quilt Market will once again be cancelled. We're really bummed about this, but at least the Quilt Festival will be a go… so far anyway!
So… please stay tuned for a future post when we'll show you which of our six new patterns we've chosen to display in our 2021 "Sneek Peek" at the International Quilt Festival!
And remember, we love reading your comments and answering your questions too, so please feel free to leave either or both in the space provided below.
Check out the best sewing pins with me on Pinterest, join in on discussions or show off your work in our FaceBook Group, or get your daily sewing fix on our Facebook Business Page or get behind the scenes scoops on Instagram, and be the 1st to know about new patterns, discount codes and sample sales by signing up for our monthly newsletter.