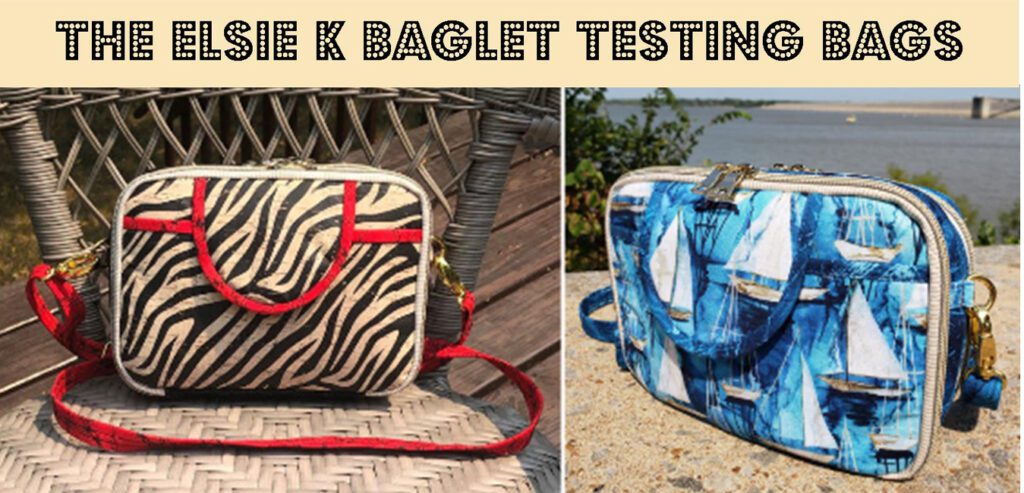 It's that time again! It's time to show you what our testers created in the process of testing our pattern instructions for the Elsie K Baglet! But WAIT! You must be thinking, "Why only TWO bags? Aren't there usually 5 or 6 testers involved in each new pattern cycle?" And yes, having only two testers is the least amount we've had to work on this bag with me since early 2006! And here's the deal… after enjoying a particularly long stretch of tester stability, we've suddenly suffered the loss of several. One is dealing with long-haul Covid, and several are dealing with family issues, in particular elderly parents.
So… I guess its time to search for a few new testers!
We'll be posting a post very soon detailing what we're looking for in a tester so do be on the lookout for that
if you think you might be interested in joining us for our next round of Purse Pattern Chronicles.
But now, let me show you what our two excellent testers created while testing the Elsie K Baglet for us!
So that's how the testing rounds played out for this, the Elsie K Baglet cycle of Purse Pattern Chronicles and didn't our two testers do an exceptional job? Many of you know that one of my favorite parts of the pattern development process is the testing round. I just LOVE seeing what our testers are inspired to create, especially since each one of our testers has their own individual style and several have a real flair for the dramatic!
And here's the deal… our testers perform a great service for us (and in turn for YOU) in the process of making their test bags. I can't imagine publishing a new pattern without their input, and if you'd like to leave them some love in the "Comments" section" below I'm sure they'd appreciate it. And if you have any questions about the testing process in general, or any of these bag samples in particular, you can leave those there as well and I'll do my best to answer them!
---
Check out the best sewing pins with me on Pinterest, join in on discussions or show off your work in our FaceBook Group, or get your daily sewing fix on our Facebook Business Page or get behind the scenes scoops on Instagram, and be the 1st to know about new patterns, discount codes and sample sales by signing up for our monthly newsletter.