So…
in our last post we had a little fun letting YOU be the designer and choosing which of our bag samples YOU would choose to grace the pattern cover for our 2nd pattern design for 2021, the Elsie K Baglet. Thanks SO much to everyone who voiced their opinion! Pattern design can be rather solitary work and I always enjoy hearing the logic behind which bag my customers would choose. But as much as I enjoy these interactions, (and I do), this is another time that I REALLY needed to take your thoughts into account because I honestly liked ALL of these bags (and that's unusual) and per usual, I was having a really hard time choosing between what I wanted to use, and what would be BEST to choose! Only time will tell if I made a good choice so…
For starters…
I have to say that I love ALL of these samples (which is a bit unusual) and I honestly think any one of them would be a good choice for the cover bag (and that's also unusual). So I'm thinking this is a really good problem to have, right?
It's almost like I can't lose no matter which bag I choose and that's a pretty good feeling!
Nevertheless, I still have to choose, so let's get started!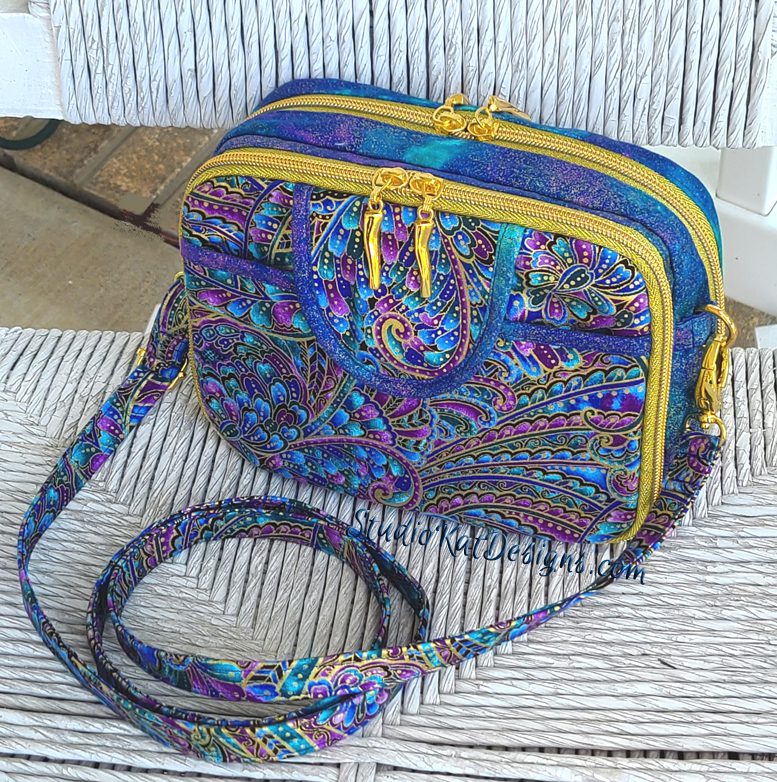 I fell in love with this fabric instantly. Of course I've yet to see an Ann Lauer fabric that I don't like. I paired it with a remnant from my stash and I was especially happy with how great our gold zippers looked paired with this fabric! And that was actually a big plus in this bag's favor because I dont think I've place a bag with these zippers on the cover yet.
But here's the deal… in looking through my past pattern covers I came to a really surprising realization, that being that an extremely high percentage of my cover bags have been in the blue/green/purple range of colors. This honestly surprised me as I really don't have much blue or green in my wardrobe. I do gravitate toward purple, but not as much as I do black or red.
But when I look at our latest flyer, the complete overuse of the blue/green/purple hues is undeniable, so even though this bag was a fan favorite… it's OUT!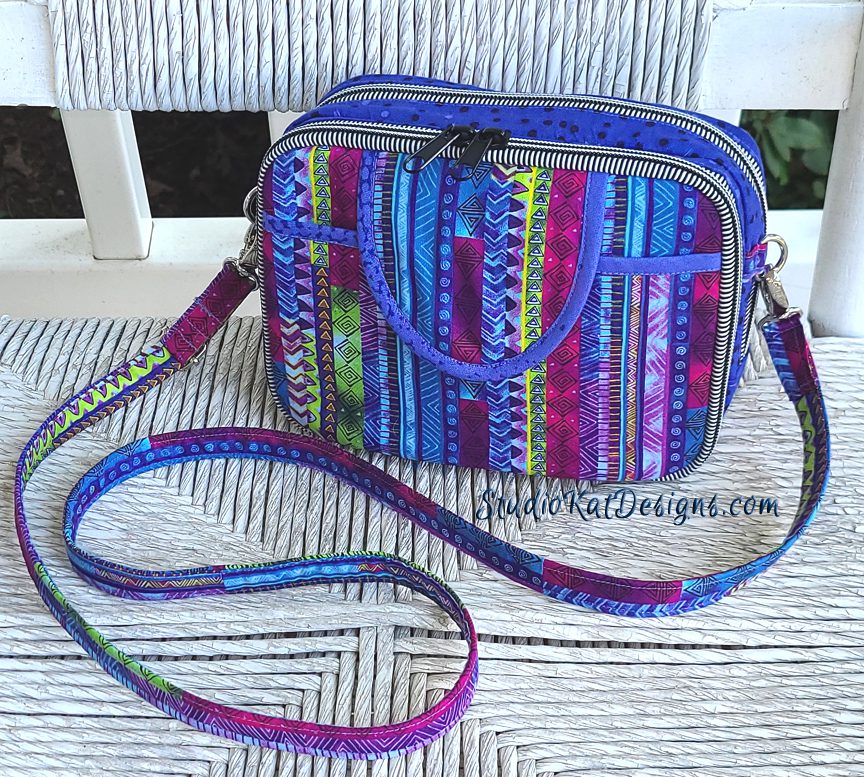 Well… if you read the paragraph above, then I guess you know that this little bag was somewhat doomed from the start, after all, its basically just blue. purple and green! ACK!
I do love this Laurel Burch fabric though but even though this one is a personal favorite of mine, I'm afraid its out because the afore-mentioned issue of color. 🙁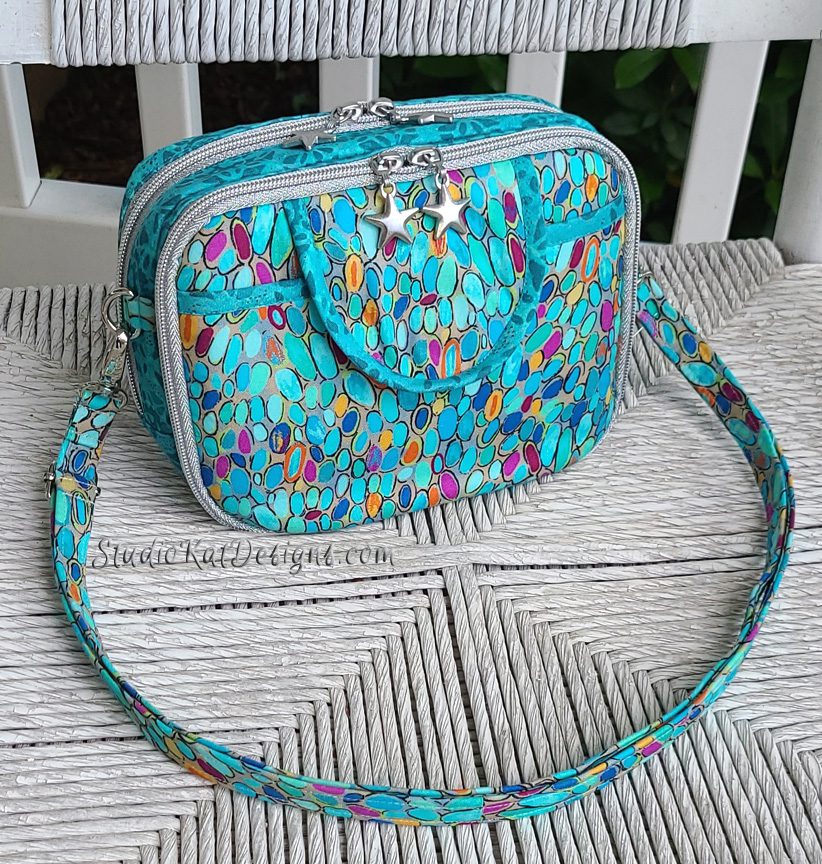 I found this fabric at the Mountain QuiltFest in Pigeon Forge, TN that we attended in early May of this year! I actually brought home quite a bit of fabric from that show because I was SO nice see NEW fabrics in person again!
I really liked how this bag turned out and once again I was tempted to choose it now only for the fabric, but also because of how great our silver zips with the cool star pulls look with it. After all, I dont know that I've featured these zippers on a pattern cover yet!
But alas, this bag got only a lukewarm reception in the original posting and when I floated it in a trial cover mockup it really didnt jump off the page at me, so it's out. I think it will do well in shows however, if we ever get to go to them again! 🙂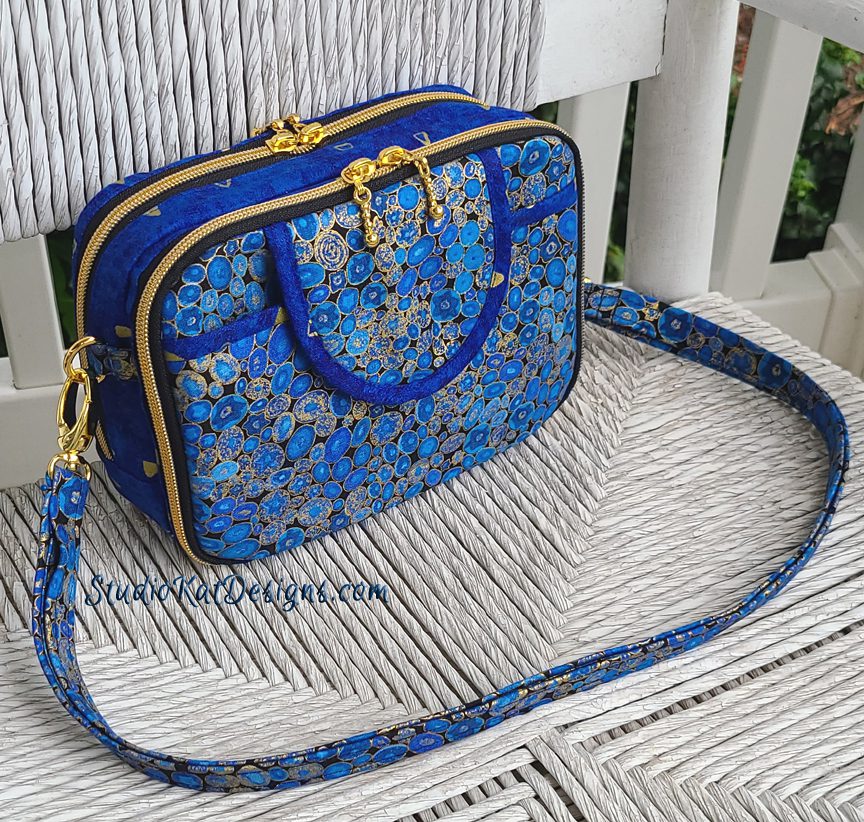 Now this bag I LOVE! I love the deep rich royal blue and also how our black with gold zippers set off the entire look! I actually flip-flopped back and forth between these zippers and the all-gold zips but I'm so I stuck it out with these zips.
and if were just up to me, I definitely would have gone with this bag for the cover but then I noticed how many of our cover bags were featured in the blue/purple/green family.as a matter of fact, alert reader, Sue Hobert even commented to this effect in our last post in this series.
So sadly… as much as I love this bag, and because I have several others that can step and take its place, this beauty is OUT!!! It'll be a big hit at shows though!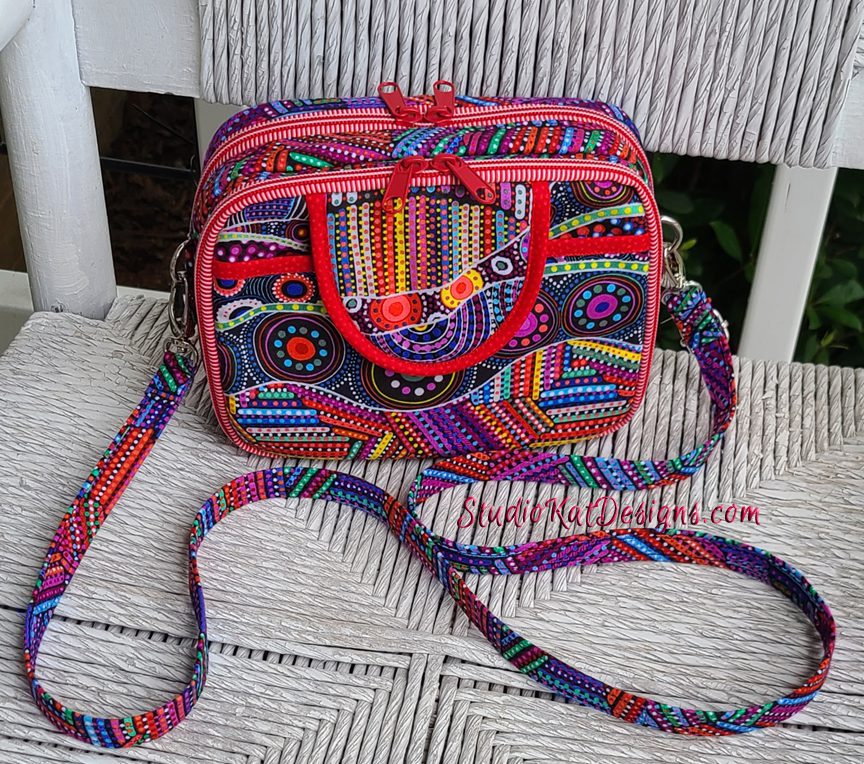 And actually, I made a bag in this very fabric for the Gorilla sample for this design. It came out great and I LOVED how it showed off our red & white striped zippers. I couldnt use for the cover bag thowever, because I made some pretty substantial design modifications based on this sample.
Lucky for me though, I had enough fabric so I could basically remake this bag and I really gave some serious thought on making it our cover bag. It was a hard decision and I waffled back and forth for several days before finally deciding the bag in the picture below will be the one to grace our pattern cover!
Which only leaves the sample we finally DID choose!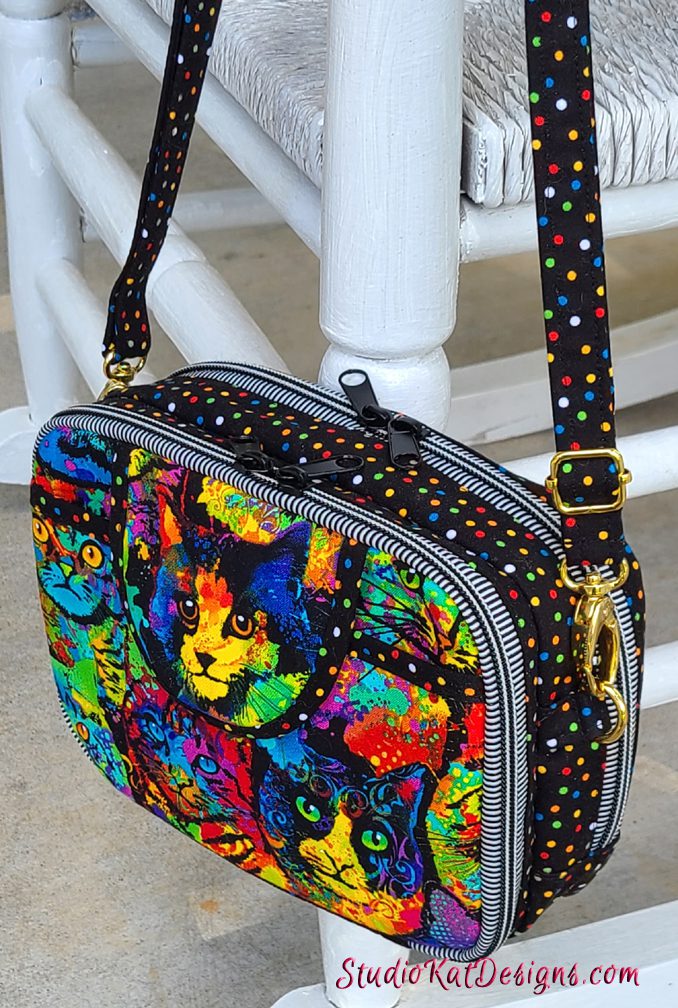 And here's how it looks on the new pattern cover!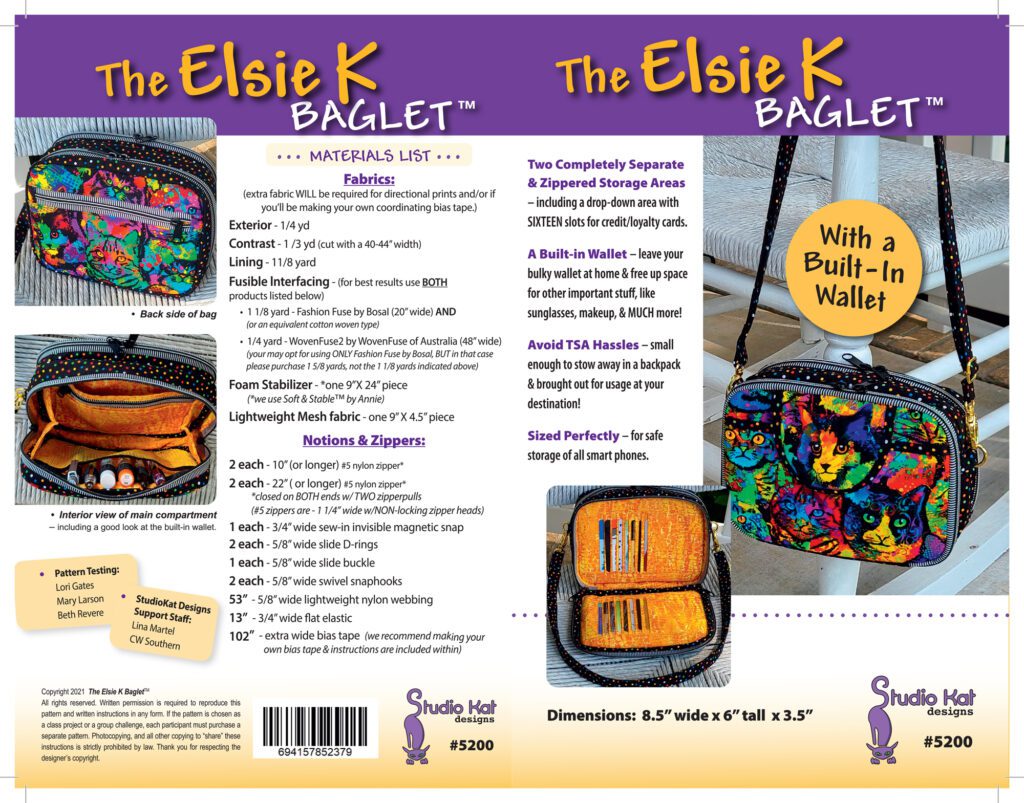 1- I found this fabric in the booth right next to us at the Mountain QuiltFest in Pigeon Forge, TN in May and it virtually jumped off the table at me! (probably because it feature a couple of tuxedo cats! I also liked that it could be paired with many other fabrics for the exterior, included just basic black. I thought it was perfect for the Elsie K design!
2- I dont normally use a fabric with this much black in it, but there's so many other colors in it was well that I thought it could work for us! All the design features are easy to see in the pictures regardless of the dark background. And the best part is, if you like this fabric too, you can pick up a half yard for yourself by clicking HERE!
3- It photographs like a dream. No matter what feature I want to highlight in a picture, that feature is easy to see (even if the picture is quite small)! Additionally, this bag is pretty from all angles and that's important, because remember, a pattern cover needs to tell a story and since we may only get to tell that story once, our goal is for the story to be SO compelling that once a customer picks this pattern up, they won't want to put it down!
So… did we make the perfect choice?
Only time will tell. Truth is, the Elsie K Baglet design has been very well received so far, and I easily could have gone with another choice and it probably wouldn't make a bit of difference "sales-wise" but I'm pleased with how the cover came out nevertheless.
AND PLEASE NOTE!!!! — Just as we did in our last rollout in March, we'll be announcing our pattern release in the next edition of Bag Making is FUN which should release sometime next week (depending on our printer). The newsletter will be complete with a time-sensitive coupon code, so don't miss out… you still have a small window of time to get in on the fun and pick up a nifty discount coupon too by clicking here to join our mailing list, OR by joining our brand new FaceBook Group!
And now, it's YOUR turn!
Call me crazy but I always love knowing if you agree with our selection or if you think we totally blew it! So please feel free to leave your comments and/or questions in the space provided below!
Check out the best sewing pins with me on Pinterest, join in on discussions or show off your work in our FaceBook Group, or get your daily sewing fix on our Facebook Business Page or get behind the scenes scoops on Instagram, and be the 1st to know about new patterns, discount codes and sample sales by signing up for our monthly newsletter.