So… following our last post I told you that I felt confident enough about this design that I felt it was time to go ahead and make the step drawings so I can start working on the instructions. This necessitates making one more sample and here it is!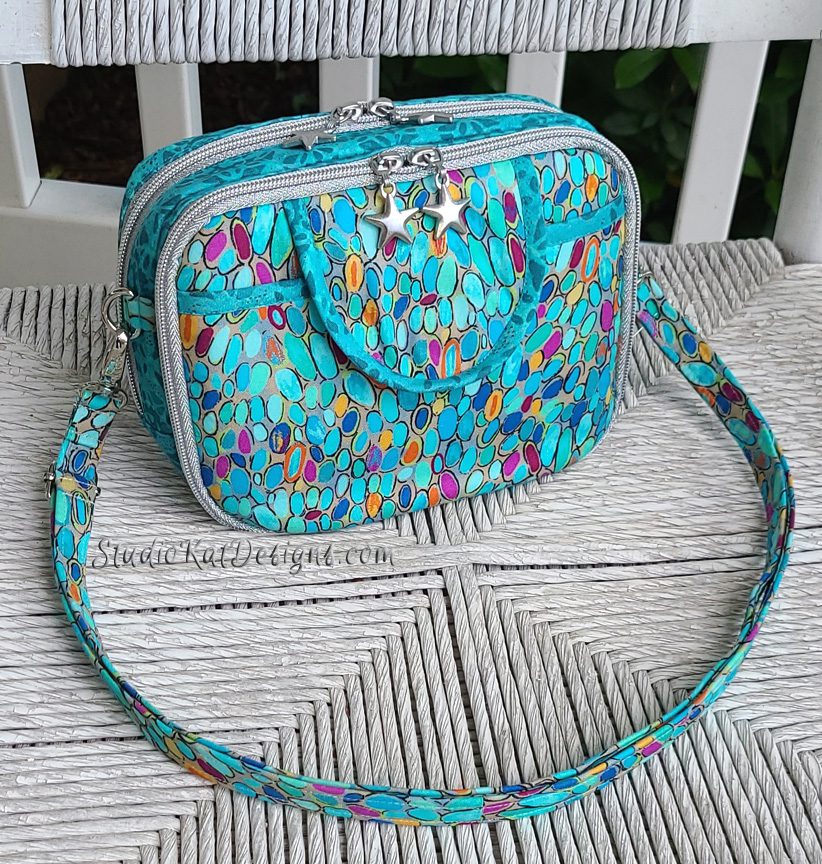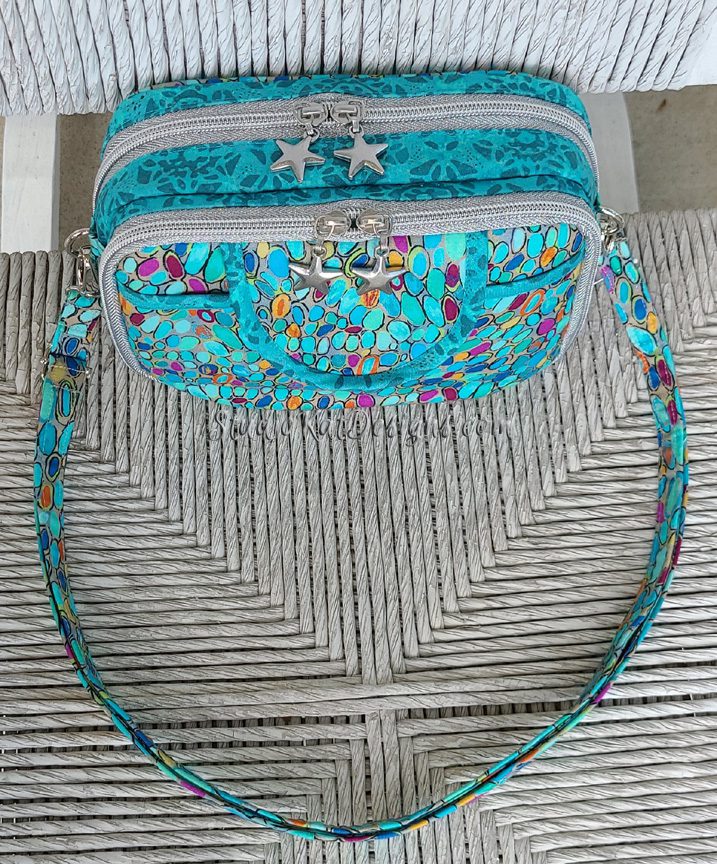 I had an extremely hard time however choosing which of our zippers to pair with it! The transparent zippers would have worked well, but zippertape for that zipper feels and behaves like it has a good deal of plastic in it which makes it NOT likely to "give" at ALL when applying it to relatively sharp curves such as are encountered in this design.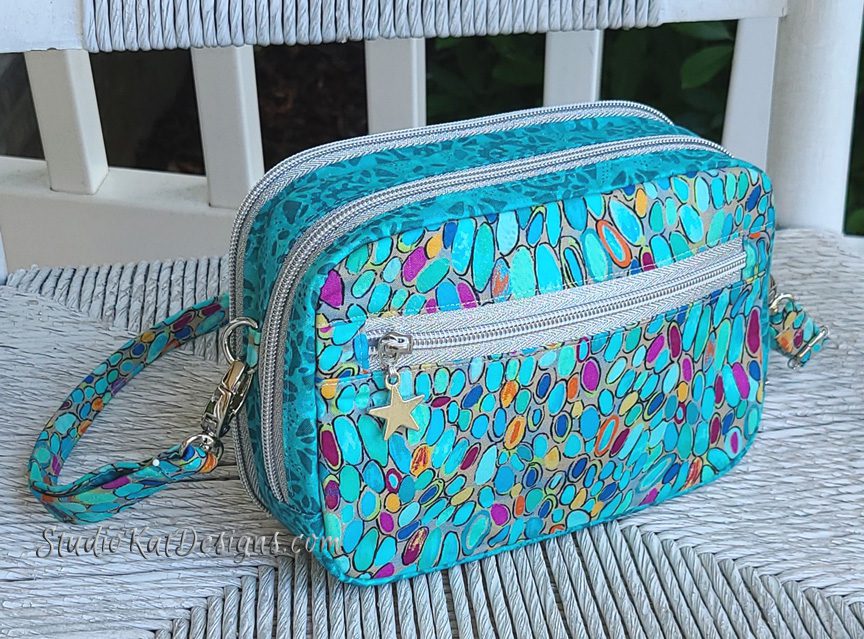 I could've gone with my longtime standby… our black & white ministriped zippers… but I decided instead to take a chance on our silver-on-silver zips and you know what? I'm pretty happy with the resulting look!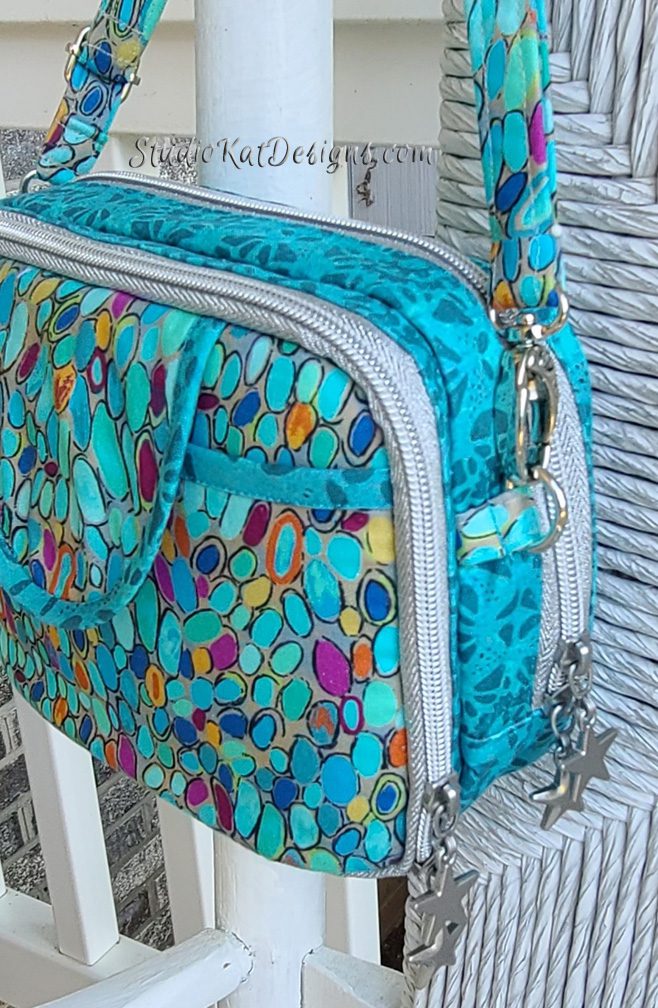 And for this sample and perhaps going forward, I'm using exterior fabric for the "Ring Tabs". It will of course be up to you which fabric you'll choose to make your tabs in, but for the purposes of photographing this design I think I'll stick with option as it SO much easier for you to "see" how these new style works!
So now… let's talk about some important stuff…
the fabric: was designed by an independent fabric designer, PCarterCarpins that I met at the Mountain Quilt Fest. She doesn't wholesale her fabrics (which means I can't resell it), but you can pick up some for yourself here– .
Here's the fabric details –
–Blue Jellybeans– exterior fabric
–Blue Printed Lace– contrast fabric
Other Important Stuff…
the size: 8.5″ wide X 6″ tall X 3.5″
the anticipated release date: it's still a little early in the process so far but right now I'm hoping to be able to publish this pattern sometime in mid to late August 2021. And finally….
We Need to name This Design! If you have an bag name you'd like to suggest we're all ears! Please send all suggestions to: info@studiokatdesigns.com
And Now… it's YOUR Turn!
If you have comments or suggestions you'd like to share about this design in general or this sample in specific, please feel free to leave either or both in the space provided below.
Check out the best sewing pins with me on Pinterest, join in on discussions or show off your work in our FaceBook Group, or get your daily sewing fix on our Facebook Business Page or get behind the scenes scoops on Instagram, and be the 1st to know about new patterns, discount codes and sample sales by signing up for our monthly newsletter.