So…
in our last post, I showed you some pretty big changes I made to this new design, but after some careful consideration, it turns out that sometimes one BIG change calls for another!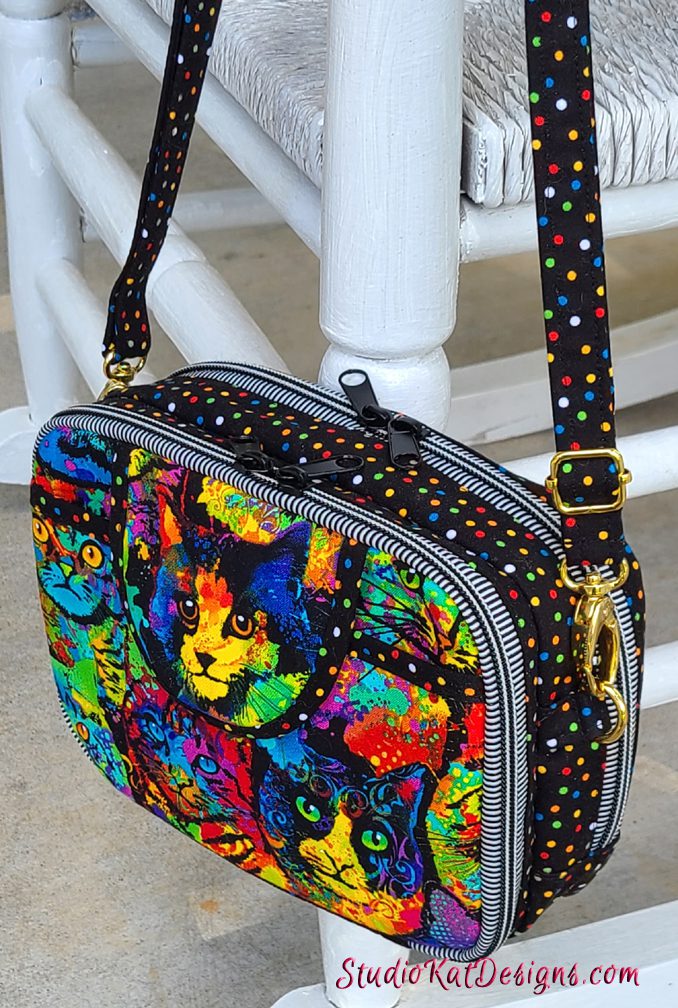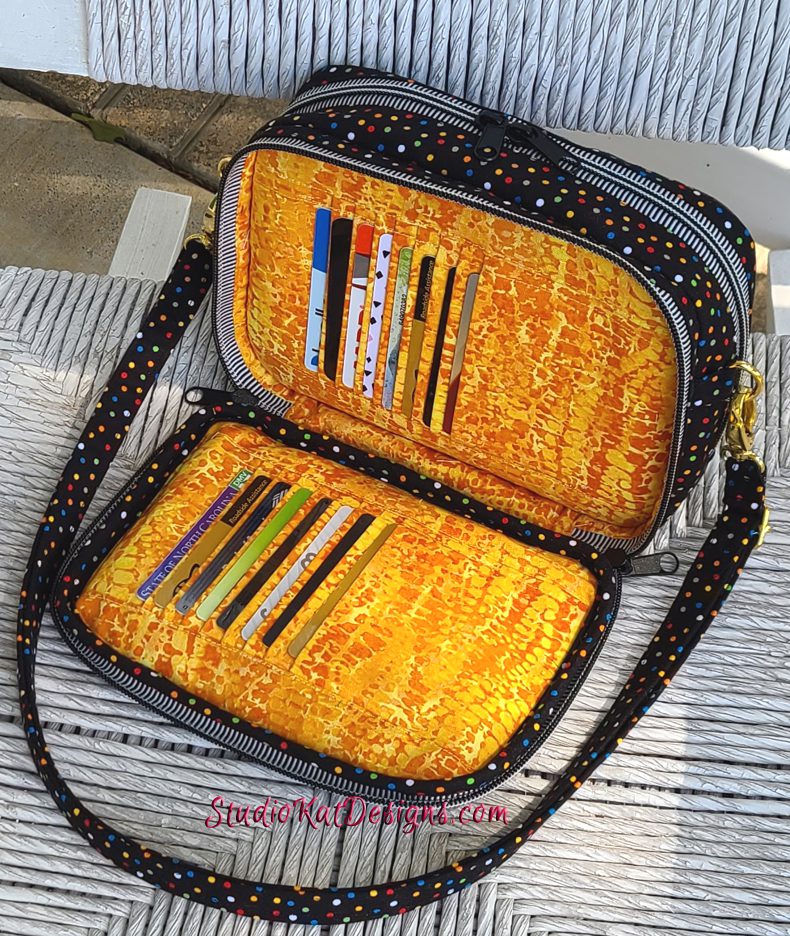 This section is now located on the front side of the bag (right behind the flapped pouch). This move makes it SO much easier to access these cards while still wearing the bag on your shoulder or as a cross-body.
I really did not like the idea of having to take the bag off and set it down in order to access the cards which was going to be necessary when the section was located on the back side of the bag.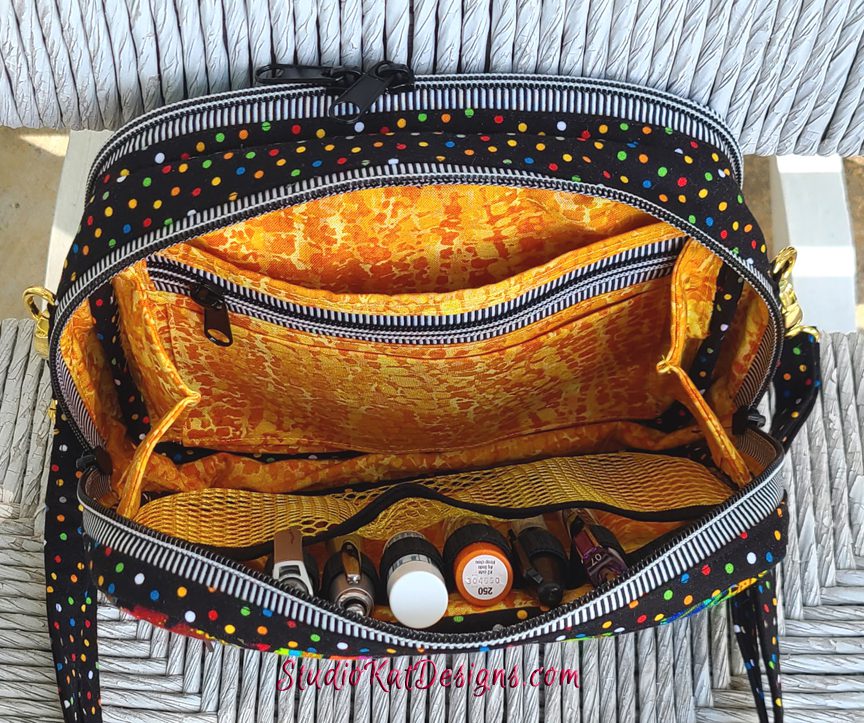 But what I noticed after making the last sample, was that even though the credit card section was now a lot easier to access, this move made the wallet section HARDER to access because it was facing away from the body… SO>>> for this sample, I made the big change you see at right!
Now when this bag is on your shoulder and next to your body (as represented at right), the wallet section is easily accessible as you can see, AND the credit card area is ALSO easy to access!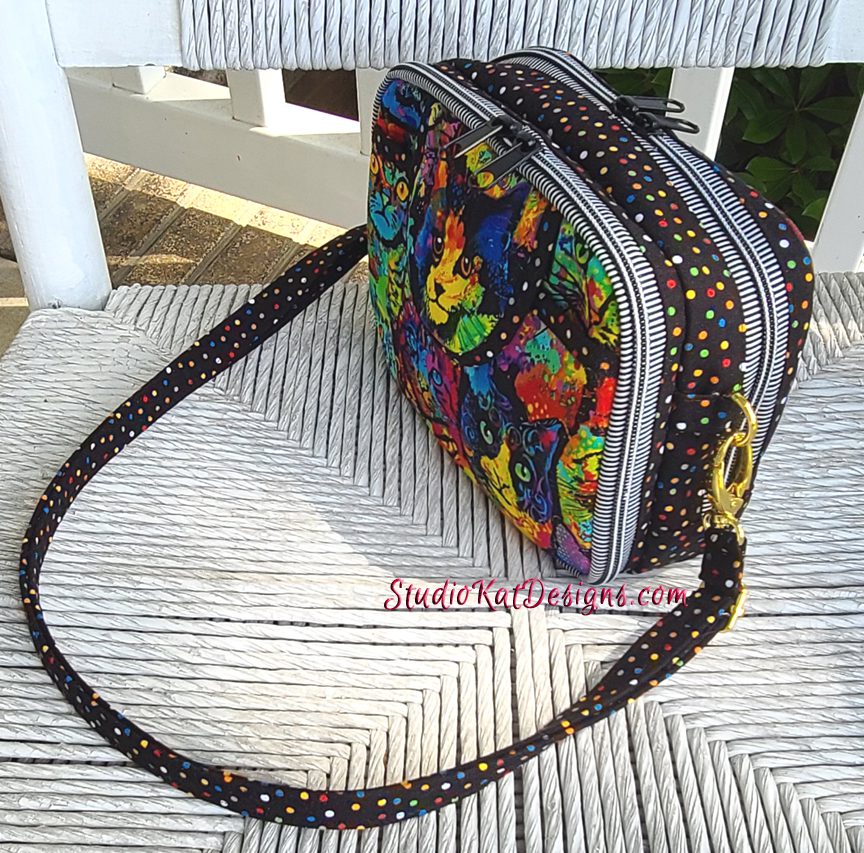 With these changes in place, I can safely say I am happy with this design which is a great feeling!
Oh there's still some little tweeks that need to be made, but nothing that affects the overall look or functionality of the design!
Here's the bag back area with a nice sized pocket. I like to keep my key fobs in this area.
It's always great to feel like the design is what it should be. Now I can go forward preparing to start on the final version of the instructions (in Publisher) which includes all of the drawings and some strategic color pdf's.
I also still need to make at least 3 if not 4 more show samples in order to have a good selection to choose from for our cover model, so stay tuned for that!
Exterior- "Multi-Colored Packed Cats" by Timeless Treasures Fabrics
Contrast- "Remix" by Ann Kelle for Robert Kaufman
I find that I do have access to this cat fabric (although I prefer calling it Psycho Cats),
if there looks like there's enough of an interest on the part of our customers, so do let me know?
And now, it's YOUR turn!
So where do YOU stand on this new design? And if YOU were the one who had to name this pattern, what name would YOU choose? Believe me, I need all the help I can get when it comes to thinking up bag names! 🙂 And remember, we love reading your comments and answering your questions too, so please feel free to leave either or both in the space provided below.
Check out the best sewing pins with me on Pinterest, join in on discussions or show off your work in our FaceBook Group, or get your daily sewing fix on our Facebook Business Page or get behind the scenes scoops on Instagram, and be the 1st to know about new patterns, discount codes and sample sales by signing up for our monthly newsletter.