So… in our last post, the sample that I showed you was pretty much representative of what the final design will look like. I'm satisfied that we've solidified the features for this bag and now all that's left is to name this design, make some more show samples and write the instructions… well that's over simplifying it of course but it always feels good to get to this point with a new design and with that, here's the latest sample we've created…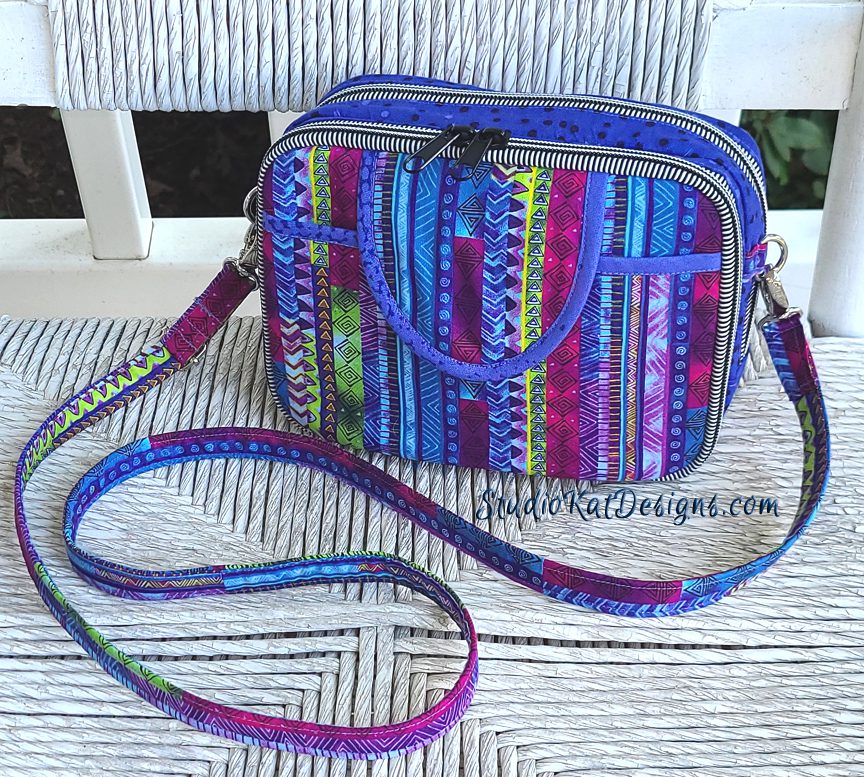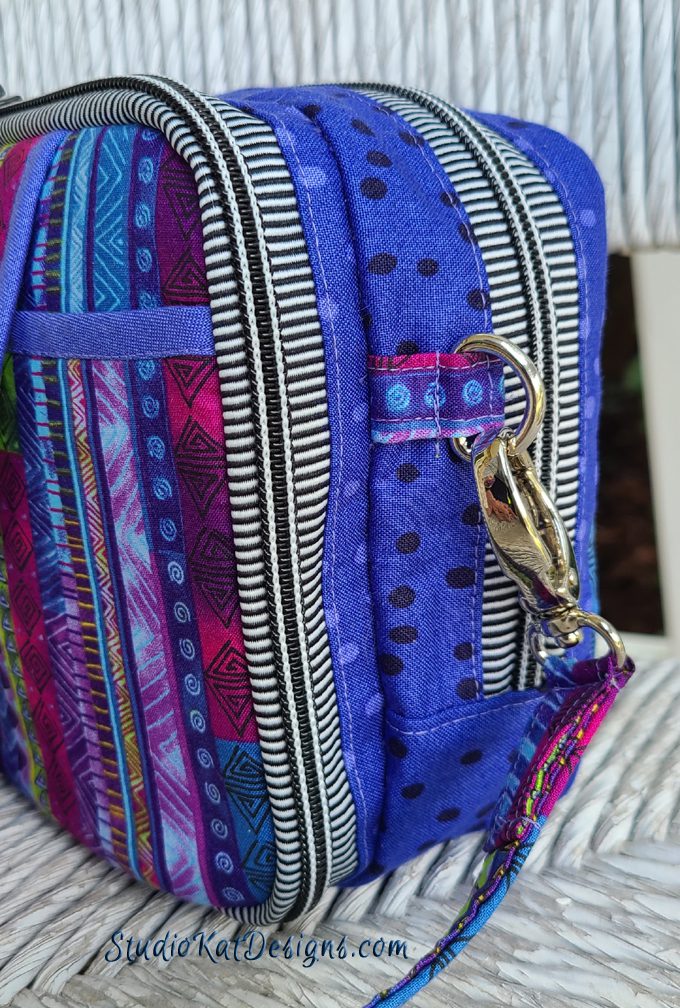 For this sample, I purposely cut the little ring tab in exterior fabric so it would show easily against the contrast on the side panels.
That's because I've been disappointed that the shots I've shown so far of these rings tabs were pretty hard to see (contrast on contrast). And here's the deal… I'm actually kinda diggin' this look! 🙂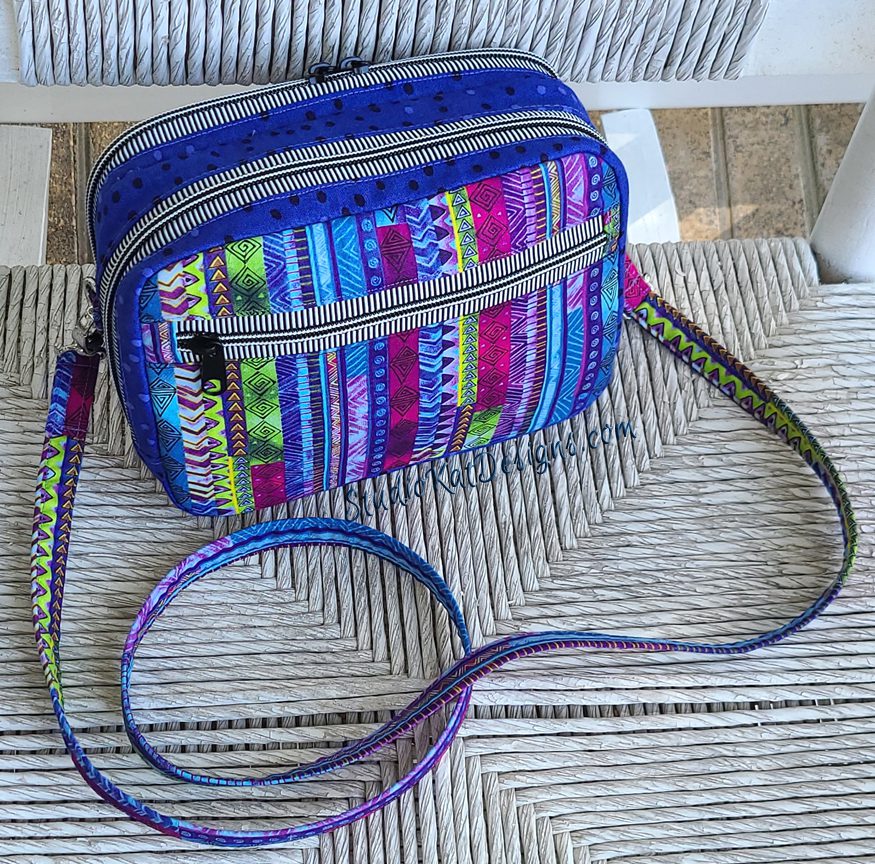 Here's a good look at the back side of this bag. There's a total of four zippered areas in this design. One (as shown) on the back side of this bag, one on the inside, and two for entry into each of the two completely separated interior areas!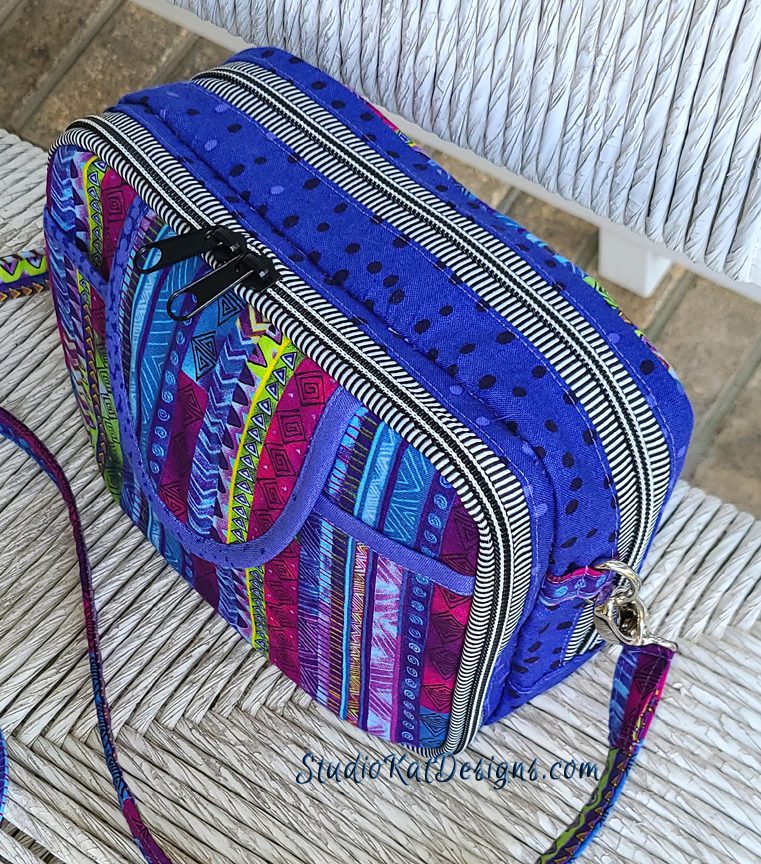 This little bag holds a whole lot more than you would think. With all the components of wallet included here, you can leave your stand alone wallet at home which leaves quite a lot of room for "other stuff". I normally carry my reading glasses, a makeup case, a package of tissues, and a mask or two, PLUS I can place my passport in the pocket behind the coin purse along with my checkbook register and any other important papers I need to save!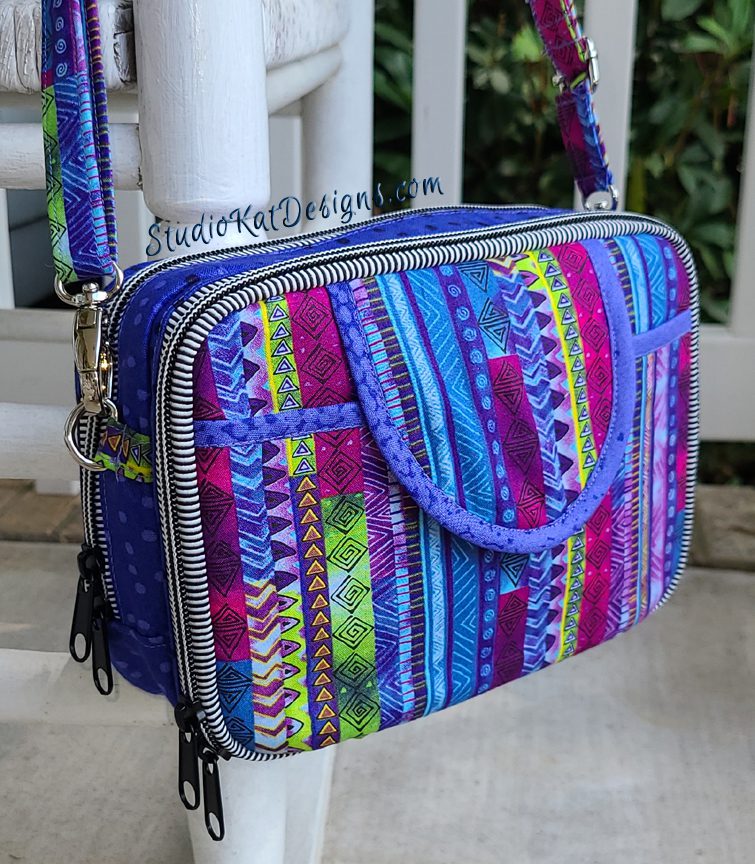 So now… let's talk about some important stuff…
the fabric: is from the Celestial Magic collection for Clothworks and its by the incomparable Laurel Burch!
the size: 8.5″ wide X 6″ tall X 3.5″
the anticipated release date: it's still a little early in the process so far but right now I'm hoping to be able to publish this pattern sometime in mid to late August 2021. And finally….
We Need to Name This Design!
If you have an bag name you'd like to suggest we're all ears! Please send all suggestions to: info@studiokatdesigns.com
And now, it's YOUR turn!
If you have comments or suggestions you'd like to share about this design in general or this sample in specific, please feel free to leave either or both in the space provided below.
Check out the best sewing pins with me on Pinterest, join in on discussions or show off your work in our FaceBook Group, or get your daily sewing fix on our Facebook Business Page or get behind the scenes scoops on Instagram, and be the 1st to know about new patterns, discount codes and sample sales by signing up for our monthly newsletter.