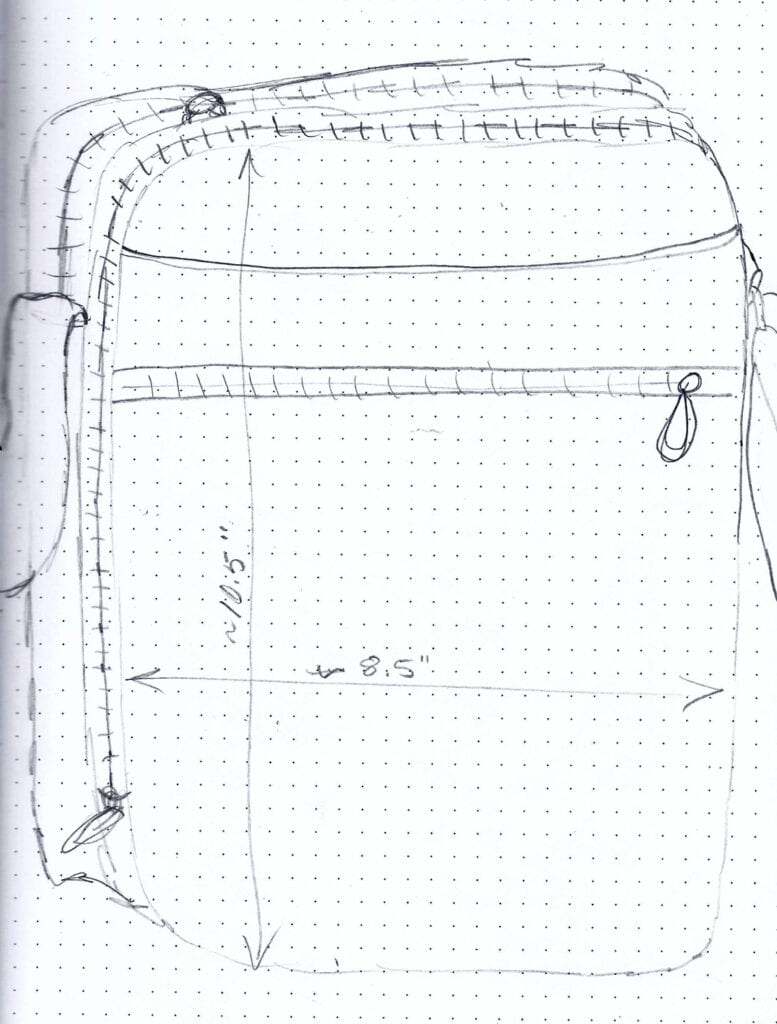 So….
As I'm writing this post, it's mid-December and for the first time since 2006, I'm actually starting my 4th pattern in 2020.
But you know what? I guess that's the natural result when there's a pandemic causing all the Quilt stores to shut their doors and our Retail Shows, our Quilt Market AND our vacation ALL get cancelled! Yeah, 2020 won't go down in history as one of my favorite years but I sure have gotten a lot of work done! Only time will tell, but for now, let me walk you through my inspiration for this new design as well as the original sketch and the 1st prototype.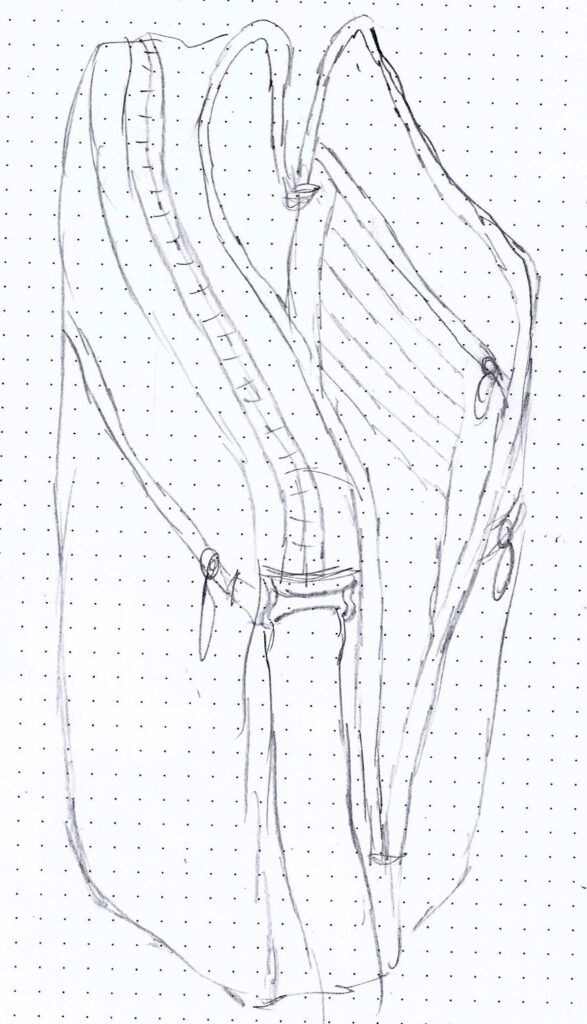 First of all– I would call this a medium-sized bag, (see above), taller than it is wide. I'm planning on it having 2 completely separate compartments, with the back compartment being a good deal roomier than the front.
Additionally, the front compartment will have a MUCH longer zipper that opens completely across the top as well as 3/4 of the way down the side! I've planned it this way so that we'll have easier access to the double-row of credit card holders that will be inside!
I'm also planning two more zippered pockets for this design, one on the inside and the second on the bag exterior.
Off-hand I'm thinking that were it made up in the right fabrics, that this bag would be one that could be carried by both a man OR a woman!
So what comes next? Why the initial prototype of course!
Now remember, the whole purpose of the 1st prototype is to assess the finished dimensions of the bag and to get the pattern pieces for the "shell" perfect! There's a few things however that I never waste my time with on a 1st prototype and these would include…
nice fabric
a lining
storage features of any type (inside or out)
good zippers
So even though this prototype leaves much to be desired in terms of looks, it proved to be very useful indeed as I was able to assess that this sample was about a full inch taller than desired. Additionally I was really happy with how these pattern pieces came together, needing only a couple of slight modifications.
Now, based on what I deem as the resounding success of this prototype, I will confidently move along to the next round where I'll be adding the storage pockets to both the lining areas & exterior and actually carrying this sample for a week (or more if I like it) to determine whether I actually enjoy carrying this bag AND if the features are placed in the right places. If you're thinking that the next post in this series will feature our "Gorilla Sample", then you are absolutely correct so I'm hoping you stay tuned for that!
And now, it's YOUR turn!
What is your initial reaction to the what we've shown you so far? Do the dimensions and features of this bag pique your interest? And are there additional features that you wish that we'd include? And remember, we love reading your comments and answering your questions too, so please feel free to leave either or both in the space provided below.
Check out the best sewing pins with me on Pinterest, join in on discussions or show off your work in our FaceBook Group, or get your daily sewing fix on our Facebook Business Page or get behind the scenes scoops on Instagram, and be the 1st to know about new patterns, discount codes and sample sales by signing up for our monthly newsletter.