So…
have you ever noticed how some bag exteriors just seem to effortlessly come together?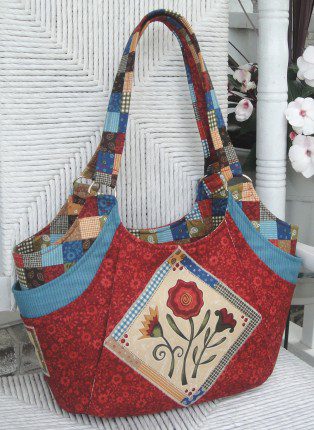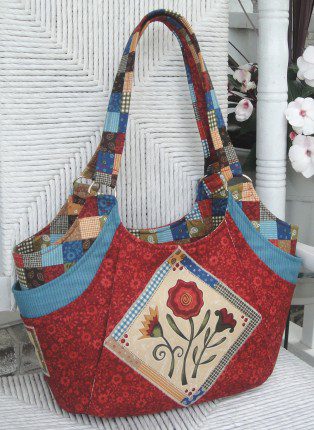 Maybe its because they have clearly delineated areas providing natural opportunities for fun combinations of fabrics? Such was the case with our Quattro design. The side pocketed sections provided were almost begging to be made up in fun, contrasting prints and the large, front pouch area was a really great size for applique, embroidery or fussy-cutting!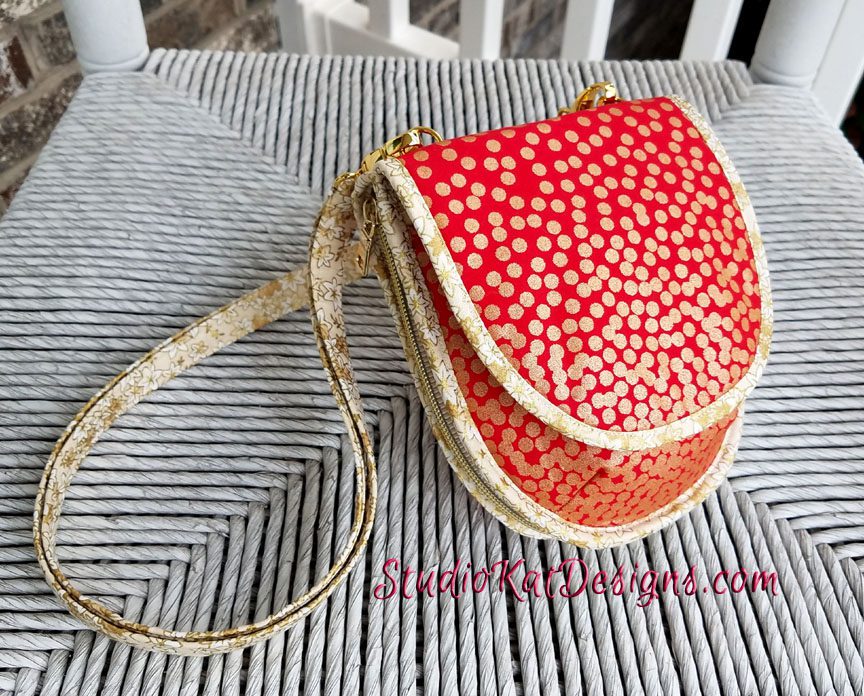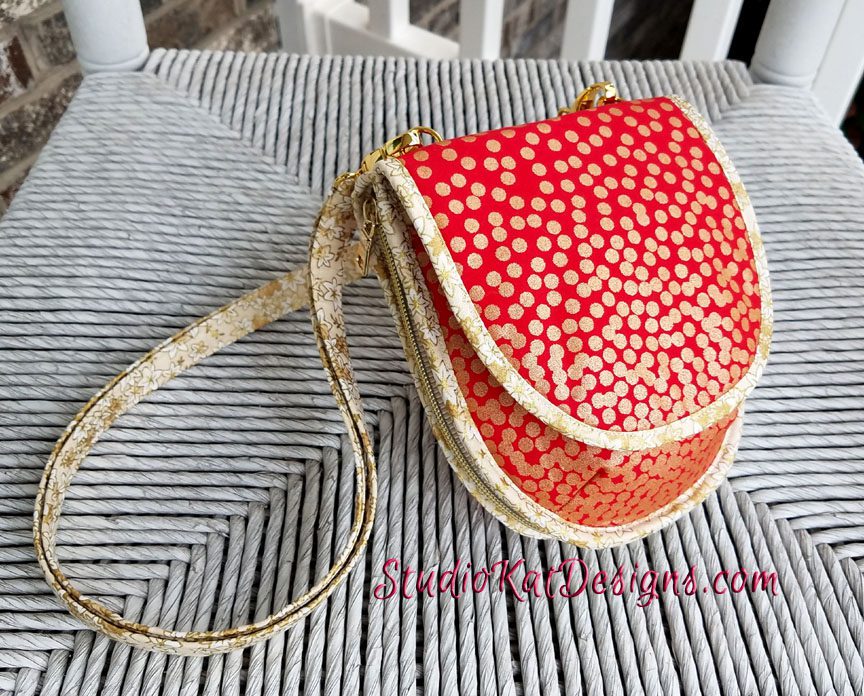 Or maybe the edges are bias taped providing a clear opportunity to highlight various features? Consider how naturally the bias-taping for our Go-Go Compact design draws attention to the features of this little bag? Try to imagine this little bag with either no bias taping and the exterior just wouldn't have near as much impact, right?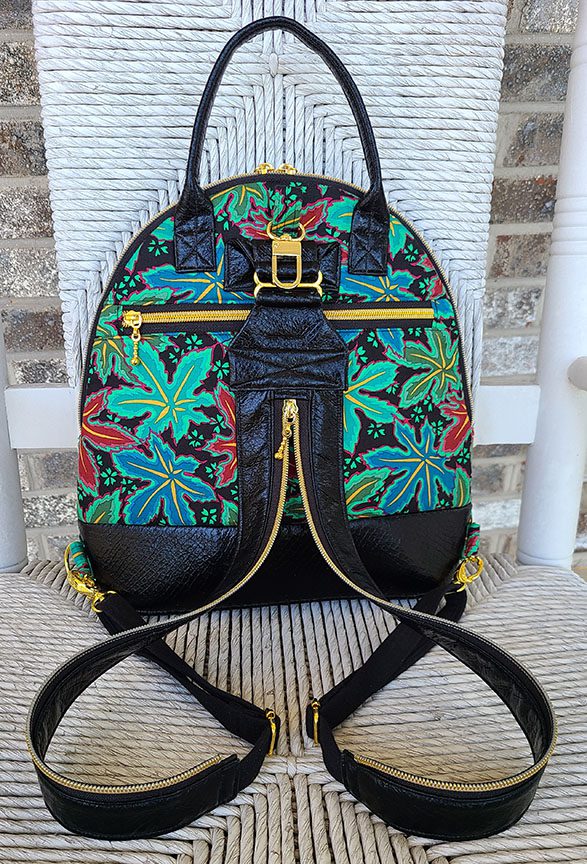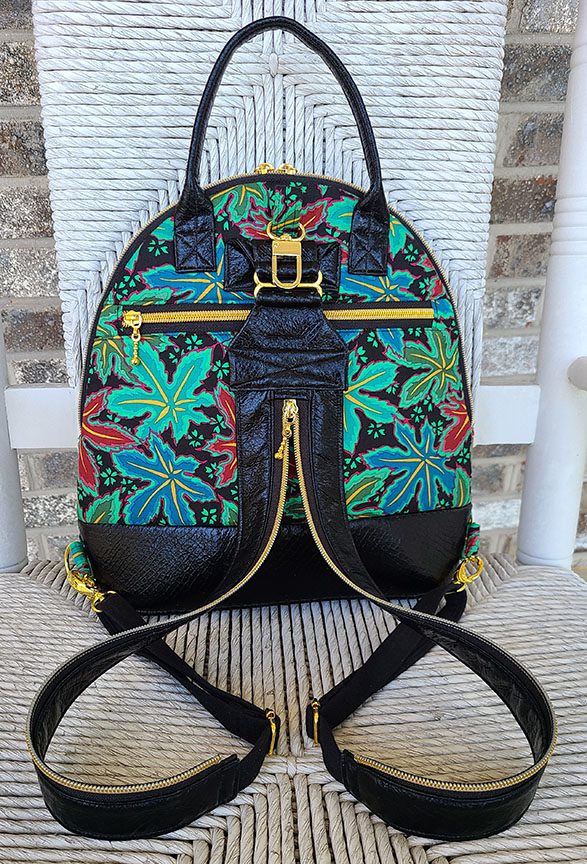 Or maybe its the features themselves that organically provide exterior interest? Such was the case with our OutBreaker design shown at left. The Bag handles and base along with the zippered strap system easily set off this bold exterior and provide interest in a non-competitive way!
But you know what? Sometimes getting the right combinations of fabrics for a particular project is a class A struggle? Yep it happens to all of us and it happened to me BIGTIME in the runup to our ErgoMatic design!
Maybe it was because there was no Spring Market due to the pandemic so I didn't get a sneak preview of what was going to be new this Fall… Or maybe it was because the Distributors & the Quilt Stores were closed during the lockdown really didn't order many new fabrics last Spring? Either way, I just couldn't find many new fabrics online this summer and the few I did find were well… uninspiring to say the least.
On top of that, even though the ErgoMatic is a larger sized bag and for some reason I just had problems breaking up the exterior in such a way that it was interesting, which still drawing attention to the bag features!
Let me show you what I mean!
I actually fell in love with this Effervescence fabric for the ErgoMatic sample but its admittedly a bit busy, so I broke up the exterior a bit utilizing a striped coordinate and also the solid areas at either end of this double border print. But there's still a problem!
Because if not for the caption in the photo at left above, would you ever have been able to detect that there was a flapped pocket on this Bag Front? Probably not! Now maybe that's a good thing if this is YOUR bag, but its is most definitely NOT a good thing for a cover bag or a show sample!
BUT— when thru the miracle of technology I digitally added bias tape to the Flap edges in the picture at right above… it made a HUGE difference, don't you think? And just so you know, I've seriously contemplated ripping this area out and manually adding bias tape to this Flap in order to "redeem" this sample, and while it would seem to be a pretty easy fix, it would be VERY difficult to stitch it back in place now that the bag is finished, so unless I start feeling ultra-brave, I'll probably leave it as is!
But that's not all…
Next, I had a hard time coming up with a coordinating fabric for this interesting cone flower fabric ("Echinacea Glow" from the Free Spirit by Anna Maria) but I was VERY disappointed in how I used it in the Flap area in the picture at left above! To me, it just looked like an unattractive square blob!
But— when I digitally changed the Flap Band to a solid color in the picture at right above… it suddenly took on a different feel, don't you think?
So after going to school
on these two samples….
I worked up three more samples of the ErgoMatic design and I'm MUCh happier with how these three came out!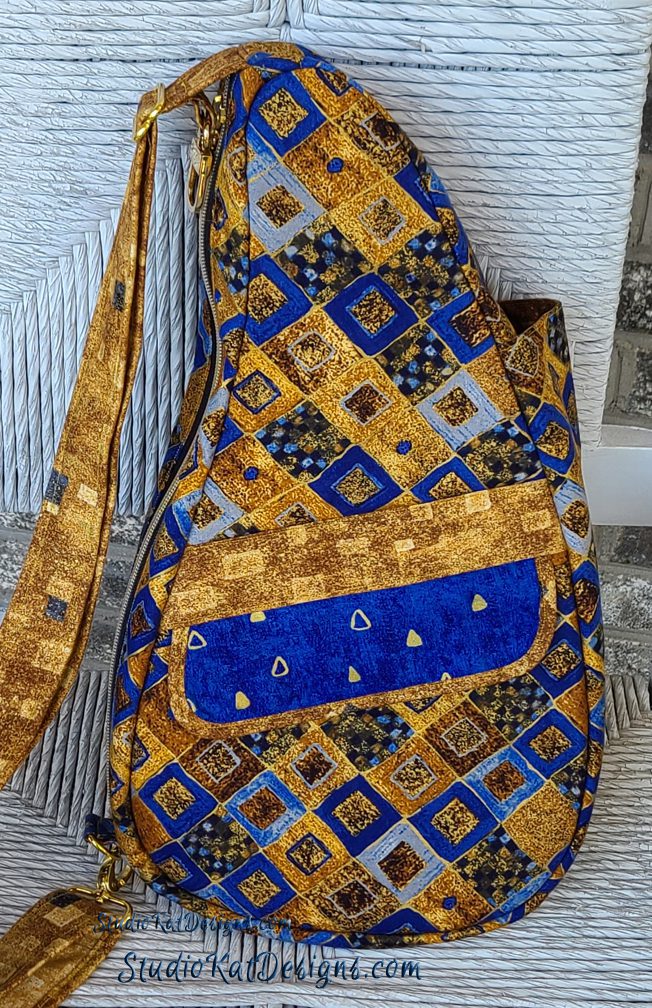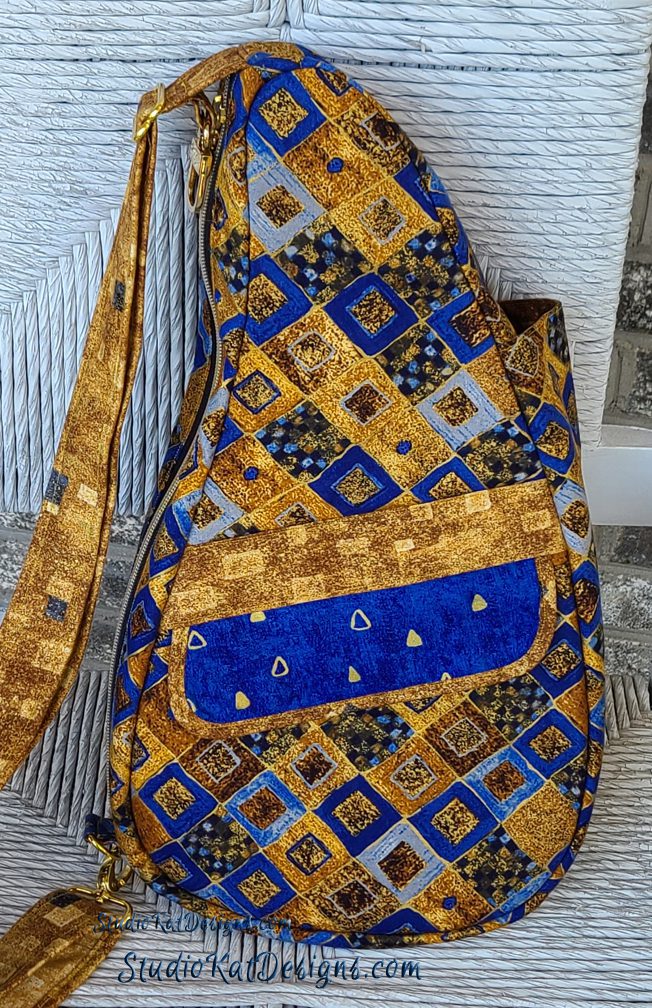 Next I used a Gustav Klimt print ("Gilded Tiles") from Robert Kaufman Fabrics, and since this print was part of a fantastically beautiful collection, it was no problem picking up a few perfectly coordinates.
This time I planned right up front to make up the Flap and the Flap Band is two different coordinates. THIS time however, I went one step further and trimmed the finished Flap edge with coordinating bias tape!
The result?
I'm SO much happier with the finished look here. This exterior feels more balanced and complete, don't you think?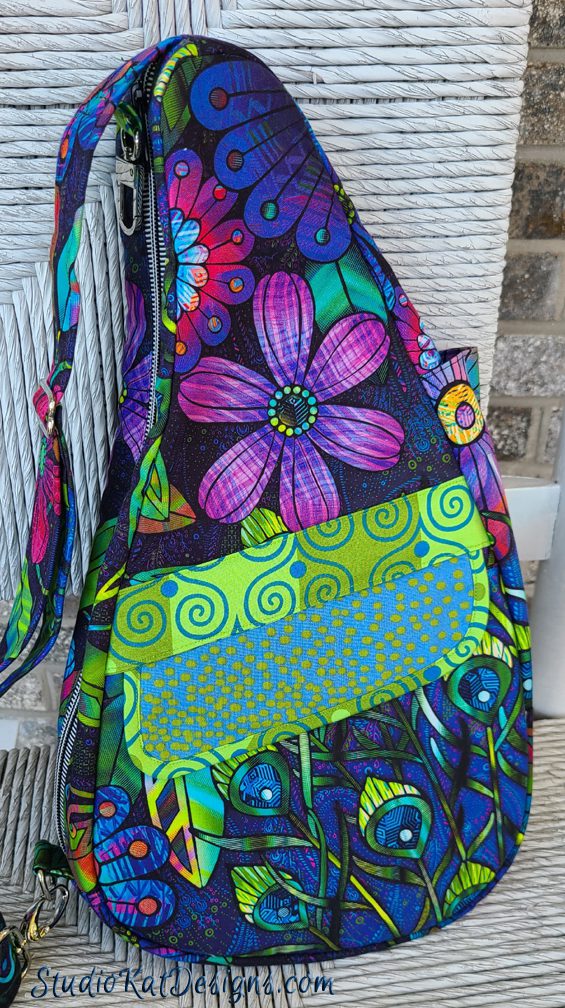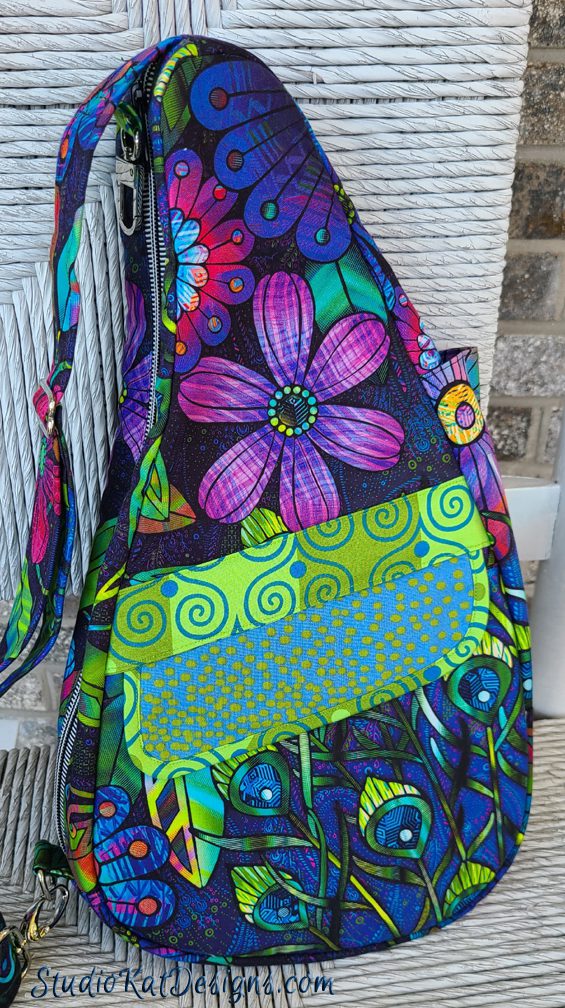 And I've actually had this fabric in my stash for a VERY long time. It's a panel print ("Pagentry" from the Starlight & Splendor collection for RJR Fabrics) featuring a VERY large peacock surrounded by amazing flowers. But due to the sheer size of the components, I've never been able to use it, until NOW! The only problem… if there ever were any coordinating fabrics to go with this magnificent fabric, they were long out of print and it was extremely difficult to come up with something worthy enough to use for the Flap & Flap Band!
I finally found these two coordinating remnants in my stash from Jane Sassaman's "Scandia" collection for Free Spirit Fabrics. It seemed to have just enough whimsy to hold it's own against this dominating exterior.
Originally I had no intention of adding bias tape to the Flap edges, but this lighter blue seemed a little out of place against the lower portion of this exterior print. My thinking was that the bias tape would "tone down" brightness of that light blue and I think it works pretty good.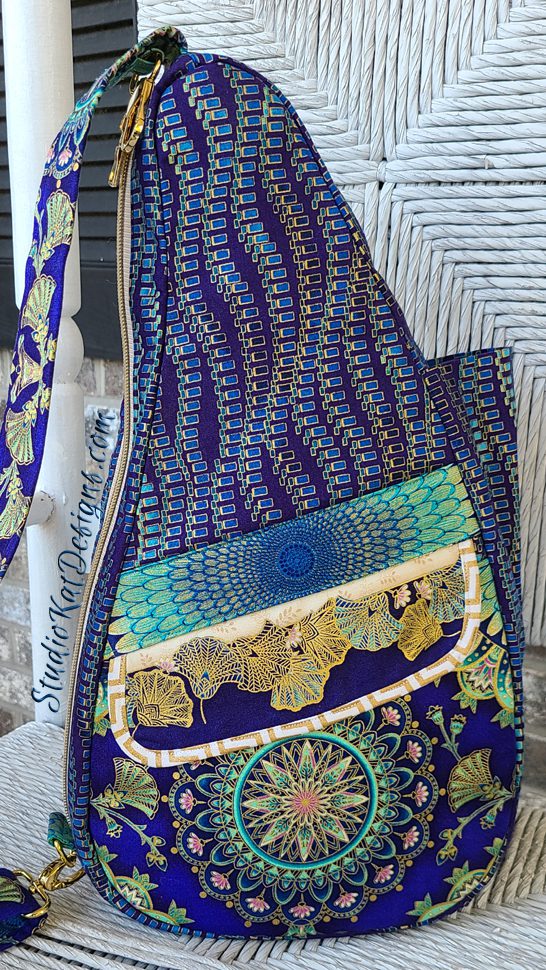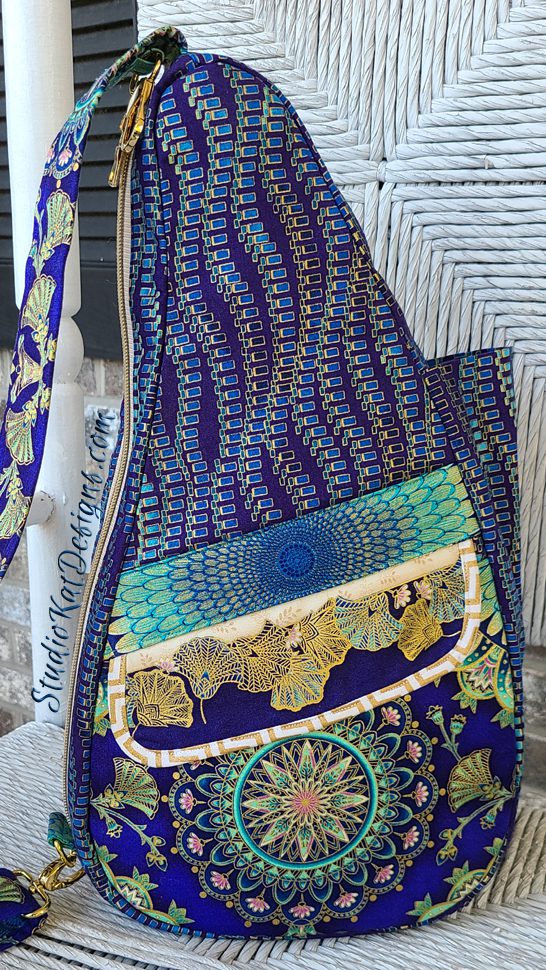 And finally, for the last sample in the ErgoMatic series of bags, I chose to use three fabrics from the spectacular "Treasures of Alexandria" collection from Robert Kaufman Fabrics. (I actually "spied" these fabrics being used in a quilt by one of our customers on Instagram and begged her to give the details so I could procure some!) I had actually intended to use the "SunDisk" print for the majority of the exterior but the scale was a bit larger than I anticipated, so I rethought it out and I'm happy with the result.
I probably could've gotten away without bias-taping the Flap edge as we did at left, but I wanted to tie-in the beige & white ministriped zippers we used on the main entry & on the Bag Back and this gold & white Greek print did the trick!
So…
as we go forward… what we'll be recommending in terms of fabric supplies for Flap and the Flap Band components of the ErgoMatic design will be as follows:
for the Flap Band– choose a fabric that coordinates with your Bag exterior
for the Flap itself– either choose a 2nd coordinating fabric or… utilize your exterior fabric*.
*We'll additionally be recommending you consider distinguishing your Flap by optionally trimming the edge in bias tape.
And now…. it's YOUR turn!
Have you ever experienced the disappointment of having a project turn our totally different you you had envisioned it? If so, we'd love for you to share your experience in the space provided below. And remember, we love reading your comments and answering your questions too, so please feel free to share either or both below as well.
Check out the best sewing pins with me on Pinterest, join in on discussions or show off your work in our FaceBook Group, or get your daily sewing fix on our Facebook Business Page or get behind the scenes scoops on Instagram, and be the 1st to know about new patterns, discount codes and sample sales by signing up for our monthly newsletter.